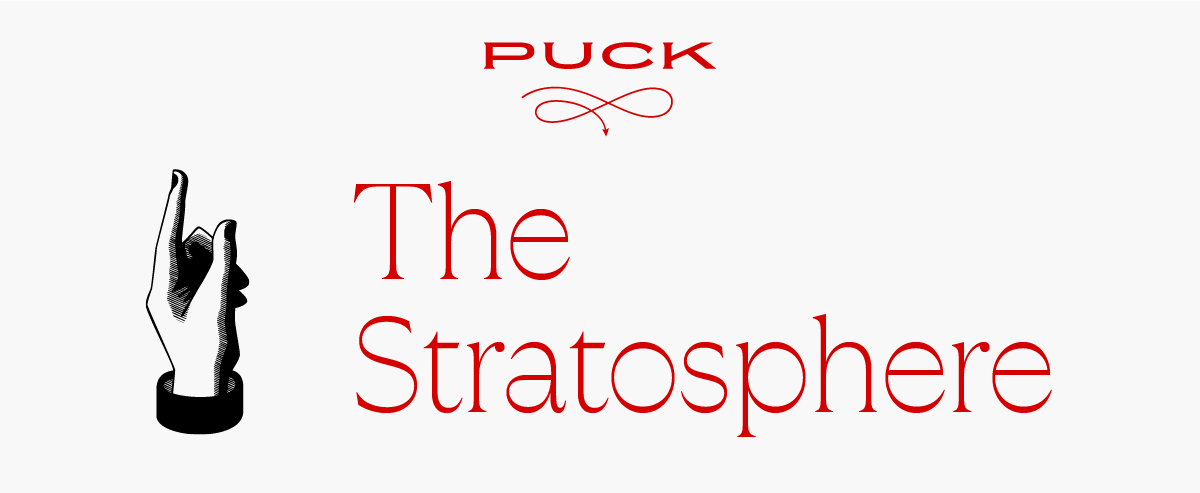 Welcome back to The Stratosphere.
And thanks as always for supporting our work here at Puck. In today's dispatch from Silicon Valley, the unlikely political bildungsroman of Larry Ellison, who's evolved from an ardent Clintonite to the single biggest supporter of Republican Tim Scott and Elon's conservative-friendly bid to take over Twitter.
As a reminder, a friend or a colleague can sign up for this reporting in their inbox by entering their email here.
But first, some Tuesday intel:
Democratic mega-donor and crypto wunderkind Sam Bankman-Fried will publicly testify in Washington on Thursday, but I'm more interested in what S.B.F. is doing privately. One thing I've told people who have asked about Sam—and there have been plenty of inquiries—is that it's a mistake to pigeonhole him as a traditional Democrat. He is just a strategist with pet issues. Case in point: I have learned that on Thursday evening, S.B.F. is headlining a dinner with the Problem Solvers Caucus, an influential bipartisan group of about 60 congressmen split between the two parties, co-led by influential Democratic moderate Josh Gottenheimer and Republican moderate Brian Fitzpatrick. There's no stated agenda for the get-together, but S.B.F. told me that he's happy to talk about either crypto regulation or pandemic preparedness, his personal lobbying agenda items. And get this—most times in life, you pay to attend a dinner. This time, you get paid; the expectation, I hear, is that S.B.F. will be maxing-out after the event to all Members who attend the confab.
Yes, the victory of J.D. Vance last week in Ohio is a good omen for the world of Peter Thiel and Blake Masters. There had already been vibes that Masters, the other Thiel disciple running for the U.S. Senate, would win the endorsement of Donald Trump in Arizona. Trusting Thiel's advice and others' advice has now paid off for Trump once. The Vance win also makes it more likely that Thiel will keep playing mega-donor politics beyond 2022. I described Vance as Thiel's "Gateway Drug" for a reason. Who doesn't like to win?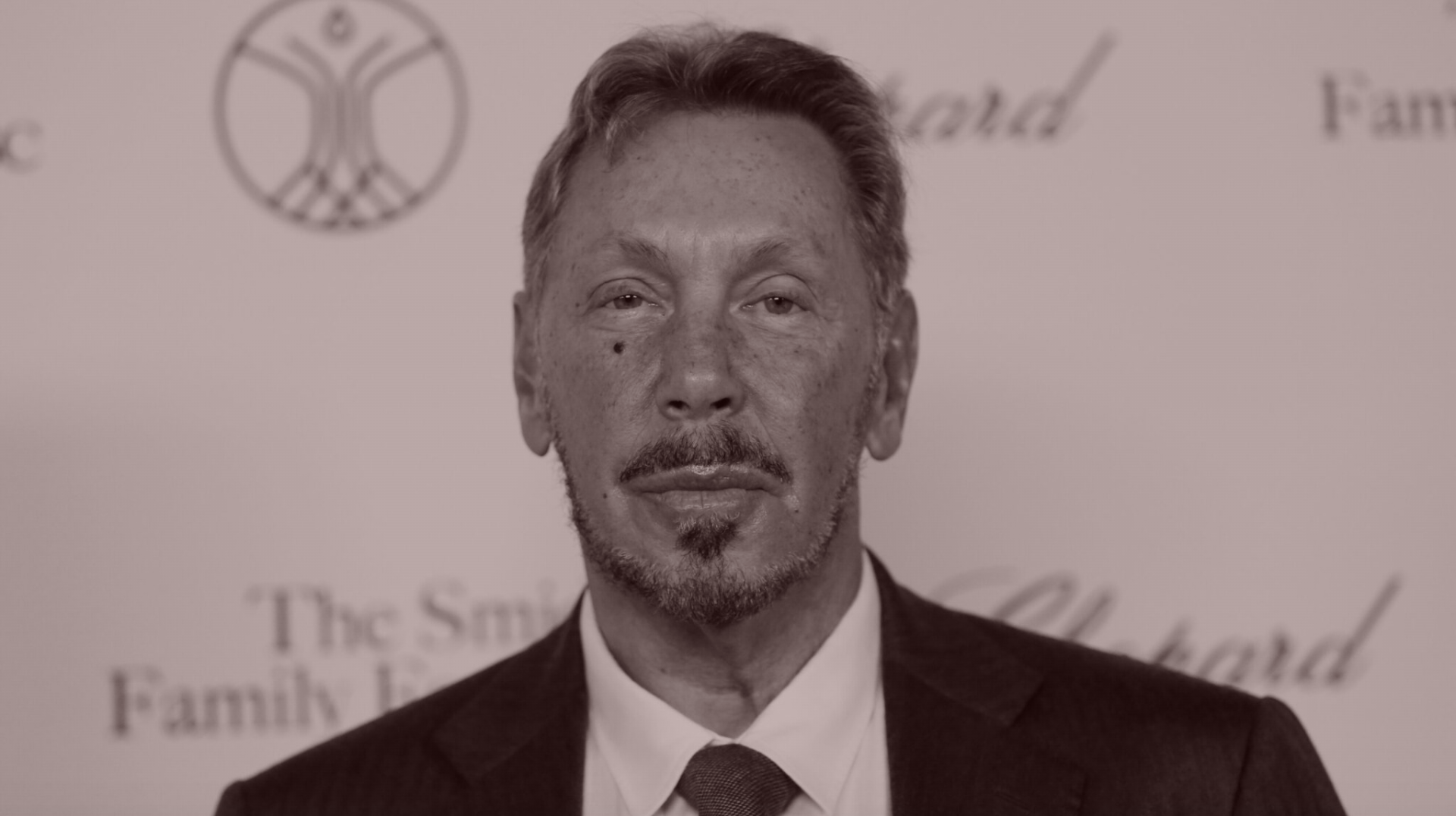 After Elon: Inside Larry Ellison's New G.O.P.
In his twilight years, the yacht-racing, barrel-chested, private-island-dwelling former Democrat is helping to liberate Twitter from the left and placing a massive bet on what could be an unlikely Republican 2024 contender.
When G.O.P. donors received a message, in early 2020, that Republican officials "along with Larry Ellison cordially invite you to a golf outing and reception with Donald J. Trump," at "the private estate of Larry Ellison," it wouldn't have required a Talmudic analysis to assume that Ellison, himself, would be on the premises. The fundraiser, after all, appeared to be a sort of MAGA coming out party for Ellison, an increasingly partisan Republican who had never before donated to Trump. But Ellison never showed up. Those who traveled to Rancho Mirage that winter, in what turned out to be a final pre-pandemic hurrah, were surprised to learn that the Silicon Valley centibillionaire had decided to snub his own event.

It was a fitting metaphor for Ellison's years-long hot-and-cold relationship with the Republican Party: steamy enough to host Trump, and then frosty enough to not actually attend. These days, Ellison's commitments to G.O.P. causes are trending red hot. Last week, he was revealed as the single biggest outside backer of Elon Musk's officially apolitical, but pointedly conservative-friendly, takeover of Twitter. Ellison, once a registered Democrat, has also donated a staggering $25 million to Republican senator and potential presidential hopeful Tim Scott, placing him alongside Peter Thiel in the upper echelon of conservative Silicon Valley mega-donors. Talking with Republican officials and other people close to Ellison, it seems likely that the effort to secure his patronage could become one of the more important dramas of the 2024 fundraising trail.

Ellison founded Oracle almost five decades ago, beginning a legendarily bitter rivalry with Bill Gates, but his visibility in the broader culture mostly owed to his extravagant purchases, such as his Woodside mansion modeled after a 16th century Japanese tea garden, or when he bought almost the entire island of Lanai—an 87,000 acre tract of prime Hawaiian real estate where he lives like a feudal lord. (Most recently, Ellison was depicted in a brief but memorable scene in Hulu's The Dropout, standing at the bow of one of his many yachts, shouting at a young Elizabeth Holmes, "Get the fucking money!") Now it is Ellison's growing, and largely underreported, power in campaigns that may define his twilight years. Among the handful of tech billionaires who have become significant G.O.P. donors in recent years—Thiel, Doug Leone, David Sacks—it is Ellison who has the biggest fortune, around $100 billion at the beginning of 2022, and could have the most far-reaching impact.
It has been a slow-and-steady right turn for Ellison, who is pushing 80. A close friend of hippy capitalist Steve Jobs and the father of a daughter who identifies as bisexual, Ellison had been a fairly conventional, West Coast health nut social liberal. Thirty years ago, he was a close friend of Bill Clinton: Ellison dropped in on a ritzy Silicon Valley party hosted by Clinton on a trip to S.F.; the two golfed together; and, as Ellison told Playboy, they even went nightclubbing together in New Orleans. At the end of Clinton's presidency, Ellison joked that the Constitution should be amended to offer him a third term. In 2008, Ellison was listed as a "top prospect" for Hillary's fundraising operation, according to the Wikileaks hack.

It would be Barack Obama who sent him screeching rightward. Ellison, who grew up in a self-described "tough neighborhood" on Chicago's South Side, disliked how Obama Democrats governed cities, and he really disliked how he believed Obama approached Israel. Ellison, who was raised by his Jewish aunt, declined to get Bar Mitzvahed as a kid and wasn't overly religious in his early life. But he began to embrace Judaism after meeting his birth mother, also Jewish, at age 48. That spurred Ellison to become a major funder of Zionist causes, developing such a strong friendship with Bibi Netanyahu that Ellison was at risk of being called to the stand in the Netanyahu corruption trial for allegedly doing various dirty works on Bibi's behalf.

That hawkishness is principally what led Ellison to support Republicans like Mitt Romney in 2012 and Marco Rubio in 2016—Ellison adored Rubio, and dropped $5 million into his super PAC—and to align himself with the G.O.P. national-security establishment. In 2014 and 2017, Ellison hosted big-ticket fundraisers for Mitch McConnell's National Republican Senatorial Committee (see here and here for invites to events that Ellison hosted and did attend). These days, Ellison has grown particularly close with Scott's fellow South Carolinian Lindsey Graham, who talks politics frequently with the Oracle executive chair, and who received $250,000 from Ellison, via his super PAC, in late 2020. Ellison is still not technically a Republican—in 2019, he almost surely accidentally changed his California voter registration from independent to a far-right political group, the American Independence Party, according to current records. (He later registered as an unaffiliated voter in Hawaii.)

Ellison, who at 77 is now raising little toddlers, is fairly private and does almost no interviews these days. (He declined an opportunity through reps to talk to me for this piece.) But in his few public utterances, Ellison has described himself as a "centrist" who has been abandoned by both parties. "I was Bill Clinton's second largest contributor when he ran for office. I'm neither a Democrat nor a Republican. I tend to be in the middle, which means very lonely, the country's become very polarized," Ellison told another later-in-life G.O.P. convert, Maria Bartiromo, during a rare 2018 interview. "I know there are people that are very passionate on the left, and there are people very passionate on the right. I tend to be in the dispassionate middle. The kind of boring, dispassionate middle—very close friends with Tony Blair and Bill Clinton. That was called the Third Way back then. Bill Clinton was a centrist. Tony Blair was a centrist. Marco Rubio is a centrist. Mitt Romney is a centrist. Those are my politics."

Then came Donald Trump, few people's idea of a centrist, but a candidate that Ellison was nevertheless willing to lend his blue-chip name to support. Ellison explained his 2020 golf-course fundraiser as a matter of patriotic duty. "We only have one president at a time," he told Forbes after the event. "I don't think he's the devil. I support him and want him to do well." Ellison stressed that he didn't personally attend the event or donate to Trump, which is quite the technicality given that the fundraiser, with his name in huge type on the invite, raised $7 million for Trump's reelection bid. "He knows Trump. I don't think they have a close relationship at all," said one Trump source. "He doesn't spend a lot of time just hanging around with politicians."
Ellison's political infrastructure is underdeveloped relative to the late G.O.P. mega-donors he could theoretically replace, like David Koch, Sheldon Adelson and Foster Friess. He's advised on policy matters by Safra Catz, Oracle's Israeli and very Republican C.E.O., and by Ken Glueck, the company's feisty chief lobbyist. Another Oracle executive, Josh Pitcock, who previously served as Mike Pence's chief of staff, has also played a role in connecting Ellison with Trumpworld and Republican politics more generally.

Still, I'm told Ellison often makes major funding decisions largely by himself. He cut a max-out check to Caitlyn Jenner, the doomed, woke-poking California gubernatorial candidate, when few other G.O.P. donors would back her.Ellison was recently revealed as the sole funder, to the tune of $1 million, of a super PAC supporting the congressional campaign of a former Trump official, Morgan Ortagus, who was recently tossed from the ballot in Tennessee. Unlike with other, more highly-managed mega-donors, Republican fundraisers will sometimes reach out to Ellison directly for a gift.

But Ellison's uniquely unencumbered political org also makes it easy for him to go by gut feeling and to make spectacular, singular bets, such as on Tim Scott, the Republican Party's most prominent Black elected official. The $25 million in donations that Ellison has put into a pro-Scott super PAC, called Opportunity Matters Fund, over the past 18 months or so, has made him one of the single biggest donors in Republican politics, with relatively little fanfare. (It's likely, in fact, that Ellison has given even more to the super PAC's allied dark-money group, or to other conservative dark-money organizations that don't disclose their donors.) It is, by far, the most that Ellison has donated to back any candidate, and the two appear to have a personal rapport. Scott seems to have flown out multiple times to kiss Ellison's ring at his compound on Lanai. Accordingly, it seems likely that Scott will have the support of one of the world's wealthiest people if he should run for president in this cycle or the next. Scott, a more traditional Republican in Ellison's preferred Romney-Rubio mold, has been floated as a potential running mate for Trump, too.

But the investment that could truly endear Ellison to the right wing isn't his support for one senator or another. It's his alliance with Musk, a new conservative hero, who recently tapped Ellison for a $1 billion commitment to help take Twitter private. The two men have grown particularly close over the last 5 years or so: In 2019, Ellison invested $1 billion in Tesla when it was struggling, and was named to the company board. (Musk, like Scott, later visited Ellison in Hawaii in late 2020 "to seek some advice.") Ellison loves these kinds of weird, high-beta bets—he bet on Holmes, after all, along with Masayoshi Son—especially when they give him an opportunity to prove hypocrites wrong.

Musk's Twitter bid is not explicitly political, but Musk has described his mission in part as an effort to de-wokify the platform, and several of his coinvestors are active in conservative circles. The right-wing is cheering for it, hard. And while Ellison likely sees Elon as a once-in-a-lifetime business magnate, it's not hard to imagine that, given his personal politics these days, Ellison shares Musk's enthusiasm for poking the left and the media. "I loved all the articles about how Elon doesn't know what he is doing, the pictures of him smoking dope," Ellison remarked to financial analysts in 2018. "You're telling me he's an idiot. I just want to know who you are. Why should I believe you, as opposed to my friend Elon? We're out here watching this rocket land, which I think is really cool, and you're there in front of your Apple Macintosh, and typing up an article saying Elon's an idiot."
FOUR STORIES WE'RE TALKING ABOUT
Streaming Fantasy Football
Ten years out, which streaming services will be in the mix? Matt conducts the first annual streaming service draft.
MATTHEW BELLONI

Politico's Inside Man
Four reasons why the unprecedented SCOTUS leak likely came from a culprit beyond standard media speculation.
ERIQ GARDNER

Bitcoin Madness
Elizabeth Warren is right: Fidelity's decision to offer Bitcoin "savings" in retirement accounts could be disastrous for investors.
WILLIAM D. COHAN
You received this message because you signed up to receive emails from Puck

Was this email forwarded to you?

Sign up for Puck here

Interested in exploring our newsletter offerings?

Manage your preferences

Puck is published by Heat Media LLC

64 Bank Street

New York, NY 10014

For support, just reply to this e-mail

For brand partnerships, email ads@puck.news