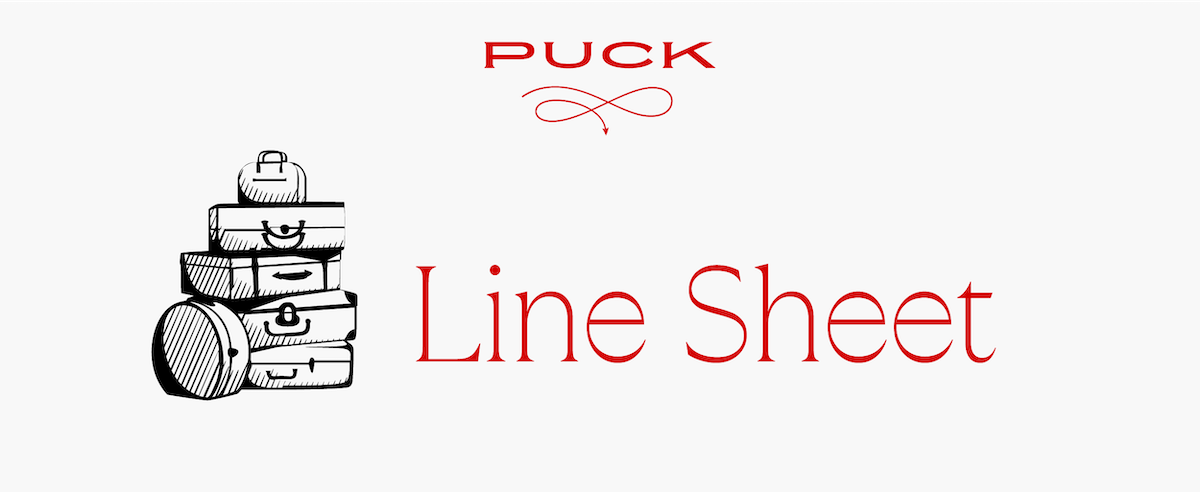 Hi, and welcome to Line Sheet, especially to all the Hearsties who were given no choice but to sign up last week. (We do corporate subscriptions, by the way. Email Fritz@puck.news.)
If anyone from Hearst—or Condé Nast, obviously—wants to air further grievances, just hit reply! Also: I am available on Signal. The Vogue publicists have my number if you want to ask them for it. Talk soon.
In other news, I'm happy to report I'm finally back at home, bed-bug free and Covid-free (for now). With that return to normalcy comes a long list of items we'll need to discuss in the coming weeks. Today, though, I'm bringing you a sort of State of the Union, with stories that touch entertainment, Big Luxury, and journalism.
As always, if this email was forwarded to you, or you typically just read this free section and then say to your friend, Can you screenshot the best bits of Lauren Sherman's Puck thing for me?, stop doing that. (Especially Joerg.) I'm watching you…
Mentioned in this issue: Miuccia Prada, Alessandro Michele, Fabio Zambernardi, Torishéju Dumi, Sarah Burton and Sean McGirr, Patrizio Bertelli, Nicolas Ghesquière, Jonathan Anderson, Gianfilippo Testa, Andrea Oliveri and Nicole Vecchiarelli, Bill O'Dowd, more Cathy Horyn, more Taylor Swift, Harris Reed, and a memoriam for Long Nguyen.
High Times For Celebrity Wrangling
Congrats to Andrea Oliveri and Nicole Vecchiarelli, who just sold their eight-year-old agency Special Projects to Dolphin Entertainment for a mix of cash and stock. (No idea how much Dolphin, a public company, paid for it, but maybe I'll eventually figure it out via their filings.)

Oliveri and Vecchiarelli, former magazine editors of the dying celebrity-booker breed, did a smart thing in 2016 when they decided to quit their full-time publishing jobs to create a service-based agency with an expertise in talent booking and events management. At the time, magazine publishers were firing editors and consolidating and outsourcing these roles: suddenly there were just a couple of people booking celebrities across titles, rather than each having a dedicated team. The result, of course, was mediocrity and all the trappings of downsizing—for instance, talent would often do one shoot and those images would be used across seemingly disparate titles. (The talent also has far more control now, which can lead to weak outcomes.)

As an agency, Oliveri and Vecchiarelli could book for several different publications across several different publishers at once (hopefully without it feeling like a chop shop) and use those Hollywood relationships to book events and brand campaigns, too, for the likes of Versace, Chanel, and Gucci. It was a good idea and the name, Special Projects, was a nod to the nomenclature of the business in its heyday—a reference that probably seven people reading this email still get.

If you work in publishing in the U.S., you've probably worked with Oliveri and Vecchiarelli over the years, and understand why they're so valuable. They have, to many, the worst job in the world: trying to convince the publicists of people with super-duper-giant egos to do things they don't probably want to do, and often for no money. (Their deep relationships with the publicist industrial complex may partly explain how they scored the most overwhelmingly positive Styles section story in modern memory, back in 2019. The reporter now works for the Metro section.) Special Projects is a microcosm for the growing reliance brands have on celebrity talent, and vice versa. Not to mention the absolute explosion of the events business post-Covid. It's worse (or better?) than it ever was.

According to Oliveri and Vecchiarelli, they sold so that they could do more with more resources—and maintain some semblance of autonomy that being absorbed into a larger machine may not have allowed. They're interested, for instance, in creating new event franchises from scratch, unattached to a brand or editorial title.

As for why Dolphin bought Special Projects? Well, they have access to brands and talent that Dolphin's current portfolio doesn't touch. The company, founded by movie producer Bill O'Dowd (mostly known for kids and young adult stuff, like Zoey 101), has been vacuuming up events, marketing, and comms agencies for several years. (They own 42West, the PR firm that all the Lede people defected from, plus a couple of influencer marketing agencies, a hospitality comms firm, and some others.) The whole idea with these roll ups is to eventually be big and profitable enough to either sell to someone bigger, or to private equity, or to become a hot stock. The company, which has a $28 million market cap, seems barely large enough to be public and upside down on some key metrics. It had $75 million in total assets at the end of its most recent fiscal year, and lost $4.8 million on almost $41 million in revenue. The Special Projects deal is presumably one small maneuver to shake that up—and good for Nicole and Dre for becoming rare winners of the late magazine era.

Ok, enough with print media for the moment and on to some final Fashion Month reveries…
More Alessandro Murmurs & McQueenology
A final dispatch from Fashion Month, with all the late-stage dish: Prada chatter, the incessant Alessandro-LVMH speculation, the transition at McQueen and much more…
It would be unkind, but you could convincingly say that Fashion Month begins with Prada and ends with Miu Miu. I loved the Twitter discourse around the latter: several of the online critics (like, my favorite Rian Phin), pointed out that Miu Miu threw back to its original school blazer and ruffled mini, "little sister" look, which in turn had influenced so much mall fashion in the U.S. (Abercrombie & Fitch and American Eagle) in the early 2000s. The mix of that and the flapper dresses felt almost nostalgic, although Miuccia Prada seems to have an evolved relationship with the past.

At the end of the show, Prada, who remains the sole creative director of Miu Miu, once again pulled exiting design director Fabio Zambernardi onto the stage for her bow. He seemed more comfortable this time. There are questions of what he will do next: despite working at Prada for more than 40 years, he still seems quite young. But my hunch is that he'll take some time. That sort of enmeshment can't be easily shaken off.

By the end of the season, there was intense speculation that Prada herself would be retiring at the end of the year. I heard something about this in Milan from someone with superior information, but I dismissed it, probably because I don't want it to be true. Also, Prada is gelling so well right now, it would be nice to have her working for as long as possible. But as I mentioned before, she is an evolved creature, who is fabulously wealthy (she and Patrizio Bertelli are worth about $11 billion), and she'll do whatever she pleases.

There are other places, however, where change is afoot. Or at least needs to be. For a while, it felt that Chanel was holding their ground with Lagerfeld successor Virginie Viard. In the beginning of her tenure, her designs had an air of realness to them that many wannabe Chanel customers craved. Something has shifted, though, over the past few seasons. The collections are feeling less and less inspired, perhaps signaling that Viard, too, is ready to move on.

There's speculation that every Louis Vuitton women's show will be Nicolas Ghesquière's last, but I thought there was some really good stuff in this one. (I'll take the bombers and the flowing skirts, and pass on the suspenders.) One of my favorite pieces from the Azzedine Alaïa archive show at the Palais Galliera was a dress designed by Ghesquière while he was at Balenciaga: all black, but different textiles stitched together with beading. People can be judgmental about Ghesquière's work at Vuitton, which can sometimes feel out of touch. It's easy to forget he's one of the greatest.

The rumors linking LVMH and Alessandro Michele also won't quit. The nice thing about the end of Paris, though, was that it wasn't entirely dominated by mega brands. I tapered off my show-going by the end, but I managed to catch Sacai on Monday (loved the trousers), and on Tuesday, a new collection from Torishéju Dumi, who is Nigerian-Brazilian by way of North-West London. Gabriella Karefa-Johnson styled it, Naomi Campbell walked, and I liked how Dumi twisted and manipulated material. Also, it's always fun to land at a show to find that everyone is there because word spread by mouth. Fashion isn't what it used to be, except for when it is.
McQueen Beyond the Woman Problem
On Monday, two days after Sarah Burton showed her last collection for Alexander McQueen, and less than 24 hours before Sean McGirr was named the new creative director of the Kering owned label, a discreet friend mentioned to me that someone had revealed all this to her. But she couldn't recall the person's name—only that it was a man. "I'm a great keeper of secrets because I can't remember anything," she said.

It's also unlikely she had heard of McGirr before, a number-two whose most notable experience was running ready-to-wear at JW Anderson, Loewe designer Jonathan Anderson's own label, for the past couple of years. Much has already been written about what McGirr's appointment says about the industry: there are plenty of women and people of color working in fashion, but at the top, it's still pretty much all white people, and mostly men. At Kering, every major creative director is a white guy.

Why and how? Well, there's systemic racism. There's misogyny. But how do those things manifest in fashion design? At a dinner the other night, I was seated across from a designer who came up through the ranks with Glenn Martens, Matthieu Blazy, and Demna: so many of his peers have big jobs now, and that's not a coincidence. As the journalist Louis Pisano noted on Twitter, "These people's social circles look exactly like them and they always end up hiring from those circles which is why you really don't see much team diversity internally…."

So the first part is, they hire their friends as assistants, their friends tend to be white, gay men, and it's a never-ending loop. I'm not saying that Kering's recruiters shouldn't be aiming to hire a wider range of people, but the situation right now is that there aren't that many women and minorities with enough training to do these extremely corporate, complicated jobs because they weren't given a chance when they were younger because they weren't friends with the guys who already had jobs.

For a female designer, this reality is compounded by the fact that if she wants to have a child, she will most likely carry that child, which will not only disrupt her career for several years—in Europe, women often take a year or more off after giving birth—but also long term, since women are also often the primary caregivers and are encouraged to "prioritize family" (as in: work less) by pretty much everyone, including their employers. (I was actually told in an interview with a publisher to wait to have a kid until I was a little older so that I could increase my salary before I took time off and was pushed off the track. You know what? He was right. And no, I didn't take the job.) You can read Jessica Grose over at The New York Times for more on why it's hard to be a woman and such, but my point is that this is a structural issue. One that Kering—which employs quite a few female C.E.O.s, including group deputy Francesca Bellettini—needs to address, but so does, like, society as a whole.

As for the appointment itself, it very much aligns with Kering's strategy in recent years to elevate number-twos with an eye to making them into stars. It's a more affordable approach—they presumably get paid more as the sales increase, fired if they don't—and also brings newness and excitement to the group's suite of brands, which are more emotional and trend-driven than LVMH's biggest labels. Who knows how long Kering has been interviewing people for this job. I know that they were talking to designers a couple of years back for an unnamed project, and one of the questions asked was about Englishness. Back then, I had assumed it was about Burberry, once a potential acquisition target, but maybe it was McQueen after all.

Kering C.E.O. François-Henri Pinault told Cathy Horyn it was Burton's decision to leave. Cathy seemed skeptical. Regardless, it was time for her to move on. Burton did an extraordinary job of upholding the legacy of one of the most important designers to ever live for more than a decade, but Kering is not in the business of letting things languish. In order for Alexander McQueen to operate in a modern way, it would need a different type of designer.

Is McGirr that designer? On paper, he seems so divorced from key tenets of this brand—which is all about tailoring and technique and innovation—that it's hard to imagine. What's more, his expertise is not in accessories and leather goods, a part of the business I know that Kering is eager to scale. And yet, C.E.O. Gianfilippo Testa—who joined from Gucci in March 2022—clearly saw something in him. Auditioning for these jobs can be time-consuming and costly—with candidates often making prototypes or spending thousands to produce a brand book—and there is extreme pressure to wow.
A little more on Cathy Horyn. Many of you wanted to chat further about her appearance on the Balenciaga runway. Did fashion criticism die on that stage? Was this Horyn's swan song? (Funny, she asked the same question of Demna. He said no.) Why were we so weirded out by it? As one of my peers said, her casting was effectively an advertisement for the brand, one that was embroiled in a global controversy (albeit a totally dumb and demented one) less than a year ago. It would be like famed technology reporter and podcaster Kara Swisher starring in an Apple commercial.

Would something like this happen on any other beat? How are we, as reporters trying to cover fashion with rigor and relentlessness, going to be affected? Should we all just give up?

I told my friend… don't quit, please! People in other parts of journalism do this sort of thing all the time. They're asked by companies to interview C.E.O.s around earnings calls and at on-stage events. They make guest appearances on television shows. Swisher hosted a podcast about Succession for… HBO. Nobody is questioning her ethics. Oh, since we're talking about ethics and everything, I should probably disclose that my husband worked with Swisher for a while. Maybe we met twice?

Back to fashion. At this point, Horyn is closer to a CNN commentator than anything else. Do I believe the value of actual fashion criticism, writing expressly about the clothes, has diminished over the past 15 years as imagery from the shows became instantly accessible to consumers? Absolutely. But something else came out of it, and that was increased questioning of how fashion works, and why it works that way.

I will say, though, I was disappointed that Horyn didn't interrogate her choice in the piece she wrote for The Cut. It seems to have been written expressly for that publication's pedestrian reader, a light-touch diary of her experience. I see why she went that way, but the approach felt dated. Followers of fashion know too much now.

Was I too hard on Nina Ricci's Harris Reed? From a well-respected buyer: "Agreed the show was too campy. But let's look a little deeper. He loses points for too much exuberant youth (it needs polishing), but gains points for fun, effusive, youthful, affordable, body positive and queer positive clothes. They aren't boring. There is something there."
Did Taylor Swift and that football player "break up" yet? From a fashion writer: "I can't see her ever getting a fashion contract from a brand that could afford her because she just isn't a fashion girlie. The clothes almost always wear her on the red carpet, and she's never gotten her personal style quite right (there's always something off, both in public appearances and in her private life). She could possibly change that with a new stylist, but she's been very loyal to hers. And besides, I don't think her fans are a luxury audience. Excuse the analogy here, but she's much more like a [beyond basic blogger] WeWoreWhat: A very popular figure whose followers will always lean more mass market than blue chip brands. Not that there's anything wrong with that, but hence, the Diet Coke. I could see her getting a fragrance deal, like Lady Gaga for Valentino, but why do that when she could just launch her own, to your point?"
Can you write about Long? My friend Long Nguyen, the fashion editor and writer, died a year ago on October 4. He was sick with cancer, or at least that's what he told me, but ended up taking his own life. How good of friends were we, really? Hard to know, we texted almost every day for several years, although he texted with a lot of people every day. The only way to describe it was that he was like an auntie: he was always pushing too hard—wanting my opinions on shows—"Thoughts?"—wanting to make sure I wasn't writing press releases. (If he liked something I wrote, he'd say, "Fab.") We often disagreed, and it was exhausting. I miss him a lot.

I found out he was dead from a New York City police detective while I was walking around the Silver Lake reservoir, sick with Covid. I remember sort of dissociating and thinking, "Wow, it's pretty easy to get information from this detective." I called another one of his friends and told her, worried that I didn't deliver the details with the necessary sensitivity. In the following weeks and months, there were several articles written about Long, many outlining the brutal way in which he died. (Multiple stab wounds.) I wasn't as angry about these reports as some of his publicist friends were—Long had been on the other side, working for Dolce & Gabbana in the early 1990s—but they did bother me. Not so much because they described how he did it. But because they didn't properly describe him.

Long was strange and often mysterious, but he was also incredibly creative and enthusiastic and caring. In the spring of 2022, on a visit to New York with my kid, I made him meet me in Carroll Gardens for lunch at the end of our trip. He showed up in his usual basketball shorts, Off-White sneakers (definitely gifted), a Princeton t-shirt (proud alumnus) and an Hermès ribbon fashioned into a lanyard. He held my son in his lap. A younger guy walked by and said to him something like, "Dude, great look." I yelled back, "He's the guy who invented heroine chic!" Long, a driving force in some of the 1990s' most subversive imagery, loved the attention. What a person to know.
What I'm Reading… and Listening To…
If you need a break from fashion as much as I do, might I suggest my Puck partner Julia Ioffe's new narrative podcast about Vladimir Putin's life as a street kid. [About a Boy]

I think it's the end of the road for me when it comes to following Swift-Kelce. [Vulture]

French makeup brand La Bouche Rouge has been acquired. [BoF]

Here is Tim's Alexander McQueen note from 2010. (Thanks to Chantal Fernandez for searching the Internet Archives for me. You're the best.) [Style.com]

Birkenstock is aiming for a $9.2 billion valuation in its forthcoming I.P.O. [WWD]

Did you know former New York magazine editor Adam Moss was/is consulting for The Washington Post? Reading Dylan's latest on the search for a WaPo C.E.O. reminded me of that little nugget buried in a Times piece a few months ago. [In The Room]

Reformation's copywriters continue to wow. [Twitter]

OMG just found this Miles report that Kim Jones might tap Stefano Pilati for Fendi, I hope it's true! [WWD]

Need the Naomi Fry profile on Pete Doherty ASAP. [ES Magazine]
And finally… To the editor who tested positive for Covid, was told by their boss to stop attending shows, then tested negative (uhuh) and started attending shows again even though it was still forbidden: we all know everything, you silly goose! Yes, at least 75 percent of the Americans leaving Paris definitely have Covid or bed bugs right now, but fashion people are gossips and they are also cruel. This spread like wildfire. You have been to Chanel enough times. Karl is dead! Just chill out for a couple days.
Until Monday,
Lauren
FOUR STORIES WE'RE TALKING ABOUT
Ackman in Full
Bill Ackman on his reimagined SPAC 2.0.
WILLIAM D. COHAN

Need help? Review our FAQs
page or contact
us for assistance. For brand partnerships, email ads@puck.news.
You received this email because you signed up to receive emails from Puck, or as part of your Puck account associated with . To stop receiving this newsletter and/or manage all your email preferences, click here.
Puck is published by Heat Media LLC. 227 W 17th St New York, NY 10011.