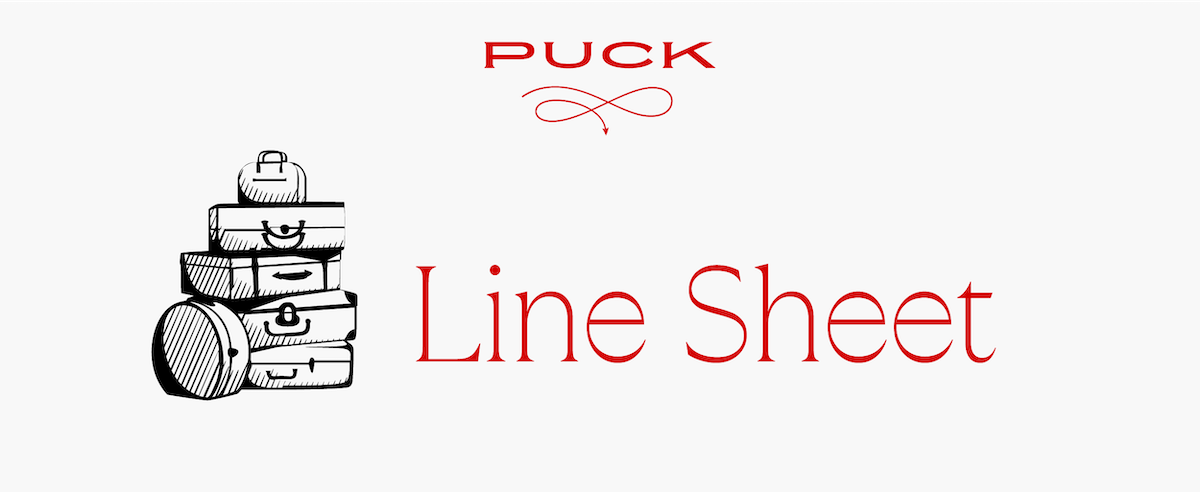 Hello, and welcome to this very special edition of Line Sheet—my first mailbag! You had so many good questions that I might do another one before the summer ends, but for now this is what you get.
In other news, I'm heading to New York in mere weeks, and look forward to seeing many of you. If you want to get together, let me know! And if you're still only able to read this intro because you haven't signed up for a Puck subscription, fix that now so that you don't have to lie to me when we see each other.
Finally, I'm taking Monday off to go "glamping" with eight other families. I know, I'm surprised, too—the things you do for your children. (Sending gratitude to the organizers of said vacation, the moms on Northeast L.A.'s ultra-exclusive Toddler Town text chain, which I am pretty sure is going to be optioned as soon as the writers' strike is over.)
Mentioned in this issue: Mickey Drexler, Via Arno, Cami Téllez, Dôen, Tyler Haney, M&A buzzkill Oliver Chen, Amy Astley, more Goop, Jen Gunter, Camila Morrone, Gabriella Karefa-Johnson, why Khaite is so expensive, Jean Godfrey-June, the Wintour succession, Peter Do, and many more…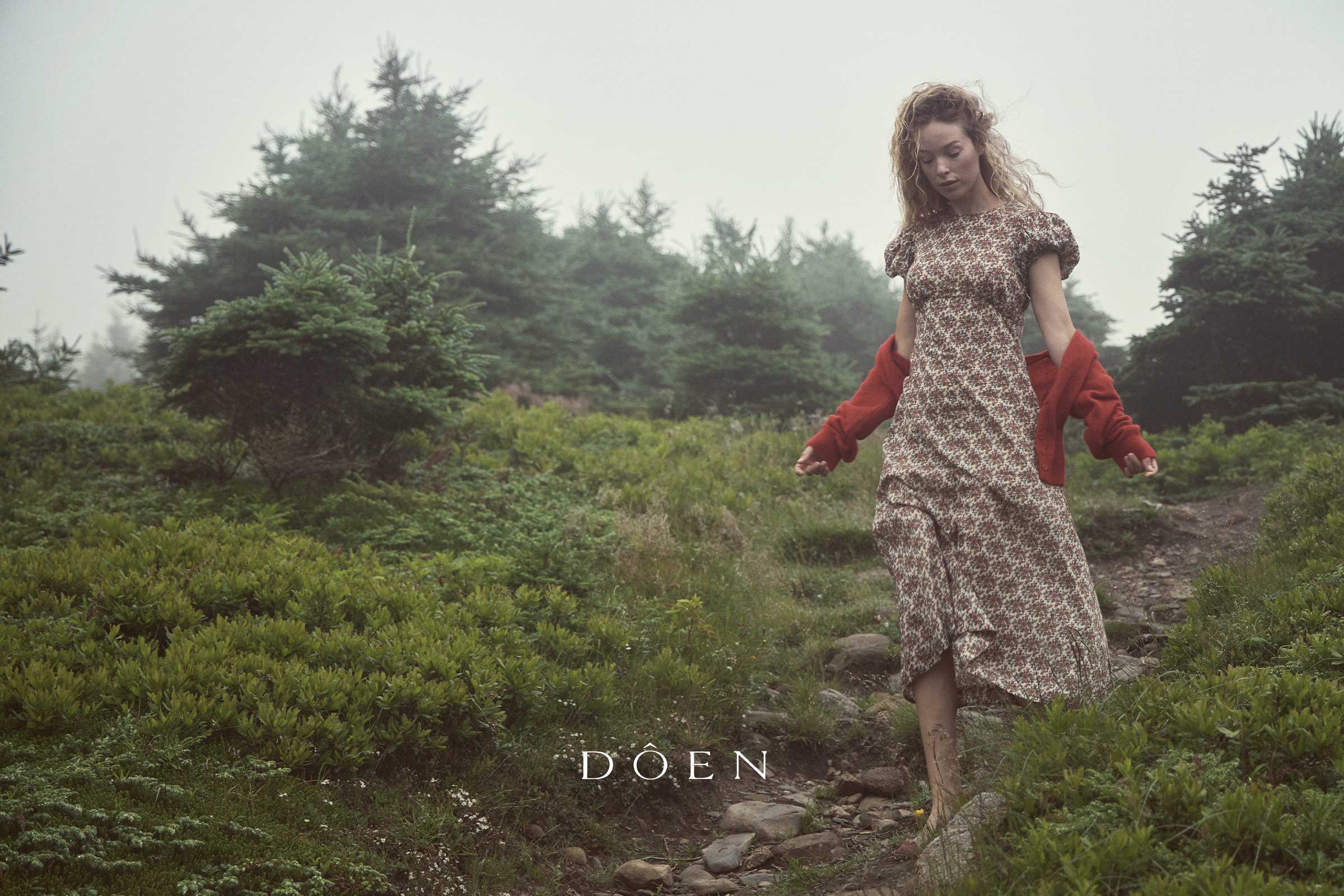 On the Parade acquisition: My former BoF colleague Malique Morris wrote a clear-eyed analysis of upstart bra-and-underwear brand Parade's sale to Ariela & Associates International, which bills itself as "the largest women-owned intimates company in the U.S." The main question in my text chains was: Can Parade be Parade without Cami Téllez, the 26-year-old founder of a brand that felt like it was custom-made for Gen Z kids in town from Woodbridge, waiting at least two hours to eat at Kiki's on a Thursday night? (In leaked Slack messages, it was made clear that the deal required Téllez's exit.)

Taking Téllez out of the equation might make sense from an operational perspective—a 30-year-old company that owns the license to Fruit of the Loom may not be the most natural fit for a startup founder—but there's no denying that she was the reason Parade became so interesting. (Some loved it, and her, others hated it, and her; but no matter, they had an opinion. Can't say as much about any of Parade's competitors, except for Skims.) The narrative is reminiscent of what happened to Tyler Haney, who was pushed out of Outdoor Voices when sales started lagging and funding petered. It should be a warning too: While OV may be in a better financial position now than it was under Haney's watch—not sure if the claim of profitability in this recent New York story was fact-checked—people no longer care about the company. (Long-term, you need solid operations and solid brand positioning to survive.)

Of course, culture has fractured even further since Haney, a central figure of the doomed Girlboss movement, was ousted at the beginning of 2020. But I would also argue that Outdoor Voices' designs were ultimately more innovative, and more important to the activewear category, than Parade's have been to lingerie. (Had you ever seen color-blocked leggings before OV? Nope.) That being said, the intimates category needed Parade to modernize the aesthetic of bras and underwear, and the marketing around them. It definitely pushed the whole category forward.

Who knows what'll happen to Parade now. Perhaps it'll languish. Perhaps it'll end up on the shelves of Costco, sold in six packs. Perhaps Téllez will be running it again in three years. (I can all-but guarantee she'll stick around the industry.) Alas, another day, another goofy brand shakeup. Best of luck to everyone involved.

Wait… the Tapestry-Capri deal could get nixed? Yesterday, TD Cowen analyst Oliver Chen released a 19-slide analysis of "key controversies that could drive regulatory considerations." Now, I'm an optimist, and a $12 billion-a-year-in-sales company still feels pretty tiny to me, but we're dealing with an administration that seems hellbent on tightening the rules around mergers and acquisitions. (Even if some workarounds are being discovered.)

According to Chen and his crew, the concern coalesces around the familiar notion that the combination will create a less competitive marketplace, which will inevitably screw the consumer—little ole me and you, dear reader—both in terms of price but also variety. Three out of five of the largest handbag brands in the U.S. fall under the new Tapestry umbrella: Coach, Michael Kors, and Kate Spade (the other two are Chanel and Louis Vuitton, with Hermès and Dior up there, too).

Chen concedes that the 9x EBITDA premium Tapestry is paying for Capri is a lot, but it's also true that the brands are interchangeable in many ways. Cowen ran a survey asking women whether they prefer Michael Kors or Coach, and while younger women preferred Kors by a hair, and wealthier women preferred Coach by a hair, most had no preference.

My feeling is this: The people involved must know that they need to do better to differentiate these products in the market, right? A combined entity could let them focus on that more and on cost savings less. But, as I said on Monday, whether or not they are capable of adapting remains to be seen.

A Condé crumb: I hear there were 2,600 applicants in the race to be Anna Wintour's next assistant. The brand is strong!
The inaugural Line Sheet mailbag has it all: More on the Goop strategy, intel on a new Richemont brand, musings on the future of fashion media, and yes, some shopping advice. If you'd like your question answered in the next edition, just drop me a line. Let's get started…

Re: Goop's Goopiness: Do investors care that there could be liability issues with promoting dubious "health" products or practices, like jade egg insertion and vaginal steaming? Dr. Jen Gunter has written extensively on this, not only about Goop and Gwyneth Paltrow but other Instafluencers. Are venture capitalists and private equity considering the potential of a future class action when they evaluate a company? The Johnson & Johnson talc suit, for instance, is not going away.

I assume (?) that investors want to make sure that the products a company is selling are not harmful. But look at all the scammers in the world who have raised millions, and sometimes billions, of dollars. Investing is a risk, and sometimes you make the wrong bet. Moreover, there is often a pattern matching challenge in deals for companies like Goop. Venture firms and P.E. shops interested in, say, life sciences companies, are keenly focused on regulatory issues during diligence. Usually, however, the kind of acquirer who sniffs around for this kind of deal—probably a buyout firm that loves the celebrity brand factor and feels it can fix margins and amplify distribution—is less rapacious about this sort of vetting.

In the case of Goop, I do think it's important to remember that Jen Gunter has built her own brand out of targeting Paltrow specifically, and I'm not in a position to comment on whether a jade egg (still available for $66, non-returnable) is going to mess you up. What I will say: As I mentioned in my recent story on Goop, there was a marked shift during the pandemic away from this sort of woo-woo content, which just so happened to coincide with the rise of anti-vax rhetoric across the woo-woo internet. At Goop, the products are now the content, like puffed-sleeve tops and a peptide serum designed by a plastic surgeon.
What's up with Dôen? I have seen it on a lot of beautiful actresses and It-Girls (Camila Morrone) and the quality looks pretty beautiful in pictures, but is it only e-commerce?
Camila Morrone is basically the prettiest person who has ever lived, and Dôen makes very pretty dresses, so I can understand your interest. In short, it's a Los Angeles-based label founded by a "collective" of women, sold primarily on its own website but also in a store (at the Brentwood Country Mart) and via select online retailers, including Net-a-Porter. Mickey Drexler (legendary merchant, former C.E.O. of Gap and J.Crew) is a fan. I am, too, because the stuff is well-made and doesn't look exactly like anything else on the market. (It's not my personal style, but I did buy an embroidered cornflower blue dress and wore it while I was pregnant, then sold it when I had my kid and got my navy identity back.)
One of Dôen's calling cards in the early days was its pre-ordering system: shoppers would pay up front and then the brand would make the products. This is a smart way to keep cash flow positive, but it can be tricky on the other side if shipments are delayed. Now, they're big enough to operate in a more traditional way, and while stuff sells out a lot, they replenish frequently and you get it immediately when you place an order. In sum, it's worth a look.
Why do people complain about the price of High Sport and not about the price of Khaite?
Ha, it's funny, because just a couple of days ago I got a message asking why Khaite was so expensive. There's your answer: it's all about perception. The idea of "expensive" is subjective. But I guess this is a good chance to talk about pricing. The retail price of a product is usually about 6x the "landed" cost, or what it actually costs to make it. After you factor in marketing expenses and inevitable markdowns, your profit margin is further eroded. In any corner of the market, 60 percent is a healthy margin. Most mass retailers are lucky if they post a margin of 20 or 30 percent at this point. At the high-end, there are definitely brands that overcharge because they can. It's all about what the market can bear.
And I do think, at the high-end, there is some price resistance from fairly rich people who don't want to seem like they were suckered into spending more than they had to. (These are usually people who fear tackiness and new money.) Generally, my feeling is that if you can afford something and you like it, you should buy it. It is "worth" the money if you wear it a lot. (There are apparently people who feel that Target is too expensive.) I wear my (nearly $1,000) High Sport kick flares two or three times a week, and I wear my ($20) Amazon running shorts two or three times a week. Both are valuable to me.
Does it make sense for you to look into how the Supers Vogue covers turned out the way it did? For someone who did not voluntarily miss a single British Vogue issue for decades—I finally skipped issues this year—it was really painful to see. This was the magazine that gave us amazing Grace Coddington, Lucinda Chambers, and Tim Walker stories!!
At the moment, I don't plan on launching an investigation into why those covers were so disappointing. (If you think that's a mistake, hit me up with intel.) But I'll reiterate: On the surface, it looks like a matter of too many people involved and perhaps not the right people involved. One advocate for the editors said that the triumph here was getting all these women together, not the end result. Fair point, but whatever happened, I think it's time for all of us to move on to The Super Models Apple TV+ docuseries, which better be good!
What do you know about this new Richemont jewelry brand, Via Arno? My guess from the early logline is "Richemont does Mejuri" but I can't find any concrete information about it.
I did a bit of research into this and here's what I found: The company—or at least a division of it—is London-based, incorporated in the U.K. in 2021, with a launch slated for 2023. The concept does seem to be a sort of marketplace where artisan jewelers can sell their wares directly to consumers, so the "Richemont does Mejuri" call-out isn't off. As I've mentioned here before, the majority of the fine jewelry business remains unbranded, and shoppers love to go to Italy to buy gold directly from the makers. If that's the concept here, it's not a bad idea. Richemont doesn't have a ton of experience with marketplaces or startups, but I'm intrigued.
Would love to know what you think the future of fashion media looks like. What are all these laid off editors going to do next?
The question of the decade! I like to think of things as evolving, rather than self-destructing. In terms of the laid-off editors, they'll figure it out. The qualities of a good editor—decisiveness, style, clarity—are transferable. The key to survival is to be able to change when things change. I think of someone like Jean Godfrey-June, who was a beauty editor at Elle and Lucky before joining Goop. I got the chance to work with Jean for a little while, a long time ago, and she's best-in-class: She could have been the editor-in-chief of any magazine, or website, and written about anything. She's incredibly good at adapting—and she's a good writer—and that's why she's been staffed for so long. So if you just take your ego out of it and move on when the world moves on, there's always something to "do next."
If we don't see Edward succeeding Anna, then who will? A friend of mine predicted Amy Astley. She has a good history with Anna.
Wow, I haven't heard that name as a possible successor to Anna Wintour in about 12 years. People have been wondering who will replace Wintour since the late 1990s. Kate Betts? (1998.) Amy Astley? (2006.) Eva Chen? (2015.) Natalie Massenet? (2018.) Edward Eninful? (2020.) Gabriella Karefa-Johnson? (2022.) Virginia Smith? (Always.)
I am 99.9 percent sure that the decision has not been made, and won't be made until Wintour herself decides she is ready to go. By that time, who knows who will own Vogue, and what being the editor-in-chief of Vogue will even mean. I'll keep trying to find out, though! Don't worry.
Do you see a world where fashion unionizes? I know you briefly mentioned this in your article re: celebrity stylists.
Do I see a world where celebrity stylists unionize? Yes, it already happened in the U.K., and could happen here, maybe. Do I see a world where fashion designers unionize? No. Garment workers, maybe. But fashion is far too fragmented of a business for that kind of coordinated effort. Maybe at individual companies. But really, no.
As a loyal reader who wants to understand the fashion industry and be fashionable, here goes: I'm a 40-year-old woman, want to be cooler than I am, and will spend $200-$300 for pieces that I love. It feels like the industry needs to give me something more than Instagram content or department store depression—something trendy but won't go out of style, where I don't need to live in a major city or make an appointment to get into a store. What brands should I be watching? Where are you hearing buzz about midrange stuff? (Or maybe, gulp, this is low range?)
While I am not a fashion editor or personal stylist, I do have an opinion, and I'd say that your biggest challenge is going to be in-store shopping. If you live in New York City, you can do all of your shopping in real life, but if you live anywhere else in America, you can't. (Even in L.A., it would take days to find the right pair of jeans because you'd have to drive to seven different locations.) My advice would be to subscribe to several of the shopping newsletters I've previously recommended, and keep a running list of things you want to buy. You'll probably only end up with a few new things each season, but they'll make you feel better about how you look.
I want to tell you to spend most of your time shopping on The RealReal, where you can find just about anything. For instance, on a recent trip to Just One Eye in Hollywood, I tried on a jacket from The Row—I know, I am so boring and predictable—that was not only several sizes too small, but also marked full price ($3,000) despite being at least four years old. (This is a common practice at independent stores, especially in Los Angeles when it's Saudi season.) Luckily, I found it on Vestiaire Collective in my size for $240 about 30 minutes later.
All that being said, most people do not have time to shop second-hand. And like, don't feel bad if you don't spend hours trying to hone your personal style. I firmly believe that everyone should take pride in the way they look and think about fashion the way they think about other pursuits, like listening to music, or going to the movies, or cooking. But priorities ebb and flow.
If I were you, I would buy most of my basics at Uniqlo. (If you don't have a Uniqlo in your town, you can buy a bunch of stuff online and return it. It's worth the bother.) You clearly care, so spend the rest of your shopping time reading those newsletters: they'll give you practical styling advice and also introduce you to brands you might not know about. In the mid-range, I admire Alex Mill (preppy basics), Toteme (Carolyn Bessette–Kennedy), Babaa (colorful knits), Attersee (Italian summer), Kallmeyer (like Theory, but a little cooler), and La DoubleJ (maximalist, not for me, but looks great). Some of these are a little pricier than your comfort zone, but it's easy to find things on sale. Good luck!
Peter Do is launching a collection with Banana Republic. [Vogue]

I honestly forget who told me this, but a few months ago, I heard the British label Me + Em was killing it. Turns out, the company is on track to hit £100 million in sales this year, with a big push into the U.S. market. [BoF]

Amazon's brand is not having a brand, which is why the company is shutting down a bunch of its sub-brands. [NY Mag]

Pharrell seems like a nice guy. (Thanks for quoting me, Noah!) [GQ]

Los Angeles-based accessories designer Clare Vivier is celebrating 15 years of her brand, Clare V., with a book. In many ways, Clare is the Kate Spade of her generation. I'd say her point of view is more open and sincere, while the original Kate Spade line was a tad sinister and perverse, although they share a lot aesthetically. [Buy the Book Here]

In other Clare-without-an-I-news: Clare Waight Keller's Uniqlo collection hits stores in September. [Vogue]

For some reason, the comments didn't show up on the Shen Beauty story when I linked through to it. I'm once again including it here, but if the code is getting screwed through our system for some reason, just search for "Shen and Beauty Independent," click through the clean link and you will be able to read the comments, which are crucial. [One More Try]

A fascinating inside look at one of the largest jewelry heists in European history. Guess what? People are corrupt! [Town & Country]

Mickey and Lynn on RHONY, sure. But Sally Singer?!! It's a new day. [Bravo]

And finally… Did you know that the Safdie Brothers and Dov Charney are first cousins, once removed? Paging Naomi Fry. (Thanks to Faye Landes, who at one time followed American Apparel closely as a retail analyst, for enlightening me.)
Until next week,
Lauren
FOUR STORIES WE'RE TALKING ABOUT

Need help? Review our FAQs
page or contact
us for assistance. For brand partnerships, email ads@puck.news.
You received this email because you signed up to receive emails from Puck, or as part of your Puck account associated with . To stop receiving this newsletter and/or manage all your email preferences, click here.
Puck is published by Heat Media LLC. 227 W 17th St New York, NY 10011.