Good evening,
I hope that you had a great July 4th weekend. I sure did. And now I'm writing to you on Tuesday, rather than Monday, with the latest edition of The Washington Mall, my new private email for Puck focused on the interlocking worlds of the White House, the Hill, K Street, and the media. As a reminder, you need to subscribe to Puck to read the full contents of my work. I sincerely suggest you do so here. I appreciate the support.
Today, I am publishing an extremely candid conversation with Rep. Ro Khanna about a number of pressing topics: Biden's 2024 chances, whether Brett Kavanaugh could be impeached, Pelosi succession politics, his own 2024 plans, Kamala Harris's undercard status, and his assessment of Trump and DeSantis. I'm excited to hear your feedback. You can send it by hitting "reply" to this email.
Meanwhile, some news… Susie Wiles has emerged as the leading contender to run Donald Trump's 2024 campaign, as he toys daily with the prospect of announcing his candidacy. Wiles has been his top and trusted advisor for the past 16 months, bringing some organization to the endorsement process and fundraising out of Mar-a-Lago. As of late, she's been preparing the books to switch Save America, his leadership PAC, over to a vehicle that will support a presidential run. But Wiles has the added appeal of being someone who understands Florida—she helped Trump win the battleground state in 2016—while also presumably having zero lost love for their shared rival, Ron DeSantis, who ousted her from his inner circle during his first gubernatorial run before pressuring Trump to drop her, too.
Instead, Wiles, a deft operator, has managed to become trusted by the MAGA set and palatable to establishment Republicans. Also helping her case: a chorus of voices have been advocating for her while cautioning Trump against picking "it" consultant Jeff Roe, who had been flirting with the former president about running his campaign even as he oversaw midterm primaries for clients who opposed Trump-endorsed candidates.
Given that this is Trump, it's quite possible that Wiles could be the first of many campaign managers, a position that Trump regards as little more than a country club racquets pro. He's not one to believe that his team has control over messaging and he's more likely to announce his candidacy first, and then pick his team after. One person whose influence has seemed to wane in terms of exercising that decision-making power is Jared Kushner.
After all, as we know, Trump is distractible. In recent days, while the January 6 hearings carry on, Trump has been consumed less with his future campaign team than by perceived slights against him as former aides and family members revealed that they thought his fantasies about election fraud were hare-brained. He has seen how few people are willing to defend him. And some in Trumpworld wonder whether an attempt to reclaim the narrative will force him to announce his candidacy ahead of the midterms. I've heard murmurs about everything from this month to the fall, likely a sign that nothing has been decided yet.
Have a great night,
Tara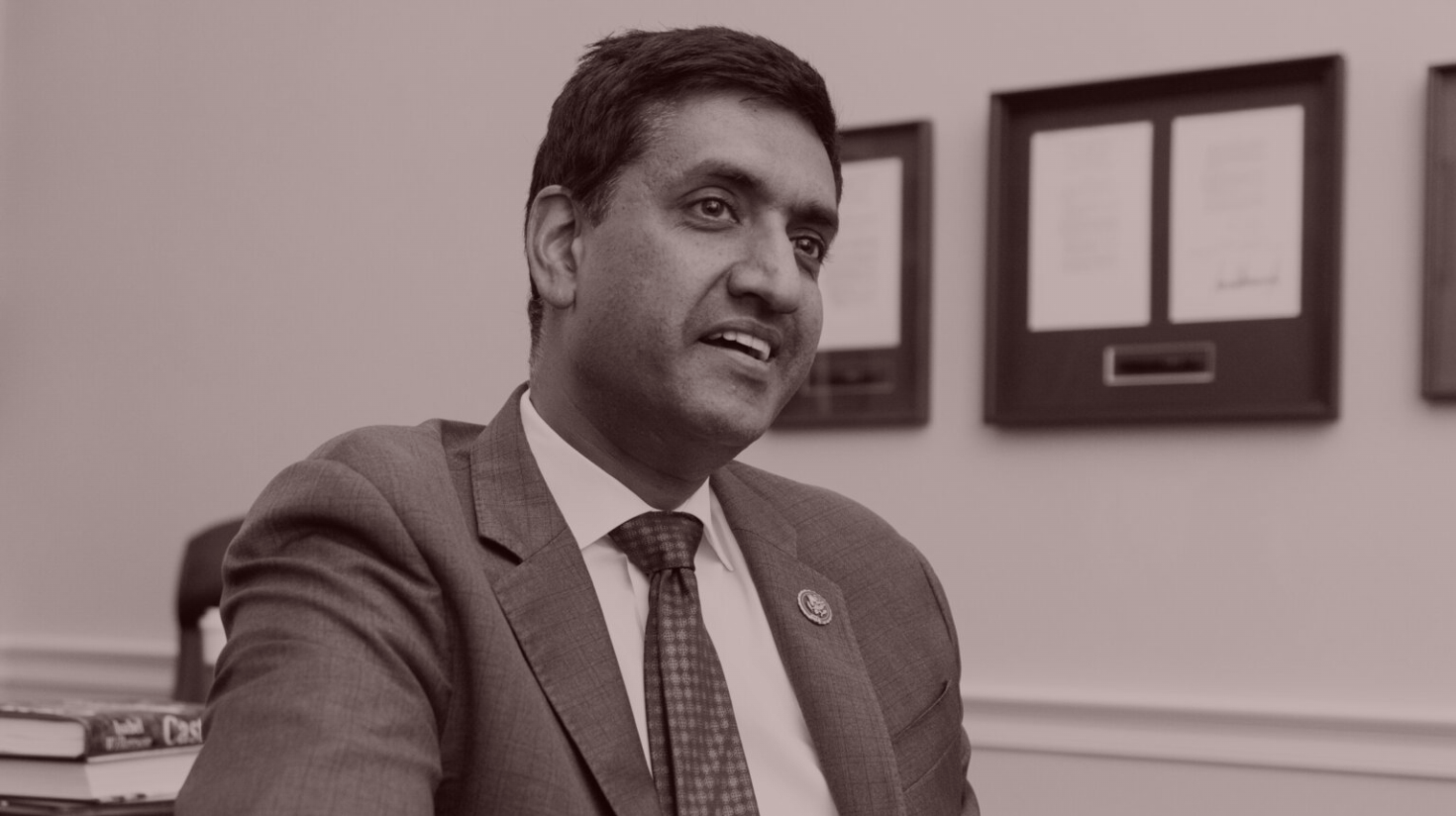 Ro Khanna Psychoanalyzes His Own Party
In a wide-ranging and deeply revealing conversation, the progressive Silicon Valley congressman discusses Biden's re-election odds, Kavanaugh's politics, Kamala Harris's future, and the politics within his own conference as the Pelosi retirement rumors swirl.
Ro Khanna, the "progressive capitalist" congressman representing the high-net-worth territory comprising southern Silicon Valley, is regarded as a meteoric element within the Democratic Party, equally at home working across the aisle as he is on the left's left flank. He is also, of course, widely known in Washington as an adroit but outspoken, and occasionally blunt, political talent, ambitious but unconcerned about throwing jabs at Democratic leadership or schooling the White House. That's why I called him.

The following conversation has been lightly edited for length and clarity.
Tara Palmeri: You have some concrete ideas about how the administration can tackle inflation, some of which you recently articulated in a New York Times op-ed. Has the White House enacted any of them?
Ro Khanna: I've had very good conversations with the White House. I'm hoping they will act on some of them. In addition to some of the ones I mentioned in the Times op-ed, I think having a temporary export ban would go a long way to reducing prices, and here's how I know that: we did it before 2015. But if you look at the unfortunate explosion that happened in Louisiana, where natural gas was not able to be exported right after that, you had a massive decline in price in the United States. So there are tools that we have.
And what I have said to the White House is to re-read President Roosevelt's speech at Oglethorpe, where he basically stated the vision of the New Deal and he said, "There are no immutable economic laws. I reject the idea of these economists working for [President] Hoover that we can't do anything. We need to be enthusiastic, imaginative, we need to use all the levers to address the economic condition." We have to do the same thing here. We can use many different tools of government to address this. People say, well, it's hard to buy oil at the dip and then sell it back to the American public. But then I read a few days ago that, guess what, Warren Buffett is buying oil at the dip. He's not selling back to the American public at a cheap price. People are looking for action that's going to have an immediate impact to bring prices down.
Biden's approval numbers are pretty low right now. How do you think he can turn his presidency around?
Every day he has to be talking about the economy, the economy, the economy. He needs to be talking about prices and what he's doing to lower prices. He needs to talk about what he's going to do to put money in the pockets of Americans who are struggling. He needs to go much more aggressively against big oil and their price gouging. And he needs to mobilize the government in ways on baby formula. I mean actually start buying the baby formula from Europe. Tell the F.D.A. that if it's safe enough for European babies, it's safe enough for American babies. Start funding mass production of critical supplies. Give an Oval Office address on the semiconductor shortage, asking why we're not passing this bill in Congress?
I think we need to spend 80 percent of our time, 90 percent of our time, talking about the domestic economy, and what we're doing. I respect his foreign policy on Russia and his leadership, but I think that the key is to be talking about the economy, the economy, the economy.
When you worked for the Obama administration, it seemed that President Obama wasn't afraid to shake things up, fire people. Do you think Biden could use a new team for a new direction that's more focused on the economy?
He's the president of the United States, he's the one who won the votes, that's up to him to decide. I can just say that I would like him to see him be much bolder on economic policy and more focused on it, more imaginative.
There's been a steady stream of stories in which leaders in the Democratic party second-guess Biden and question whether he should run for re-election. The White House has forcefully pushed back by saying that he is indeed running. But the age issue keeps lurking. Do you think this is a relevant question?
I'm supporting the president. I believe everyone should try to strengthen the president because I fully expect him to run. It does us no good in my view to speculate on alternatives when he's clearly said that he's running. And I think I fully expect Donald Trump to be the nominee of the Republican side. I know there's a poll here and there that shows [Ron] DeSantis up. But Trump is stronger today in the Republican party in the House than when I got elected in 2016, and when he was elected. I think we should be fully prepared for a re-match.
Do you think Biden is the only person who can beat Trump?
I think he's the incumbent president who has beaten Trump, so I think he's entitled to make that judgment. He won in a very contested primary field. I didn't support him. I was proud to support Bernie Sanders. Biden ran a tough campaign against Trump. So you know he's earned the right to run for re-election.
Why do you think the second-guessing is all happening right now?
I think it's coming because of the public polling, because of the anxiety. I think it's important to rally around the person with bold ideas. [Ronald] Reagan's approval was low and then he recovered for re-election. I don't think we get anything by weakening the president. He's going to win in a primary. I don't think there's anyone out there who can beat Joe Biden in a Democratic primary.
Do you think the will-he-or-won't-he question stems from the lack of a Democratic bench?
I think there's a lot of talent in the party. Maybe other people could beat Trump, but I don't think that they are going to beat Joe Biden in the primary. And I think Joe Biden isn't going to run if he doesn't think he can beat Trump. And from everything else he says, and how he has acted, and how people around him are acting, he's running and he's structurally running.
If he changes his mind, who do you think is the party's best shot?
I would see if Bernie Sanders wants to run. I would see if Elizabeth Warren wants to run. I think a progressive vision, a bold economic vision is needed.
So you don't think Kamala Harris should be handed the nomination because she's the vice president?
No, I think it will be a 20 person field. It will be a very contested election.
Will you throw your hat in the ring? You just went to New Hampshire.
No, I'm not running in 2024, I'm building across the country a vision of job creation and economic governance. I'm in Texas right now. I will support someone in 2024, and my expectation is to support the president.
Does DeSantis worry you as a G.O.P. competitor?
I think Biden would destroy DeSantis. I think Trump is a much more formidable candidate. And some of the national polling still shows Trump up 20-30 points. And unfortunately, his candidates are winning in a lot of these places. We should assume that he's very formidable. That it's going to be a tough campaign, and we're all going to be unified to defeat him.
Speaking of DeSantis, you both served together in Congress. What did you think of him?
I guess I would describe him as very calculated in his rise and that's fine. But to become president you have to have a vision, and you have to connect with people at an emotional level. Trump had a dystopian vision: They industrialized you, they shipped your jobs offshore, I'm going to bring them back! Now, he didn't deliver, but I don't see DeSantis, in my view, as having an emotional connection with the electorate. I think Biden could speak much more about how he's going to improve the lives of people in Pennsylvania and Michigan and Wisconsin.
What do you think of Brett Kavanaugh's private promise to Susan Collins that he wouldn't overturn Roe v. Wade?
There should be an investigation. They should be exposed. There's a particular statute that you can't give false testimony to the United States Senate. Whoever impedes or endeavors to influence the proper inquiry by any house or any Congressional committee is in violation of that code, 18 USC 1505.
So you would support an effort to impeach Kavanaugh?
I would have hearings to find the evidence, and to ask: has he violated 18 USC 1505, which reads, "Whoever corruptly, or by threats or force, or by any threatening letter or communication influences, obstructs, or impedes or endeavors to influence, obstruct, or impede the due and proper administration of the law under which any pending proceeding is being had before any department or agency of the United States, or the due and proper exercise of the power of inquiry under which any inquiry or investigation is being had by either House, or any committee of either House or any joint committee of the Congress."
You could argue his communication impeded an inquiry by the Senate, and that's not allowed. I'm a lawyer, I believe people have due process. I believe you have to present evidence. I don't think you can call for something without hearings and establishing a record. This is what you should do: we should have hearings on this and we should have clear guidelines for future Supreme Court nominees. Then they're aware of these statutes so that this will not be tolerated and there are certain consequences.
Maybe what we find out is that it was weaselly, but it didn't totally violate the law. If that's what we find in the hearing, that fine's, but at least it's exposed.
Is this something you can do before the midterms?
I do, and I think this is an issue of fundamental rights that we shouldn't be afraid to talk about.
There's a feeling that Democrats were complacent about Roe, and accepted that it was the law of the land. Meanwhile, Republicans worked for half a century trying to overturn it. What can Democrats do now to begin their next half-century quest to re-enshrine it as law?
We can pay attention to the state legislatures in a way that we haven't. We need to pay attention to grooming a new generation of young law students, like The Federalist Society, but on our side. We need to take judicial appointments much more seriously. Hillary Clinton was right that even if you disagreed with her, not voting for her was giving up the Supreme Court. And I think that's why Republicans held their nose, and a lot of them voted for Trump—for the court.
Everyone knows that Nancy Pelosi will eventually step down as leader of the Democratic caucus. The person behind her is Majority Leader Steny Hoyer, who is 83 years old. I've learned that he is waiting in the wings to run for party leader, whether it's Speaker of the House or Minority Leader. Should the leadership of the Democratic party be open to the next generation, to someone like Hakeem Jeffries, who's 51?
There should be an open competition where people can submit their vision and their ideas. If Leader Hoyer wants to run for that, he should show where he wants to take the party. If [Jim] Clyburn wants to do it, if Adam Schiff does, or of course Hakeem Jeffries—and there are a couple of others who are exploring it—then I think there should be a robust election. Just like there were 15 people to run for president before Biden emerged as the nominee. I think competition is healthy.
FOUR STORIES WE'RE TALKING ABOUT
S.B.F. Buys The Dip
S.B.F.'s crypto-crash moves, Elon Musk's new competition, and Trump's indictment odds.
WILLIAM D. COHAN

Brangelina's Rosé Suit
The litigation spans three countries and involves the Hamptons' favorite summer rosé.
ERIQ GARDNER

The D.OJ.'s Bibliophobia
Bill Cohan joins Teddy to discuss the publishing world mega-merger that Justice is trying to nuke.
THEODORE SCHLEIFER
You received this message because you signed up to receive emails from Puck

Was this email forwarded to you?

Sign up for Puck here

Interested in exploring our newsletter offerings?

Manage your preferences

Puck is published by Heat Media LLC

64 Bank Street

New York, NY 10014

For support, just reply to this e-mail

For brand partnerships, email ads@puck.news