Good evening! Welcome back to the Washington Mall, your new favorite twice-weekly newsletter about the inner workings of the White House, Capitol Hill, K Street, and the media companies covering it all.
For tonight's column, I talked to my Puck partner Peter Hamby about the inside conversation circling Washington and Los Angeles about the evolving midterm political considerations informing Joe Biden's re-election decision, his likely G.O.P. foils, and the Democratic "invisible primary" unfolding in plain view.
Peter, of course, is a preternaturally plugged-in, longtime political insider in his own right, as host of Snap's political talk show "Good Luck America" and a former CNN campaign correspondent. He's also the host of Puck's very own The Powers That Be, our daily podcast where he and I gab weekly about everything from D.N.C. convention site controversy (listen here) to the Herschel Walker scandal and the latest Pelosi succession drama (here and here). Our most recent conversation, below, has been lightly edited to fit your screen.
Enjoy,
Tara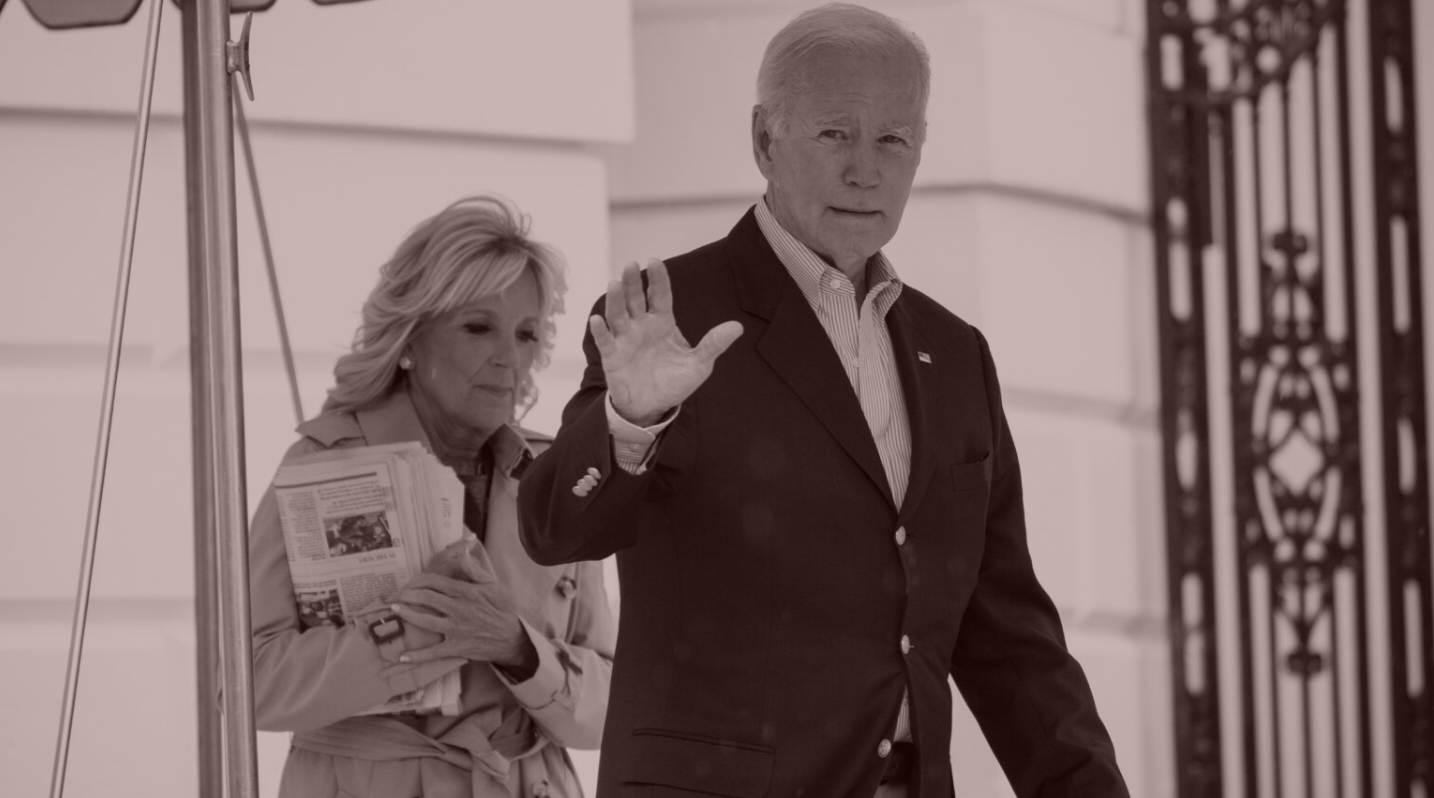 Biden's '24 Math & the Newsom Shadow Campaign
The inside conversation, in Washington and L.A., about the midterms media narrative, post-election '24 calculus, and whether a potential Biden-Trump rematch will be upstaged by their putative successors-in-waiting.
Peter Hamby: You and I have been talking for months about the remarkable lack of clarity surrounding whether Joe Biden will run for re-election in 2024. On some level, that's entirely predictable, given that Biden is turning 80 years old and has a history of electoral indecision, himself. But I imagine it also speaks to a deeper ambivalence inside the Democratic Party: How can you possibly telegraph the evolving probability that the incumbent president steps down without extinguishing his political capital or losing control of the succession planning? Are we headed for an open primary?

Tara Palmeri: The party really is in wait-and-see mode with the midterm elections. The calculation will hinge on the major factors: What are the losses like for Democrats? Is it a brutal wipeout with calls for a new leadership? We're not expecting it to be that strong of a wave, but still these factors need to be considered, especially if Republicans take back the Senate and win more House seats than expected. I do think it's shocking how many members of the Democratic party, even those who are not up for re-election or are in safe seats, won't say definitively that Biden should run again. Many of these candidates are polling higher than Biden, and despite Republican efforts to make the midterms a referendum on Biden, that narrative has run away from them. The Dobbs decision, and a few legislative wins, handed them that lifeline.

Biden's family has always been a major factor for him when making career decisions. The guy is 79 years old; do you blame him for thinking about the final years of his life? This causes eyerolls among some of the most cynical Democratic operatives who believe these decisions should be made based on data and polling, and it's only making their jobs more difficult—delaying decisions around the primary calendar, or picking a convention site, to name a few. But the reality is that Biden's age and his complicated family situation have always been his biggest baggage.

The latest leaks suggest that the Department of Justice really could indict Hunter Biden on tax and gun charges. Either way, I see Jill and Joe Biden pushing this decision off until after the new year. So I would bet that the big re-election announcement is not until the spring. But Peter, what do you think about all this—will the midterm results have any bearing on Biden's decision-making process here?

Peter: Well, I know that people close to Biden chafe at the idea that a midterm drubbing would influence him either way. They'd point to Obama in 2010 and Clinton in 1996. Both presidents saw Democrats get schlonged in their first midterm election, but no one in the party had the audacity to tell them not to seek a second term. I actually went back and looked at some old polls from Obama's worst months of 2011, when his approval rating was in the low 40s, and it was a safe bet that he would lose his re-election bid the following year. Today, Obama is obviously more beloved among Democrats than Biden.

But back in the bad days of his first term, Obama's approval rating among Democrats had slipped into the low 70s. Not good for a sitting president. But with Biden today, even with his overall approval rating around 42 percent, Biden has very strong support among Democrats, higher than Obama did back in 2011. In last week's NPR/Marist survey, 87 percent of Democrats approved of Biden's job performance, a turnaround from his summer purgatory, when a Times poll showed two-thirds of Democrats did not want Biden to run again. He wants that number to be higher with his base, but it's not a bad place to be.

Of course, as you point out, because of his advanced age, there's a difference between public approval and the idea that there's some thirst among Democrats for a second Biden term. Still, I think the chatter about him not running again has dissipated a bit for two big reasons. One is Biden's governing hot streak, signing and enacting a slew of groundbreaking progressive policies that have boosted his street cred with core Democratic constituencies and proven popular with independent voters, too. Student loan relief has helped shore up his once atrocious standing with young voters, and his executive actions last week on marijuana give him a chit with progressives and people of color. Biden now has stuff to run on, and he knows it. Green infrastructure, gun control, drug prices—his accomplishments have suddenly silenced the dart-throwing A.O.C. types on the left who might otherwise be stirring up calls for the president to step aside.

But the second factor, which you mentioned, is a very peculiar dynamic: Democratic House and Senate candidates are running ahead of Biden in their races. Typically, presidential approval rating is pretty well correlated with Democratic vote share in battleground states. So, right now, Biden's average approval rating is at a not-very-good 42 percent. Which, in another year, would put Democrats like John Fetterman or Mark Kelly at around a not-very-good 42 percent in their Senate races. Except that's not the case. Democrats in hot races are running ahead of Biden by 3, 4, 5 points—and they're not totally stiff-arming Biden, either, like they normally might with an unpopular president. Maybe it's the abortion ruling, or the perceived radicalism of Republican nominees, or the simple understanding that Biden is a different person than other Democrats on the ballot, but we've seen budding hope that Democrats keep the Senate or avoid significant losses in the House. So, as a long answer to your simple question, if that ends up happening, Biden has even more ammo to run again.

My only other thought on all this: It's pretty obvious that Biden doesn't care what people think about his age, or the endless stream of viral clips showing him wandering away from podiums, looking for hands to shake that aren't there. I imagine his thinking is pretty much this: I'm the president, goddammit! He gets to make his own decision about 2024, on his own timeline, with his family—and as you say, Tara, that includes announcing that decision whenever he sees fit. His recent successes in office demonstrate that he knows what he's doing, despite the moaning and impatience and the know-it-all tweets from journalists and liberals who wanted him to dump Joe Manchin rather than work with him behind the scenes. Biden has wanted this job for most of his life, now he has it, and as of this writing, there hasn't been any glaring reason—or obvious successor—compelling him to step aside. He has that impulsive Irish-Catholic gut thing that politicians from younger generations probably roll their eyes at. At the end of the day, Biden just wants to be in the game. He'll figure the rest out along the way.
ADVERTISEMENT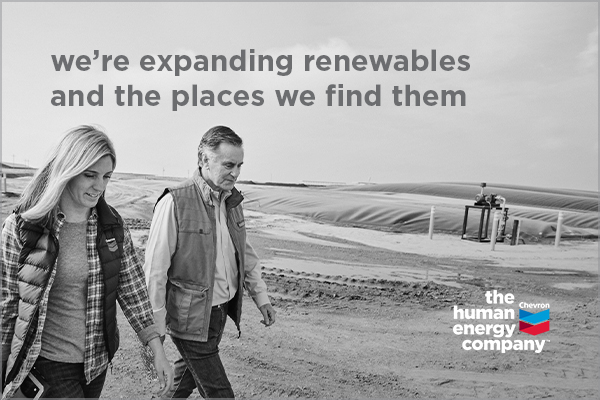 What if cow waste could help fuel the truck delivering your orders? At Chevron, we're exploring ways to do just that. Collaborating with Calbio Biogas, we're converting the methane from the waste equivalent of nearly 80,000 dairy cows into renewable natural gas (RNG) that, one day, can fuel trucks across the nation. A 1,000-pound dairy cow produces an average of 80 pounds of manure each day. RNG like this could help reduce yearly emissions of animal manure by 258 million tons. We're continuing to expand our RNG capabilities, and are ahead of our plans to grow production 10x by 2025. Because we believe the future of energy is lower carbon, and we're looking high and low—even to the manure from dairy cows—to help us get there.
The Senate Calculus & Shy Ronny
Tara: You mentioned the budding hope that Democrats can keep the Senate. But do you think that optimism of the last few months is starting to dissipate?

Peter: Yeah, I've definitely been thinking that. The hope that Democrats can keep the Senate might be about to crash into the reality of the usual midterm election dynamics. The summer burst of energy—and voter registration—among Democrats that followed the Dobbs ruling is definitely going to be helpful around the margins next month. Look, Dems can still keep the Senate and not get wiped out in House races. Remarkably, Democrats still have a one point lead over Republicans on the generic ballot question, which is wild for a party in power in a midterm year. At this time back in 2018, when Republicans were in power, they were losing by eight points on the generic ballot question. Right now, though, it definitely feels like Republicans have some momentum, dimming recent hopes that Dems were going to win some important races just because the G.O.P. nominated troubled (Herschel Walker), radical (Blake Masters), or goofy (Dr. Oz) candidates in some of these states. There's been a two or three point shift in the polls toward Republicans over the last few weeks in the key Senate race states, as Nate Cohn pointed out last week.

Plus, there are just certain midterm fundamentals at work that play out in these midterm years. The president is unpopular, history shows he's more likely than not to lose seats, and in the Trump era, Republicans continue to be undercounted in polls, especially in the upper Midwest. Masters, Walker, Dr. Oz—all of them can still win. That's not even taking into account other variables helping Republicans in the final stretch: Outside groups are suddenly pumping hundreds of millions of dollars into hot races, drowning Democrats with effective attacks on crime, safety and police funding. Gas prices are ticking back up. Inflation remains the top issue for voters.

If Republicans have a good night in November, all those whispers about Biden not running again are sure to get louder. And either way, the political media conversation will flip pretty quickly to '24. Most prognosticators are focused on a presumptive rematch with Trump, which seems increasingly real. Do you think the "Desantasy" is over, outside of some Trump health event?

Tara: No, in fact I think Ron DeSantis has made it clear that he still intends to run for president, even as the party seemingly coalesced around Trump for a minute after the Mar-a-Lago search. DeSantis has been around the country campaigning for candidates, never mentioning Trump's name. He still hasn't asked for an endorsement, driving Trump wild. And Trump frequently asks about the crowd size and enthusiasm for DeSantis, I'm told. DeSantis, perhaps in mimicking Trump, has figured out how to engineer news cycles with conversation-shifting stunts like flying migrants to Martha's Vineyard. Immigration may not be sticking on the campaign trail, but it was an opportunity for DeSantis to again be in the spotlight as a hardliner on a popular G.O.P. issue.

I think DeSantis is bullish on running, even though he's in his 40s and it's a potentially fatal career risk when Trump is in the ring, because he has two constituencies on his side that Trump lacks—Fox News and the donor class. Fox has made DeSantis a regular guest, in the same way they did to Trump ahead of the 2016 election. Maybe he doesn't have a recurring segment like the one that Roger Ailes gave to Trump, but he's always welcome on their airwaves and fawned over by talent and executives. These are the same people who have privately and publicly questioned if Trump is the future of the party.

The enthusiasm of the donor class is huge, too. It's obvious from his $115 million plus war chest, of course, but Trump fatigue among the donor class is real, and Trump knows it. It's something that terrifies him. I know from my reporting on Herschel Walker that many of them are already blaming Trump for the weak crop of Senate candidates. If they lose Georgia, and the Senate, there will be a deep, dark reckoning in the Republican party whether it should be clinging to Trump.

Will it be enough to weaken Trump? Unclear. He still owns the party's base which means he can win a primary election and help other candidates win their primaries. But donors also tend to get in line around winners—they'll want influence in the next administration, after all. If Trump wins a G.O.P. primary and is the only path to victory for Republicans, I assume they will begrudgingly rally behind him. I think the question is whether the party coalesces behind a single non-Trump candidate, like DeSantis, or if they split what's left of the Republican base in a primary.

How this all plays out for DeSantis will depend on how many candidates run against Trump, who will likely get 30 percent of the G.O.P. base in a primary. I've heard that Nikki Haley is starting to build out a team across the country. Mike Pompeo is meeting with donors. Glenn Youngkin and Mike Pence are holding donor retreats and Pence is building out a political operation. Then you hear that Tim Scott's chief of staff is leaving his office to run his political operation. For what, if not a presidential run? I think he could be a real sleeper candidate.

I will say that over the summer there were real plans to announce Trump's presidency—as in, his team was actually event planning. I haven't heard much about that recently, except for suggestions that he could make the announcement after the midterms elections, likely before Thanksgiving. His team loves holidays as markers! I sense a lack of enthusiasm from him and his team right now… maybe he perceives that elements in the party are distancing themselves, or maybe he's just distracted with the legal issues he's facing. Let's see if that shifts with the results of the midterms.
ADVERTISEMENT

Tara: Peter, you're holding down our California political bureau out there in Los Angeles. Gavin Newsom has been making a lot of noise lately, criticizing national Democrats for not having a message, attacking Ron DeSantis as a right-wing lunatic, running ads in red states urging women seeking abortions to come to California. What's he up to? Does he want to run for president if Biden doesn't?

Peter: Well, of course Gavin Newsom wants to run for president. There was an amusing quote in the Los Angeles Times a few months back from Garry South, a California Democratic consultant. "It's difficult for any governor of the biggest state with more people than Canada to look in the mirror in the morning and not see a president staring back at you," he told columnist George Skelton for a piece about Newsom's ambitions. Newsom is 54. He runs the fifth biggest economy in the world. He instantly commands media attention, is good with reporters, and can raise a shitload of money. He beat back a Republican recall effort last year by a smashing 23 points.

With every level of government controlled by liberals, Newsom can govern here almost like a king, passing an avalanche of progressive legislation. In the legislative session that just wrapped, Newsom signed an astonishing 997 bills, shoring up abortion access, protecting pay equity, expanding housing access, providing wage protections and safety standards to fast food workers, and making California the first state to limit use of hip-hop lyrics as evidence in criminal trials, a bill signing that featured Zoom cameos from rappers like Meek Mill, E-40, YG and Killer Mike.

I know the view from the east coast is that Newsom is just the handsome governor with hair gel and a raspy voice who used to be married to Kimberly Guilfoyle, ate dinner at The French Laundry during Covid, and took that hilarious photo on the carpet for Harper's Bazaar. That's not really fair, I think. Newsom is a genuine policy dork who has built a policy record that Democratic leaders in other states could only dream of. His biggest accomplishment so far might be banning the sale of gasoline-powered cars in California, the largest auto market in the U.S., by the year 2035. More than a dozen other states typically follow California's lead when setting their own auto emissions standards, meaning that with a stroke of a pen, Newsom will have created a vast American market for electric vehicles, a shot across the bow at polluters.

All of the above amounts to the bull case for Newsom—if Biden decides not to run. There's also a bear case for Newsom 2024, probably best articulated by Josh Barro's recent screed dumping on the Newsom buzz as "gross and embarrassing." In short, Barro's take is that Newsom is an out-of-touch rich guy sleaze who gets political hobbyists on Twitter excited but would be a total zero with Black, Hispanic, and white working class voters. Not to mention the French Laundry thing. He makes some good points.

Newsom has been subject to national buzz, however vague, going back to his days as San Francisco mayor. That bizarre 2004 Harper's photo shoot with Guilfoyle? People forget the headline of that story: "The New Kennedys." If you were a Democrat during the Bush era, that sounded pretty good! Newsom was also in the news because he directed the city to issue marriage licenses to same-sex couples in 2004, a ballsy move that was both ahead of its time and infuriating to national Democrats who were still in their civil union phase and eager to not talk about a divisive social issue while they were trying to win back the White House. Newsom's impulsiveness extended to his personal life, but I think the impulsiveness that got him in trouble back in the day has tempered with age. (Although I have heard some fun stories of Newsom getting lit at weddings during his single party guy phase.)

So will Newsom run? Not if Biden does. He's a Democrat who has long bided his time and climbed the ladder of the party, from the San Francisco Parking and Traffic Commission to the city's Board of Supervisors to Mayor to Lieutenant Governor under Jerry Brown and now governor. For years, Newsom and then-California Attorney General Kamala Harris, another Bay Area star, were on a collision course for higher office. Whether they shook hands on it or not, Newsom decided to seek the governorship one day, while Harris ran for Senate. He's fundamentally pragmatic and a party man, not the type of guy to primary a sitting president.
Tara: And if Biden doesn't run?

Peter: Sure, Gavin might run in that case. I think what he's doing right now isn't super complicated. He's simply raising his profile with the national press and Democratic voters in case he does run. In quainter times, we called this "The Invisible Primary," in which aspiring presidential candidates do all the things they have to do to prepare for a bid, whether or not they ultimately decide to run. Picking fights with Republican governors like DeSantis and Greg Abbott in Texas, lashing them as retrograde knuckle-draggers, is a smart way to step into the arena. Political reporters love a food fight between big personalities, voters in other states start to notice him, and Newsom gets to have some batting practice at the national level, to see if he's up for a bigger job down the road.
FOUR STORIES WE'RE TALKING ABOUT
Dalio's Bridgewater Exit
Notes on the interminable Elon-Twitter debacle, Dalio's legacy, and a Summers prophecy.
WILLIAM D. COHAN

MSNBC Murmurs
A chat with Jon Kelly around Semafor pre-launch buzz, Licht's vision, and more.
DYLAN BYERS
You received this message because you signed up to receive emails from Puck

Was this email forwarded to you?

Sign up for Puck here

Interested in exploring our newsletter offerings?

Manage your preferences

Puck is published by Heat Media LLC

227 W 17th St

New York, NY 10011

For support, just reply to this e-mail

For brand partnerships, email ads@puck.news