Hello, and welcome back to The Washington Mall, my insider's view into what's really happening at the beating heart of this town. Today, a look at the evolving conventional wisdom surrounding Joe Biden's presumed '24 re-election campaign, which is a testament to how quickly sentiment can shift in Washington—plus some reporting on the outside plotters sharpening their own ambitions…
But first…
The Trump Combustion Strategy: Don't expect the putative G.O.P. 2024 field to rush in to take on Donald Trump. On the contrary, I've heard from aides connected to other campaigns that they're actually enjoying watching Trump sabotage himself—today's big "major announcement," which the ex-president had been hyping, turned out to be a line of N.F.T. trading cards—and they expect the earliest any rival might jump in might be April. The emerging strategy among G.O.P. consultants for candidates like Ron DeSantis, Glenn Youngkin, Mike Pence, Nikki Haley, and Mike Pompeo is to wait it out and watch Trump run against himself.

"The worst thing you can do is get in a fight with a punch-drunk boar," said one consultant for another presidential campaign-in-waiting. "He can't beat Biden, he can't win. Don't become his foil. Let him swing at himself." In fact, many of Trump's swings—inviting Kanye to dinner, calling DeSantis "DeSanctimonious" or giving Youngkin the seemingly racist nickname "Young Kin"—have already backfired or fallen flat. Some operatives milling about the proto-'24 field have suggested to me that candidates may even consider waiting until the month before the first debate to jump in, as long as the field stays small, given how badly WinRed and other fundraising groups abused the grassroots money spigot. The more efficient and shorter the campaign, these people say, the better.
KMac Fights Back!: I'm sensing some softening among the anybody-but-Kevin McCarthy crowd in the race for House Speaker. The power of Mark Levin and the conservative media establishment rallying behind McCarthy cannot be underestimated. (Nor, frankly, can the lack of viable alternatives.) Plus, McCarthy has maneuvered to provide several face-saving off-ramps to members who have suggested publicly that they wouldn't support him, such as allowing them to vote "present," conceding to various rules changes, promising to impeach Homeland Security Secretary Mayorkas, pushing to end the military vaccine mandate in the NDAA, and pointing to his fight on the omnibus as a sign of his true colors.

Now, I don't think he will win over Bob Good or Matt Gaetz. But Ralph Norman, one of the five public 'Nos' that McCarthy needs to peel off, appeared to be open to negotiating, a prospect that seemed distant weeks ago. As Norman recently told CNN, "We're vetting it. … We are going through the process. It's a healthy process."

McCarthy can only lose four seats. And if McCarthy gives in to the 72-hour rule—which calls for the text of a bill to be available for review three days before the vote—he will make his life even more hellish because it will allow Democrats copious news cycles to make hay over whatever crap is stuffed in the legislation as Republicans complain over perceived entitlements. The wild card could be lowering the threshold to vacate the speaker, but not to just one member, as has been demanded. But don't expect him to play that card until the bitter end.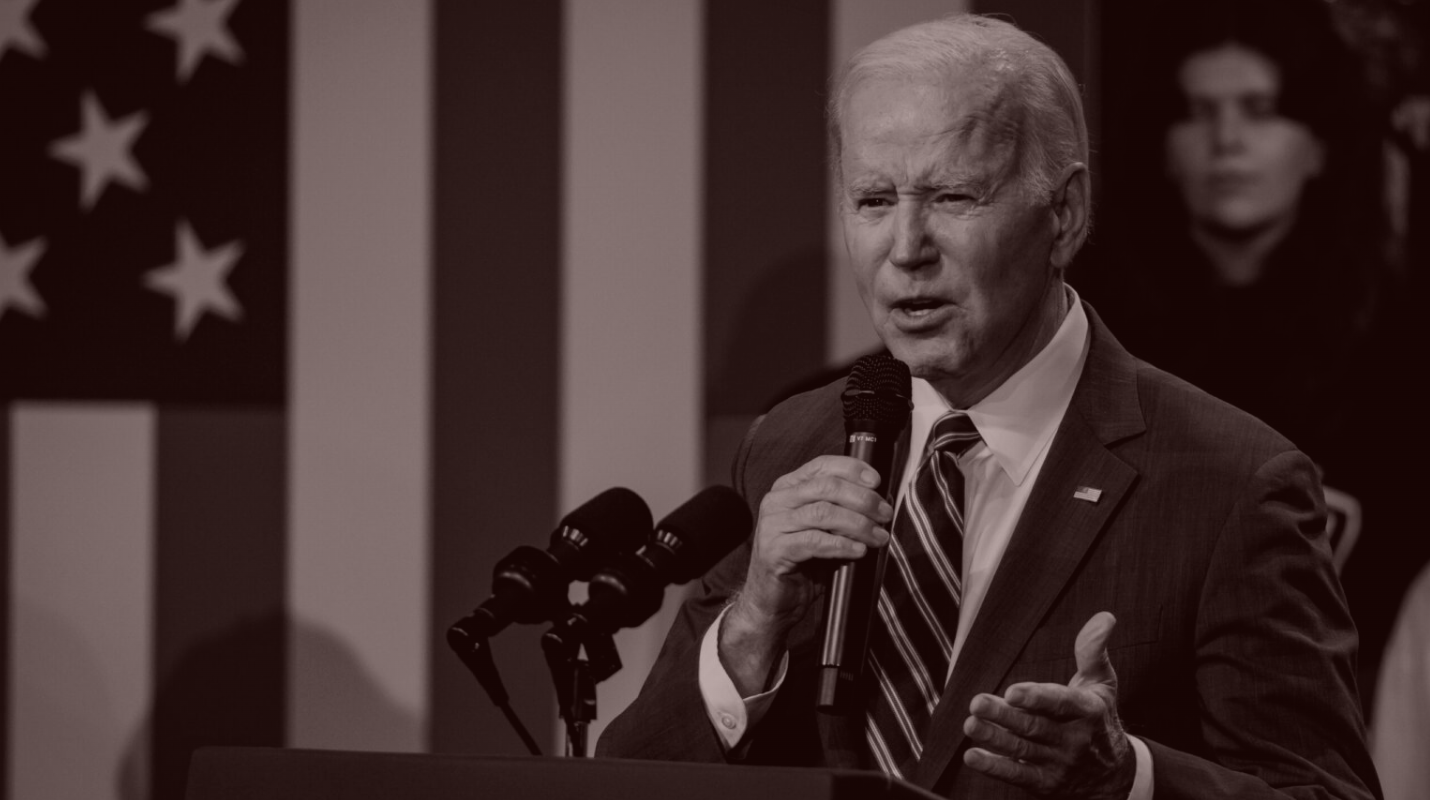 Biden's Inevitability Mythology
So, countless signs suggest that Biden is running, and with an aura of inevitability. But Democrats-in-waiting are already busy working on plans B, C, and D—just in case, you know…
As the holiday season takes hold, the White House has succeeded in procuring a political gift that seemed all but impossible as recently as the spring: despite his dithering and early foibles, they've created an aura of inevitability surrounding Joe Biden's run for re-election. The West Wing communications apparatus might suggest that this is all the well-plotted result of legislative successes, such as the Inflation Reduction Act, and the Democrats' stronger-than-anticipated results in the midterms. Of course, that's only part of the picture.

As Biden knows from his half-century of experience, politics often comes down to luck, and his administration has obviously benefitted from the blowback to the unpopular Dobbs decision, not to mention the Republicans' inability to prevent a slate of whackadoo candidates from undermining their electoral ambitions, plus Trump's unpopular reemergence. Anyway, that's politics for you. A few months ago, David Axelrod was questioning Biden's viability on the record in the Times. Now it's grossly impolite in Washington Democratic circles to suggest that an 80-year-old president will be unfit to seek re-election in two years for a term that would end when he's 86. CNN's Kate Bennett is even reporting that Jill Biden, the ultimate decider, as I noted over the summer, is feeling more optimistic about an above-the-basement campaign. And so the White House will continue to game out how to make a campaign manageable for an octogenarian candidate who needs his sleep.

So, that's the narrative, as they like to say in this town. The reality, though, is far more complex. First, Biden's front-runner aura isn't as sanctified outside D.C. A recent CNBC poll shows that 70 percent of Americans think that Biden should not run for re-election, including 57 percent of Democrats. The same poll found that 61 percent of Americans think that Trump, long considered Biden's likely '24 nemesis, shouldn't run, either. (At least 37 percent of respondents in his own party suggested as much.) The Trump news comes as a Quinnipiac poll suggests he's hit his lowest approval rating in 7 years.

As you can imagine, this data has made its way around D.C. political shops and state capitals. After all, Biden's most potent electable feature was that he did, and seemingly could once again, defeat Trump—that Trump's own age (76) nullified the health question, and that independent voters would be inclined to pick the more reliable of the two choices. But what if he's not running against Trump? That could open the window for a plethora of Democratic candidates with their own ambition, all of whom appear to be hoping that someone else will make the first move.
A MESSAGE FROM OUR SPONSOR
Walmart is taking action to help promote better health outcomes through lower insulin costs, helping over 28 million Americans without insurance. The company is working to bring down insulin costs for customers who pay out of pocket. By working directly with manufacturers, Walmart is saving customers up to 75% off the cash price of branded analog insulin. Since June 2021, the retailer has saved shoppers over $15 million on insulin, helping families save more and live better.
Learn more about Walmart's commitment to insulin affordability.
The Inevitability of Inevitability
The only inevitability in politics, as any seasoned operative knows, is that everything inevitably fades. Hillary was inevitable, until she wasn't. Jeb once seemed inevitable. As recently as the summer, it almost seemed inevitable that Biden would have to deeply ponder the strategy of a re-elect, and a Trump campaign resurrection sure seemed in the bag. Even establishment Republicans viewed the Mar-a-Lago search as a coronation. But his poor midterm showing, his lackluster campaign announcement, dinners with fascists, the lack of endorsements from his allies and aides (even Sarah Huckabee Sanders wouldn't stick her neck out for the guy), plus a barebones staff and the lack of a single campaign event, has putative challengers licking their chops.

Voters seem to be thirsting for change, too. A recent Wall Street Journal poll gave Ron DeSantis a 14-point lead over Trump, 52 percent to 38 percent, in a hypothetical head-to-head primary matchup. The prospect of an 80-year-old Biden running against the 44-year-old DeSantis is actually more nightmarish for Democrats, I'm told. "For Joe Biden, it's not political, it's personal stamina," said a consultant with another '24-in-waiting candidate. "Does he have what it takes?"

DeSantis, notably, has not announced yet that he is running for president. Similarly, on the left, a phalanx of would-be candidates are waiting for the moment when inevitability might wane. None, however, have the chutzpah to publicly drop a dime on Biden. "There's no Ted Kennedy in the party right now who is willing to primary a sitting president," said another advisor to yet another '24-in-waiting candidate.

But Biden knows that these impatient opportunists are out there. His decision to push for South Carolina to be the first primary on the calendar (in addition to moving up Nevada, Georgia, and Michigan) is a clear indication that he is attempting to build a firewall. J.B. Pritzker, Gavin Newsom, Gretchen Whitmer, Phil Murphy, Cory Booker, Amy Klobuchar, and Pete Buttigieg, among others, would be far more likely to evidence their ambition if they were taking on Biden in the renegade-friendly confines of New Hampshire, where he came in fifth in 2016. "Moving the primaries made it harder for an insurgent to take over," said Tom McMillen, a former U.S. congressman and ally of the administration. The message, said an advisor for one of those in-waiting candidates, is indisputable: "If you primary us, you have to go through South Carolina, and you will lose."
Obviously, New Hampshire has long been fertile ground for iconoclasts and political earthquakes. It's where Eugene McCarthy evidenced L.B.J.'s vulnerability, where Bill Clinton became The Comeback Kid. And while the state is still fighting for the opportunity to hold the first-in-the-nation primary, that outcome is unlikely. But even if New Hampshire is out, that doesn't tame the ambitions of those cautiously looking for their opening.

As Politico reported, Transportation Secretary Buttigieg has built out a dark money group and political action committee, which they dubbed his "campaign in waiting," while he serves in Biden's cabinet. Booker, who had cash problems in 2020, convened a meeting with 100 donors earlier this month, according to Politico. Newsom's team is fully staffed up, and as I reported last week, Pritzker may be luring Democratic superstar Quentin Fulks, who led the Raphael Warnock campaign, back into his ranks. For Pritzker, money is not an issue and he could easily attract the best talent, meaning that he might have the best chance of winning.

At the same time, the Democratic establishment is shoring up around Biden. It's not like 2008, when a neophyte Barack Obama came after Hillary Clinton, and there were some splinters. For decades, Democrats have been criticized for falling in love rather than falling in line, like Republicans. But that curse seems to have been cured, at least for now. It's partially a case of P.T.S.D. from 2016. There's a real fear inside the party that if they rock the boat and a raucous primary weakens Biden, they could have another four years of Trump, or whomever. Until then, Biden remains the unity candidate.
The biggest challenge of a party coup is that it requires serious temerity and timing. A challenger would have to preemptively announce before Biden makes his own declaration, and run the risk of a poor reception, which could be political suicide. Earlier in the year, there were rumblings of a Bernie Sanders redux or primary by way of his protégé Ro Khanna, but that is all but dead, especially after Khanna supported Biden's decision to launch the Democratic primaries in South Carolina. If anything, progressives have been pleasantly surprised by how far Biden has moved to the left, and seem disinclined to stir the pot.

Newsom would face the most risk since his donors are so intertwined with Biden's own. They would immediately have to pick sides, and likely would not rebut a sitting president. "He doesn't want an upstart campaign against Biden, he wants to run the I'm-anointed-next-in-line campaign," said a consultant for another team. "If you primary him, your career is over, the establishment will cut you off," said another consultant for a different '24-in-waiting candidate. "You lost the case to primary him after the midterms, unless you primary him from the left. Who runs the campaign that says you're too old?"

Among the many advisors I spoke to, all were in agreement that two things would have to happen to make a primary against Biden viable, and they would need to happen soon. There would have to be a massive mismanagement of a crisis like Afghanistan and then there would need a credible primary challenger, preferably from the left who would "break the seal" for the others to jump in. For what it's worth, I've been told this deference does not exist for Kamala Harris if Biden decides not to run and instead anoints her. She'd be on her own.

The thinking that the first domino must fall from the left is an acknowledgement that the first person to take the plunge will be attacked. But that would give cover and some breathing room for another more credible candidate to enter the race. The others would inch in as well, with the goal of just pushing Biden out all together, not actually fighting him until the bitter end.

Paradoxically, a one-on-one primary challenger to Biden wouldn't be a problem the way it would be for Trump, who only stands to win if a slew of candidates jump in and split the rest of the votes. "Their pipe dream is that [if] enough candidates get in that it forces Biden out, others can reasonably say, the party has spoken," said a Democratic consultant. "In the end Democrats are cowards, we have no spine."
FOUR STORIES WE'RE TALKING ABOUT
Post Apocalyptic
A brutally awkward town hall amplified long-simmering tensions at the Washington Post.
DYLAN BYERS

Royals in Hollywood
What 'Harry & Meghan' reveals about Netflix's plan for future docuseries.
JULIA ALEXANDER

Need help? Review our FAQs page or contact us for assistance. For brand partnerships, email ads@puck.news.
Puck is published by Heat Media LLC. 227 W 17th St New York, NY 10011.