Welcome back to The Washington Mall, my biweekly email focused on what's really happening in this town, from the White House to the Capitol, K Street, and the media orgs covering it all.
As you know, January 3rd isn't just the first day of the new Congress. It's also the debut of The Best & The Brightest, our new daily newsletter, featuring yours truly on Mondays and Thursdays, plus my incredibly talented partners Julia Ioffe on Tuesdays and Tina Nguyen on Wednesdays. (We'll be time-shifted by one day next week on account of the New Year's holiday.)
I'm closing out the year in conversation with Peter Meijer, the talented but outgoing Republican congressman who voted to impeach Trump and was primaried by a far-right challenger (with a little help from the Democrats). He's got a lot to say about "Team Crazy," the G.O.P.'s primary problem, and the DeSantis alternative.
But first, a few notes from around town:
The Real Santos Shocker: Every day seems to bring a fresh revelation about D.C.'s new talented Mr. Ripley, George Santos. But for me, as a former New York Post reporter, the most shocking element is that none of this came out before the election, especially given the fact that his Democratic opponent was Robert Zimmerman, who had hired the powerful consultancy SKDK to run his campaign. Zimmerman is not some bright-eyed, political neophyte. He's a political animal who knows the game as well as anybody, and certainly had the phone number of every News12, Newsday, Daily News and New York Post reporter to place such juicy allegations. He was a talking head on TV, a D.N.C. member, and a former political aide and appointee, who worked for two congressmen on Capitol Hill, in the New York State legislature, and later as an appointee in the Mario Cuomo administration. He moved on to hang his own shingle—a marketing and P.R. firm called ZE Creative Communications.
But here's what I learned from an operative in another New York camp: Zimmerman, who was short on cash after an eight month, five-way primary in a reconfigured district, made some grave miscalculations. After being handed a half-backed oppo packet on Santos from the Democratic Congressional Campaign Committee, he decided against spending between $30,000 to $50,000 to develop that research, which would have made it easier to report and might also have turned up other falsehoods, like the fact that Santos is not Jewish or the mysterious origin of the $750,000 income that The New York Times reports is currently being investigated. Instead, Zimmerman had to raise $2 million in 10 weeks, so he decided not to make the investment.
"With 10 weeks to go, I could not send a crew to Brazil to find out if he was a fugitive from the law," Zimmerman told me. "I couldn't afford to hire a genealogist, and frankly that's why people who do opposition research turn to members of the media. Did I want this story out? Of course I did. Did I do everything we could? Of course I did. The frustration we had, outside of local media, many of them told us they didn't have the personnel, money or the time to do it. The local media did in fact look at these issues and tried to address it as best they could. They are the frontlines of our Democracies."
Former congressman Steve Israel, the former D.C.C.C. chairman who repped that Long Island district for 17 years, blamed the oppo failure in part on Democratic complacency in a Biden+8 district and a diminished press corps. Zimmerman may also have believed that by outing Santos for his lies, he would end up giving him more oxygen. After all, Israel's successor Rep. Tom Suozzi was able to beat back Santos's challenge in 2020 by largely ignoring him—but that was during Covid.
"You can't prosecute a campaign strategy in a rearview mirror," Israel told me. "Could they have spent more money on opposition research? Yes. Could they have gone negative on Santos earlier? Yes. But each of those decisions has its own consequences and based on the pressures and polls they were dealing with, they made the best strategic decisions they could have at the time."
Zimmerman said he took the race seriously and ran ads against Santos for his support of the insurrection and a national abortion ban. Local media interest for the race was obviously trumped by Governor Kathy Hochul's tight race and Sean Patrick Maloney's House race, plus the fixation over the narrative that it was a novel race between two gay candidates. "We went on the attack from day one," Zimmerman continued. "We knew we were in a close race in a big Republican year, we did everything we could to expose him."
McCarthy's Santos Dilemma: For now, Santos is McCarthy's problem, and I certainly don't expect you will hear a peep out of him before his leadership election on January 3, when he'll need the conman, who lied about everything from his sexual orientation to his mother's death, to contribute to the 218 floor votes he needs to become House Speaker. While Politico is reporting there's increasing pressure on Santos by New York Republicans to announce that he won't seek reelection in 2024, McCarthy may want him to hang around for a while, even if that means Santos is paid $175,000 in taxpayer money, possibly more than he ever made legitimately.
McCarthy's calculus is likely this: If Santos is forced to resign early, that would prompt a special election. At the very least, McCarthy's leadership fund would have to spend about $5-7 million to defend that seat, and even then, Democrats will likely win. The narrative might then fixate on McCarthy's slim majority becoming even slimmer. That will surely put a damper on fundraising for 2024 and draw questions about his own leadership. Who knows, if he's made speaker after giving in to the Freedom Caucus's motion to vacate demand, it could even trigger his ouster—or, at the very least, make his leadership hell just a bit more hellish.
Saboteur Payday: If you thought that maybe the holiday spirit might have softened the five Never Kevins, you were wrong. In fact, they seem to be doubling down, even raising money off their plans to challenge McCarthy. I was forwarded a fundraising email from House Freedom Caucus challenger Andy Biggs, in which he vows to his supporters that he will challenge McCarthy for speaker, even though he won just 31 votes in the caucus and is unlikely to ever make it to the floor. In a fundraising email he tells his "fellow patriot," "I need you to help us mount a pressure campaign over the next 4 weeks," he writes, seeming to suggest that this speaker vote may carry on well past January 3. "Pitch in just $30 to turbocharge our emergency efforts to break the Establishment and elect a CONSERVATIVE Speaker of the House."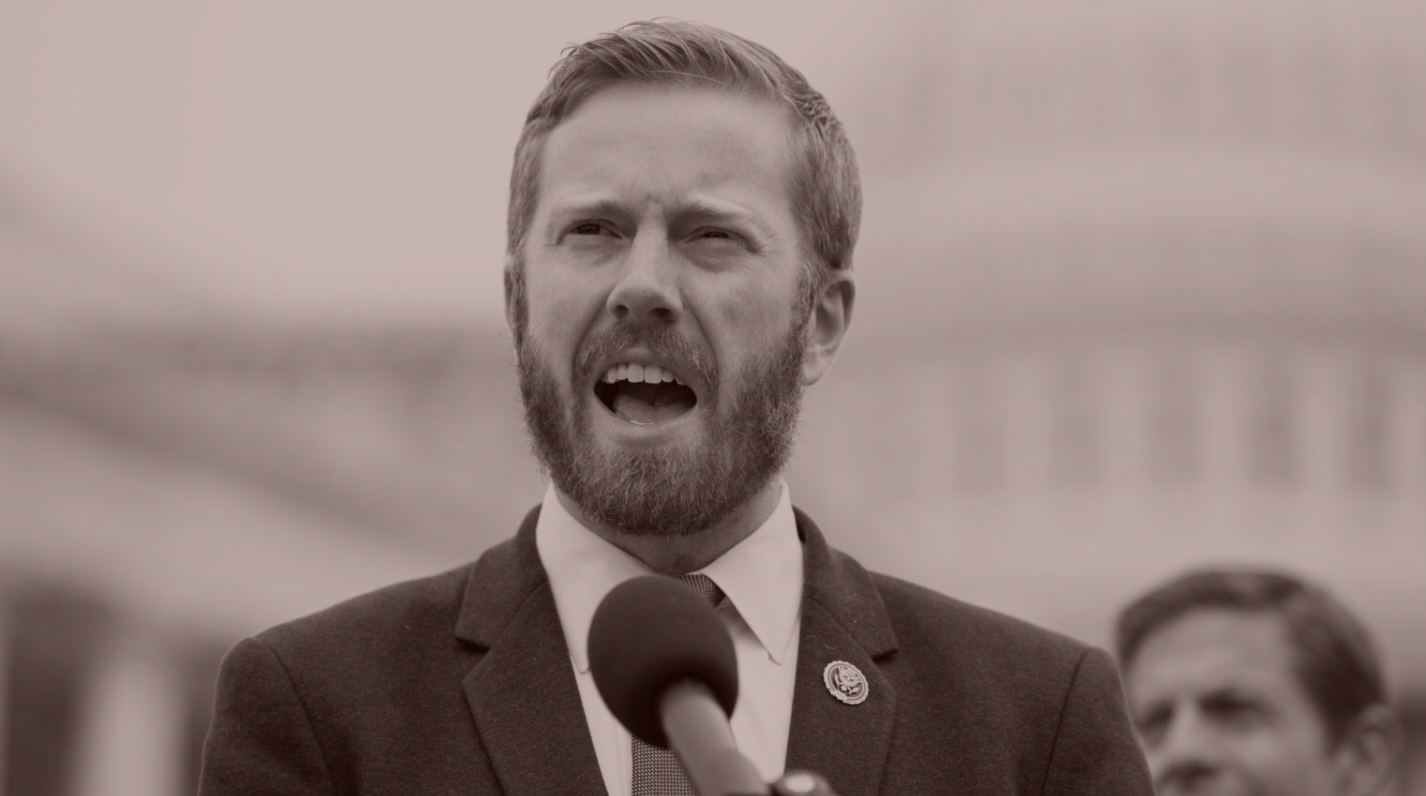 Straight Outta Congress
Some very candid and no-B.S. post-Congressional musings from Peter Meijer about the G.O.P., Trump, McCarthy, Biden, and more.
Peter Meijer, the fire-haired Iraq war vet, Ivy League grad, and well-heeled scion of the namesake supermarket fortune, was that rare bird when he entered Congress as a 32-year-old on January 3, 2021. Meijer evidenced little interest in building his personal brand through publicity stunts and B.S. culture war media skirmishes. Instead, he had more high-minded goals, like increasing government accountability and competitiveness for Michigan's third district, which circles Grand Rapids, and used to be Justin Amash territory for all of the aughts.

Alas, within a fortnight of his sojourn to Washington, Meijer would take a vote that would alter his fortune. He was the only freshman among 10 Republican members with the guts to vote for Trump's impeachment after the January 6 riot that ransacked the Capitol. This quickly made Meijer a lonely man in Washington. As was the case with Liz Cheney in leadership, the Republican party turned on him. And the Democrats, smelling blood, spent to pump up his Trump-ier primary challenger John Gibbs in the hopes that he would eventually self-immolate, a common occurrence in the midterms. Eventually, the MAGA-friendly Gibbs narrowly defeated Meijer in the primary by less than four points; Democrat Hillary Scholten then went on to crush Gibbs by 12 points in a newly redrawn district. The irony for poor beleaguered Kevin McCarthy is that he lost a likely future Only Kevin vote in his pursuit of placating Trump.

After just two years in Congress, Meijer is now speaking some of the harsh truths about the G.O.P.'s losing strategy, the secret to muting Trump, and how a new "type of resentment" against their Dear Leader in D.C. feels different this time around. As for Meijer, given his talent and resources, I have a feeling he'll be back in some form. This interview has been edited and condensed for clarity.
Do you think Kevin McCarthy did enough to support you in the primary?
Eh, I'm not going to complain on that front. When it came down to support from a hard dollar and soft dollar standpoint, the type of support that's in the realm of support for a party apparatus, I was pretty well supported. The bigger challenge was the perception that this guy is 'alone in the wilderness.' When I'm in D.C. I'm not alone in the wilderness. But it didn't help, even if there was plenty of assistance behind the scenes.
I think there was a calculation that was made, and not in any sort of clear fashion, but shortly after January 13, that was, Okay, here are our canaries in the coal mine that will determine the strength of Trump's vengeance tour. And very quickly it felt like there was a segmenting off, a triaging. It was, Okay, the revenge will go this far and no further. The challenge is that folks who are looking for our scalps—they're not going to be happy with just one or two. They will not stop.
The people who were viewed as far-right lunatics by the "Establishment" a decade ago are now solidly members of the mainstream and being called RINOs by the crazies of today. It's a very hilarious circumstance when you step back and view it in the abstract. At the end of the day, losing my race, that's my responsibility. To the extent I have a frustration, it's not because X or Y didn't cut a check here or there. The frustration is just with this general wager on behalf of the party, that this is like a fever that would break and we didn't have to worry about applying a cold compress. By the time it came, the tables had shifted so much from February of 2021 to July of 2022 that the cake was essentially already baked.
So, you're not really blaming Trump.
No, no. He has helpful totemic powers. He can be the shorthand. He's the best litmus test of whether you are part of the new wave or the old guard—unless you dislike Trump because of the lockdowns and the Covid mandates and the vaccines, then it's okay to dislike Trump. It has a lot more to do with an insurgent trend of people who feel betrayed by the political establishment. They have chosen the right as the lane to run on, and our parties are weak enough, especially the Republican party, structurally speaking, that they lock arms with opportunists who see this as their ticket to getting into a place of power and influence. As a result, people who were laughed out of rooms a year ago, those same people, in Michigan's case, are in line to be the state party chair. It's much more about a collection of individual psychological reactions to being the "out" group than it is about Trump.
People realize that Trump hurt the party in the midterms, right?
Oh my god, yes. Nobody can deny it.
But do the voters blame Trump?
I pinged some folks that were hostile to me, and they were done. The difference between 2020 and 2022, is that when Trump loses in 2020, the Republicans do well—we kind of win. Supporting Trump becomes a costless proposition. To me, January 6 was the moment when something broke and it's no longer a costless proposition. It has a body count. But also, we just had an election in 2020 where Defund the Police was hung around the necks of Democrats like an albatross, and now we just gave them Defund the Police on steroids. Setting aside the morality and the principle of everything, should we just expect that the voters would sleepwalk through this? It was insanity.
Like I said, in 2020, there was no alternative to Donald Trump. You couldn't say, We're going to get rid of this guy, and here's the heir apparent. In 2022, not only did you have candidates who thought they would win that lost, but you had a lot of members of Congress who felt good about their chances, until they weren't. And now, not supporting Trump and continuing in the party means that you're guaranteed to face primary challengers. And not the normal primary challengers of days past, where somebody goes a little out of bounds, thinking we're not going to go scorched-earth because we still need to win in the general. No, you've got jihadist primary challengers. They don't care what happens to them, they don't care what happens to the party, it's all about making a point and driving home a message.
The party is now going to have to raise a lot more money in the primary, and a lot more money in the general, because of what a dead weight the candidate is in the general. It's not costless. Not only is there an alternative to Trump with Ron DeSantis, but supporting Trump is not costless. It's terrible for business. You're going to have to raise more money to fend off the primary challengers; you're going to have to raise more money to fend off general election challengers. And it takes a lot of time and it's just increasingly making life miserable. He's extended past the point of expected misery of D.C. It tends to breed a peculiar type of resentment.
You've said that the midterm elections are a sign that voters don't want "Team Crazy." But how do you get past "Team Crazy" when they pick the candidate in the primary?
That's the rub. The easiest way to win the primary is the easiest way to lose the general. There are certain voters in the primary where, if I walked in a room and that person was nodding their head and clapping, I'd go, Oh crap. For every one of them who agrees with me, I just lost five or 10 moderate or independent voters in the general.
I think that's the challenge. The Democratic party right now is much more forgiving and much more electability-orientated by saying, We get it, you might not give us everything we want, but you'll give us enough and we'll be happy because we realize this is a competitive seat and it's going to be an uphill battle. The 2022 election was a perfect experiment in finding the limitations of base turnout, and it's highly limited.
How do you convince Republican primary voters to be more strategic?
To be clear, it's not all Republican primary voters, but there's a sense that I've heard from some on the grassroots side that they feel put out, they feel talked down to, they feel ignored and not included. It's an understandable frustration. Who doesn't feel alienated in our political process?
At the same time, they're continuing to go after folks who they perceive as not a part of the Trump establishment. The challenge is that, if there's no affinity to electoral reality—and this to me, from a political standpoint, was what was so pernicious about Trump's lies about a stolen election—if you can't at least figure out if elections were won or lost, how do you begin to figure out how you can win them?
And among the grassroots, there's this sense that the problems are within. And it's a similar refrain on the left. Real progressivism hasn't truly been applied. It would only pass if we could finally do this thing that you guys weren't brave or strong enough to do. The frustrating thing is that basically it takes a couple of cycles of losses under a strategy like that for folks to say Huh, maybe we were approaching this the wrong way?
Was the vote to impeach worth it?
I personally couldn't have stood back and kept quiet and said no, this is fine. I just couldn't have.
So no regrets?
I regret that we had to take that vote, but I don't regret my vote. I wish I had a term or two under my belt. The entire term was basically trying to dig out from a hole that others kept throwing dirt in. That was from having the office run the way that we wanted to, to being able to communicate to the constituents, to change minds around issues the way we wanted to or engage in persuasion. When it comes to casting a vote that I think will age well into my lifetime and into posterity, that was right and necessary to do, I don't have regrets.
Why is everyone so quiet about Trump's recent call to suspend the constitution or his Nick Fuentes dinner?
I think the exact opposite. I think it also has to do with the notion that if nobody reacts to Trump, does he even exist? There's a sense that talking about him, even if it's criticizing him, gives him power. The best way to strip him of power and strip him of any influence is to just kind of ignore him.
I've been through a dozen cycles of, Trump's finally finished, the fever is breaking, etcetera. What's different now is that, on that same ballot, Trump-endorsed candidates got their asses handed to them, and you had Trump-criticized Republicans who just knocked it out of the park. You have these two very clear paths—one that's winning, one that's losing, and an alternative in 2022 that arose that didn't exist in 2020 in the form of Ron DeSantis.
Are people actually talking about ignoring Trump as a party strategy?
It's always been, We don't really want to take the bait—but before we kind of had to take the bait. Trump is increasingly going to extremes to get people to react, and by reacting you are only helping him and sort of validating what he's trying to do. It's actively not productive to engage. And if you ignore him, he'll continue to go crazier and crazier and dig his own political grave. I mean, how old is he, 76?
Do you think after Trump implodes, there's a place for you to make a comeback?
I think there's a place for me right now. The Democrats learned pretty quickly that you don't leave primaries up to chance. There's a reason why my Democratic challenger, who is now the Congresswoman-elect, ran unopposed in both of her primaries. The challenge is on the right. We not only left it up to chance but manipulation by the other side. And so maybe there was some naivete from me in thinking that elections were about voter preference and not manipulating the playing field in a way that the Democrats have become very good at.
For me, what's the point of running for office if the ratio of politics to policy is so ridiculously out of skew today? This is partly my thought after January 13: I will do everything I can do to win, but if condemning an attack on the Capitol is political suicide, do you even want to be doing the things that you to need to do to get elected?
What do you think of Gretchen Whitmer? Is she a lightweight or talented?
I think she'd be a more competitive candidate than the current occupant of the Oval Office or the current resident at the Naval Observatory [Kamala Harris].
So you think she'd be a better candidate than Biden for 2024?
Anyone would be. This is what gave me hope in this last election: If the lesson that the Democrats take away is that they don't need to change their path at all, they're doing fine, steady as she goes, then that's probably their worst possible outcome. If the lesson that the Republicans take away is, Guys we need to change course, this was an embarrassing showing and we need to learn the right lesson, that's a recipe for a true red wave in 2024.
Would you be interested in running again?
Of course.
Congress?
I don't know what that future will hold. Hell, I'm 34.
FOUR STORIES WE'RE TALKING ABOUT
Bloomberg Dream Sequence
Does Mike really want to buy the WaPo and WSJ, or is the latest report a red herring?
DYLAN BYERS

The Townies, Pt. 2
Matt and Lucas Shaw's first annual Hollywood Townie Awards.
MATTHEW BELLONI

Need help? Review our FAQs page or contact us for assistance. For brand partnerships, email ads@puck.news.
Puck is published by Heat Media LLC. 227 W 17th St New York, NY 10011.