Welcome back to The Washington Mall, my biweekly dispatch from the nation's capital, which loyal readers know will soon become part of Puck's high-impact daily politics newsletter, The Best & The Brightest, once the new Congress kicks off in January. In addition to my private emails on Mondays and Thursdays, you'll also receive inside reporting from my talented partners Julia Ioffe and Tina Nguyen on Tuesdays and Wednesdays. Loving Puck is the one thing that unites Washington.
In today's email: Ron Klain, Anita Dunn, The Macker, Joe Biden, Gina Raimondo, John Boehner, Paul Ryan, Kevin McCarthy, M.T.G., and many, many more.
Can't see the full story? You're receiving the free version of The Washington Mall at . For full access to Puck, and to each of my colleagues, you can subscribe here.
It's revolving door season in Washington: lawmakers with senioritis are bidding
adieu
, a new congress is a few weeks from commencing,
Hakeem Jeffries
has received the baton from
Nancy Pelosi
, and
Kevin McCarthy
is trying to play "saboteur" whack-a-mole for a job he always wanted, no matter how unappetizing it presents itself to be. Hope springs eternal in a town where everyone is writing—and rewriting, and re-rewriting—their narrative in real time. And that's especially true in the White House, the human laboratory that usually undergoes its fair share of professional turnover coming out of the midterms.
As I reported last month, Joe Biden's chief of staff Ron Klain has been looking forward to a much-needed break from civil service after what has turned out to be a particularly...
FOUR STORIES WE'RE TALKING ABOUT
M&A Ice Age
News and notes from around Wall Street.
WILLIAM D. COHAN

Gray Lady Angst
What the NYT staff walkout reveals about the paper's internal power dynamics.
PETER HAMBY & JON KELLY

The Robot Scribbler
The rise of ChatGPT suggests A.I. is coming for the arts.
BARATUNDE THURSTON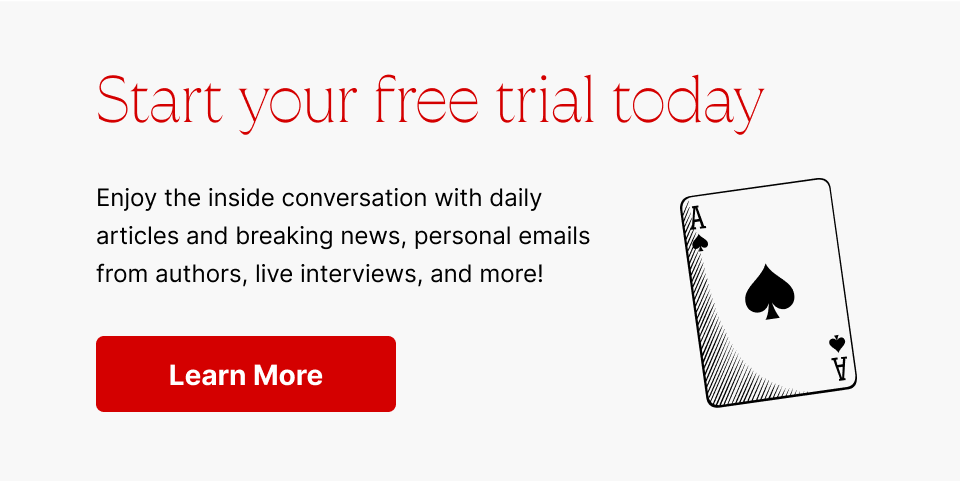 Need help? Review our FAQs page or contact us for assistance. For brand partnerships, email ads@puck.news.
Puck is published by Heat Media LLC. 227 W 17th St New York, NY 10011.