Good evening, I'm Dylan Byers.
Welcome back to In The Room, my biweekly private email on the inner workings of the American media industry. Tonight, we go inside the halls of 30 Rock to get the real story behind a leadership shakeup at NBC News, and what it portends for the future of the business. Plus, some news and notes on Chris Licht's new dayside schedule.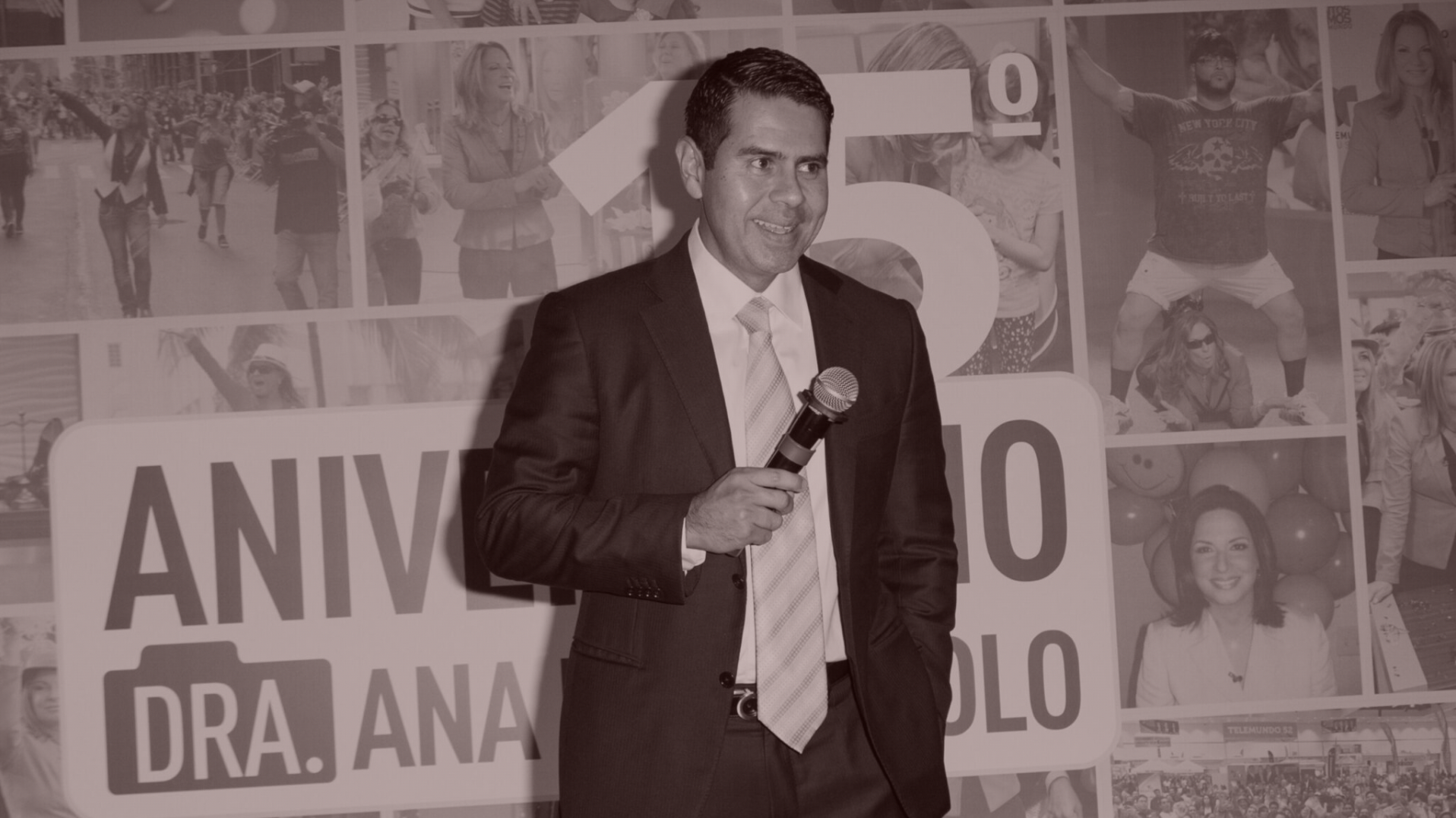 Hail, Cesar!
Here's the real story that was buried in today's big news about Oppenheim's departure and Blumenstein's ascent: Cesar Conde is consolidating power. Plus, Licht's dayside moves.
When NBC News Group Chairman Cesar Conde talks about the future of his business, he invariably comes back to the word omnichannel, the sort of corporate jargon that distinguishes him, a Harvard-and-Wharton-trained operator, from his predecessors, like Steve Capus and Neal Shapiro and Andy Lack, all of whom identified as journalists or at least media executives with journalistic chops. Conde, for his part, leans into his McKinsey pedigree: he sits on blue chip corporate boards (Walmart, Pepsi, etcetera), talks like a C.E.O., and seems to view himself as an executive in charge during transformational times, when big decisions need to be made.

Conde's views on that future also reflect certain undeniable secular trends—the inexorable decline of linear television, the rise of digital subscription businesses, the leveraging of brand loyalty—among others. In private conversation, Conde can humbly acknowledge that NBC News, despite its history and massive infrastructure, isn't immune to these changes. In fact, those attributes make it vulnerable.

In his view, sources who have spoken with him say, NBC News's future is not built around a core television network—a dying though still lucrative asset. It is, instead, a constellation of brands like Today and Dateline and NBC Nightly News that exist across various linear and digital platforms, with myriad revenue streams, all of which can be judged by their own P&L and require different strategies. In this worldview, NBC News is less of an operating business and masterbrand than a holding company for its consumer-facing properties—a multimedia Conde Nast or LVMH or MacAndrews & Forbes. "Cesar isn't thinking about one coherent editorial strategy," one high-level NBC News executive told me. "He's thinking about systems, about outcomes."
On Wednesday, Conde announced a leadership change at NBC News that appeared, at least at first glance, fairly predictable. NBC News President Noah Oppenheim, who has been loose in the saddle for months and moonlighting in Hollywood, was vacating his position and would be replaced by Rebecca Blumenstein, a talented and well-respected veteran of The New York Times and the Wall Street Journal who, despite having zero experience in television or on the revenue side of media, had demonstrable success in newsroom management. A closer inspection of the new org chart revealed, however, that Conde was actually eliminating a layer of management, consolidating power, and effectively promoting himself.

After all, Conde didn't just replace Oppenheim with a less experienced and presumably less expensive executive. (Alas, like magazines before them, that is the trend in the shrinking industry of television news.) Instead, he eliminated his position and split it into three roles, with Libby Leist overseeing the Today franchise and its e-commerce business; Janelle Rodriguez overseeing Nightly News and the network's streaming service, NBC News Now, a surprisingly monetizable hit; and Blumenstein hired to run the remaining brands, like Meet the Press and Dateline, as well as the core newsgathering effort upon which this whole enterprise depends. All three will report directly to Conde. "The job that Noah had has been eliminated," another high-level NBC News executive told me.

From the corporate vantage point, this "realignment," as Conde calls it, has a certain logic. "It's uber-practical," one NBC insider said. He is breaking out Today, with its lucrative advertising and ecommerce businesses, and NBC News Now, the fast-growing streaming service, and giving himself direct oversight over both businesses. From the editorial perspective, however, it's hard not to feel that NBC News is being turned into something smaller, and that the house of Brinkley and Brokaw and Brian Williams isn't primarily an august journalistic institution so much as a balkanizing portfolio comprised of a couple of hit shows, a lifestyle brand, and a streaming service. How else to explain the absence of a captain who can create a unified editorial strategy for the network, manage the talent or make the tough calls on how to cover a crisis?
This may explain why many notable NBC News veterans are bemoaning Oppenheim's departure and somewhat miffed that his pseudo-replacement is a career print journalist who is leveling up while the core television news product has effectively been downgraded. The lack of a single editorial leader to conduct the show suggests, however much spin Conde might want to apply, that the business is less significant, or at least that it will be in the very near future. NBC News, already a complex collection of fiefdoms, is now becoming more, not less, complicated. And, unmistakably, it's now being run like a business—and by a business guy with obvious ambitions and talent and more pragmatism than nostalgia.

An era keeps ending, and Oppenheim's departure is yet another sign of the times. Indeed, Shapiro, Capus, and Lack, and their contemporaries across broadcast and cable news, had largely come up as executive producers. They were intimately involved in day-to-day editorial decisions, and they thrived off the competitive energy that comes with winning a news cycle. This rearing made them natural talent-whisperers, and often garnered them large measures of credibility in organizations where the talent is out front and the numbers people eat lunch with the nerds. But times change in all businesses, and they sure as hell are changing now in this one.
At CNN, Chris Licht continues to struggle with his own credibility in the eyes of his talent. In his first nine months, his sole programming move has been to overhaul the morning show with a trio of hosts who haven't moved the ratings needle nor made CNN anymore competitive with Morning Joe. Meanwhile, he has yet to fill the 9 p.m. hour—historically the highest-rated hour on CNN—or outline a competitive primetime strategy. (The dereliction of 9 p.m. at CNN and post-Maddow MSNBC is perhaps the era's most glaring evidence that ambition has been replaced with belt-tightening.) Instead, to the consternation of many on-air talent, Licht has decided to focus his efforts on dayside, the least-watched hours of the day.

On Wednesday, Licht unveiled a new dayside strategy that aims to infuse the often lackluster, desk-anchor format with what he described to Variety as a more "kinetic" energy, with multiple anchors spending more time on their feet. John Berman, Kate Bolduan, and Sara Sidner will co-host a three-hour morning block from 9 a.m. to noon, while Jim Sciutto, Boris Sanchez, and Brianna Keilar will co-host another three-hour afternoon block from 1 p.m. to 4 p.m. The noon hour will continue to be hosted by John King, though sources familiar with Licht's plans tell me his chair may eventually be given to Dana Bash, who is coincidentally his ex-wife.

This new strategy may or may not infuse some much-needed energy into daytime cable. "The goal we have is to take an incredible newsgathering operation that has so much information coming in at all hours from all over the world, and, in an authentic way, reflect that energy on air," Licht told Variety. There is presumably nowhere to go but up. In 2022, CNN averaged just over half a million viewers in total day, and just over 120,000 in the advertiser-relevant 25-to-54 year-old demo—its lowest-rated year in history.

Either way, it's hard for many industry insiders to see it as anything other than an ongoing rearranging of the deck chairs. "The lowly Pirates have switched their third baseman with their first baseman and moved their shortstop to second base while their catcher will now pitch and their pitcher will now catch. And the fate of the second baseman is undecided," one veteran television executive quipped. And as with so much at CNN these days, the move is also a cost-cutting effort, since fewer shows means fewer production expenses. CNN may not be turning into Cheddar, but it is increasingly looking like early-era HLN in many respects.

In that regard, however, Licht is fulfilling the expectations of his bosses at Warner Bros. Discovery. And, as with Conde and NBC News, there is a sense that the nature of the business has changed considerably, and the product with it. "It all seems small," one veteran news executive texted upon seeing the new lineup. "None of this changes the equation."
FOUR STORIES WE'RE TALKING ABOUT
The Hakeem Dream
He inherited Pelosi's rolodex, now can he shake the money tree?
TARA PALMERI

McCarthy Chaos Agents
With the Speaker on a MAGA leash, insiders worry a shutdown is "guaranteed."
JULIA IOFFE

Amazon's NFL Fallacy
Deciphering the streaming data behind a potentially momentous un-bundling.
JULIA ALEXANDER

Need help? Review our FAQs page or contact us for assistance. For brand partnerships, email ads@puck.news.
Puck is published by Heat Media LLC. 227 W 17th St New York, NY 10011.