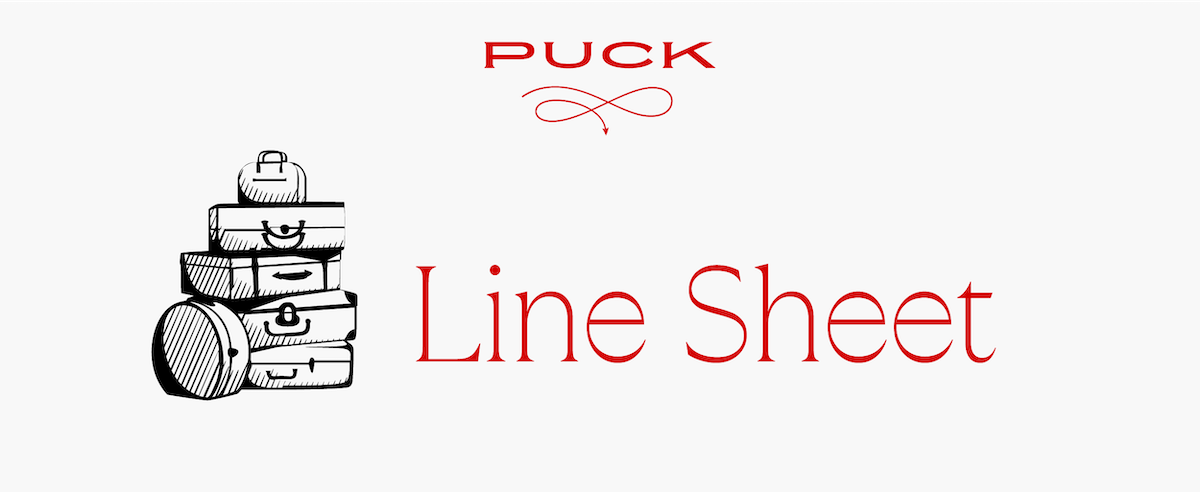 Hi, and welcome back to Line Sheet. It was great to run into so many of you, and actively avoid many others, at Monday's CFDA Awards. I hope you enjoyed your chicken pot pie!
It's too cold for me in New York, so I'm headed back to Los Angeles. But before I go, please enjoy this hodgepodge of Kanye rumor debunking, legacy publisher drama recapping (union strong!), and various thoughts on the real engine of the fashion industry: celebrity, in all its forms.
If you want me to write about those recent Sarah Burton rumors or anything else you have actual, solid information about, hit reply and I'll love you forever. And if you're one of those people who loves to tell me you are absolutely obsessed with what I'm doing but are still not paying for me to do it, sign up with my special, customer-acquisition-friendly code LINESHEET.
Mentioned in this issue: Serena Williams, Willy Chavarria, Tory Burch, BravoCon, Brigitte Kleine, Gwyneth Paltrow, Goop, Christine Centenera, Khaite, Lisa Bubbers and Anna Harman, Francesco Ragazzi rumors, Roger Lynch, Tom Ford, Domenico De Sole, Rachel Scott, Diotima, Jonathan Anderson, Mara Hoffman and Maria Cornejo, Stan Duncan, and more Hearst drama…
Furphy: Have you heard that pesky rumor that Vogue Australia editor-in-chief, Wardrobe.NYC founder, and Very Important Stylist Christine Centenera is still working with the artist formerly known as Kanye West? No! It's not true! Stop spreading shit!
Who in the (fashion) world sponsors BravoCon? When I asked a friend who was at BravoCon this past weekend (don't ask) for some Jenna Lyons gossip, he served up what he could—she wasn't there, after all, so not much—but was nevertheless eager to discuss BravoCon overall. In particular, he wondered why there weren't more fashion brands sponsoring the event. "These brands—that aren't quite luxury, but aren't mass—are sleeping on Bravo," he said. "Anine Bing shouldn't hire Kate Moss. They should do something with the Bravo people. The fans are crazy insane. The influence of the housewives overall is huge."

Was this all a little hyperbolic? He cited the presence of the fashion-y brand Studs, the sort of Claire's-for-cute-kids ear-piercing venture with more than 20 stores across the country, which posted up in their bright yellow mobile trailer, Studs on Wheels, and poked holes in people's ears all day long. (For a fee. This wasn't a promotion.) I called up co-founders Lisa Bubbers and Anna Harman to ask why they showed up. It's pretty simple: They wanted to access the 30,000 superfans that attended the conference last weekend. They used phrases like "culturally relevant" and words like "zeitgeist" and "irreverent." They sold 100 piercings each day at the pop-up—far more than they would on a busy day at a store. The lesson: Don't be a snob. Unless you're the Olsens.
Where in the World Is Roger? Yesterday, 350 members of the Condé Nast union signed a petition addressed to company C.E.O. Roger Lynch, demanding that there be no layoffs before management reaches an agreement with the union. Last week, Lynch announced he was cutting 5 percent of staff in a reorganization, although some are speculating that the final number will be far more. And the union said they've heard 25 percent of their "bargaining unit" is set to be laid off.

About 60 people in the group dramatically marched to Lynch's office on red-shirt Wednesday to deliver him the letter but… he wasn't there! (Maybe he was at lunch?) Stan Duncan, the company's chief people officer, received it instead. On their Instagram Stories, the union posted a picture of Duncan listening to what looked like a birthday speech. (No, really, there were red balloons involved.) "Stan wasn't very nice," they said.
Hearst's new draconian social media policy: The publisher of Harper's Bazaar and Elle sent staffers a fairly crazy email on Monday, asking them to sign a document that lists out all the ways employees should not be engaging on social media—and that doing so could result in termination. There's even a line that says "liking" a post could be considered an endorsement. (This detail was first reported by The Washington Post, but I confirmed separately.)

The Hearst union shot back, filing a complaint with the National Labor Relations Board. (Busy week for legacy publishing unions…) This is obviously a reaction to what happened a few weeks back with Bazaar editor-in-chief Samira Nasr, compounded by an avalanche of social media posts from people declaring their own opinions about the Israel-Hamas war (often in a really dumb way). There probably does need to be some sort of policy in place, but the Hearst board directors are notoriously conservative in their thinking, and the feeling among employees is that they went too far, especially given the low morale in the building.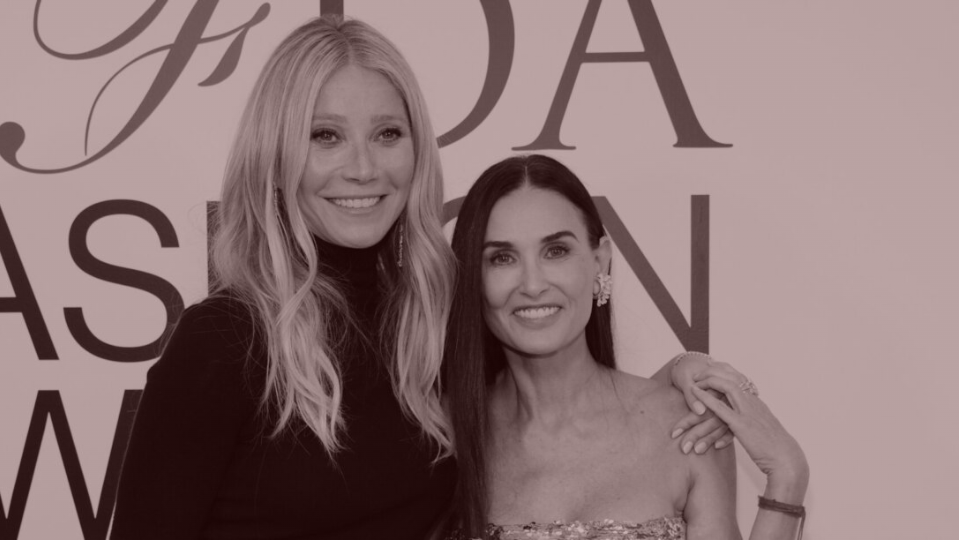 The Skirt & The Whale
Amazon, Gwyneth, Tory, Khaite, Domenico, etcetera: news and notes from underneath the giant blue whale at the CFDA awards.
The CFDAs, which took place this year under the big blue whale at the Natural History Museum, are usually a good snapshot of what's happening in the fashion industry. As with any awards show, who wins means nothing and everything at the same time. Willy Chavarria, a former designer at Calvin Klein and the most compelling menswear designer working in the U.S. at the moment, took the prize in that category—a win for independent brands and thinkers, alike.

In womenswear, it felt like the room was pulling for the establishment's favorite daughter, Tory Burch, whose brand has morphed into something new over the past few years. But that award went, for the second year in a row, to Catherine Holstein, the designer behind Khaite, whose Stripes-backed label is a shooting star in retail. Coincidentally, Holstein recently hired Brigitte Kleine, a Stripes operating partner and one of the most important early architects of Tory Burch, as her C.E.O. If Burch is the Ralph Lauren of her generation, perhaps Holstein will be the Tory Burch of hers.

The popularity of Tory Burch and Khaite demonstrate that talent is important, obviously, but capital makes all the difference—as does having a real C.E.O. that knows how to deploy it. Domenico De Sole, who was also honored that night, remains the platonic ideal, having twice made fashion magic with Tom Ford. In his speech, Domenico reminded the audience that it's a combination of both factors, plus good timing, that truly allows brands to flourish. "It's better to be lucky than smart," he said, downplaying his own achievements.

I'm not sure how much the success of Mara Hoffman and Maria Cornejo, each honored during the evening, has to do with luck as much as it does grit. Both women have been running their own brands for more than 20 years without significant backing. (Hoffman was honored for her work in sustainability, Cornejo for a lifetime of achievement.) It seems impossible to me, given how difficult it is to make a fashion business profitable on a small scale, and I am sure there have been times when they've wanted to give up, or have given up, only to keep going in the end. Mara, who used to be known for resort wear, has demonstrated that it is possible to have a later-stage breakthrough, thanks to her crepey, sculptural dresses designed to fit all bodies.

These types of brands only really exist in America, though. Rachel Scott, the remarkably talented young crocheter behind Diotima, said as much when she picked up the award for emerging designer of the year: "I don't think there's anywhere in the world I could have done this but New York."

I was thinking about it all while Maria was onstage, accepting her lifetime achievement award, named after a true original, Geoffrey Beene. Maria is awfully influential, too, her patterns often filched by younger, richer labels and sold for double the price. It's not fair, and I'm sure that it annoys her, even if she's too dignified to complain about it.

But the undercurrent of this year's CFDAs was that, beyond talent and capital and brilliant execution and luck, it's all about star power. Table after table of boldfaced names, their schedules still free in the days leading into the end of the actors strike, made this the starriest awards show in the trade org's history. Loewe's Jonathan Anderson, who received the well-deserved international designer of the year award, dressed so many people, from frequent collaborator and likely Oscar nominee Greta Lee to The Bear's Ayo Edebiri, that they couldn't all fit at his table.

And you know who got the biggest standing ovation? Well, maybe it was Domenico, but besides him, it was definitely Serena Williams, who received the Fashion Icon Award, presented by Kim Kardashian. Demi Moore presented an innovation award to Gwyneth Paltrow, too. It was underwritten by Amazon Fashion, the night's lead sponsor. Coincidentally, Paltrow just started selling her lower-priced Goop skincare line on Amazon.com.

What Paltrow figured out long ago, and what the Kardashians have always known, is that without celebrity endorsements, without personal brand building, there are no stars. It's all just another reminder that Fashion and Hollywood are one big machine now, nowhere more evident than in the fact that the entertainment industry's largest talent agency is now owned by a luxury baron. (He wasn't there, by the way.)
"Happy to see that Donatella recognized Daniel Marks's impact on Versace's behalf and hired him for all things Donatella. Hope that's not gossip, I just didn't feel Daniel should be in the same breath as those who overspent/overcharged and had the wrong vision entirely. Daniel is a talented, hard-working gem." —A longtime luxury executive

"I enjoyed the Tory IPO analysis. I agree, it seems like wishful thinking by some bankers. Though the reason to do it is if she really does want to go full Ralph Lauren and open a bazillion stores and launch a real homewares business and whatnot. They're profitable but not that profitable." —A journalist
What I'm Reading… and Listening To…
R.I.P. Jezebel. I can't believe you, Spanny! If you want me to write more about this, let me know. [Variety]

More than 1,000 fashion industry insiders—"models, writers, designers, agents, influencers, casting directors, hair and makeup artists, CMOs…"—have written an open letter asking for the industry at large to "condemn anti-semitism and racism." You can see all the names here.

Khy Drop 2 is giving Yeezy x Gap, but heavily seamed. [Hypebeast]

New York-based label Commission just launched a collaboration with Paul Smith; love an unexpected pairing like this. [WWD]

Emporio Armani x Our Legacy, though… wins. (Also, Maria Cornejo's son stars in the lookbook.) [GQ]

All the brands are opening all the stores right now. [Vogue]

Even if you're growing tired of Sofia Coppola's Priscilla press run, this pod devoted an inordinate amount of time to her Charvet shirts, so maybe worth a listen. [The Big Picture]

Palm Angels is collaborating with Tod's… wondering if the rumors that Francesco Ragazzi was joining the Della Valle family's loafer brand as its new creative director were actually about this? One of my sources in Milan called it a flirtation. Shrug! [Instagram]

Move over, Ozempic: Another weight loss drug has been approved by the FDA. [NYT]

"We are now almost a quarter of the way through what looks likely to go down in history as the least innovative, least transformative, least pioneering century for culture since the invention of the printing press." —Jason Farago on why everything looks the same. [NYTMag]

Shoutout to the members of the Olaplex team I met in my hotel elevator the other night. Was not a good day for them, and they were so upbeat! [BoF]

Ummm. Why is there a Visvim store in Carmel? Life is weird. [Street Night Live's Twitter]

And finally… did you notice that Lanvin flats are… back?!
Until Monday,
Lauren
FOUR STORIES WE'RE TALKING ABOUT

Need help? Review our FAQs
page or contact
us for assistance. For brand partnerships, email ads@puck.news.
You received this email because you signed up to receive emails from Puck, or as part of your Puck account associated with . To stop receiving this newsletter and/or manage all your email preferences, click here.
Puck is published by Heat Media LLC. 227 W 17th St New York, NY 10011.