Good morning,
Thanks for reading The Backstory, our weekly summation of the best new work at Puck.
It was another really amazing week here at Puck: Lauren Sherman broke the news on Kylie Jenner's ascent to the higher calling of fast fashion; Dylan Byers presaged CNN's post-Licht next act; Bill Cohan surveyed the worries and wants of the Goldman Sachs partnership; Julia Ioffe got the Deep State readout on Prigozhin; Tina Nguyen reported on the agony inside DeSantis world, and Tara Palmeri conveyed the anxieties of his nail-biting donors. Meanwhile, Baratunde Thurston explained Hollywood's real A.I. fears, Julia Alexander detailed Netflix's next theater of battle, and Eriq Gardner reported on the Greenwich Village co-op fight from hell.
Check out these stories, and others, via the links below. And stick around for the backstory on how it all came together.
A MESSAGE FROM OUR SPONSOR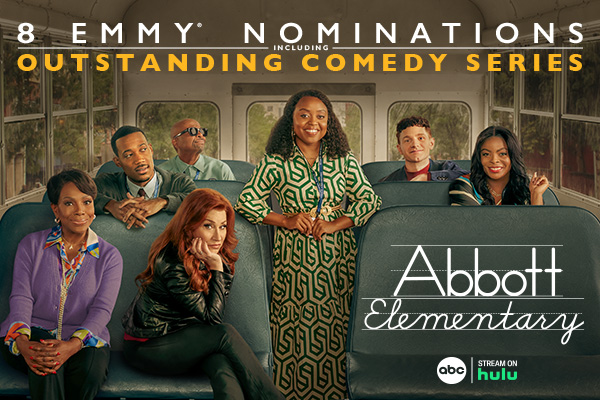 "Abbott Elementary" is now nominated for 8 Emmy Awards, including Outstanding Comedy Series and Outstanding Lead Actress in a Comedy Series for Quinta Brunson. Winner of a Peabody Award and the Golden Globe, SAG and Critics Choice awards for Best Comedy Series, Abbott Elementary is "TV's best show," according to The Daily Beast, and "sharp and searingly funny" by the Chicago Sun-Times. The Emmy-nominated cast also includes Sheryl Lee Ralph, Janelle James, Tyler James Williams, and Taraji P. Henson. Abbott Elementary is for your Emmy consideration for Outstanding Comedy Series and all other eligible categories.
FASHION:
Lauren Sherman breaks the news on Kylie's new fashion play—and a surprising old media reunion.

WALL STREET:
Bill Cohan deduces the meaning of Goldman's recent "kitchen sink" quarter.

MEDIA:
Dylan Byers documents the tribalism of post-Licht life inside CNN.

HOLLYWOOD:
Jonathan Handel has the latest intel on the union negotiations with the studios.
and…
Julia Alexander performs a Netflix pricing colonoscopy.
and…
Eriq Gardner digs into a Hollywood real estate squabble.

SILICON VALLEY:
Teddy Schleifer performs an early power ranking of the '24 donor wars.

WASHINGTON:
Julia Ioffe reminds Establishment Washington why you don't mess with Andrea Mitchell.
and…
Tina Nguyen penetrates the DeSantis surveillance state.
and…
Tara Palmeri reports on the latest Glenn Youngkin donor fantasy.

PODCASTS:
Matt Belloni explains Hollywood's surprising box office weekend on The Town.
and…
Peter Hamby and Dylan discuss "that Variety story" on The Powers That Be.
The Summer of Uncertainty
One of the strange and fascinating rituals of American politics, particularly in the post-Citizens United era, is the triangular interplay between the flurry of candidates, the donor class, and the broader electorate. Voters, as you've likely surmised, don't always support the candidates that get paraded around at grip-and-grin $5,000-a-plate events in Water Mill or Mill Valley. Sure, every now and then a Mitt Romney figure comes along, and finds a way to become palatable to broad-enough swaths of each contingent. But more likely than not, there is a chasm. In 2016, the donor class on the right fell in love with Jeb. The vox populi, of course, had other ideas. (Though, yes, eventually Trump took the tax code route to the one percent's heart.)

Ron DeSantis promised to be that rare bird—a Harvard-Yale pro-business job creator who tingled the erogenous zones of the billionaire class, and yet he was also fluent in the lingua franca of the Very Online MAGA base of the modern G.O.P. From the outset of his shadow campaign, he seemed to find a way to placate both audiences. He remained indefatigably loyal to the Tallahassee operatives who helped him achieve a landslide re-election in the Florida state house while his super PAC also brought on Jeff Roe, perhaps the most influential (and controversial) Republican consultant of the moment.

And yet it hasn't quite gone according to plan. The campaign seemed cursed by the weight of its broader expectations, and its disastrous, glitch-filled launch event on Twitter was, itself, a brutal omen. It was followed by a palpable lack of enthusiasm as the candidate appeared reluctant to abide by the choreography of modern politics. His hard-right repositioning on culture war issues ("don't say gay," a six-week abortion ban, his fight with Bob Iger) failed to convert Trump voters and alienated his biggest donors. In the spring, our Tara Palmeri visited DeSantis on a campaign sojourn through New Hampshire where he couldn't even ace the easy stuff: kissing babies in diners, looking voters in the eye, offering reporters bromide-filled stemwinders about issues, patriotism, etcetera.

The last fortnight, in particular, has been hellish for DeSantis, who has had to lay off campaign staffers and reorient strategy. As Tina Nguyen recently reported, the antecedent of the chaos is the DeSantii's own ego and uniquely insular management style, and the finger pointing has only just begun. In DeSenatis Blame Games, Tina explains who's in and who's out, and where it all might logically end.

Naturally, the donor class has been watching all of this play out with bated breath. Tara captures the agony and anxiety beautifully in her latest piece of reportage, The DeSantis Donor Class's Wandering Eye, which focuses intently on the renewed hope in elite circles that Glenn Youngkin, the former private equity C.E.O. and current Virginia governor, might fill the void—an instinct that once again reaffirms how out of touch donors can be with actual voters.

The DeSantis car crash has surfaced a bizarre reality about the 2024 election cycle, which has somehow already become the longest in recent memory and yet seems to have not even truly begun. Are we headed toward an inevitable rematch of 2020, or is the culture about to endure a bunch of drive-by candidates and surprises that take us into unfamiliar territory? No one knows, of course. But we need not look back any further than 2016 to realize that our politics aren't usual at all anymore. And that, of course, is the story of our time, and precisely what you should expect from Puck.

Have a great weekend,
Jon

Need help? Review our FAQs
page or contact
us for assistance. For brand partnerships, email ads@puck.news.
You received this email because you signed up to receive emails from Puck, or as part of your Puck account associated with . To stop receiving this newsletter and/or manage all your email preferences, click here.
Puck is published by Heat Media LLC. 227 W 17th St New York, NY 10011.