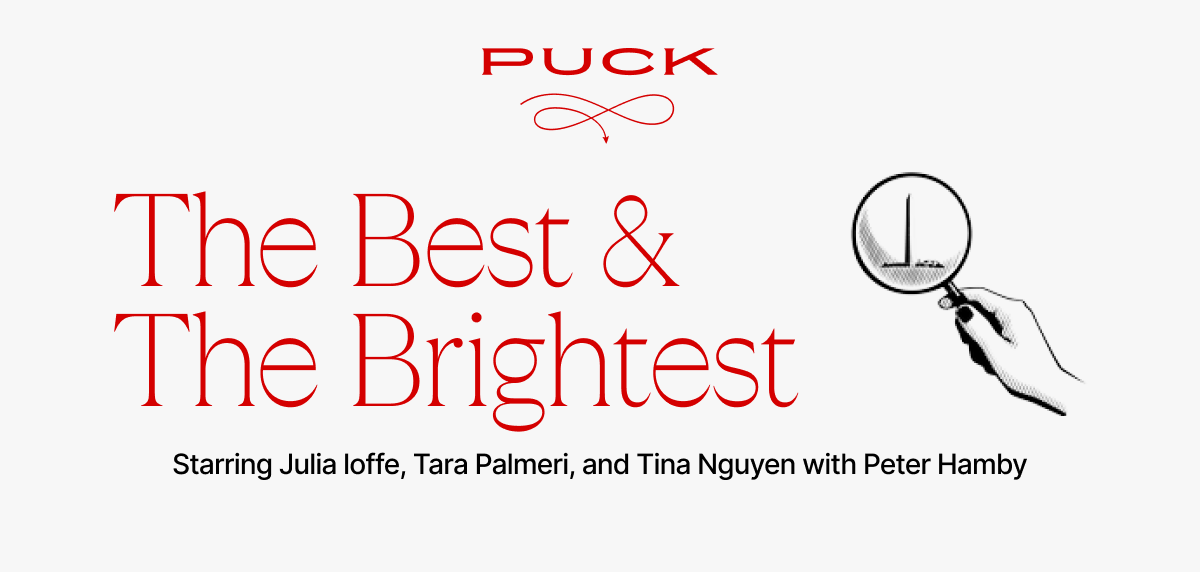 Welcome back to The Best & The Brightest, Puck's new weekly composite of what's really going on in this town—inside the White House, the Pentagon, on K Street, the Hill, and more. Tonight, a closer look at the bad blood between Rick Scott and Ron DeSantis as Scott weighs his 2024 options: to nuke or not to nuke his ungrateful successor?
But first…
The Bidens on the Bus: All signals from Joe Biden's orbit indicate that he's preparing to run for re-election in 2024, classified documents be damned. And all indications from the sweaty-palmed, sideline-dwelling '24-Democrats-in-waiting crowd suggest that the document snafu hasn't created a sufficient opening to challenge the sitting president. I'm told from sources in the various competitive camps across the country eying his perch that, at this point at least, document-gate shouldn't impact Biden's chances or force a primary. "It's a headache, but it's not disqualifying," one of these sources told me. "It's not why a voter would make a decision." At the same time, some might argue that voters will be focused on electability in 2024 if it's a Trump rematch just like they were in 2020, and taking this attack off the table against Trump could be a factor.
McCarthy's Majority Quakes: Kevin McCarthy's majority is looking even shakier after G.O.P. congressman Greg Steube fell off his roof and spent the night in an I.C.U. His office said his injuries are not "life threatening," but who knows when he'll be back in Congress. (I'm sure some in the caucus are starting to miss proxy voting.) If McCarthy loses a pissed-off Vern Buchanan to retirement, a fabulist George Santos to a potential indictment, and now Steube while he's recovering, he could literally be down to one vote to pass legislation along party lines, or even worse, to stay in power if one of his new MAGA allies initiates a motion to vacate.
Feinsteinapalooza: The California Senate race for Dianne Feinstein's seat is shaping up to be the battle royale of the Democratic party, with consultants already clamoring to run super PACs for candidates who haven't even yet announced their candidacy. California, of course, is an expensive media market and a consultant can rack up 15 percent in fees on a $10 million to $30 million ad budget spend. "California is the holy grail, there's so much money there," said one Democratic consultant.

To wit: While Adam Schiff hasn't officially announced his intention to run, Gavin Newsom's team at Bearstar strategies—Ace Smith and Sean Clegg—are already pitching him to run his super PAC, as my Puck partner Teddy Schleifer reports. And while various consultants are circling around prolific fundraiser Katie Porter to run her super PAC, Teddy explains that she already has one, aptly named Whiteboard, that has secured six-figure commitments. I'm sure she can be convinced to start another. It's unclear if Barbara Lee will have a super PAC. She's not as prolific a fundraiser, and will likely be buoyed by the resources of the Congressional Black Caucus. But if Feinstein vacates her seat early, I'm told, Newsom is leaning toward appointing Lee to the seat, which would give her an incumbent advantage in the 2024 primary.
Trump's Granite Days: Once upon a time, back in 2016, New Hampshire gave Donald Trump his first major primary win, validating his candidacy and elevating his campaign to frontrunner status. These days, Steve Stepanek, the outgoing state party chair and former Trump co-chair, couldn't even win election to be a G.O.P. delegate in the state convention and The New Hampshire Journal is questioning whether ​​the state is still "Trump country." A source on the ground said that New Hampshire Republicans felt snubbed that Trump is launching his '24 campaign with an event in South Carolina, and still has little to no campaign infrastructure in the state even though it's the home of his longtime advisor, Corey Lewandowski.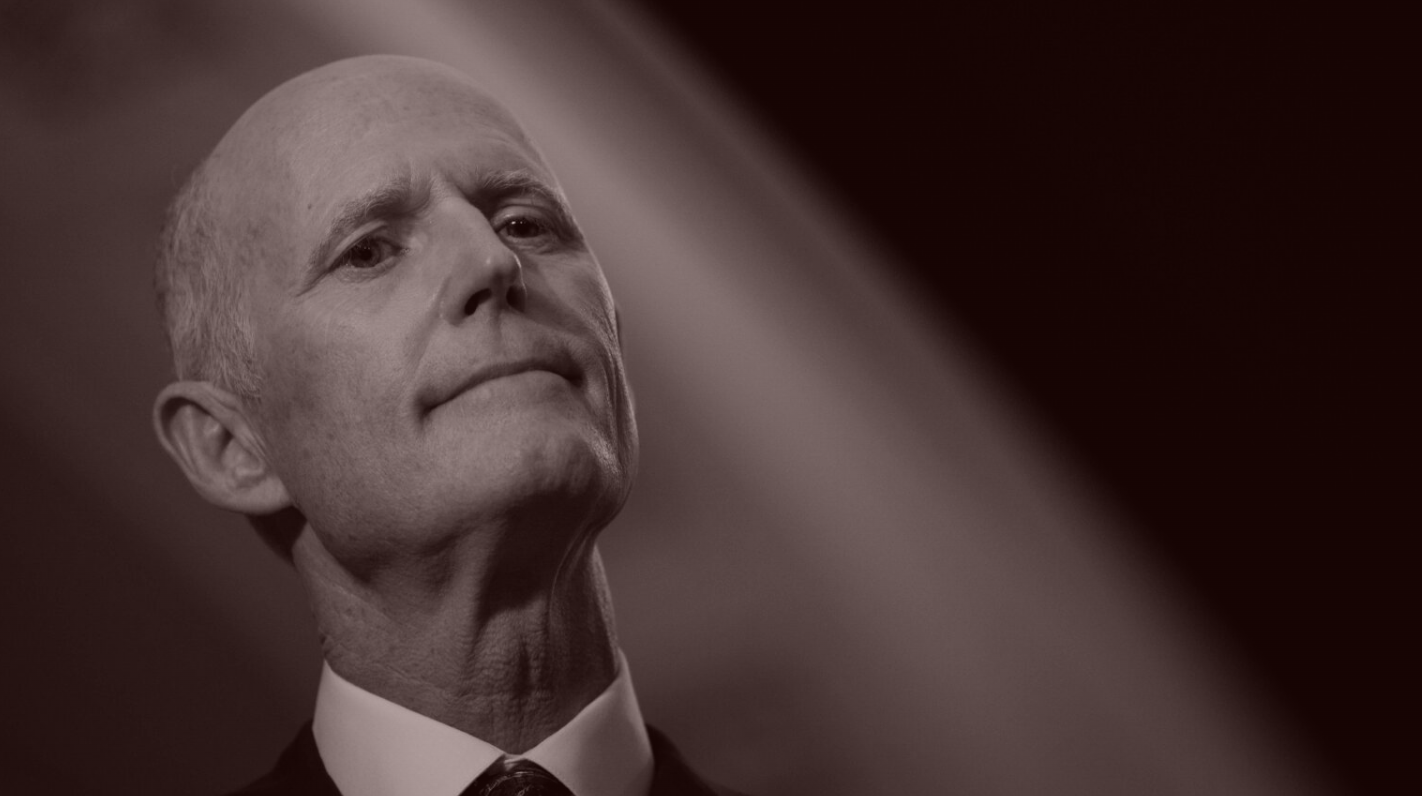 Who's Afraid of Rick Scott?
"Rick Scott's team is vicious," said a former Ron DeSantis aide. "It's very bad news for Ron if Rick gets in the race."
Politics can be a soulless and gutless bloodsport, and yet it's rare to see the sort of bizarre choreography that is taking place among the 2024 G.O.P. presidential frontrunners, contenders, and poseurs, alike. There hasn't quite been a rapturous movement to enlist the various Republicans—Nikki Haley, Tim Scott, Mike Pence, Glenn Youngkin or Mike Pompeo—who remain pottering around the sidelines, waiting for Trump's campaign to implode or die listlessly. But they remain pressed to the glass in the hope that Trump, should he remain viable, and DeSantis bully club each other so ruthlessly that it opens up a lane for a third viable challenger.

And then there's Rick Scott, the multi-millionaire hospital magnate and former Florida governor and current McConnell antagonist in the Senate, who may have other designs. I've heard from multiple sources that, like any strategic politician, Scott is still leaving the door open for a presidential run in 2024, despite telling a group in Florida that he will run for re-election for the Senate. Sure, there's no base of voters clamoring for Scott, either. But unlike the other '24 hopefuls, save Youngkin, Scott has oodles of his own money. He is worth as much as $500 million and has been willing to dip into his own coffers at any time to burnish his brand. Asked about a 2024 bid, a Scott advisor told me that "[Scott] wouldn't rule it out, and wants to keep his options open."

Of course, consultants at OnMessage are pushing him on a presidential run, I'm told. He is, far and away, their largest client. To wit: he proved willing to drop seven figures of his own cash on a nationwide ad campaign explaining why he challenged McConnell for leadership in the Senate, and lost. The campaign, naturally, featured Scott pontificating about his much-ridiculed 11-point plan to "rescue" the country (later amended to include a 12th point, "stop Congress from bankrupting America").

There's no denying Scott loves the game. Even before he ran for governor, he spent $5 million of his own money to campaign against Obamacare via a 501(c)3 called Conservatives for Patients' Rights. He's also not afraid to go after members of his own party. Long before his contretemps with McConnell, during his time in Tallahassee, he would strong-arm G.O.P. state legislators, even targeting them with ads in their districts. I'm told that Scott recently moved his longtime chief of staff Jackie Schutz Zeckman, whom he appointed executive director of the National Republican Senate Committee, back to Florida to run his political operation, even though his re-election, in 2024, should be a cakewalk as Florida gets redder and redder. ("His intention is to run for re-election, that's the operation that he's building out right now," said Chris Hartline, a Scott spokesman. "He's not taking anything for granted.")

Also, Scott is nimble and ambitious. After detonating his status in the Senate by challenging McConnell, he surely isn't living for a job where most politicians wait out the rest of their days. He took on the N.R.S.C. chairmanship as a way to build his own donor network across the country, while elevating himself with his own policy proposals and ad campaigns, featuring himself. Perhaps a key motivator for Scott is that he doesn't quite like his successor in the statehouse, Ron DeSantis. "Rick is always a guy who maintains options because he has a checkbook," said a former DeSantis staffer. "He's very disciplined and he doesn't do things half-assed. He's very analytical and it's a very dangerous proposition for DeSantis if he runs. Rick has the credibility to take the wind out of Ron's sails and he has the money to wear him out."
"Standing on His Shoulders"
The beef between Scott and DeSantis has been thoroughly documented in all its pettiness and vaingloriousness: the last-minute appointments by Scott, the dueling inaugurals, the party he threw in the governor's mansion on the day that DeSantis's young family moved into the residence. At the time, of course, DeSantis was just a 30-something largely unknown figure who narrowly defeated a hyper-liberal candidate, Andrew Gillum. Over the intervening years, Scott has developed a different narrative regarding DeSantis's success—namely, that he piggybacked on his own achievements, such as lowering unemployment from 11 percent to 3 percent, reducing the deficit, and cutting taxes. His team is particularly piqued by the lack of gratitude. Just this month, after DeSantis's resounding re-election, Scott skipped his second inaugural address.

Scott—rich and bored and perhaps looking to cook up trouble outside the dome—is capable of unearthing a less flattering portrait of DeSantis's governorship. Scott views the DeSantis administration, I'm told, as overly focused on culture war pinatas rather than fiscal issues. When Scott rode into the governor's mansion in 2010 thanks to his checkbook and a Tea Party wave, he defeated party favorite Bill McCollum by zeroing in on his abuse of government perks, like availing himself of the state jet while he was Florida's attorney general. I've heard that he would similarly try to frame DeSantis as a taxpayer-mooching grifter who is worth $300,000 while still carrying student loans, and who asked the state legislature to buy his office a $15 million private jet. (As a sign of belt-tightening, Scott sold all three of the state's jets. After all, he had his own.) The two would also compete for the Florida donor network, which Scott has impeccably maintained. "Rick Scott's team is vicious," the former DeSantis aide said. "It's very bad news for Ron if Rick gets in the race because he has the resources to zero in on him. He can go around and say that Ron DeSantis is standing on his shoulders with credibility."

Indeed, Scott's entrance into the race could possibly be a bigger problem for DeSantis than his prickly personality—a much-discussed character flaw that has translated into a minuscule inner circle without a "Doug Stamper"-like lifer to clean up his messes, donors who are put off by his lack of gladhanding, and questions about his retail political skill. Even if Scott eventually demurs this cycle in order to prepare for 2028, his very engagement is a boon for Trump. His personal fortune, donor connections, and knowledge of DeSantis could make him a useful ally to Trump, perhaps in exchange for a cabinet position if Trump wins.

I also gather from talking to Trump aides that they think a challenger might create some momentum for their candidate. As his longtime political advisor Roger Stone put it to me, "Rick Scott may not be charismatic or telegenic, but he is dogged, disciplined, and very rich. He has proven his willingness to dip into his own coffers to finance his political ambitions, and unfortunately for governor DeSantis, he knows where, in Florida, all the bodies are buried."
And now for a few last bits of news and notes…
Sinema Vérité: Both Kari Lake and Blake Masters are seriously considering running for the Arizona Senate seat currently held by Kyrsten Sinema after the former Democrat changed her party affiliation to independent. I've been told from a source familiar with his thinking that Masters, who lost the 2022 race to Mark Kelly after coming up cash-poor despite having Peter Thiel carrying him in the primary, would only run if it's a three-way race with a Democrat, seeing a head-to-head with Sinema as unwinnable. I'm also told that he's wary of challenging Lake in a primary. Masters, after all, still has some serious work to do winning over female voters, according to G.O.P. sources. I'm sure it has nothing to do with ads like this one, in which he's shown wielding a 007-style gun that makes him look like a would-be serial killer.
Buttigieg's Lifeline: The Biden administration has thrown Pete Buttigieg a bone after months of bruising headlines that included his handling of recent airline fiascos like Southwest's cancellations over Christmas and last week's computer failure at the F.A.A. All of this could surely weigh on any future political ideations, as Chris Christie learned from Bridgegate—there's nothing that rankles voters like having their travel plans disrupted.

As The American Prospect reported earlier this week, F.T.C. chairwoman Lina Khan's chief of staff Jen Howard joined the Department of Transportation on Tuesday as the new chief competition officer to help Buttigieg break up the airline conglomerates. Now, it looks like the lower-margin, highly regulated airline industry is on the radar, just as Spirit and JetBlue prepare to merge.

Buttigieg could really use an F.A.A. commissioner to take the heat, but of course, appointee Phil Washington is yet to be confirmed by the Senate, and Axios is reporting that after six months of Republicans obstruction due to his lack of experience and other unflattering items, his path is "uncertain." In the meantime, all eyes are on Buttigieg to see if he'll jump into the race for Debbie Stabenow's Senate seat in Michigan, ever since he and his husband Chasten bought a house in Traverse City, the latter's hometown. Buttigieg put out a statement within hours of Stabenow announcing that she's not running for reelection, saying he's "not seeking any other job." Perhaps Buttigieg is waiting for Biden to officially pull the '24 trigger?
FOUR STORIES WE'RE TALKING ABOUT
Licht After Dark
Can Licht revive CNN's primetime lineup with a late-night shebang?
DYLAN BYERS

Secrets of Stanford
How the hell are the Bankman-Frieds paying their astronomical legal bills?
WILLIAM D. COHAN

Rep. George's Madness
News and notes on several astounding storylines emerging from the right.
TINA NGUYEN

Need help? Review our FAQs
page or contact
us for assistance. For brand partnerships, email ads@puck.news.
Puck is published by Heat Media LLC. 227 W 17th St New York, NY 10011.