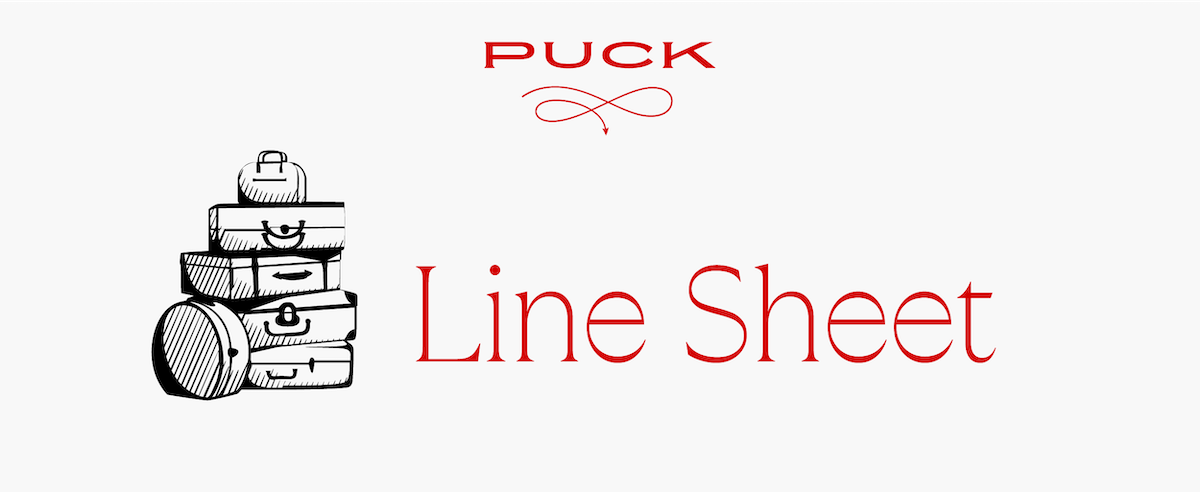 Hi, and welcome back to Line Sheet. I'm feeling clear-eyed today despite the absolute madness in the world, and looking forward to meeting many of you this week at various events and celebrations across Los Angeles.
Today, we've got a little bit of everything. Changes in Hollywood. Stagnation in legacy publishing. Details on a new Apple TV+ series that people are calling "Emily in Paris meets Succession." (!!!) Some obligatory Richemont speculation. Plus, an interview with John Demsey, the famously "canceled" former Estée Lauder exec who is back on the scene with a new book and plenty of opinions. I've always thought John was really smart about how to build and manage brands, and that hasn't changed.
P.S., it's so funny how worried you all are about what I'm going to do if you forward this email to someone else. (Keep worrying!) I promise that nothing is going to happen. (Unless!) I'm just judging you. (If you were forwarded this email, feel free to support my cause and sign up here. Your Ozempic secret is safe—for now.…)
Mentioned in this issue: John Demsey, Samira Nasr, Ari Emanuel and Bryan Lourd, Alina Cho, Apple TV+, Leena Nair, Alain Wertheimer, Chanel, Agnes Chu, Estée, José Caltagirone and Valentine Milville, Katherine Power, Anastasia Soare, Emily Weiss, Farfetch, Igor Dieryck, Johann Rupert, La Mer, Lisa Ryan Howard, Lambert Wilson, L Catterton, L'Oreal, Davide Renne, Tom Ford, Antoine Arnault, and many more…
Bryan & FHP: Love at First Deal Talk
I made a brief stop off at the Bloomberg Screentime conference in Hollywood on Thursday to see what CAA's newly appointed C.E.O. Bryan Lourd had to say about his deal with Groupe Artemis, the family office of the Pinault clan, which controls Kering. (A refresher: Artemis recently acquired a majority stake in the talent agency from TPG that valued the business at $7 billion. TPG is also an investor in Puck.)

Unfortunately, after throwing some barbs at rival Ari Emanuel, who had thrown barbs at him, Lourd didn't say much. (Follow my partner Matt Belloni for the play-by-play of these two boys fighting. I wish fashion execs would act like this!) Bloomberg's Lucas Shaw asked Lourd to explain the origins of the partnership. According to Lourd, it all started at "a conference"—uh, Sun Valley?—two years ago. When he suggested the idea to Kering C.E.O. François–Henri Pinault, "he instantly got it…. They're aspirational on a human level, they love artists, they love creativity, they like wine. They are as ambitious as we are with a lot of capital, and they are long-term thinkers." Lourd went on to say that the most complicated bit was TPG, because, as he put it, "they were reluctant to go."

Unfortunately for those of us in the audience who wanted to know how Lourd planned to manage relationships with other fashion companies now that he is so deeply engaged with one of their biggest competitors, there was no follow up.
That Hearst Micro-scandal…
On Friday, Hearst's all-hands meeting about the Israel–Hamas war—and more specifically, the now-removed Instagram Story from Harper's Bazaar editor-in-chief Samira Nasr—did not go well, I hear.

The meeting, which took place late in the afternoon, was hosted by global chief revenue officer Lisa Ryan Howard via Zoom from her home in Orient, New York. At least one employee cried. Those in the meeting said that Howard was unable to answer key questions, including whether security at the Hearst Tower would be increased, and why it took as long as it did for corporate to respond to what happened with Nasr. A representative from Hearst declined to comment, although someone familiar with the corporate team's thinking said that what I heard happened is not "consistent" with the responses they've received.

As for Nasr, she has been writing directly to Jewish staffers to apologize, I'm told. The calculation for Hearst at this point: how mad are advertisers about her original post, and will they pull their creative not only from Bazaar, but other titles, because of it? Few companies have made public statements about the war, although someone at Chanel leaked an internal memo signed not only by global C.E.O. Leena Nair, but also owner Alain Wertheimer, the 75-year-old chairperson of the group who hasn't done a public interview, I'm pretty sure, since 2002. (And that was about "wine and horses.") In it, Werthheimer and Nair said that the company would donate $4 million to humanitarian organizations, and condemned the "terrorist attacks against Israeli citizens."

The rational way of thinking, if you were an advertiser, would be that people do dumb stuff on the internet, this was one case of poor judgment, and let's move on. (As I mentioned last week, Nasr apologized publicly, which I'm sure did not satisfy everyone, but did happen.)

The bigger problem for the publisher—and Hearst Magazines President Debi Chirichella—may be that employee morale, I would venture to say, is at an all-time low. Someone is going to have to step up and make these people feel better, not only about the company's response to what's happening in the world right now, but also what's happening at their place of employment, which seems to be openly managing a series of assets toward decline. Condé Nast may be doing the same thing in many cases, but at least it still has ostensibly growing ambitions for some brands, like Vogue (Vogue World!) and The New Yorker. Hearst, on the other hand, is just letting the faucet drip.
"La Maison": Emily in Paris Meets Succession?
The designer and writer Elizabeth Hawes said that fashion is spinach—meaning, it's nonsense—which is why it can make for good television. On that note, did you know that Apple TV+ just wrapped up filming on a show in France about the fashion industry, with the working title La Maison? As of this summer, it was being billed as the story of a French fashion dynasty shaken by a damning viral video of its heir and head designer, Vincent LeDu, played by Lambert Wilson. (In America, Wilson is probably best known as the French guy in the Matrix movies.) Someone described it as "Emily in Paris meets Succession," with a P.R./comms person character played by Antoine Reinartz who is giving off whiffs of second-born LVMH heir Antoine Arnault.

I doubt this is going to be the Arnault version of Succession that so many people are dreaming of/pitching right now—you'd have to embellish a lot, they seem pretty tame! But it's clear that La Maison, like Emily in Paris, is pulling threads from real-life fashion industry storylines in order to inform its plot. (There's also a fashion magazine involved.) Whether or not there will be as blatant product placement in this show as there is in Emily in Paris, I'm not so sure. My guess is no. While that production is run by the American Darren Star, of Melrose Place and Sex and the City fame, La Maison was created by José Caltagirone (behind the popular cop show PacificCriminal) and Valentine Milville, a writer on Le Bureau des Légendes, hands down one of the best shows of the last 10 years and the major reason I am excited about this.

The one thing that films and shows about fashion never get right is the clothes themselves, so I'm curious who they've contracted to ghost design the collection. If you know, let me know! Anyway, I'm quietly freaking out, I cannot wait.
Murmurs From the Richemont Rumor Mill…
People are once again whispering in Geneva about Richemont and its fashion brands: Is it time to finally offload the "soft" luxury category, which includes names you know, like Chloé and Alaïa, and names you may not be so familiar with (Peter Millar, Purdey, and Serapian)?

After all, it's hard luxury—meaning jewelry and watches—that has been Richemont's biggest success and provided the widest, most stable profit margins. (They own Cartier, arguably the most important jewelry brand in the world.) Meanwhile, Richemont never built the infrastructure for soft luxury that LVMH and Kering did, and therefore many of its brands remain dinky, while its competitors have managed to spin billions of dollars out of what were globally unknown quantities. (Consider the rise not only of megabrands like Gucci and Dior, but also Loewe, Celine, etcetera.)

However, like most M&A rumors that won't die, I suspect this is wishful thinking among investors and onlookers alike, or at least misguided armchair quarterbacking. In recent years, despite increasing evidence that Richemont should focus on its core competency (hard luxury), it has continued to acquire brands in the soft category, including Belgian leather goods label Delvaux, in 2021, from First Heritage Brands, an investment firm operated deep within the ginormous Hong Kong-based supply chain management company Li & Fung. In January of that same year, it launched AZ Factory with former Lanvin designer Alber Elbaz, who died months later of Covid. Why does Johann Rupert, the headstrong chairman and founder of Richemont, continue putting money into soft luxury, even when his investors don't want him to?

Well, Rupert is obsessed with brands and branding, and believes he has the ability to meaningfully compete against the industry's two dominant leaders, LVMH's Bernard Arnault and Kering's François-Henri Pinault. These moves also indicate long-term thinking, given that none of Richemont's brands are big enough to make a dent in the business at the moment, save for Chloé, which, as you've probably heard, has a new designer. (When Richemont acquired Delvaux, it actually said that the deal would have "no material financial impact" on operating results or net assets.) Plus, I'm not quite sure who would want to buy the whole lot unless they were getting Cartier, too. (And even then….)

One investor with more than 20 years of experience dealing with the luxury groups suggested that the dream merger of Kering and Richemont makes more sense than ever given luxury's macro challenges. (When everything is going well, there's less of an imperative.) And it's very unlikely that European regulators, normally the most stringent, would try to block such a marriage: the combined entity would still be much smaller than LVMH, and there remain thousands of independent fashion businesses that operate within the E.U., some of which make billions of dollars a year.

The more likely scenario, however, would be for Richemont to sell Chloé (and maybe Alaïa, which is picking up real speed) separately to interested strategic buyers. Or, sell—either the whole thing, or in parts—to private equity. Anyway, remember, the fashion group isn't a huge drag on Richemont, so investors aren't so obsessed with it, they just see it as a nuisance. What matters more at the moment is whether the August 2022 deal with Farfetch to offload Yoox Net-a-Porter Group (YNAP) will ever materialize. In April of this year, a U.K. antitrust regulator approved the deal, which is supposed to close by the end of this year. E.U. antitrust regulars have promised to rule on whether the deal is okay by the end of this week, actually. Richemont's investors hated having YNAP under its umbrella, given the, um, difficulty of selling expensive clothes online for a profit once you reach a certain size. Farfetch itself needs this deal to happen, as my old colleague Brian Baskin noted in BoF, its stock is down 90 percent since August 2022, when the deal was announced. We'll get into that another day, though.

Now, at last, my conversation with John Demsey.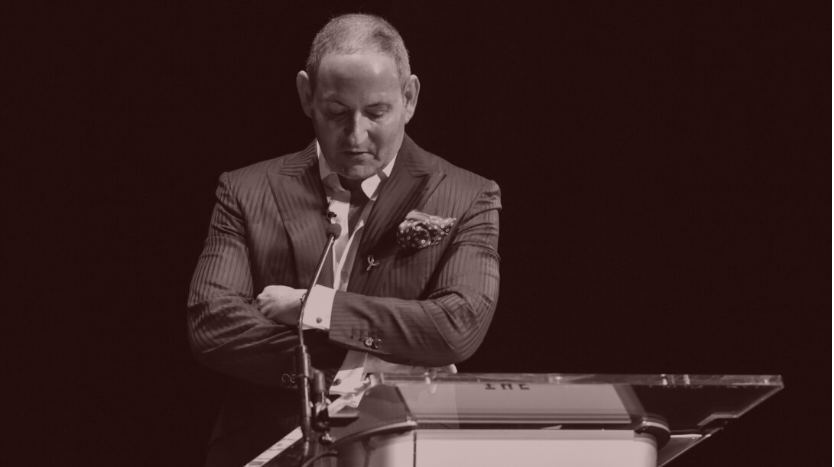 John Demsey Comes in From the Cold
A candid chat with the formerly canceled beauty executive on the state of the trade, the existential threat of the fashion conglomerates, and the future of D.T.C.
In February 2022, Estée Lauder Companies executive John Demsey was fired from the beauty conglomerate after posting a derogatory meme on his personal Instagram account. It derailed his career, much of which was spent transforming the group from a beauty-counter relic into a modern holding company with "disruptive" brands including MAC (which he ran after the group acquired it in 1998), Bobbi Brown, Tom Ford, and Jo Malone.

Estée Lauder is a story for another day (really, many days). But since Demsey's expulsion, the stock is down 50 percent. Is there a direct correlation with Demsey not being there and Estée's struggles? My take is that the company would be having a tough time no matter what, and that Estée had no choice but to fire him, but that the two things are linked because so much of the group's success over the past 20 years stemmed from the decisions he made, and the relationships he nurtured. (For instance, would Tom Ford Beauty have worked without having Demsey on the Estée side, advocating for the designer? I'm not sure.)

Over the summer, Demsey was in the news once again, this time for his appointment as a senior advisor to L Catterton, the LVMH-linked private equity firm behind Birkenstock, A.P.C., Ganni, Etro, Hanna Anderson (great kids pajamas, head hole is too small), and plenty of food and consumer brands, too. The group has made beauty investments as well, including Merit (founded and run by WhoWhatWear co-founder Katherine Power) and Bliss.

Demsey hasn't really commented publicly on his work for L Catterton, or what he thinks about the current situation at Estée Lauder. But he is on a press tour, this time for Behind the Blue Door, a book about the imaginative interiors of his Upper East Side townhouse, written in collaboration with CBS Sunday Morning contributor and close confidant Alina Cho, with photography by (Martha Stewart BFF) Douglas Friedman. Plenty of the coverage has blended interiors porn with a (slightly) more serious examination of who has forgiven Demsey for what was clearly a dumb mistake. (Seems like pretty much everyone?)

I Zoomed with John on Friday to discuss the state of the beauty industry, and the state of fashion, too. The following conversation has been edited and condensed, as always.
Lauren Sherman: I don't know if you saw yesterday, but I was covering what happened with Samira [Nasr, editor-in-chief of Harper's Bazaar, who got severely dinged for reposting some comments on the Israel-Hamas war]…
John Demsey: I saw. This bookends my social media experience. You know, my-ill fated mistake 20 months ago, that changed the trajectory of my life. I posted three days ago, and I thought about it a lot. I'm Jewish, my grandparents were Holocaust survivors, and I just posted, I support Israel. I got 500 hate comments. I didn't say I support wiping out Palestine. I'm actually speaking what I ethically believe, in a not very aggressive manner. And to be attacked… to be attacked for being Jewish. I mean, it's just… what is anyone allowed to speak of? It's a hard thing, because to say nothing also says something.
There isn't a right answer.
Everybody frames every story, every post, every sentence, every content piece, every fashion collection against different audiences, who have different expectations and different norms. Personally, I feel for these public figures, and I fear for the designers, creatives, and storytellers. There's almost no way that you can have a point of view without offending somebody. The lack of checks and balances is dangerous.
As a marketer, when did you really start to see a difference in the way information was being disseminated?
The tipping point came in 1998. Prior to 1998, there were new brands, and brands were dying and going away, but the industry was not as consolidated. And there were founder-driven businesses. I would argue that Estée Lauder, Helena Rubinstein, and Elizabeth Arden were the social influencers of their day. But 1998 is when the internet became real. It was the beginning of the change of the influencer paradigm, and the way brands were being built. Most of the growth in the mid-'90s to the early 2010s came from the brands that drew their influence from a founder, or an expertise or service that was heavily distorted from the people that founded them before.
Then, all of a sudden, there were alternatives to magazines: in the early days of social media, if you had followers or a good story to tell, the algorithm didn't punish you. It started leveling the playing field, and founders like Anastasia Soare of Anastasia Beverly Hills and Emily Weiss of Into the Gloss, attracted this audience. Then you get to the great makeup recession of 2016 and 2017, and that's the point when Instagram began to monetize the algorithm. Up into that point, being good at telling stories, or being good at working new P.R. angles, started to converge with performance marketing, the lower of the lower end of the funnel. The brand's message started mattering less and the creators started mattering more. It's still a bit like the Wild Wild West.
Twenty years ago, if you were the number-one brand in makeup in the U.S., you had a 30 percent share of the market. Today, if you're the number one brand, you're lucky if you're at 8 percent or 7 percent. And there are like 30 brands sitting between 6 and 7 percent market share. So it really, really has become much more crowded.
Has the way you view all this stuff changed since you left Estée in 2022?
It's a period of great disruption, with recessionary dynamics taking place. Leonard Lauder's line about the Lipstick Index [the idea that people buy more cosmetics during a recession] didn't hold true during Covid because nobody wore lipstick, everybody was wearing a mask or didn't leave the house. Yeah, they just put it on for a Zoom. But the fact of the matter is, you see an explosion of lip products now. You see an explosion of fragrances. Why is the fragrance business the best it's ever been in 40 years? Because it's the only thing when you go someplace, nobody knows what you put on your skin, nobody knows your shade of lipstick (you could be wearing a dupe). But everybody knows what fragrance you're wearing. So all of the sudden it has a value in terms of who you are, or who you choose not to be.
Today, doing "niche" better than anyone else is an easier market win; there's less clutter. People don't want the things that everyone else has. All of the sudden, Loewe is the must-have. My daughter wants an Alaïa bag. She has no idea who Azzedine Alaïa was. So the product actually matters again.
So do you think the big groups are going to start moving further toward filling niches, both in fashion and beauty, rather than trying to offer something for everyone?
There was a standardization. Those hero products are all still the central core of a profitable business. However, with the commoditization of channels, and the pay-per-play dynamics of influence, unless you can do or say something in a different way, or in a niche way, you're not moving forward. It's fairly easy to develop a product. It's hard to develop a product and a brand and a customer base that stays sticky. What I do know is that doing the same thing over and over again in a world that is foundationally changing at the speed of light is not a recipe for the future. Founder-driven brands are at an advantage right now. Founders who engage with customers themselves personally, who mortgaged their homes, who are out to win at all costs because the brand is them—that drive makes these brands appealing and successful. But it's hard to replicate that success when they become part of a big company and try to do it in 140 countries around the world.
Well, when I think of the big beauty groups, I'd say Puig is unique, but when you look at L'Oreal or Coty or Estée, they don't seem to have been able to figure it out.
What's happened is: monkey see, monkey do. Ten years ago, designer beauty brands were dead. Chanel was dead. Dior was coming back because they were putting a lot of investment into it. Saint Laurent was dead. Why all of a sudden is a fashion designer once again the ultimate beauty influencer? It's the cycle. Where LVMH and Kering and Chanel got it right: whoever has the direct connection between communication, distribution, and making a sale wins. Whenever you're disintermediated, or you have to pay someone else to establish your brand or to keep yourself going, it's harder.
I know you can't speak to specific companies, but how do you see this playing out in M&A?
When a company gets over $5 billion in annual revenue, when a brand crosses over the $500 million mark, the techniques that let you go from zero to 50 or to 100 or 200 start to change. And big conglomerates have to grow. They need to buy things that are growing super fast that connect with customers in new ways or new markets that were untapped before or things that are able to break through the clutter. All the groups are trying to figure out how, in a world where big bets, and big results, move the mark, not to lose out on the ground floor. But who's going to take a risk?
People misunderstood what Cassandra Grey did with Violet Grey. It was never a big business. It wasn't a business that could be scaled to become something meaningful. [Note: She sold it to Farfetch for $40 million in 2022.] But it made Augustinus Bader. It made Gucci Westman Atelier. It put the product in front of the right people in the right way at the right time. It was a first move. The same way that Nordstrom did with MAC back in the day, and Neiman Marcus did with La Mer back in the day. That is why you see a lot of new venture labs, venture capital funds, PE funds.
The beauty industry is still so reliant on wholesale distribution. It used to be department stores and drugstores, now it's Sephora and Ulta and, to an extent, Amazon. There was a push in the mid-2010s with Glossier and some other brands to try to stay purely direct-to-consumer and it just didn't work. For a lot of fashion brands now, they only do wholesale as marketing. Prada is something like 90 percent D.T.C. Do you ever see beauty going that way?
In my glory days at MAC, direct-to-consumer—between e-commerce and freestanding stores—was 45 percent of the business. So I do believe it's possible. To be an immersive brand that's going to stand out, there needs to be a temple to the brand somewhere in some way, shape, or form with an assortment that's differentiated. The issue for beauty is that it works better when everything's expensive. If you're selling $15 and $16 lipsticks, the unit economics are such that you have to have a ton of traffic to be able to make the math work.
How big of a threat do you think the beauty ambitions of the fashion groups are to the beauty groups? For instance, Kering has a deal with L'Oreal for YSL Beauty that's not going to go away. But with Gucci, they could do it themselves potentially.
If it's done correctly, it could be existential. As it currently stands right now, [the fashion groups] are not set up for it. They have ambition. They have the intention. They have the intellectual property. They have the brand world. But beauty is an expertise. And fragrance, makeup, and skincare are different metiers. So if these companies are going to be successful, they're going to have to find a way to actually make these business units work.
The thing that was interesting about Tom Ford was that because it was created from scratch with Tom Ford, the person, Tom Ford Beauty was successful in his fashion stores, too. So you could have a Tom Ford store doing 10 percent of its business in beauty, opposed to Chanel, which historically did one or 2 percent of its beauty business in its own stores. So it depends on how you think about it. Ultimately the culture defines where the market goes.
On the Agnes Chu Exit: "So Agnes Chu actually was responsible IMHO for CNE's biggest successes, which were five Academy Award wins for the New Yorker in the shorts category. This has been incredible for the New Yorker brand—much in the way the NY Times' success in documentary has enhanced the contemporary power of that brand. A bevy of Oscars is something to build on. That said, I think the overall mission at CNE was impossible—these media companies want in on the film/tv millions, but they're not movie companies/streamers/studios. They contribute nothing beyond the I.P. and an additional obligation attached to it. What Chu was doing racking up all those awards was making Condé Nast a viable brand/tastemaker for filmed entertainment, which could be built on. With her gone, good luck…." —An editor who I swear doesn't work for The New Yorker

On Saks: I don't know about Saks corporate's penchant for not paying, but I recently had a very bizarre interaction with Saks.com where they refused​ to refund or replace a luxury skincare product that arrived damaged. Saks required that I ship the item back for inspection, and then a week later mailed it back to me​ with a letter stating that I'd intentionally damaged it (?!?!).—A reader of the Bob Lefsetz-reader variety
What I'm Reading… and Listening To…
This explanation of the potential use cases for Ozempic—whose parent company is once again the biggest entity in Europe—is worth a read, sorry. [No Mercy/No Malice]

"LVMH is suffering a vibe shift." Lmao. [Financial Times]

Yet another Gucci vet got a big job. This time, Davide Renne is headed to Moschino. [Style Not Com]

My husband is going to make you feel really dumb for shitting on the Birkenstock stock offering. (TDLR: I.P.O. pops are not always a good thing, everyone needs to chill out.) [The New Consumer]

All the cool kids are wearing Calzuros clogs, I think I'm good but please enjoy. [A Thing Or Two]

Belgian fashion designer Igor Dieryck scored a triple win—the grand prize, plus two others—at this year's Hyères festival. Ooh! [WWD]

I did end up watching the Beckham documentary, loved it, and may have shed a single tear. I also think it's hilarious that there is now a frenzy for white "boyfriend" button ups because of Victoria's look, especially when her grey t-shirt and sweatshirt wardrobe is far more compelling. If anyone can ID those for me, you get a special prize. [The Guardian]

And finally… sorry to the fashion brands who bought tables for the Academy Museum Gala last Saturday night—I doubt you're getting your money back, but hopefully they'll reschedule and it won't be another Met 2020 situation!
Until Thursday,
Lauren
FOUR STORIES WE'RE TALKING ABOUT

Need help? Review our FAQs
page or contact
us for assistance. For brand partnerships, email ads@puck.news.
You received this email because you signed up to receive emails from Puck, or as part of your Puck account associated with . To stop receiving this newsletter and/or manage all your email preferences, click here.
Puck is published by Heat Media LLC. 227 W 17th St New York, NY 10011.