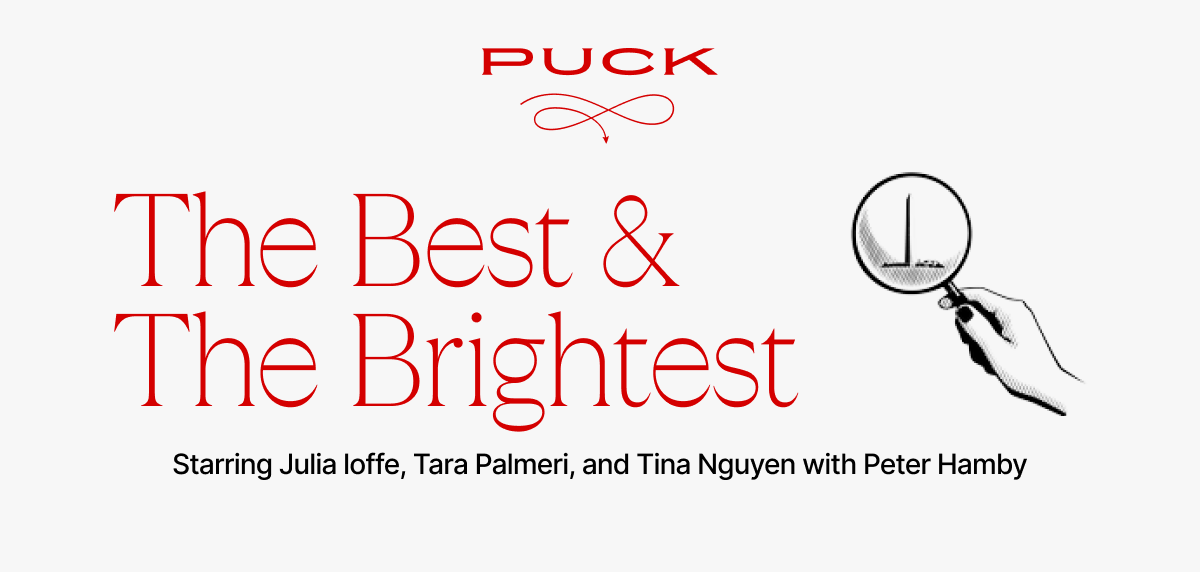 Welcome back to The Best & The Brightest, our new daily email focused on the inside conversations driving the White House and the D.C. media, echoing through the halls of Congress and the Pentagon itself. I'm Tina Nguyen, and yes, I'm back in D.C. from a gnarly blizzard in Salt Lake City that dropped 19 inches of snow on my head. In tonight's edition, news and notes on the early endorsement math (and political liabilities) guiding Ron DeSantis. But first…
Glenn Beck & DeVos Make a Deal
In the hierarchy of right-wing digital media companies, The Blaze has long held an august position as one of the first, and one of the longest-surviving, institutions. Founded by Glenn Beck in 2010, the entity represented the first generation of anti-corporate balkanized conservative-meets-alt-right politics-as-lifestyle shops, all built around a single influencer (before that term became painfully ubiquitous). Insta-famous from the success of his eponymous television show on HLN and Fox, Beck became the Bill Simmons of the right—a trailblazing one-man mediaco who served as a forebear to the Bannons and Rogans and Shapiros of the world, and the flourishing ideological empire that Bari Weiss and Nellie Bowles are building in Los Angeles.

In 2018, as the industry shifted and scale became a necessity, Blaze Media merged with Mark Levin's CRTV, creating a larger platform that sought to highlight conservative-oriented digital content. In the subsequent years, it became a major player in the digital space, pivoting from television to online streaming, podcasting, and conservative news and commentary. And it's continuing to grow. Late last year, according to two people familiar with the situation, the company raised a new round of financing from investors including the billionaire DeVos family. A spokeswoman for Blaze Media confirmed the investment, telling me that they "added several strategic investors, including some members of the DeVos family, as part of its plan to accelerate growth and capitalize on favorable market conditions for expanding its platforms and content." I couldn't get my hands on the round size or valuation, but it presumably provided a nice liquidity event for Beck and Levin.

As with the larger digital economy, conservative digital media has largely been a tale of two business models. Companies like Breitbart, which relied on Facebook algorithms and minuscule-margin programmatic advertising from largely NSFW-style clients, have buckled under macroeconomic pressures. (I recently reported that Rebekkah Mercer, a longtime investor in the business, was looking to offload her stake in Breitbart News Network.) Meanwhile, more robust lifestyle adjacent platforms, like Ben Shapiro and Jeremy Boreing's Daily Wire, have leveraged the distribution streams of like-minded influencers and leaned into subscription dynamics, all to great commercial success. (As I also recently reported, the Daily Wire posted yearly revenue of roughly $200 million in 2022, valuing the 7-year-old company at somewhere north of $1.5 billion.)

Ever since a new leadership team, under C.E.O. Tyler Cardon, overhauled the site, Blaze Media has been turning a profit, expanding its streaming products and offering a slate of content that includes some of the biggest commentators in the conservative mediasphere: Beck and Levin, of course, but also Dave Rubin, Duck Dynasty's Phil and Jase Robertson, and, until recently, Steven Crowder. Cardon told Axios in 2020 that the site had 450,000 subscribers paying $102 a year for their content, suggesting a then-annual revenue of roughly $45.9 million. Depending on the company's current financial status in the subsequent years, this could position Beck, and now the DeVoses, for a 10-figure sale in the not-too-distant future.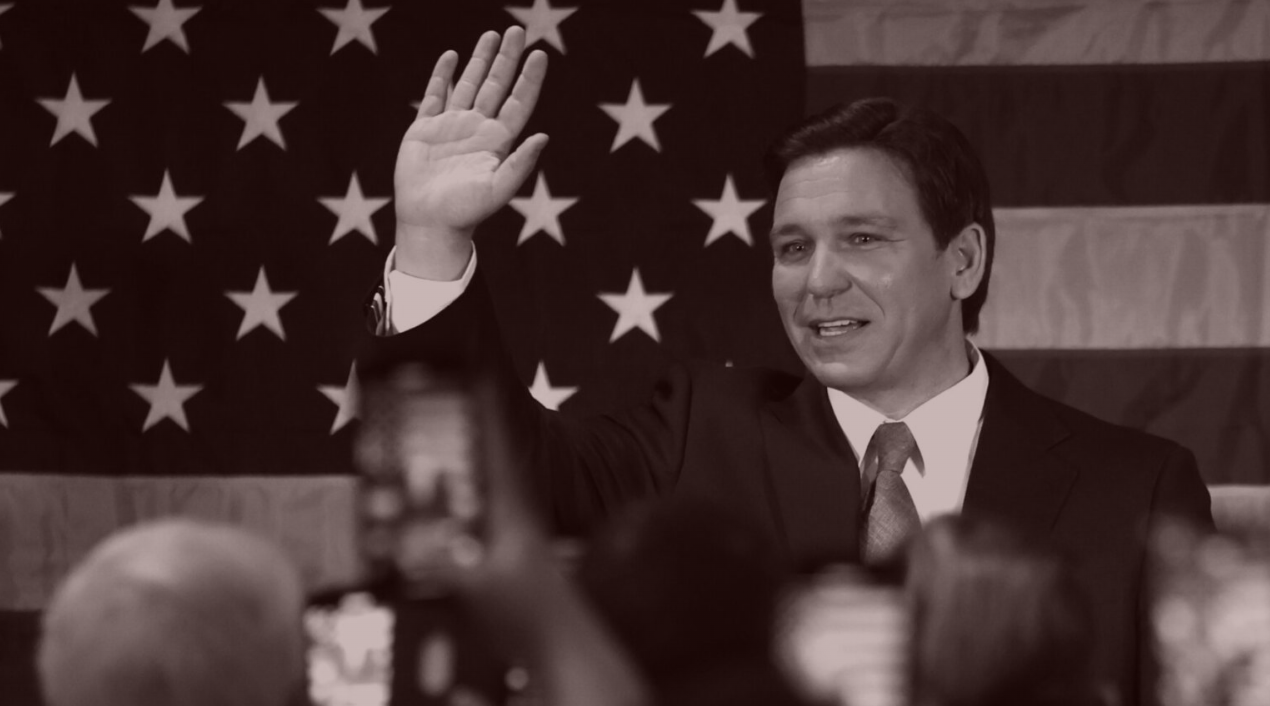 DeSantis's Unholy Coalition
If early proto-endorsements are any indication, DeSantis is racking up the support of Taliban 20ers, Florida-adjacent rich guys, and people who want to destroy Trump. Is that a leading indicator of '24 viability?
The past few days have been interesting for a certain Florida governor, Trump bugaboo, and newly-published author. Ron DeSantis is off on his book tour, laying out the case for why he is the perfect patriot for these troubled times—and, in the tradition of politicians publishing conveniently-timed memoirs, perhaps exploring the hunger for his presidential candidacy.

It's been well-noted that DeSantis has caught the eye of the donor class, and sits on a post-reelection $100 million war chest. What caught my eye, however, is the latest wave of political figures who have publicly indicated their inclination for DeSantis, presumably over Trump. Over the weekend, libertarian Republican rogues Reps. Thomas Massie and Chip Roy—the latter a member of the so-called Taliban 20 that neutered Kevin McCarthy's powers earlier this year—presented themselves at a DeSantis dinner in West Palm Beach. Roy, in particular, has been a vocal DeSantis defender ever since Trump began calling him "DeSanctimonious" last year. "I believe Ron DeSantis is a great governor and I don't give two shits what any current or former Congress-critters… or Presidents… think about him," he said on Twitter last November. (Massie, too, recently praised DeSantis as "the best governor in the United States, and there is no second.")

Those endorsements are highly meaningful at a time when formerly pro-Trump, now Trump-fatigued Republicans are still hesitant to publicly throw in with Team DeSantis. Every conservative leader who breaks rank to support the MAGA upstart lowers the pain threshold for those who follow. "Conservative stalwarts such as Roy and Massie endorsing Governor DeSantis is major," a conservative activist told me, observing that Roy was a prominent member of the Freedom Caucus. "Their stature has only grown since the vote for Speaker and it's yet another indication that the governor is securing serious support from highly visible conservatives—not to mention the base at large."

Notably, the accolades for DeSantis aren't just coming from MAGA world. Last week, DeSantis also received the support of perhaps the least Trumpy voice in the G.O.P.: Former Florida governor Jeb Bush, who offered effusive praise about his successor-once-removed in an interview with Fox's Brian Kilmeade. "He's been a really effective governor. He's young. I think we're on the verge of a generational change in our politics. So I hope so," he said, when Kilmeade asked if DeSantis should run for higher office. "I think it's time for a more forward-leaning, future-oriented conversation, in our politics, as well." (Bush later told Politico Florida that he was "simply praising, not endorsing" DeSantis.)

Of course, anyone with a political memory remembers the emotional abuse Trump heaped on Bush during the 2016 campaign, reducing the would-be G.O.P. frontrunner into a castrated also-ran who dropped out by the South Carolina primary with a measly 8 percent of the vote. "That's more personal," noted the conservative activist when I asked about Bush throwing in with DeSantis. "Jeb wants to fuck with Trump."

But on a more prosaic level, the cross-party political lovefest for DeSantis hints at his broader appeal beyond shock-jock culture warriors like Tucker Carlson to the sort of country-club conservatives that mostly stick to Fox Business and the Wall Street Journal. "I think that this national coalition that you're talking about reflects a little bit of DeSantis's Florida coalition," Tim Miller, a writer for The Bulwark and the former communications director for Bush's 2016 campaign, told me. "In state, he has pitched himself to the Jeb Bush wing of the party, as somebody that is reforming the tax code, doing tort reform, Everglades [restoration], teacher pay, education reform, school choice, the traditional Republican stuff. He's done that here. So that doesn't get as much attention on Fox."

The culture war flexes—Don't Say Gay, the de-wokening of Florida colleges, the Martha's Vineyard migrant stunt, the seizure of Disney World by the state, and so forth—might not be prioritized with the Jeb-inclined voters. "My experience is, there are a lot of old school Republicans here, not just Jeb, who like him for the other stuff and kind of compartmentalize this and say, Well, look, I like this way that he's managed," Miller, not a DeSantis fan himself, suggested. "Some of the performative B.S., whatever—maybe you just have to do that these days."

Conversely, getting too many vocal, establishment-friendly endorsements, especially from Jeb!-caliber figures, might backfire for DeSantis. "[P]eople like Jeb and others endorsing him does more harm than good," fretted a G.O.P. advisor who prefers DeSantis. "They are all reviled by the base." Indeed, there are fewer things less attractive in the isolationist, populist MAGA world than a political dynasty associated with two pointless wars in the Middle East, much less a former frontrunner who was ruthlessly emasculated by Trump. It is, in the words of online MAGA trolls, the type of beta cuck energy that could taint DeSantis's brand.

Then again, the DeSantis path to presidential primary victory lies in both peeling off enough Trump supporters and persuading traditional Republicans that he's got something for both of them. For the normies, there's the wonkish, policy-oriented nerd governor; for the MAGA base, which prioritizes harsh rhetoric and public bloodbaths, there's the Fauci-punching, theme song-rocking America's Governor—and that was a public side that Jeb, whose entire 2016 platform rested on his political record but crumbled on the personality front, never had. "I think the way that a lot of people here in the state process it is, [DeSantis is] somebody that has a governing record, and then an entertainment, performance politics persona," said Miller.
FOUR STORIES WE'RE TALKING ABOUT
Zaz's New Era
What are the pillars of David Zaslav's new growth strategy?
JULIA ALEXANDER

The Harris Makeover
Karen Finney makes the bull case for Harris's vice presidency.
TARA PALMERI

Need help? Review our FAQs
page or contact
us for assistance. For brand partnerships, email ads@puck.news.
Puck is published by Heat Media LLC. 227 W 17th St New York, NY 10011.