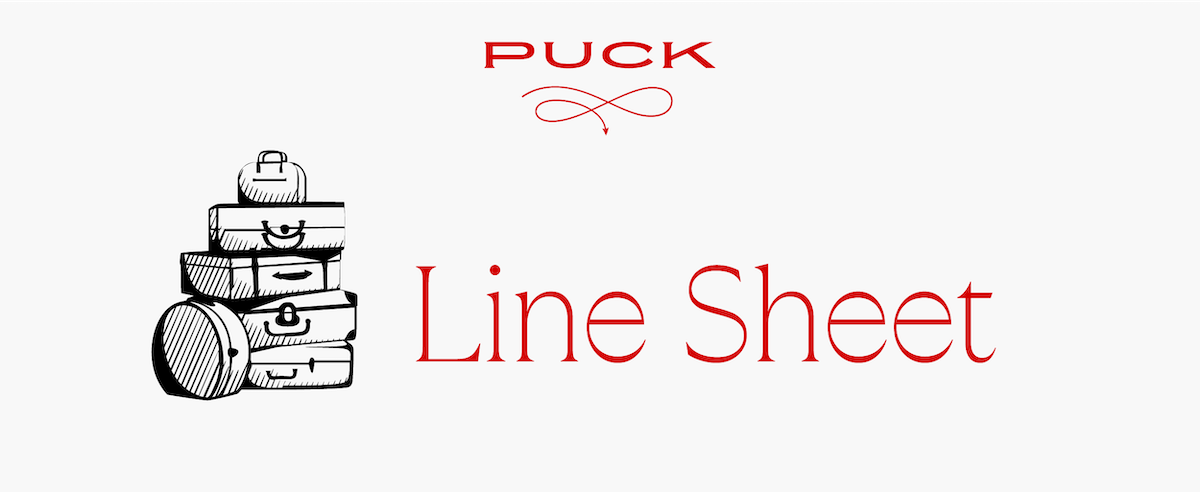 Hi, and welcome back to Line Sheet. Today's lineup is a bougie mixed-use development in newsletter form—Rothy's, Loewe, GOOP—because you know I love an outdoor mall. I've also got a teeny, tiny update for you on a fashion publication you do not care about, but might very soon!
A reminder that I'm working on a mailbag issue so that I can go on vacation in a couple of weeks. You've already sent through lots of great questions, but please don't hesitate to send more. Lauren@puck.news is my real email, I swear.
Mentioned in this issue: Gwyneth Paltrow, Flow water, Dylan Howard and Joseph "J." Errico, Amy Odell, ghost kitchens, Dave Portnoy, Marisa Meltzer, the Gucci in Century City (!), Anna Wintour, and many more.
But first…
Do Any of You Wear Rothy's? Call Me
I'm fairly good at guessing the size of an apparel or accessories business if I know how many employees they have, how many stores they operate, and how many retailers sell their product. But these numbers from Rothy's, which sells shoes made out of recycled plastic and is part-owned by Brazilian group Alpargatas, were surprising to me: In 2022, the San Francisco-based company, known for its pointed knitted flats and driving moccasins, generated just $183 million in sales, and lost $30 million on an EBITDA basis. The brand's 16 retail stores—a decent number!—only accounted for 9 percent of the overall business. In the first quarter of this year, sales were $31 million, down 3 percent from the same period last year, with stores accounting for 12 percent of sales, with a loss of nearly $9 million on an EBITDA basis. (Alpargatas announces its second-quarter earnings today, but not soon enough to make it into this newsletter.)

This is remarkable because, as some guy pointed out on D.T.C. Twitter, Rothy's had a stupendous exit at the end of 2021, when Alpargatas bought a 49.9 percent stake that valued the business at $1 billion. The deal included a $200 million investment and $275 million in Rothy's shares from investors. They had only raised $42 million in total, so the Rothy's founders, Stephen Hawthornthwaite and Roth Martin, likely took some money off the table and got to keep a significant stake in the business while continuing to run it. (A blessing or a curse, depending.)
As always, you've got to spend money to make money, and Rothy's is spending a lot at the moment on customer acquisition—nearly $13 million in the first quarter of this year—including online marketing and store investments. I guess that digital ad starring fashion-adjacent food-world couple Laila Gohar and Ignacio Mattos didn't work on anyone but me. (Okay, it didn't actually work, I didn't buy any shoes, but it did make me consider it.)

Over the past few weeks, I've had so many conversations about direct-to-consumer versus wholesale. During the last decade, D.T.C. was deemed better: better margins, more control over presentation and marketing, more control over everything. But scaling these businesses is expensive and takes a long time. So brands started returning to multi-brand retail, which can offer instant access to customers who would otherwise take years to acquire. Neither channel is perfect; it's easy to get into debt when you're working with department stores, something that a lot of brands are dealing with right now.

The ideal scenario is a goldilocks mix of wholesale (to market and speed up growth) and direct-to-consumer (to make money). In fashion, Khaite is an example of a brand that used wholesale to scale up to $100 million in annual revenue in less than a decade without forgoing direct sales. In beauty, Glossier waited longer than it should have to get into wholesale, but is now reaping the benefits of being sold at Sephora.

Getting the balance exactly right is super tough, and takes a lot of patience, a thing most humans don't have. Would Rothy's be better off if it was sold at Nordstrom or Dillard's or another department store that old people love? Maybe! Or maybe it's smarter to spend a lot of money on buying customers online and hope to be able to reap the rewards later. I don't have the answers, I'm just a reporter!

And now a micro-dispatch from the mean streets of East Hampton…
Speaking of direct-to-consumer… This week, Spanish luxury house Loewe opened a permanent, year-round store on Main Street in East Hampton, selling everything from clothing to candles to, of course, its seductively angular leather goods and handbags. It's not surprising: you all know how important these types of towns have become to luxury brands since the pandemic. People are spending months at a time, not just weekends, in their vacation homes—and they're bringing their kids, who use their credit cards to shop, too.

A person who knows how LVMH thinks about retail emphasized that opening a store like this wasn't about generating incremental revenue, but rather exposure and awareness. (And good real estate.) Loewe, after all, is in growth mode: it's one of LVMH's smaller fashion brands (with sales around $1 billion a year), but a lot of people still don't even know how to pronounce the name. (It's Low-ay-vay.) The new East Hampton store, with its Jonathan Anderson-approved interiors, decorated with handmade Loewe ceramic tiles and custom furniture, is just another customer acquisition tool.

Lastly, before Gwynethpalooza, notes from the legacy media annals…
Finally, a quick Grazia USA update for those of you who missed it buried in the WWD PDF last week (hee hee). Turns out, the magazine's newish owner, French publisher Reworld Media, has taken over operations from tabloid staple Dylan Howard, C.E.O. of Pantheon Media, who told staff in June that the pub was closing. Joseph "J." Errico, who was already pretty much in charge on the editorial side, has been named editor-in-chief. (Reworld launched a U.S. subsidiary in order to operate the magazine directly.) Will anyone care? More to come!

Now, who will buy Goop?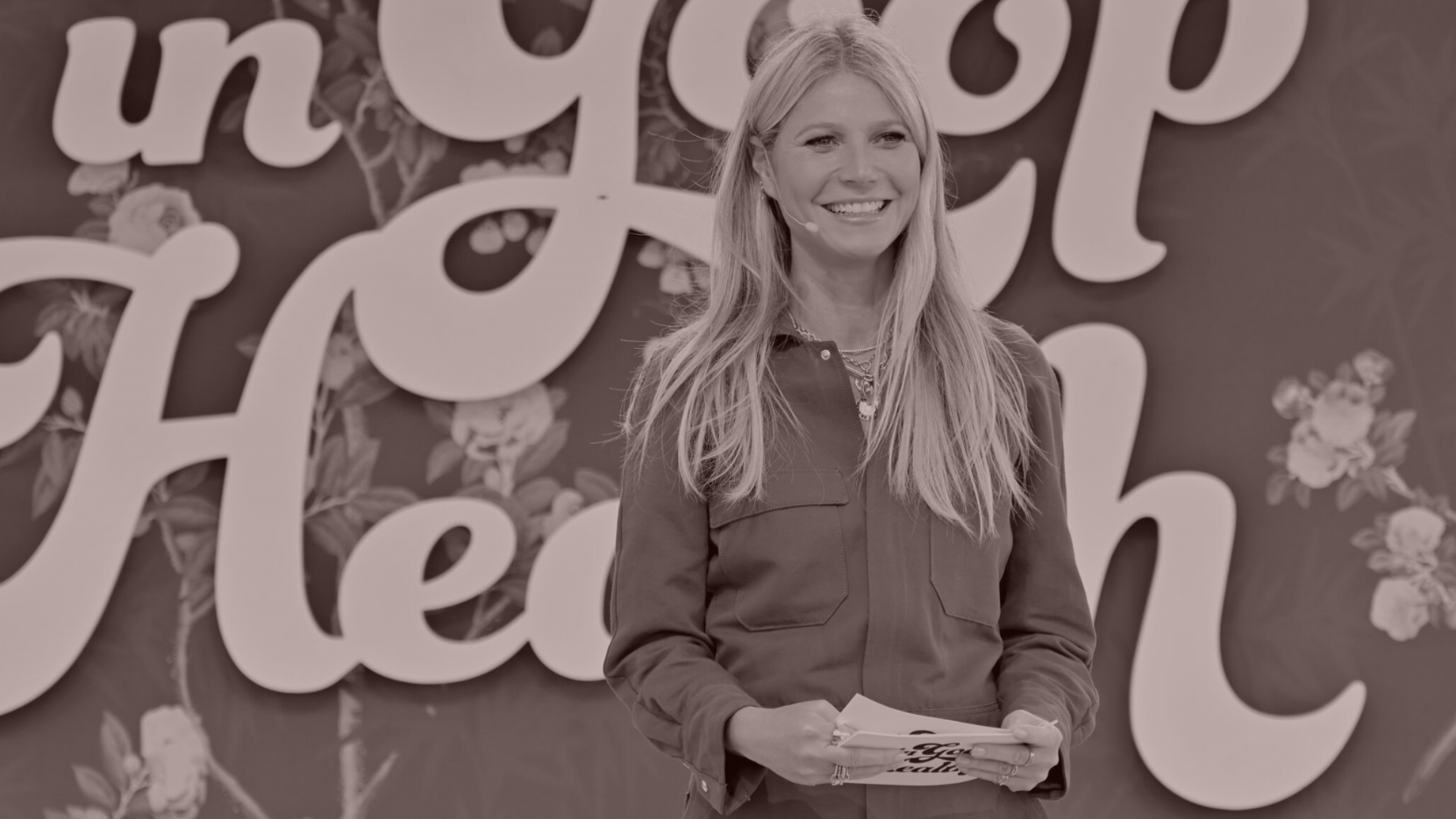 Gwyneth's Sweet Smell of Success?
Paltrow has put all of her eggs in the Goop mogul basket, but what's the endgame for a newsletter-turned-lifestyle brand that doesn't turn a profit? Dave Portnoy's Barstool may provide a comp…
A few months back, a good friend of mine and close follower of celebrity endorsements, who also happens to be Gwyneth Paltrow's No. 2 fan, sent me a post from the Goop founder's Instagram account. In it, she was selling a posture corrector from "copper-infused activewear brand" Copper Fit, which also makes things like "arch relief" compression bands. This past week, Paltrow extolled the virtues of Copper Fit's "core shaper," something I'd argue she doesn't need for many reasons, one being her trainer of 17 years, Tracy Anderson.

Why, then? The answer to nearly all questions in life comes down to money. With Paltrow, however, it's more complex than that. In some ways, the fact that she has been the spokesperson for Copper Fit since late 2021 is not surprising: Strike or no strike, celebrities increasingly rely on multiple, varied income streams to supplement their lifestyles. (Movies very rarely make you rich these days.) And Paltrow stopped acting in 2019, anyway.
Perhaps more important, like her role model Martha Stewart, G.P. does not give a shit what people think of her, and therefore doesn't seem to have any qualms partnering with the likes of Airbnb or Flow water. (Which, I gotta say, is the best water in the world and I didn't need Paltrow to tell me so. To the folks at Flow water: Please advertise on Puck.) All kidding aside, it's no wonder I'm hearing that Amy Odell, the journalist and author of the recent Anna Wintour biography, is working on a book about her: Print may be dying, but Paltrow can convincingly sell anything.

And she has, through Goop, the newsletter-turned-online magazine-turned e-commerce play-turned full-fledged lifestyle brand, which she founded in 2008. Today, Goop is Paltrow's main shilling platform, and her main reason to shill. Some of Paltrow's endorsements are run through Goop, others are personal. (As for how she decides what is Goop and what is G.P., I'm told that it's a case-by-case basis. If it feels appropriate to promote the sponsorship through Goop channels, then the deal is often done through Goop.)

As the C.E.O. of a venture-backed company, Paltrow knows that Goop needs to make more money than it currently does in order to attract an attractive buyer. But she also knows that the occasional six- or seven-figure check isn't going to multiply Goop's $100 million a year in sales. Luckily for Paltrow, Goop's investors don't seem to be in a real rush—from what I know, bankers have yet to be summoned. (The company has been approached on various occasions by various banks and various potential buyers, but at the moment there is no active sale process.) However, with at least $75 million raised from the likes of blue-chippers Greycroft and Lightspeed, there will be an exit. The question is: Who would want to buy Goop at this point?
Let's evaluate. Goop, as mentioned, has gone through several iterations, morphing from a product recommendation tool to a maker of products. In the beginning—and really up until 2020—content was the engine of the business. The newsletter, with its fabulously punny subject lines, and website, written in Paltrow's IDGAF tone, kept Goop in the news. (From the infamous "conscious uncoupling," post to articles on vaginal steaming and bee-sting therapy.)

Goop started selling things other than advertising in 2012, opening its first jewel-box pop-up shop in 2014. (There are now five stores.) An e-commerce site, which has a good reputation with brands for having a strong point of view (sleek stuff that Paltrow would actually buy, not a bunch of random crap) and an even better sell-through rate, came a little later. Soon after that, Goop launched its own products, too, including a skincare line, a fashion brand (G Label), bathcare, vitamins, and sex toys. But there's more! In 2021, the company partnered with the operator Dom Food Group to launch Goop Kitchen, a ghost kitchen that has become a lunchtime sensation among wealthier, health-conscious types in Los Angeles. (I recommend the caesar salad with spicy calabrian chile dressing.)

But even as content was deprioritized, Goop remained in the news cycle. Less for wacky takes, and more for wacky products (yes, the vagina candle) and stories on Paltrow herself, who has been profiled too many times to count. She also has a remarkable talent for turning strange and potentially damning personal episodes—like the recent ski collision trial—into branding opportunities. ("I wish you well" may be her best line, ever.) She's also referenced constantly in articles about other people and other companies. Goop is practically an adjective. G.P. definitely is one.

Impressive, yes. Lucrative? Sort of. (Not profitable, at least not yet.) To launch this many categories in less than a decade is a lot, and it's difficult to see where the focus of the business lies, other than on Paltrow, who was named C.E.O. in 2017. Paltrow may joke about wanting to sell Goop now and again, but someday her investors will demand liquidity, and there's not a clear buyer. She could pursue private equity, sure, but any new investor will likely require control and want an exit, too: either by selling to a strategic buyer or through an initial public offering.

It's a very different company, but The Chernin Group's investment in Dave Portnoy's Barstool, and eventual post-clean-up sale to Penn Entertainment, is an illustrative comp. (The real credit belongs to Erika Nardini.) Both are brands that were built around a charismatic founder, that had their origins in digital media, and later made the leap into lifestyle and e-commerce. Of course, the real value for Penn in buying Portnoy's business is the Barstool audience, which it hopes to use to cheaply build its sportsbook. What is Goop without G.P.?
Yes, Goop has optionality thanks to the diversity of business lines that Paltrow has developed, including lifestyle products that are now sold off-platform. One of the big beauty conglomerates may be interested in the Goop skincare line, which made up 64 percent of sales in 2022, and will likely be an even bigger piece of the pie in 2023. Now available at Sephora and Amazon, sales are up 25 percent from last year.

Whether a group would want to buy the whole Goop business, however, is less certain—and not only because it's not the hottest brand on the market. Estée Lauder Companies recently bought Tom Ford, but it immediately licensed the fashion business to Zegna. Goop is far more complex. G. Label, the fashion line, is nice, fairly priced, and sales are up 10 percent from last year. (One Line Sheet reader, shocked that I would spend my money on The Row, is a big fan.)

At this point, the multi-brand retail arm is essentially marketing for the Goop-branded products; not a bad strategy. But when it comes to G. Label, fashion is a competitive market that's extremely difficult to get right on a margin basis, especially if it's not the core competency. I'm convinced that Goop Kitchen could be a huge business, too, but that would require more capital. And food delivery is notoriously difficult to scale.

To me, though, Goop's biggest challenge is its reliance on Paltrow, herself, as the hero product—what investors call "key man" risk (yes, it's gendered). Executives inside the company offer plenty of examples of success sans-G.P.: There's Goop's growing popularity in international markets where Paltrow is not as famous. (Shocking to realize not everyone has seen Sliding Doors. Or Bounce.) Goop's business on Amazon, which doesn't rely upon her likeness all that much, is also growing quickly. And there are now several instances of marketing campaigns that don't feature her. I'm told there will be more on this front. But will it be enough?
The discourse around the subway-fashion TikToker is mostly… dumb. But also fascinating? This interview with her adds a new layer of complexity. [The Cut]

Parade, the Gen Z undies brand that was recently in talks to be acquired by Victoria's Secret, is nearing a sale; The Information has details on the new potential buyers. [The Information]

Balenciaga is showing in Los Angeles in December. East side? [WWD]

Marisa Meltzer, author of the upcoming book about Glossier, has signed on to interrogate the "myth of the French Girl" via a biography of Jane Birkin. [Instagram]

Nike is opening fitness studios. [Fitt Insider]

The Vice exodus begins. [Katie Robertson's Twitter]

Marc Bain breaks down the enduring popularity of Yeezy sneakers. [BoF]

This New Balance x Blue Bottle collaboration represents everything that's wrong in our world. [High Snobiety]

More re: Amy Odell: Her explanation of why (former J.Crew creative director) Jenna Lyons is the breakout star of The Real Housewives of New York is very good. [Back Row]

The latest news on the fate of all those dead malls in the suburbs: It's not looking good for anyone involved! [WSJ]

A timeline of the friendship between Marc Jacobs and Lil' Kim. [WMag]

Was shocked to hear there was a Gucci in Century City, but then someone informed me that it is actually a shop-in-shop within Bloomingdale's. Makes more sense. Anyway, it got robbed on Tuesday. Scary! [LA Times]
Until Monday,

Lauren
FOUR STORIES WE'RE TALKING ABOUT

Need help? Review our FAQs
page or contact
us for assistance. For brand partnerships, email ads@puck.news.
You received this email because you signed up to receive emails from Puck, or as part of your Puck account associated with . To stop receiving this newsletter and/or manage all your email preferences, click here.
Puck is published by Heat Media LLC. 227 W 17th St New York, NY 10011.