Hello, and welcome back to Tomorrow Will Be Worse!
I can't believe we made it this far, but we have: as of last week, Puck is one and we're fucking adorable! To celebrate our birthday and the fact that we're hitting our developmental milestones way ahead of schedule (we're not just puckish, we're precocious), we're offering a 21 percent discount to new members. (To the O.G. subscribers, I see you and I appreciate you! We couldn't have made it this far without you!) If you're new here and you've been wanting to subscribe to Puck but have been stalling, this is your moment. Click here and join us—and be on the lookout for an invitation to a special Inner Circle call, usually reserved for Puck's highest tier of membership, in which I'll be discussing our company's first year of life with a motley crew of fellow journalist-founders!
In tonight's email, I'm sharing my conversation with my longtime friends, Susan Glasser and Peter Baker, the authors of the forthcoming The Divider, about their experience covering authoritarians, from Vladimir Putin to Donald Trump. But first, an update on the dizzying set of new developments in the war in Ukraine over the last few days…
On Thursday, Vladimir Putin traveled to Uzbekistan for a meeting of the Shanghai Cooperation Organization, where he was to meet two of his most important allies: Narendra Modi, of India, and Xi Jinping, of China. When Russia invaded Ukraine in February, after all, the two giants refrained from condemning Russia and even began snapping up the Russian oil that...
Can't see the full story?

You're receiving the free version of Tomorrow Will Be Worse at . To get access to Puck, and to take advantage of our limited-time offer of 21% off your first year (new members only), you can
subscribe here.

Julia Ioffe: We're all old Russia hands here, and you start the book with the joke about the health of Russian democracy from the old liberal Grigory Yavlinsky, the one about the ambulance picking up a patient and heading to the morgue. The patient says, "Why are we going to the morgue? I'm not dead yet!" The ambulance driver responds, "We're not there yet."
This book reminded me a lot of your first book together, Kremlin Rising, in the sense that you chart very methodically how nobody believes that this guy is going to do what he says he's going to do, and then he does all the things he said he was going to do.
Susan Glasser: If 20 years ago, you told us that we would have acquired useful skills for observing an American president through four years of observing Vladimir Putin, we just wouldn't have believed it. But in fact, some of those skills...
ADVERTISEMENT

FOUR STORIES WE'RE TALKING ABOUT
Recession Bull Market
Bill and Peter discuss inflation, deflation, headwinds, and fears coursing through Wall Street.
PETER HAMBY & WILLIAM D. COHAN

The Oscars Makeover
Can C.E.O. Bill Kramer and president Janet Yang save the Academy from itself?
MATTHEW BELLONI

The Veritas Equation
A new lawsuit seeks to establish the journalistic legitimacy of the controversial media outfit.
ERIQ GARDNER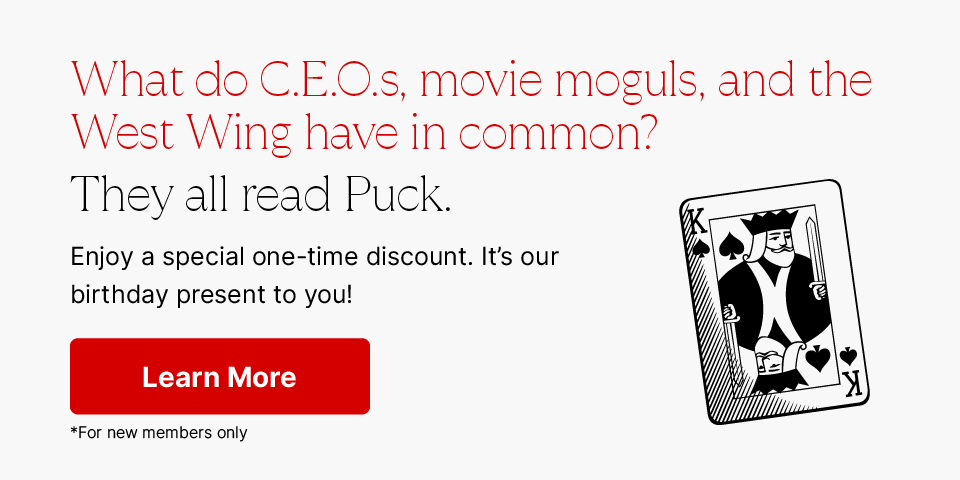 You received this message because you signed up to receive emails from Puck

Was this email forwarded to you?

Sign up for Puck here

Sent to


Unsubscribe

Interested in exploring our newsletter offerings?

Manage your preferences

Puck is published by Heat Media LLC

227 W 17th St

New York, NY 10011

For support, just reply to this e-mail

For brand partnerships, email ads@puck.news