Hello, and welcome back to Tomorrow Will Be Worse!
Today, which was yesterday's tomorrow, is, in fact, worse—at least in Ukraine. After three months of near universal military failure, Russian forces have seized the offensive in the Donbas, taking more and more territory in the last week. As of this writing, the Russian army has entered the city of Severodentsk and its troops are fighting the Ukrainian army street by street. If the Russians succeed in taking this city, which they likely will, it would be a strategic victory as well as a symbolic one. Severodonetsk is the administrative capital of the Luhansk region, a distinction it acquired in 2014 when so-called separatists, with Russian aid, seized the capital, Luhansk, and declared it the capital of the Luhansk People's Republic. Losing the region's second capital would be a big blow, and it would allow the Russian army to plow through and potentially encircle some of Ukraine's most experienced fighting forces.
And though we heard a lot about debilitating Russian losses early in the war, we're now getting a glimpse into the heavy casualties that the Ukrainian military is suffering as well. In recent days, Ukrainian president Volodymyr Zelensky said that the Ukrainian army is losing 50 to 100 soldiers per day. That's a lot. Ukrainian soldiers are complaining to reporters that they are outmanned and outgunned. Privately, military analysts are growing more skeptical that high-tech Western weapons will save Ukraine.
This is what many of us were so afraid of during the early, triumphalist phase of the war: Ukrainians are still fighting bravely and cleverly, and taking out a lot of Russian materiel, but Russia still has more men and machinery that it can throw at this. It's a tried and true Russian military tactic: push meat into the meat grinder until the meat grinder simply breaks. It's what I thought about when Vladimir Putin celebrated Victory Day earlier this month. The lesson Russia took from World War II was that it can lose for a year and a half—that it can lose millions of soldiers and vast swathes of territory—and, through sheer determination and belief that human life is less important than state glory, eventually triumph militarily.
This is obviously a simplified and skewed narrative of the Soviet victory in World War II, but that is the paradigm that Moscow is obviously leaning on. Already, the Kremlin is salivating at its prospects now that the battle for the Donbas seems to be going Russia's way. Sources in the Kremlin told Meduza that, once they capture the Donbas, they expect the Russian army to take Kyiv. My sources are skeptical they will be successful but that doesn't mean they won't try—and inflict a terrible toll in doing so.
That is not to say that Ukraine will lose and that Russia will win. But if you're the Ukrainian state, today looks worse than yesterday and, at least for now, victory seems to be receding a little more each day.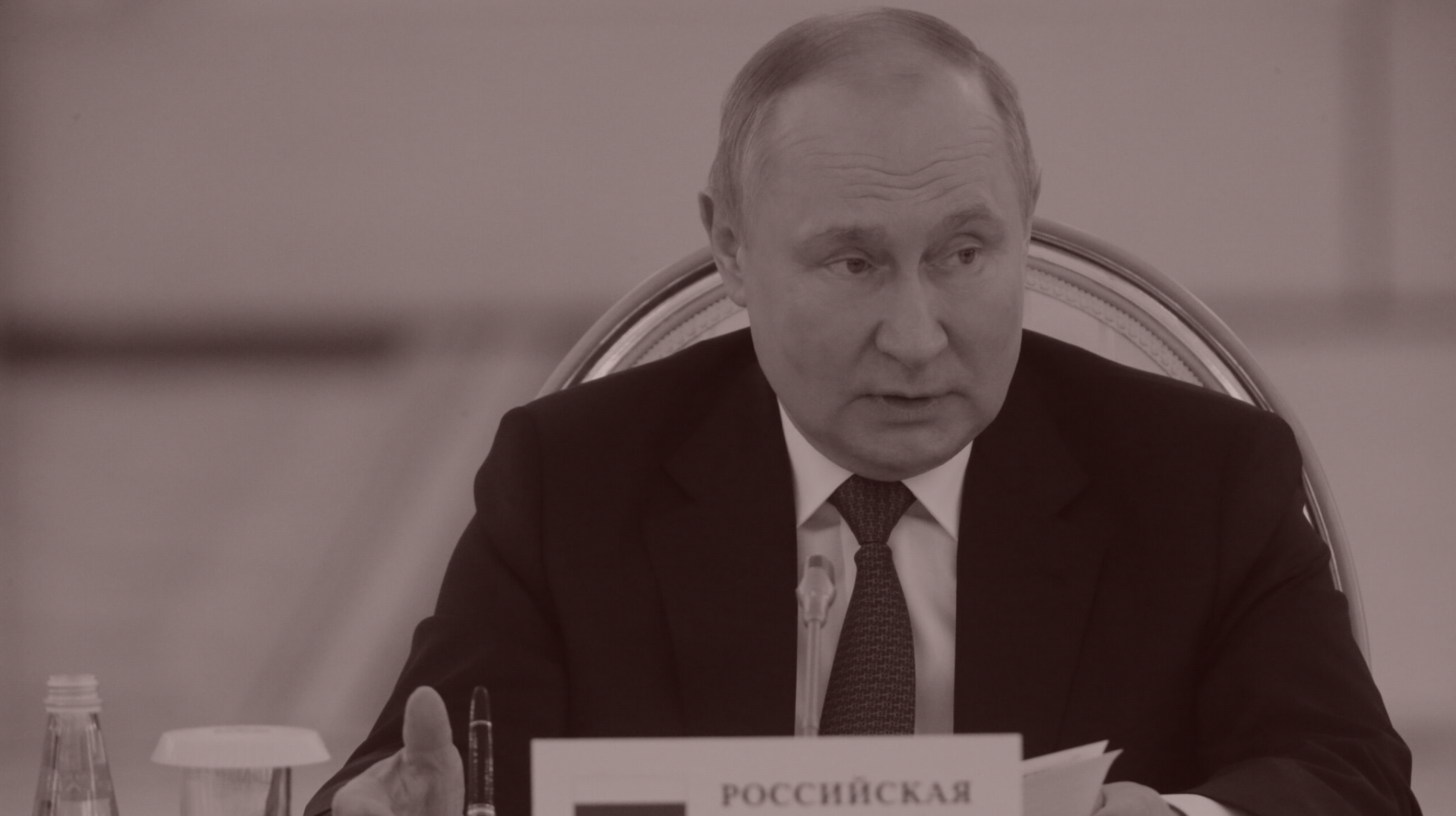 Putin's D.C. Waiting Game
Right now, America's support of Ukraine remains a bipartisan issue. But below the surface, an ebbing of financial support may be coming into sight.
In an op-ed in Tuesday's New York Times, the conservative journalist and Claremont Institute fellow Cristopher Caldwell argued that, by arming Ukraine, the U.S. was extending the war while also risking a bigger and more direct confrontation with Russia itself. "Thousands of Ukrainians have died who likely would not have if the United States had stood aside," Caldwell wrote, adding that "the huge import of deadly weaponry, including that from the newly authorized $40 billion allocation, could take the war to a different level."

Caldwell's argument is only the most recent in a growing chorus of Republicans who are raising questions about American military support for Ukraine. When Congress voted on the $40 billion aid package to Ukraine, 57 House Republicans voted against it—more than a quarter of all Republicans in that chamber. When the bill advanced to the Senate, where it passed with wide, bipartisan support, 11 Republican senators voted against it. That's fully one-fifth of the Senate's G.O.P. contingent. Texas's Chip Roy, one of the House Republicans who voted against the bill, went on Tucker Carlson's show to complain. "It's indefensible to fund $40 billion, unpaid for, at a time of rampant inflation," Roy said, comparing it to "pouring $5 gasoline on the runaway fire of inflation."

Carlson, who has frequently made the case that Russia was a more natural American ally than Ukraine, also connected U.S. support for Ukraine's war effort to domestic U.S. concerns. The military spending, Carlson contended, was a statement of the Biden administration's priorities, which he felt were warped: why spend $40 billion on foreigners in a country far away when Americans at home were hurting? Why spend it on securing Ukraine's borders, rather than our own? "Ukraine's borders are not just more important than our borders," Carlson complained. "They're so much more important that they're spending 10x protecting Ukraine than what they're spending protecting this country from fentanyl pouring in and human trafficking, because that's what they care about."

Others on the right have also been making the argument. "In the United States of America in 2022, there is a shortage of baby formula," Donald Trump, Jr. said at a recent event in Austin. "But you know what? There is not a shortage of billions of dollars for a corrupt regime in Ukraine… A fraction of that would have completed the wall." He has made this specious argument before, that, somehow, not sending military aid to Ukraine would fix the baby formula shortage in the United States. Perennial flamethrower Marjorie Taylor Greene has said Ukraine's army is full of Nazis and compared aid for Kyiv to "a money laundering scheme." Kathy Barnette, the Trumpy candidate who ran (and lost) in the G.O.P. Pennsylvania Senate primary, made a similar argument during her campaign. And while Senate minority leader Mitch McConnell and his allies have downplayed this sentiment as limited to the fringe, even more established institutions, like the Heritage Foundation, also slammed the aid package. Senator Josh Hawley, a 2024 hopeful, ostentatiously voted "no" on the $40 billion package, saying it was "not in America's interests."

This got me thinking about the future of U.S. assistance for Ukraine. There has always been an isolationist wing of the Republican Party, just as there has been one on the left. This is where the horseshoe bends together into a circle. (In fact, Caldwell approvingly quoted Noam Chomsky in his op-ed.) But here's the thing: it's the conservatives, rather than the left, who are set to take power in this November's elections. And, given how poorly Joe Biden is polling and how actively Donald Trump is flirting with running in 2024, it's made me wonder: if the war in Ukraine continues for months or years—and it looks like it very well might—can Ukraine count on a Republican Congress and a Republican president to continue supporting it?
These two hypotheticals—a Trumpian president taking office in 2025 while the war in Ukraine grinds on—are not unrealistic. In fact, I think they are both quite likely. And sure, most Congressional Republicans voted for the $40 billion aid package earlier this month, but that was in the third month of the war, when support for Ukraine was high. It still is. But what happens if the war is still raging in a year and Americans spend that year paying higher gas prices and watching their economy sink, as seems increasingly likely, into a recession? What will the party that overwhelmingly approved of Trump withholding aid from Zelensky in 2019 do when Americans will have moved on from Ukraine once again?

"There's a real fringe that's likely to remain a fringe, but there's a lot more juice in the risks that the G.O.P. becomes more isolationist," said one Republican foreign policy insider. "Part of Putin's hope is that this will be a long war and that this will be corrosive to the unity of the West, as well as inside the United States." We're already seeing that happen, to some extent. The E.U.'s embargo on Russian oil was watered down by Hungary's Viktor Orban, a hero of the MAGA right. (Earlier this month, he opened CPAC, the big right-wing political conference, which was held in Hungary.) France's Marine Le Pen, another hero of the American right, promised she would pull France out of NATO's integrated military command if she won the French presidency. (She lost.) And the Kremlin is making propaganda hay out of Carlson's anti-Ukrainian diatribes, as well as of some Republicans' opposition to supporting Ukraine. (Though, in fairness, they also love Tulsi Gabbard.)

"That strain of Republicanism has always been there, but it has never been the majority and isn't the majority now," one senior Republican Senate staffer reassured me. "Support for Ukraine is one of the last bipartisan things left in D.C." But that strain of Republicanism isn't the fringe. The isolationist, America First wing has a long historical and intellectual tradition, which ebbs and flows alongside the national mood. "One thing to watch out for is the people who aren't isolationists are going to become isolationists to appease their own constituency," said one Washington operator familiar with lawmakers' thinking. "That's the larger issue." And even if they remain a minority, this person continued, "you're going to have the [America First] elements talk to their leadership and they're going to have a voice, more than they have had until now."

Moreover, it's not just apple-pie American isolationism, not after Trump's victory in 2016. Trump showed that there is a genuine ideological affinity for Putin in America. He is an aspirational leader for many on the right, including Carlson and Trump. Putin is unapologetically white, Christian, and traditional. He hates gay people and feminists and effete, urban intellectuals. He is a nationalist who doesn't care about democratic niceties. He does what he wants and he takes what he wants, like a real man. If this wing of the G.O.P. is again ascendant in 2024, then Ukraine better hope it has won the war by then.

This is the hope of the Republican foreign policy insider I spoke to, who believes that the current Republican naysaying on Ukraine aid is just a symptom of being out of power. "The starting point when you're in the opposition is, whatever the party in power is doing, let's do the opposite," he said. "There are only two ways the criticism can go: he's not doing enough or he's doing too much. That's where the Josh Hawleys and the Rand Pauls smell an opportunity, because it's very difficult to say 'what the guys in power are doing is right.'"

That dynamic could become even more powerful if Republicans retake Congress in November, incentivizing G.O.P. lawmakers to sharpen their foreign policy disagreements with the White House ahead of the 2024 election. Still, the Republican insider said, rather hopefully, Ukraine's success on the battlefield would probably translate to political support in the United States. "When you beat the shit out of a dictator, people like that," he noted. "It has a political effect all on its own: you look pretty stupid if you were against it." He paused and thought, then added, "Then again, politics is big and complicated. Winston Churchill could win World War II and still get voted out."
Many of the people I spoke to in Washington tried to reassure me of the bipartisan nature of Americans' support of Ukraine. And indeed, polls show that support remains high. Even Republicans, who had warmed to Putin because he was seen to have helped Trump in 2016, now largely see Russia as America's enemy. Still, just three months into the war, the share of Americans, both Democrats and Republicans, who think the U.S. isn't doing enough to help Ukraine has shrunk. In March, when the war had just started and the situation felt desperate and Americans were tripping over themselves to help Ukraine, 42 percent told Pew that America wasn't doing enough to help. By May, just two months later, only 31 percent thought so.

After all, a short attention span for foreign horrors is a bipartisan phenomenon. Democrats, even moderates, tell me that if they stop and think past the midterms—a big ask in Washington—they begin to worry about how robust support for Ukraine will remain. "The price we're paying now is not super high," Jim Kessler, co-founder of Third Way, a moderate Democratic think tank, told me. "But you get into a recessionary scenario and you can see someone running and saying, 'Why do we care, let the Russians have what they want and open up the spigots again.' There's a reason Americans are isolationists. We're safe. We're not Poland."

D.C. insiders aren't so worried about what will happen to Ukraine policy after the midterms. Biden will still be in the White House, until 2025, at least, and will continue to control most of the power to set foreign policy. The G.O.P. establishment, for its part, is still very much in Ukraine's corner.

But what would happen if, say, the war is over and Ukraine asks for money to rebuild its ruined cities? "Reconstruction is going to be highly controversial, even with Mitch McConnell wing of the party," predicted the Washington operator. "They're not super okay with lending for infrastructure. They see it as the responsibility of other countries to step in." The left isn't likely to support it either. "When you start about rebuilding schools and roads abroad, it quickly becomes controversial because, quite frankly, there's a lot of need in America," this person observed. "You know and I know that it's different money from a different pot, but it's very hard to explain that to the American public."

And would it look like if Trump or someone Trump-like won in 2024, and put the G.O.P. under his sway again—just as Trump did in 2016?

"If Trump wins, it's like a box of chocolates," said a prominent Republican foreign policy scholar. "He might help Putin out or he might double aid to Ukraine. Just like during his presidency, his body language was super warm to Putin but the underlying policy was tougher than Obama's." The Javelins that Trump sent to Ukraine, for instance, went out the same year as his jaw-dropping performance at Helsinki. "Which one is determinative?" the scholar asked rhetorically. "I think Republican policy [with regards to Ukraine] will be okay, but having watched the last few years, I'm not sure of anything."
That's all for this week, folks. Be sure to check out our podcasts, The Town and The Powers That Be, and I'll see you back here next Tuesday. In the meantime, good night. Tomorrow will be worse.

Julia
FOUR STORIES WE'RE TALKING ABOUT
Billionaire Coachella
The Giving Pledge gathering may be the most exclusive leg of the ultra-high-net-worth event circuit.
THEODORE SCHLEIFER

Elon's Schemes
What does Musk's new Twitter financing plan tell us about his business intentions?
WILLIAM D. COHAN

The Depp-Heard Truth
The Depp-Heard litigation could have stunning repercussions for the media, for free speech, and more.
ERIQ GARDNER
You received this message because you signed up to receive emails from Puck

Was this email forwarded to you?

Sign up for Puck here

Interested in exploring our newsletter offerings?

Manage your preferences

Puck is published by Heat Media LLC

64 Bank Street

New York, NY 10014

For support, just reply to this e-mail

For brand partnerships, email ads@puck.news