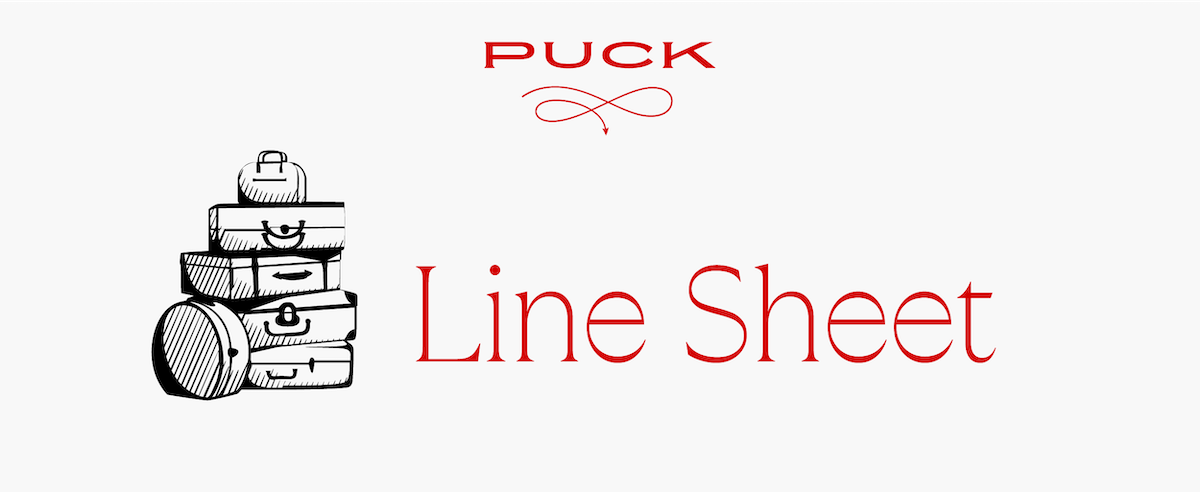 Hi there, and welcome back to Line Sheet. I'm feeling first-day-of-school butterflies as we close in on the end of summer. To start the last week of August off right, I've got a glittery, internationally relevant media scoop (insert heart eyes here), a state-of-Victoria's Secret snapshot, and one more Outdoor Voices update (I'm sorry, but this is a good one).
What's on your mind, pen pal? Write me back with any coverage requests.
Mentioned in this issue: Karlie Kloss, Josh Kushner, Alastair Mckimm, Vice Media, Snehal Amin, Jonathan Rich, Refinery29 chatter, Naomi Campbell, Doja Cat, Abercrombie & Fitch, Simeon Siegel, Janie Schaffer, Raúl Martinez, Alo Yoga, Lewis Hamilton, Jason Blum, and Gabrielle Conforti. Not mentioned: Tyler Haney!
Let's get started…
Angels in America:
Put Up or Shut Up Time for Victoria's Secret
In mid-August, Gordon Haskett analyst Jonathan Rich noted that UBS had increased its stake in Victoria's Secret to almost 4 percent at the same time that WindAcre Partnership, the tiny Texas hedge fund involved in the leveraged buyout of Nielsen, is holding onto between 8 and 9 percent. If these two positions are in any way connected, Rich surmised, "you are talking about a ~12 percent holder who has recent experience with LBOs." I reached out to WindAcre founder and C.E.O. Snehal Amin, who said the company doesn't comment on its investments.

Gordon Haskett doesn't typically cover Victoria's Secret, so I don't know who whispered in Rich's ear to put 2 and 2 together. But three years after the take-private deal with Sycamore Partners blew up, and two years after it split with Bath & Body Works on the public market, it's feeling like it's put up or shut up time for Victoria's Secret. In September, the company is embarking on an ambitious marketing push, starting with an event in New York City on September 6, followed by the Amazon streaming debut of its film, The Victoria's Secret World Tour, on September 26. (Here is the trailer.)

The log line is that this is a sort of re-imagining of the infamous fashion show, which the company stopped producing in 2019 at the height of its toxic-culture allegations and Jeffrey Epstein association. The film itself sounds a bit like a Project Runway-style documentary, which will follow designers and their teams in Bogota, Lagos, London, and Tokyo as they create looks for a runway show and performance. From what I understand, the event in New York is essentially a media preview of the film with some live elements, including a couple of yet-to-be-announced musical performances and who knows what else. (I previously reported that Naomi Campbell and Doja Cat are rumored to appear in the film.) What I do know is that journalists and other industry insiders will not be sitting down for an actual runway show, but instead some sort of experience—and the hope is that this rendition will help to crystalize what Victoria's Secret is, and who it's for, in 2023.

There's a lot riding on this Amazon partnership. Not only is there a special collection linked to the film being sold on Amazon.com, but Victoria's Secret's core line is on there, too. It's a huge opportunity to drive top-line revenue growth, and a tactic that has been tried by the likes of Nike and Birkenstock. But those brands pulled out of Amazon after they felt the retailer wasn't properly punishing counterfeiters and grey-market sellers on the platform. While Victoria's Secret bras aren't as susceptible to knockoffs as shoes, analysts weren't thrilled by the announcement that the specialty retailer would now be selling through the marketplace.

The fear is that Victoria's Secret's products are going to continue to get cheaper, shrinking margins further. As BMO's Simeon Siegel wrote in a note following the company's disappointing first-quarter earnings, VS "might be better served to sell less and charge more to earn more." And it's not just the brand itself that's at (yet another) impasse: Pink, the younger, more relaxed line, which was often the company's saving grace during the past decade, is also set to relaunch soon amid slumping sales.

Victoria's Secret's biggest problem, I would argue, is not its #MeToo-adjacency, but rather, a failure over the past decade to understand what young people—or people who think like young people—want. (One of the reasons Abercrombie & Fitch is doing so well is that it's satisfying a lot of different types of consumers.) There is tremendous pressure on the product and marketing teams to deliver something fresh and interesting. Despite the deep roster of talent on board—including chief design officer Janie Schaffer, who was there in the heyday and returned in 2020, and chief creative director Raúl Martinez, a longtime Condé Nasty—they have yet to make a convincing argument for why someone should shop at Victoria's Secret.

This is their chance, and it very well may be their last. I'm not saying Victoria's Secret is going anywhere, but if things don't start to turn around soon, agitated investors may soon look for the activists to take control.

And now for a mini fashion media crossover scoop…
Karlie Kloss, the supermodel, entrepreneur, investor, and former Scooter Braun client, is in talks to buy i-D magazine from Vice Media, I've been told. I know little about the terms of the deal, only that it would make Kloss the proprietor of the U.K.-based culture and fashion publication, which was acquired by Vice in 2012, and probably remains most famous as the launching pad for a former teenage fashion director named Edward Enninful. The stylist Alastair Mckimm would stay on as editor-in-chief, I hear, which bodes well for the talented people working over there.

This is not Kloss's first dip into media: She previously led a consortium of investors—including movie producer Jason Blum, Kaia Gerber, the fashionable race car driver Lewis Hamilton, and Forerunner Ventures' Kirsten Green—who partnered with Bustle Digital Group to buy W magazine in 2020 from Marc Lotenberg, whose Twitter (er, X) profile reads, "Business, with a side of controversy." Cool guy.

Kloss appears to be doing the i-D deal solo, although it's too early to know whether there will be any sort of agreement with Bustle to sell advertising, like there is with W. (Remember, i-D is based in the U.K. and has its own commercial team in place.) However, I've heard that the W-BDG deal has been good for BDG, attracting luxury advertisers that it wouldn't otherwise be able to pull in, and that advertisers like working with BDG because the group is digital-first and doesn't require so much investment in the print product specifically. (Legacy publishers often force advertisers to spend a certain amount of money on print specifically.)

A Kloss acquisition seems like a logical (and excellent, really) end point for a fashion glossy—into the arms of a wealthy benefactor who probably just wants it to do great work, eke out some profit one day, and presumably act as a useful tool for personal tax consequences. There was no doubting i-D would get scooped up in the Vice fallout: Fashion magazines in the U.K. are more efficiently run, and, like Interview and W in the U.S., they remain somewhat culturally relevant. (If you haven't read my former BoF colleague Osman Ahmed's interview with Raf Simons, Matthieu Blazy, and Pieter Mulier from i-D's Spring 2023 issue, please do. It's my favorite fashion piece from this year by far.)

However, it's interesting that Kloss, who has been investing for more than a decade, sees an opportunity, whether it's to make real money or preserve a bit of culture. I'd love to learn more about her investment philosophy; her portfolio includes Coterie diapers, the personal styling app Wishi, and the group chat tool Geneva. Yes, yes, her husband is Thrive Capital's Joshua Kushner, but let's not give him any undeserved credit here. (Also, for the record… Kloss was the first major talent to scoot away from Scooter Braun, when his longtime deputy Penni Thow—Kloss's manager—left the agency to launch Copper circa 2020.)

Anyway, I digress. Kloss's acquisition of i-D leaves Vice, which recently filed for Chapter 11 bankruptcy and is now moving out of Williamsburg, with one less property to worry about amid its restructuring. Will Refinery29 be the next to go? I've heard through the grapevine that co-founders Justin Stefano and Philippe von Borries (who are both at Red Ventures) were in early talks to potentially buy back the once-influential company, but nothing materialized. I couldn't get this confirmed by Vice.

Regardless, it seems that while Vice is willing to let go of i-D and the luxury advertisers that come with it, Refinery29 still has an outsize value in the portfolio on account of its female audience. Whether or not Vice can restore it back to its former glory… let's just say that Kloss feels like a better steward for i-D than Vice has been for Refinery.
Ok, Sorry, I Just Can't Quit Outdoor Voices…
(And Neither Can You!)
Y'all sure love talking about this brand! I received a mountain of (mostly too-bitchy-to-publish) comments after Thursday's newsletter. There was also a detailed follow up from Ashley Merrill, who put money into the business in 2020 and became board chair. (And for a short time, OV's C.E.O.)

First off, Merrill took issue with the story's headline—Can Outdoor Voices Ever Shut Up? "OV has shut up. "We aren't reaching out for P.R. or raising money or causing any drama whatsoever," she told me via text. "That title is a real mischaracterization of what's happening here."

She went on to argue that saying that the company was "bleeding cash" was not fair, even though EBITDA was negative $19 million in 2022, claiming expenditures ran higher that year "due to investments in retail and retail staff to support the capital investments of our large expansion of brick and mortar. OV does well in brick and mortar and it will help us healthily grow the company in the years to come." She added that this year's EBITDA is on track to be something like negative 6 percent as a percentage of revenue.

The brand also has a lot more stores than it once did, and so there are a lot of new customers that were acquired not through marketing, but through broadened distribution. "Some of the existing profitability challenges that still plague the business are really legacy that relate to debt that was taken out to fund a totally unsustainable marketing and brand spend and inventory (which we finally got through in 2022)," she added. "We are still working through that debt but are running a much more profitable business now as the numbers clearly illustrate."

Along with being annoyed that I even made mention of Interweave's speculative, fairly hostile deck, Merrill also took issue with my comparison of Outdoor Voices to Alo Yoga. "The only reasonable comparison between Alo and OV (historically) is the fact that they were also a company that has spent an astronomical amount of money on marketing and have run a highly unprofitable business," she said.

I wouldn't know if that statement about Alo Yoga running a highly unprofitable business is true because no one has sent me any confidential documents about the company. Guess what, though! After publishing my story last week, I was sent yet another fundraising deck connected to Outdoor Voices, this one far less speculative than the one prepared by Interweave, which was trying to raise money earlier this year for a potential buyout. According to this fresh deck, sent out in August 2023 by Dallas-based investment firm Oakwell Capital, "a new group and board of directors, led by Oakwell Capital, has stabilized the business, instituted new management, built a proper foundation for sustainable growth, and reset the equity capital structure and valuation." Oakwell has been involved with the business since at least 2020.

Last week, Outdoor Voices C.E.O. Gabrielle Conforti shared with me that the business had raised $10 million this year already. The deck says that there has been $12 million raised, and that the company is looking to raise another $5 million to $10 million at a $32 million pre-money valuation. (The enterprise value of OV is $52 million, "inclusive of $20 million in debt and working capital deficiency," according to the deck.)

All that preferred stock owned by previous investors—which would have commanded the first $130 million in proceeds from an exit, potentially more—was eliminated and converted to common stock. It means that now, in the event of an exit, those previous investors will get paid after this new group of investors, who now own the only preferred stock. A potential bummer for them, but as I said last week, most of them washed their hands of this company years ago, and clearly seem open to lowering their position in the capital stack for a chance to let someone else take a spin at fixing the company. Indeed, Oakwell is calling this raise a "Series A," suggesting that the company is virtually starting from scratch.

So, um, when Merrill told me the company wasn't raising money… maybe she didn't know? When I followed up with her, explaining I had seen this new deck, she did not respond to me. I also called and emailed Oakwell partner Phillip Niels, and never heard back from him.

Okay, that concludes another chapter in the Outdoor Voices saga. And look, I didn't mention Tyler Haney once!
Jamila Robinson has been named EIC of Bon Appetit. You read it here first! [The Philadelphia Enquirer]

Lots happening in the world of watches at the moment. Last week, Rolex—one of the few independent watch brands—acquired watch retailer Bucherer, ruffling the feathers of another major multi-brand store, Watches of Switzerland. Drama! [CNBC]

Leonard Lauder, who is 90, is stepping down from the Estée Lauder Cos. board of directors. Timing makes sense—from an age perspective. [WWD]

Amrit Tietz (a cool DJ who is married to the stylist Jon Tietz) and The Strokes are playing at J.Crew's 40th anniversary party next Tuesday. Congrats to the person who booked this. [Inbox]

Are you talking about Rhode the fashion brand or Rhode the beauty brand? [Amanda Mull's Twitter]

Abercrombie & Fitch is absolutely murdering the competition. [Marketwatch]

It makes me nervous when people who are only sort of rich show off their watch collections or Hermès handbag collections, or Chanel jacket collections publicly, because they often end up getting robbed. [WWD]

As an Old Millennial, I happen to love Gen X. [NYT]

Rachel Strugatz lays out the opportunity at Marc Jacobs Beauty. [BoF]

For those with endless capacity for Gap schadenfreude: A longer version of what I told you a few weeks ago about the new group C.E.O., with a pretty good headline attached. [Bloomberg]

Here's a fairly exhaustive rundown of Beyoncé's Renaissance Tour looks, conceived in collaboration with stylist Shiona Turini. (Lots of Loewe in there.) [L'Officiel USA]

How Farfetch became a penny stock. [Barron's]

Everyone's excited about a potential Birkenstock IPO in September. [WWD]

And finally… I didn't go to the Kim Gordon closet sale because I am old and was working on my book, but a few people sent me videos and the line was long. My friend Sidney Prawatyotin, a fashion person who is friends with both Gordon and Chloë Sevigny (he was in Kids!!!), attended yesterday's sale, as well as Sevigny's sale in New York. He said that comparing the two would be wrong ("like apples and oranges"). At Gordon's, patient shoppers gained access to tons of designer stuff—Rachel Comey, Acne, Marc Jacobs, a Claude Montana jacket—as well as thrifted denim and flannels. Real wardrobe pieces. "Aside from the concert tees and tees emblazoned with her art, you'd probably be the only person who knows it came from Kim's closet," he said.
Until Thursday,
Lauren
FOUR STORIES WE'RE TALKING ABOUT
CNN's New Era
A streaming bet and Licht's possible successor.
DYLAN BYERS

Need help? Review our FAQs
page or contact
us for assistance. For brand partnerships, email ads@puck.news.
You received this email because you signed up to receive emails from Puck, or as part of your Puck account associated with . To stop receiving this newsletter and/or manage all your email preferences, click here.
Puck is published by Heat Media LLC. 227 W 17th St New York, NY 10011.