Good evening, I'm Dylan Byers.
Welcome back to In The Room, my biweekly private email on the inner workings of the American media industry. Tonight, the inside scoop on the Don Lemon fiasco, and what it reveals about the crisis at CNN.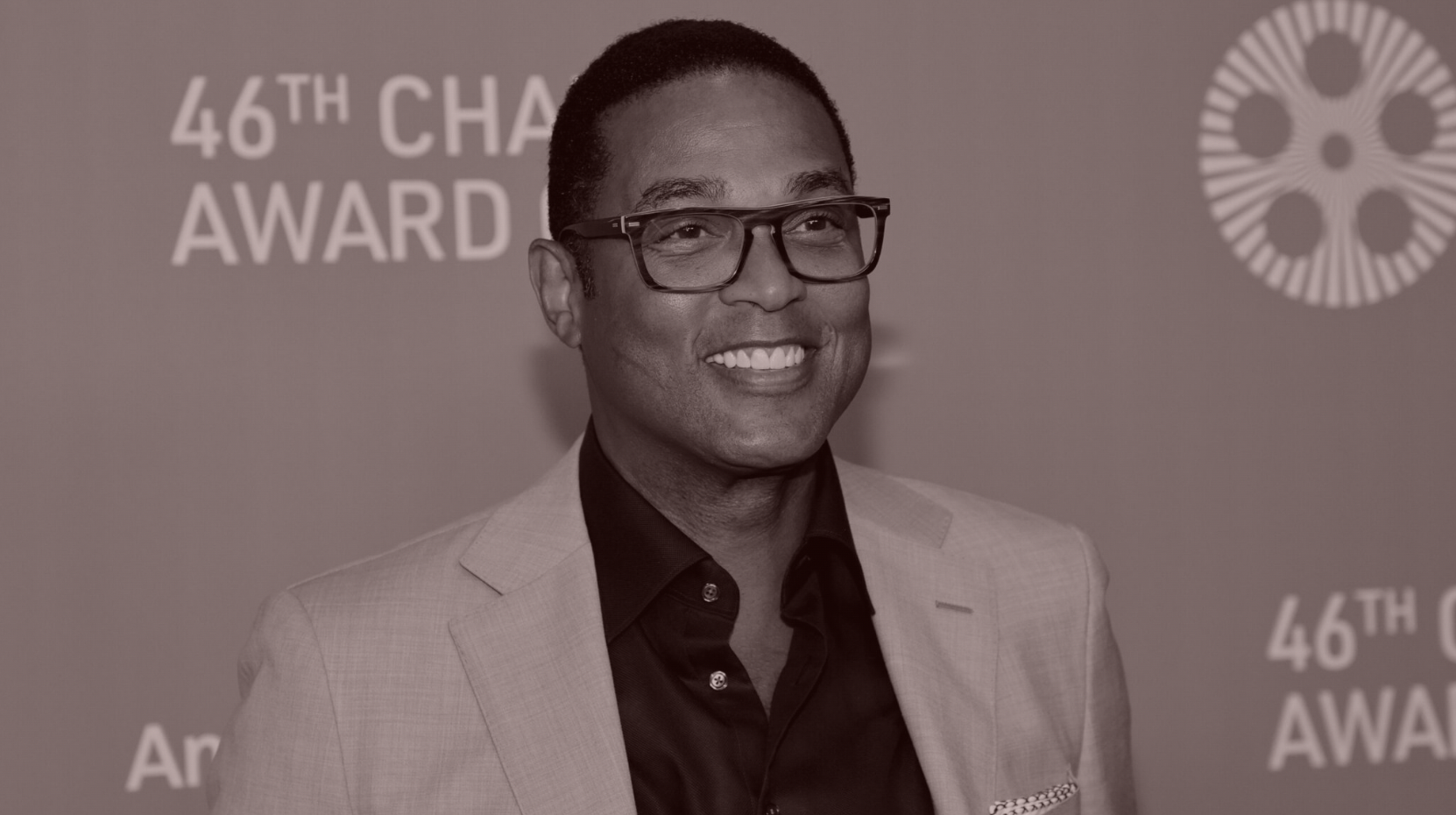 Licht's Lemonade
The Don Lemon "women-in-their-prime" fiasco has become the quintessential scandal of New CNN—a microcosm of Zaz's prerogatives, the network's ratings struggles, Licht's operational inexperience, and the realities of the Dantean journey through the decline of cable news.
Last Thursday, during an otherwise milquetoast political segment on the inertly-rated CNN This Morning, Don Lemon spontaneously self-immolated, and then some. After airing a campaign ad in which Nikki Haley called for competency tests for people aged 75 and above—a thinly-veiled dig at her former boss and now 2024 rival, Donald Trump—Lemon mused that Haley was being hypocritical. After all, Lemon argued, women were considered to be in their "prime" in their 20s, 30s, and maybe 40s. Haley, a former governor and U.N. ambassador, is 51. When co-host Poppy Harlow pushed back, appearing genuinely shocked, Lemon obnoxiously countered that she "Google it," as if the accelerated decrepitude of her gender was a scientific fact.

The Internet went aflame, of course, gathering heat from the interlocking factions of Fox News lovers, CNN haters, and media snafu drive-by spectators. In his all-hands meeting the day after the on-air debacle, CNN C.E.O. Chris Licht was still coming to terms with the severity of the crisis. Lemon, for his part, didn't seem to grasp the consequences. He called into the A.M. meeting from a previously scheduled vacation in Miami and offered an apology that seemed, at times, sincere, scripted, and choreographed. Earlier this week, the network announced that Lemon would undergo unspecified "formal training" for, I'm told, diversity and inclusion sensitivity.

Lemon, a naturally gifted and credentialled broadcaster, is hardly a stranger to moments of eyebrow-raising journalist-becomes-the-story misadventures. A decade ago, in response to a charged Bill O'Reilly critique of the Black community following the George Zimmerman trial, Lemon, then a weekend host, made a passionate and controversial rant that called upon "Black people" to, among other things, "pull up your pants," stop littering, and reduce use of the N-word. In 2014, after he was promoted to prime time during the network's wall-to-wall coverage of the missing Malaysian Airlines jet, Lemon drew mocking headlines for briefly entertaining the idea that the vessel had disappeared into a black hole. The same year, he asked an Islamic scholar if he supported ISIS and queried a Bill Cosby accuser about why she didn't bite the comedian's penis in self-defense. In 2015, he held up a sign with the N-word on air and asked: "Does this offend you?"

Of course, the pinnacle of Lemon's fame came during the Trump years, when, along with Chris Cuomo, he became one of the leading men in the Jeff Zucker-directed CNN-vs.-Trump mega-drama. Like many of his colleagues, Lemon seized the opportunity to speak out against the president and his enablers, criticizing Trump as a liar, an overly sensitive "snowflake," and, in one very memorable episode from 2018, a racist. The unapologetically outspoken posture may have infuriated the right, and even elicited some eye-rolling from fans of a more traditional Murrow or Cronkite-style broadcast, but it also garnered Lemon his highest ratings ever. His show peaked at an average of more than 1.6 million viewers in 2020, and he was given multiple podcast deals and his own talk show on CNN+. "You know, Don is a little bit of a lightning rod," Zucker once memorably told Taffy Brodesser-Akner for a GQ profile. "Frankly, we needed a little bit of lightning."

But the controversial side of Lemon, the streak of his personality that had made him so successful, was quickly becoming unwelcome. In late 2021, as David Zaslav prepared to take over the Warner Media assets from AT&T, combining them with Discovery into a new and then-yet-unnamed mediaco, his mentor and Discovery board member John Malone went on CNBC to publicly circulate his fervent hope that CNN "evolve back to the kind of journalism that it started with," touting Fox News as a model.

By the time of the Malone interview, Zaz was already informally pitching his friend Licht, then the executive producer of CBS's Late Show and a celebrated veteran of morning television, on taking the reins at CNN from Zucker, who was expected to either be elevated or exit on his own terms. Over the course of their many conversations, according to two sources familiar with the discussions, Zaz made it clear to Licht that the Cuomo-Lemon act did not fit with his vision of a less polarizing CNN. Licht shared this view, sources familiar with his thinking said, and the two men determined that they would have to overhaul prime time.

By the time Licht took over, in May 2022, Cuomo had long since self-imploded, kicking up an internal investigation that would also prompt Zucker's ouster and clear the way for Licht's installment as chairman and C.E.O. But Lemon was still in prime time and still in his prime. Nevertheless, Licht knew there was no way to achieve the vision for a less polarizing CNN without dislodging Lemon. One option was to allow Lemon to see out the remainder of his contract in prime time, possibly reducing him to one hour instead of two. Another option was defenestration á la Stelter—affording WBD another eight-figure write-down to help balance the books. Whatever the case, as Zaz & Co. saw it, I'm told, Lemon would not be a permanent fixture in the New CNN prime time.

Licht, for his part, conceived of a compromise, effectively making lemonade out of the Lemon kerfuffle: what if he made the star into the face of his new, flagship morning show? Licht presumably knew that Lemon, for all his missteps, was still a uniquely charismatic marquee star—a highly valuable asset given WBD's financial straits. Licht also likely knew that his casting options were more or less limited to the existing CNN talent bench, few of whom could become the anchor talent of a new morning concept. He also likely recognized the unnecessary headaches of vacating another hour of prime time, all while mysteriously demoting one of the network's most popular stars, who also happened to be a man of color, and had behaved as a loyal soldier amid the Cuomo and Zucker fiascos.

Licht devised a solution that might satisfy everyone: Zaz & Co would get a Lemon-free prime time. Lemon would still be a leading man at the network, albeit in a new role. And Licht, who needed a win after his tumultuous initiation, would have a star around which to build his flagship morning program.
Zaslav and the Warner Bros. Discovery leadership were supportive of Licht's idea, especially once they heard that he would be surrounded by co-hosts Poppy Harlow, a measured, Columbia-and-Yale educated Midwesterner, and Kaitlan Collins, a tough White House correspondent with conservative bonafides. Moreover, they knew that Lemon was multifaceted: he could play the righteous provocateur and truth teller and yet he could also be the fun, easy-going and affable anchor with the charming laugh, the guy who danced and drank on New Year's Eve, the person who once sat next to a llama on set. If Licht's morning show aspired to have mass appeal, an alternative to not only Morning Joe but even Today and GMA, Lemon might actually be the perfect fit. It was, at the very least, a risk worth taking.

Lemon, however, required more convincing. Though he was already somewhat dispirited with the downward trajectory of post-Trump prime-time ratings, he needed to be assured that the morning show would afford him new opportunities to grow his career and develop his brand. Licht coaxed Lemon by inviting him to guest-host a few times on the morning show, offering encouraging words after each appearance and, finally, promising a contract extension with a salary increase. He also assured him that he would continue to have opportunities for prime-time interviews and special events.

By mid-September, Lemon had come around to Licht's logic. At the very least, the morning show provided him with longer-term stability at the network, and a more lucrative contract. He announced on his show that he had been given "an opportunity that I can't pass up." He also stressed that the move to mornings was his decision: "For all of those who are out there saying, 'Oh, he moved me, and without my [input]'—he asked me and I said yes. I could have said no." In its messaging to the media, CNN characterized Lemon's move as a promotion, even though many media insiders interpreted it as the opposite.

And in some ways, it was an undeniable demotion: Lemon would now share the stage with two less experienced co-hosts, neither of whom matched his star power, in front of a significantly smaller audience. (His new show would end before most people on the West Coast even woke up.) On the other hand, it represented Lemon's best available option at New CNN. And, if it worked—if Lemon hit a new stride, if he and his co-hosts clicked, if Licht lived up to his reputation as a morning show maestro—then it might conceivably turn out to be the smartest move of his career.

From the beginning, however, Lemon expressed unease with his new role. He was initially under the impression that his name would be included in the show's title, and was upset upon learning that he would be sharing the bill with his co-hosts, under the uninspired CNN This Morning banner. Moreover, Lemon, who was incredibly adept as a prime-time solo act, proved less amenable to sharing the spotlight—especially with Collins, who, despite her star prowess as a correspondent, was learning a new job behind the anchor desk.

As has previously been reported, Lemon yelled at her on set after she repeatedly tried to interject while he was reading breaking news, and then took the following day off. The silver lining was that this interpersonal drama was playing out before an increasingly smaller audience. To date, CNN This Morning is the network's lowest-rated morning show in a decade.
The morning show saga has been, in many ways, a microcosm of CNN in the Licht era, representing the reality of what happens when an inexperienced C.E.O. tries to balance the demands of the highly pressurized corporate overlords above with anxious employees below—all while managing the complexities of a rapidly transforming industrial and economic landscape. Licht's first year in the job was never going to be easy, especially given the Cuomo drama, the enduring affection for Zucker, and the recent memories of CNN's apex. But it has also been exacerbated by forces both in, and beyond, his control.

Zaz & Co. forced Licht to make a series of moves that would sap the morale of his staff: killing CNN+ in the crib, implementing layoffs he had once been told were off the table, and moving Lemon out of prime time with no obvious successor. Warner Bros. Discovery's aggressive cost-cutting effort and restructuring significantly curtailed Licht's ability to balance these losses with any creative wins. At the same time, Licht made his bad luck so much worse: he took a hands-off approach when CNN desperately needed a hands-on leader, he never articulated a grand vision for the business beyond fewer "breaking news" banners, and, most tragically, he failed to live up to his own reputation as a wunderkind producer, pinning his early prime time hopes on Jake Tapper and throwing Lemon, Harlow and Collins on air before they had ironed out the potentially explosive kinks.

This backdrop has inevitably hamstrung his ability to operate effectively, and renders each setback more consequential. This week, CNN was supposed to broadcast an exclusive Lemon interview with George Santos. The event fell through, and Licht is instead launching with lesser draws: a Tapper-helmed town hall on the Ohio train crash on Wednesday, a Fareed Zakaria-anchored town hall about Ukraine on Thursday, and a rerun of Dana Bash's documentary about anti-Semitism in America, which first premiered last August, on Friday.

The relatively lackluster prime-time rollout highlights a more fundamental problem with Licht's strategy. In the news business, bookings fall through all the time, which is exactly why you employ nightly anchors who command consistent audiences. After almost a year in office, Licht is still working on borrowing talents like Gayle King and Charles Barkley from their respective networks for part-time weekly gigs. This will allow CNN to draft off their stardom at a discount, but it won't necessarily solve the larger problem of maintaining an audience of consistent core viewers.

Zaz, the master of many corporate integrations and a veteran of the Jack Welch school of management, likely knew the headaches Licht was in for during his inaugural year at CNN. Jim Stewart's recent Times profile of Licht included a scene of the two men jaunting through Central Park, with the older executive inquiring about whether his future report and his family were truly prepared for the public challenges ahead. Indeed, Zaz has remained steadfastly loyal to Licht, who appears to be demonstrating a similar fealty toward Lemon. Amid the Haley crisis, Licht once again came to Lemon's aid, saving him from cancellation and offering him yet another shot. But the view inside the Zaslav brain trust, sources familiar with their thinking have told me, is that Lemon is responsible for both this mess and the off-camera drama with his co-hosts. And given the parentco's initial wariness about Lemon, there may not be a strike three.
FOUR STORIES WE'RE TALKING ABOUT
D.C. in Munich
Detailing the after hours conversations at the Munich Security Conference.
JULIA IOFFE

AMC+ Tea Leaves
Notes on the plight of AMC+ and the future of the streaming wars.
JULIA ALEXANDER

Need help? Review our FAQs
page or contact
us for assistance. For brand partnerships, email ads@puck.news.
Puck is published by Heat Media LLC. 227 W 17th St New York, NY 10011.