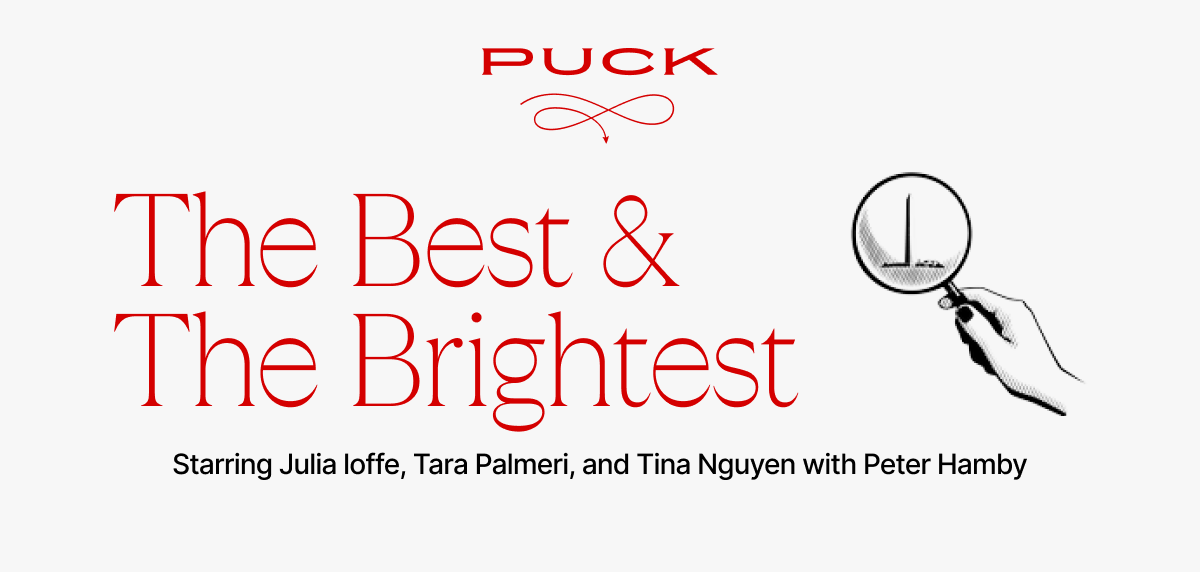 Welcome back to The Best & The Brightest, our new private email focused on the inside conversations taking place within the halls of the White House and the Pentagon, on K Street, and under the Dome. Before jumping in, I'd like to quickly point you to Puck's first audience survey, which is helping us better understand our engaged community of readers. Thanks to everyone who has already filled it out—if you haven't yet, you can find the link here. We seriously appreciate it!
In tonight's issue, a close look at the squeaky bed Speaker Kevin McCarthy has made for himself as he attempts to make good on the many promises and concessions he dolled out in his single-minded pursuit of the gavel.
But first..
The No Labels big money soiree: This weekend, No Labels is having its annual donor conference in Miami, and, naturally, the event presents a complicated decision for eager-beaver Republican '24 candidates who would love to hobnob with mega-donors, like Dallas billionaire Harlan Crow, a supporter of Mike Pompeo, but don't want to be showered with Ross Perot-style criticism. No Labels, of course, doesn't see itself as a pesky third party spoiler vehicle, but rather an insurance policy against a Joe Biden and Donald Trump rematch—and they're putting $50 million to work to get onto the ballot in all 50 states as they poll test for their ideal franken-party fusion candidate. So far they've been hyping a Joe Manchin and Larry Hogan ticket to donors. Manchin, Hogan and Susan Collins are all on panels at the retreat this weekend.
The Manchin stare off: Speaking of Manchin, a game of chicken seems to be playing out in deeply red West Virginia. Popular billionaire governor Jim Justice, a Democrat turned Trump-acolyte, is considering whether to run for Manchin's Senate seat while Manchin contemplates his own re-election as a Democrat in a Trump +37 state. Justice knows Manchin, the former governor, would be real competition and Manchin knows the same about Justice. In the meantime, Justice has two of Trump's former strategists who worked on his re-elect as advisors: Bill Stepien and Justin Clark. "I don't believe the governor's made a decision yet, but he's a great governor and would be a great senator and Joe Manchin should be very worried about a Jim Justice candidacy," said Clark. If Rep. Alex Mooney becomes the Republican nominee, I'm told that Manchin would delight in running against him for political and personal reasons. But if Justice decides to run, could Manchin take the easier path back to the governor's mansion—consummating what would effectively be a high-level job swap? He told Chuck Todd last month that he will not run for governor, but maybe No Labels will finally win him over to their ticket for '24?
A Republican political and financial victory: Mitch Daniels, the former liberal fantasy of a Republican and Purdue president, offered a gift to the party this week by begging out of the Indiana Senate race, ergo avoiding a potential intra-party skirmish with Rep. Jim Banks. This should be a seat that Republicans don't need to worry about, and it's giving some operatives P.T.S.D. about their regrettable hunger games in North Carolina where an expensive and ugly nominating process fight bruised their candidate Ted Budd during the heated primary, and diverted GOP funds from true battleground states, like Arizona. But hopefully the Indiana paradigm suggests the sort of future outcomes the N.R.S.C. can expect since it appears to be willing to play in the primaries and Trump seems to have lost his endorsement juice.
Arizona hysteria: Arizona, a critical state in 2020, is already the subject of 2024 infatuation. As Politico recently noted, Republicans fear that they will lose the state's forthcoming Senate race if they put forward an extremist candidate, like Kari Lake or Blake Masters. Meanwhile, Democrats are openly fretting about the trouble Kyrsten Sinema could cause if she runs for her seat as an Independent. Her latest filing of $800,000, and $8.2 million in the bank, seems to suggest that she is planning to do something. Of course, Republicans would feel a lot better if they could convince former governor Doug Ducey to run, but I'm hearing he doesn't have the appetite for it after butting up against Trump and is looking at more lucrative gigs. Axios reported that he's been eyeing Suzanne Clark's role as C.E.O. at the Chamber of Commerce, where she's been struggling to make headway with House Republicans. But I've heard that the board is still very supportive of her and has said they see her in that role for years to come.
Haley's big money bet: Nikki Haley took a big gamble by pre-announcing her announcement to run for president in 2024 later this month. As Trump has learned, the earlier you announce, the more money you need to raise to elongate the campaign's runway. But Haley has a deep-pocketed donor base among the pro-Israel crowd that could likely keep her going for a while. At the same time, she's taking advantage of a news vacuum and she's certainly double-dipping via her double-announcement strategy. Some wonder, however, if the pre-announcement is really just a way to buy time and momentum so that she can fill the Shed at the Charleston Visitor Center, a space that has a 1,500 person capacity, where she is making it official on February 15. This won't be the easiest task for Haley even in her home state as many sit on the sidelines for South Carolina Senator Tim Scott and Ron DeSantis to make their moves.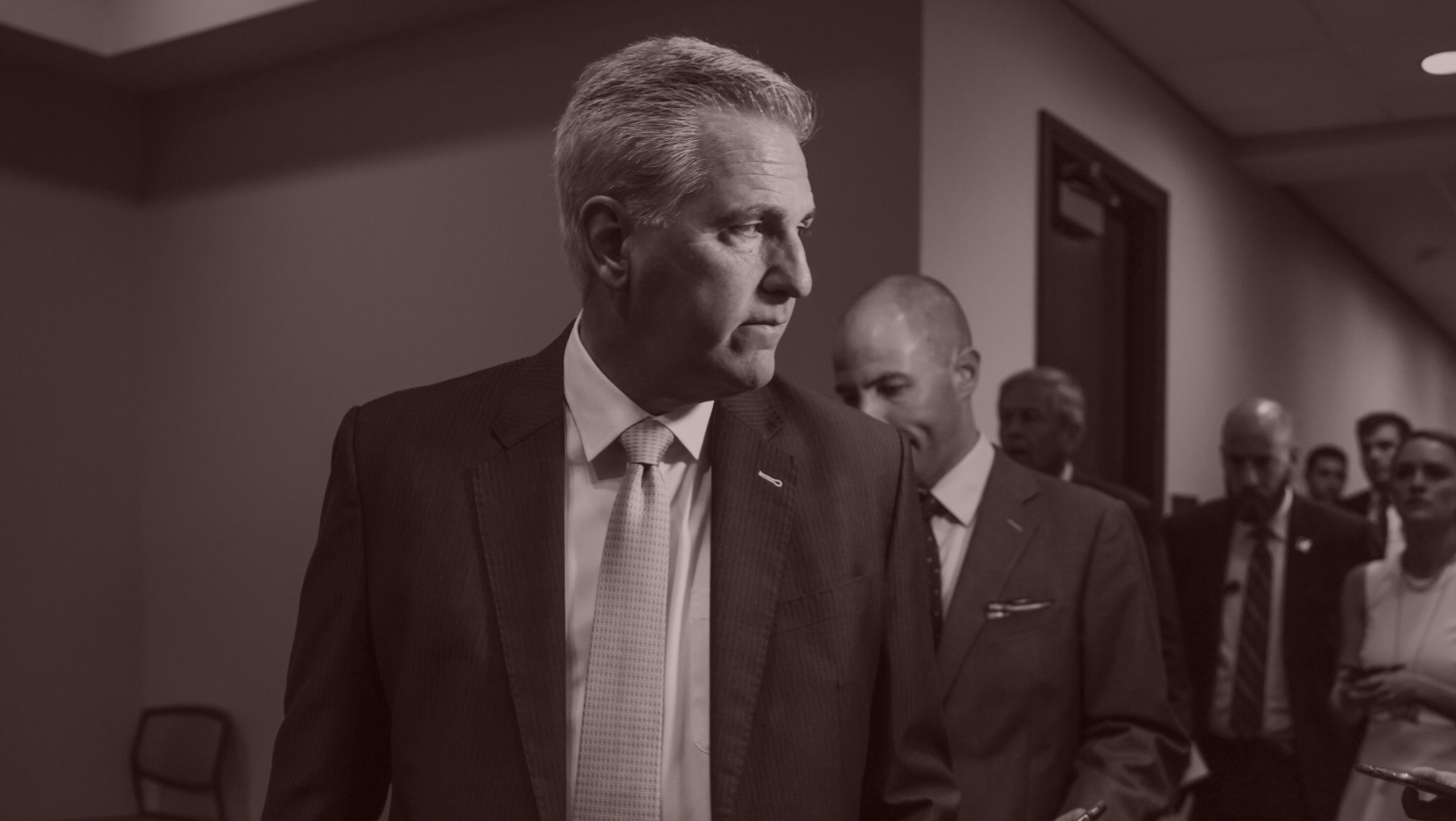 McCarthy's Horse-Trading Nightmare
His imperiled speakership was a collaborative effort that resulted in plenty of begging and favor-trading. Now, as members expect reciprocity for loyalty in the form of committee assignments, McCarthy's up to his eyeballs placating unhappy former allies in his slim majority.
Once upon a Congress, two cycles ago, Tom Graves of Georgia walked into the fight for the chairmanship of the powerful Appropriations panel firmly believing that he had the support of then-Majority Leader Kevin McCarthy. Sure, he was a dark-horse candidate, leapfrogging the more senior Kay Granger, but Graves believed that the invisible hand of his big buddy would help him carry the day. After all, he'd raised a ton of money, recruited a half-dozen whips to help him get votes, campaigned for fellow lawmakers and, crucially, enjoyed the backing of McCarthy, who surely appreciated all that legwork. Or so he thought. Alas, none of that seemed to matter as the voting went to the second and then third round. At the time, Politico wrote: "The drama is threatening to become a headache for McCarthy, whose loyalties are being torn between his good friend, Graves, and senior appropriators who say they'll be furious if he endorses the junior panel member." Granger won the prized chairmanship on the third ballot.

Graves was furious—furious! So much so, in fact, that despite being a veritable cardinal on an A-level committee, he chose not to run for re-election rather than countenance the indignity. This story has since achieved legendary status on Capitol Hill, of course, because his vacancy in a ruby red district paved the way for none other than Marjorie Taylor Greene. (Graves, now a lobbyist, did not want to comment for this story.)

Chairmanship fights bring out the worst in members for all the obvious reasons. Members campaign hard, raise money for the party, curry favor, and walk away feeling slighted after a loss, or being nixed from leading a subcommittee after challenging the new chair. This sort of tiff inevitably occurs every cycle in one form or another, but McCarthy can't afford a similar flap in these particularly fraught times. The House Speaker already has about 20 defectors that he must placate and some of his institutionalist backers, who sacrificed to support him during the speakership battle, are feeling snubbed, I'm told. Some say McCarthy offered them assurances that he would support their bids for committee assignments or a chairmanship race and then did not.

McCarthy, who had to beg and borrow to consummate his own political fantasies, smartly foresaw this problem and held off the contested chairmanship races until after his speakership vote. But the common gripe is that McCarthy tells everyone what they want to hear, and then doesn't (or can't) follow through, essentially leading him to look like he's talking out of two sides of his mouth. And in the case of the chairmanship races, he tells members they have a real chance and encourages them to run in a bid to raise more cash for the party.

These candidates fight like hell, raise millions, walk into the committee thinking they have the speaker behind them, but in the end, McCarthy doesn't tip the scale in their favor. "It's a dangerous play," said a G.O.P. source. "If he's a smart political tactician, he is keeping districts like Graves' happy, rather than risking another Marjorie Taylor Greene. Soldiers are going to quit and the people who are running now are not reasonable." (Sure, the steering committee, a body of about two dozen members representing the different regions, ultimately decides who gets committee chairmanships. But there's long been a feeling in the conference that leadership ultimately decides how the steering committee votes. ("Kevin did not talk to me about a single leadership race, he did not ask me one way or another [about] a single one of them," said Kelly Armstrong, a member of the Steering committee, who noted that leadership's power on the committee has been diluted with the addition of new reps.)

As I previously reported, Vern Buchanan, the seniormost member on the House Ways and Means committee, told off McCarthy ("You fucked me, I know it was you, you whipped against me") after Jason Smith, a McCarthy favorite and fifth in line for the role, leapfrogged him. The centimillionaire had a right to be upset. Buchanan raised the most money, and hosted McCarthy on his yacht, plane and mansion for fundraisers. The Smith leap-frogging also angered Adrian Smith, the next person in line, who happens to be a former roommate of McCarthy. Smith also walked into the steering committee believing that he, too, had the support of McCarthy. According to a source, after the results, Smith said he felt he had been stabbed in the back. It also annoyed Mike Kelly, who was third in line and previously gave a nominating speech for McCarthy during that brutal speakership race.

If Buchanan retires before the end of his term, as I've reported he's pondering, but his team says no, that would leave the seat open while a special election is pulled together. And with Greg Steube out from a medical emergency, McCarthy would be down to just two seats to pass partisan legislation for at least a few months.
Then there's Dan Crenshaw, who famously dubbed the McCarthy dissenters "terrorists." The eye-patch-wearing, border state-dwelling former Navy Seal, made famous by his SNL appearance, fought like hell for McCarthy. He raised more than $1 million for the National Republican Congressional Committee, a feather in his cap in his bid for the chairmanship of the Committee on Homeland Security. But Crenshaw became the sacrificial lamb in McCarthy's bargain with the House Freedom Caucus, whom he promised to give more power on committees. That fig leaf was extended to now chair Mark Green, who was elected at the same time as Crenshaw.

Some Hill Kremlinologists can't help but wonder if the deal was cooked up in one of the ostensibly deep conversations held between Green and McCarthy during the speakership battle, as captured by C-SPAN's promiscuous cameras. Crenshaw already seems to be showing his displeasure in McCarthy's leadership. According to CNN's Melanie Zanona, he demanded more specifics from G.O.P leaders about potential spending cuts during a debt ceiling negotiation. "I have pages of proposals. But our leadership doesn't. So they need to get on that," Crenshaw told her.

There is no shortage of grievances on Capitol Hill, and one must almost pity McCarthy's challenge in reciprocating favors. For instance, Houston-based freshman Wesley Hunt made the decision to stand with McCarthy as a reliable vote in the chamber over 90-plus excruciating hours rather than fly home to support his wife, who had just given birth prematurely to the couple's son. Surely Hunt's loyalty didn't come without a fee. He came to Washington saying he wanted to be "energy congressman of the world" and hoped to gain entry to the Commerce and Energy Committee—an A-level committee, and a stretch for any freshman, even those who had demonstrated commensurate fealty. I'm told from multiple sources that Hunt was annoyed to be on the Judiciary Committee, despite the fact that he's not a lawyer. "You have a five-seat speakership, he's pissing off people. He's just not smart, he's not going to make it for two years," said a top Republican.
The frustrations extend to the subcommittee level. Mike Burgess, the highest ranking G.O.P member from Texas on the House Energy and Commerce committee, has been hoping for a subcommittee chairmanship since he challenged Cathy McMorris Rodgers to be ranking member of that committee last cycle. I'm told that he's since been assured by McCarthy that he would smooth it over and help him get a subcommittee gavel, but that remains unfulfilled.

Ken Buck, who famously flew back from a medical procedure in Colorado to cast his vote for McCarthy, was denied his desired chairmanship on the antitrust subcommittee on House Judiciary, even though he was the ranking member on that subcommittee in the last Congress. It's not entirely surprising because he's long clashed with chairman Jim Jordan on antitrust issues, but this is surely a place where McCarthy could apply pressure. "​​I was disappointed but not surprised," Buck told me. "I have never asked anybody in Washington D.C. for anything as a quid quo pro. I've never said to McCarthy, 'I will vote for you if I get this.'"

Just days later, Buck shocked the caucus when he said he didn't want to vote to remove Ilhan Omar from the Foreign Affairs committee, a critical vote that McCarthy needed with Nancy Mace and Matt Gaetz wavering. Buck eventually relented, but it's not a good sign of what's to come. (Buck said that the two are not connected, and that he did not support removing Omar from the committee even before the snafu.)

Surely, this is not all McCarthy's fault, but it is likely his problem. Encouraging members to run for races and raise money for the party is part of the job, but it plays into the perception that he'll tell anyone what they want to hear and that he can't be trusted. And while there are winners and losers, he has to be careful not to burn too many members along the way.

It's lonely at the top, after all, and nothing about McCarthy's speakership seems settled, so that alone may create some openings on these committees, where chairs typically serve a six-year term, unless they find a higher calling in leadership. Buck recalled how Paul Ryan leapfrogged Kevin Brady to lead the the House Ways & Means committee, but then went on to be speaker after John Boehner resigned, opening up the top spot for Brady again. So with McCarthy particularly vulnerable, the path to the chairmanship could be a one-vote motion to vacate away. "It may not be six years in waiting," Buck posited. "Something crazy might just happen."
FOUR STORIES WE'RE TALKING ABOUT
The Dark Squad
Notes on the G.O.P.s's "Taliban 20" detente, Santos's personality shuffle, and more.
TINA NGUYEN

Putin's Plan B
Notes on the asymmetrical tactics available to an increasingly desperate Putin.
JULIA IOFFE

The G.B.F. Chronicle
What becomes of S.B.F.'s younger, equally interesting brother after the fall of FTX?
TEDDY SCHLEIFER

Need help? Review our FAQs
page or contact
us for assistance. For brand partnerships, email ads@puck.news.
Puck is published by Heat Media LLC. 227 W 17th St New York, NY 10011.