Welcome back to The Washington Mall, my twice-weekly private email about what's really going on in this town—on the Hill, in Bidenworld, on K Street, and within the media companies devouring it all. Some exciting news: As first reported by Axios, The Washington Mall will soon be merging with my brilliant Puck partner Julia Ioffe's private email, Tomorrow Will be Worse. Along with the help of our esteemed colleagues Peter Hamby and Tina Nguyen, we'll be producing a new four-day-per-week private email product specializing in the real inside story in this town. We're calling it The Best & The Brightest and it rolls out in time for the new Congress in January. Stay tuned!
Tonight, my conversation with Hakeem Jeffries adviser/whisperer Michael Hardaway, about what the incoming House minority leader wants, his political style, reputation, inner circle, and alleged beef with A.O.C.
But first…
Every day seems to bring more bad news for new Washington prom king
Kevin McCarthy
as members of the House Freedom Caucus make it known publicly that they are #NeverKevins. So far, about five members of the House Freedom Caucus have said that they will not back McCarthy for Speaker, a fight he is willing to take to the floor.
But the math for McCarthy is daunting: If Republicans have 222 seats, he can only afford to lose four. During the G.O.P. conference vote, 31 members were silent, but voted against him. There were also five who wrote in another candidate. The silent nos are probably the easiest to win over, but every day seems to bring another public rebuke. Now those close to him are starting to perceive that he doesn't have the votes and he's going to have to make the public 'Nos' go back on their word, which may be like reversing gravity.
Of the five public nos, Reps. Matt Gaetz, Andy Biggs, and Bob Good are hard #NeverKevins. Their colleagues seem to all agree there is almost no way they will say McCarthy's name on the House floor during the vote on January 3. Some could see Ralph Norman, the latest to publicly turn down McCarthy, as squishy and maybe someone that McCarthy could cut a deal with. The fifth public "no," Matt Rosendale, who has his eyes on a Senate race in Montana in two years, might also be amenable as he thinks about his long-term prospects.
Of course, there is one wild card that McCarthy could play that might work with even Gaetz, Biggs or Good: a seat on the powerful Rules Committee, which is basically the final stamp of approval before a bill goes to the floor. Maybe they could get a seat on a prestigious select committee or on House Intel? This would give the Freedom Caucus an incredible amount of power.
I pinged Gaetz to see if there's anything that would flip him for McCarthy—Rules, Intel, anything, and he gave me a flat "no." Rosendale's rep, Grace Davis, also said he's not persuadable and will only be voting for McCarthy under "extreme circumstances." She added: "The suggestion that Rep. Rosendale might be amenable to some sort of deal with McCarthy because he's interested in running for Senate in two years is ridiculous and unfounded."
As for whether Rosendale or Norman are persuadable, Gaetz told me: "Those people don't know Ralph Norman and Matt Rosendale."
Either way, there's a feeling that the Freedom Caucus won't have the juice to continue running through too many other options if they tank McCarthy. Steve Scalise, McCarthy's No. 2, is equally unlikely to support their demand to change the House rules to allow one person to call a motion to vacate the chair, their poison pill. So, does the Freedom Caucus want to get rid of McCarthy or just make his life a living hell? The plot thickens…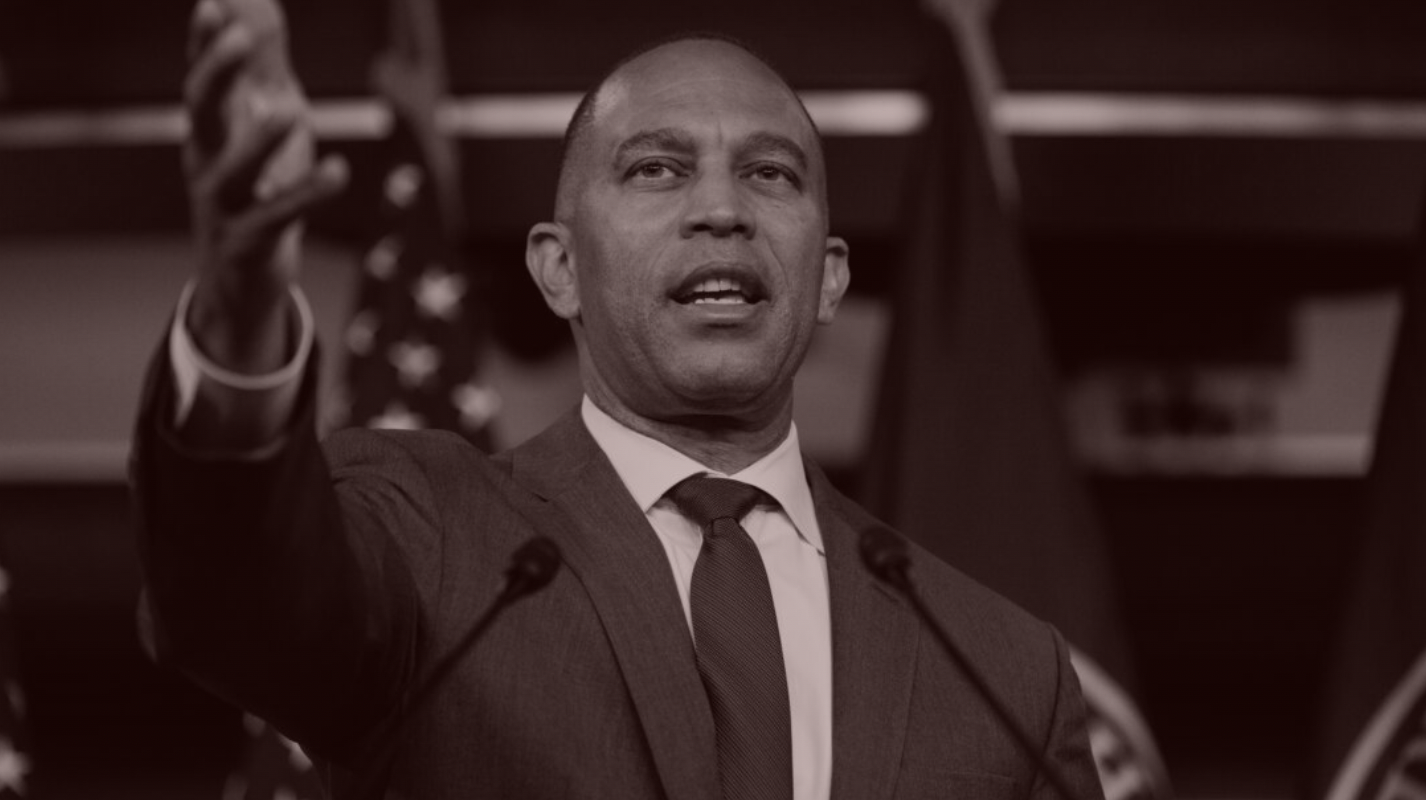 Hakeemology 101
An intimate, dishy conversation with Michael Hardaway, Hakeem Jeffries' former comms guy and senior advisor, about how to interpret the enigmatic and historic new minority leader.
With
Nancy Pelosi
finally passing the torch, Brooklyn's
Hakeem Jeffries
is on his way to becoming the most senior Democratic member of the House, wielding more power than any minority leader in recent history thanks to the G.O.P.'s razor-thin margin of control. He is also, of course, the first new person to hold that title in Democratic leadership in almost 20 years.
Jeffries, 52, steps into the role having already made history as the first Black Democratic leader of the House. But the truth is, not that many people really know him. Even within the Washington fishbowl, he's something of a mystery—a rare introvert in the Capitol who could care less about the White House Correspondents' Association Dinner, the Sunday show circuit or the cocktail scene, or really even the glory.
How will Washington decipher the anti-showboat? How will he wield his newfound power, and can he lead the Democrats back into the majority where he could make history again as the first Black Speaker? I spoke to a member of Jeffries' kitchen cabinet, Michael Hardaway, his former senior advisor and communications director for six years, to get some insight into how Jeffries might lead the caucus and who has his ear. Hardaway is now a crisis communications professional, publisher of his own insider Hardaway Wire newsletter, and a critical outside ally for Jeffries as steps into power. Our conversation has been lightly edited for length and clarity.
Tara Palmeri: What's Hakeem Jeffries like?

Michael Hardaway:
I've known Hakeem for eight or nine years. He's an incredibly brilliant, quiet person. He listens very intently. He remembers everything. He's also incredibly personal when he gets to know you, much like
Barack Obama
. I worked for Obama for a while. In some ways those two are similar—they are brilliant, internal thinkers. I think
Bill Clinton
is similar in this particular way. When they start to talk, you realize they were listening the entire time. They are connecting all of the dots.
As you try to figure out how he's trying to lead, understand that he's quiet, he's strategic, and he thinks nine steps ahead.
Pelosi was known to rule with an iron fist.

Speaker Pelosi and Hakeem Jeffries have different leadership styles. I think Hakeem's leadership style is to make sure everyone is on board and feels like they are heard, and that they feel they have what they need to keep their seats. I think his style is to lead by example, and make sure everyone feels supported.
Is Jeffries an easy person to read?

No, absolutely not. He's an attorney. I think all of the assumptions you would make about a successful attorney also apply here. He's not an easy person to read but he's someone who plans ahead and is very methodical and strategic in all of his decisions.
How well does he know this caucus? A lot of these members are coming into Congress after beating back serious challengers, and they're going to think they have a license to stick to their guns.

You have to understand that Hakeem has traveled to many of these districts to campaign for many of our candidates that won. He's studied all of them. He knows the issues like the back of his hand. He can personally help them message all of the things that are happening back in their districts. The way he works is like LeBron James. He could score 60 points and win the game but he'd rather score 20 and get everyone on the team involved and make sure everyone is getting what they need and that's how he operates.
He did unveil his leadership as a package deal with Katherine Clark and Pete Aguilar as his deputies, instead of positioning himself as the future leader on his own, like Adam Schiff.

That exemplifies the way he operates. That's consensus-building and letting other people get a seat at the table. He could get all of the credit. It illuminates the way he operates.
Fair, but this is a diverse caucus, and some people are going to want more than a seat at the table or to be heard, they're going to want a pound of flesh.

On issues where significant support is needed throughout the caucus, Hakeem has the ability to rely on his personal relationships across the ideological spectrums of the caucus, and many of those people have a leadership role and can engage with their colleagues. Hakeem has the benefit of true personal relationships like with David Cicilline, Josh Gottheimer, Katherine Clark, André Carson, Dean Phillips, Grace Meng.
But who is in Hakeem's inner circle?

Hakeem has this incredibly smart chief of staff, a Black woman who has been with him since the beginning in Brooklyn. She's one of his most trusted people. She understands the intersection of New York politics with Washington. Hakeem also has a legislative director who is one the best in the business. She led the way for us on the First Step Act. She's incredibly adept in figuring out how to achieve his legislative goals and she's based in D.C. He's also got a senior policy advisor, who is one of his trusted confidants and a few other talented individuals in his office whom he relies on.
Hakeem has a kitchen cabinet who really engage with him on a continual basis—Cedric Grant, Hakeem's former chief of staff who built our operation in D.C.; Kirsten Donaldson, our former legislative director, she's incredibly knowledgeable on I.P. issues. I remain in regular touch with him concerning a number of different issues. He has a few close friends at home that he keeps in touch with as well.
So it's fair to say that he keeps a pretty close circle?

Absolutely. Discretion is everything.
But doesn't he need more help now that he's in leadership?

That's a natural part of this process and it's something that's being worked on.
Alexandria Ocasio-Cortez said there needs to be some healing in the Democratic caucus. He's been accused of dunking on progressives when they lose primaries. What kind of relationship does he have with A.O.C.?

I don't have particular insight into their relationship. I can only tell you that outside of being a member of the congressional progressive caucus, Hakeem has one of the most progressive voting records. He's spent his career fighting for affordable housing, the living wage, all of these progressive things. His bonafides as it relates to being a progressive are unshakeable. The way you mend those fences is by starting with the fact that you agree with them on most things.
It's going to be very tricky.

Because of the narrow majority, he'll be in this position where he'll be more powerful than any recent House minority leader because all of the votes will be so incredibly close. He'll have a real opportunity to decide which bills deserve Democratic support—and in exchange for that he'll be able to extract things that help the Democratic side and progressive side for the things that we believe in. He has the ability, like he did with the First Step Act, to bring together people who disagree and find areas of common ground.
What kind of concessions will he ask for?

He has a core set of values, like fair housing, the affordability problem in America, looking at criminal justice reform again. The larger conversation about tech regulation. The president has made clear that he would like Congress to put forward a bill on crypto.
How will Hakeem manage the ranking members on the committees?

That answer varies depending on what the issue will be. Generally speaking, Hakeem is not a micromanager; he's someone who believes in empowering people to do their jobs. There will be a mix of the freedom to do what they need to do to lead committees but also sort of stepping in where things are needed. He has a significant grasp on issues related to technology, I.P., housing, criminal justice reform and education. My opinion here is that he picks his spots and then asks, is my input needed? How can I move the ball forward? How can I add value? He's not in it for the ego or the personal glory.
How can Pelosi help Jeffries?

She's an ocean of insight, guidance, intelligence and answers. She's got decades of experience that she can use to help him as he moves along in the next several years. She's going to be priceless. She'll pour into him in a real way and really help him blossom into a next generation leader.
She had a lot of cred with Biden that goes way back. How does Hakeem build a relationship with him?

Joe Biden is the most affable guy I've ever met. Joe Biden knows how to build relationships with people, he knows how to build trust with people and I think he and Hakeem have an incredibly strong partnership based on shared values and interests. When he was younger, he had a lot of engagement with the Black community.
Does he have a close relationship with anyone at the White House now?

I can't think of anyone off the top of my head.
He'll be a historic leader as the first Black minority leader. He could have icon status like Pelosi. Do you see him embracing that status? Maybe even using it as a weapon?

I think he understands the moment and he embraces the moment.
Will he tell his story in a glossy magazine piece?

I think Hakeem's first focus is the work and then figure out the rest later. Self-promotion is not his style. It's just not his style. I was his communications director for six years; he and I would have regular conversations later in the week because I would want him to do Meet the Press or another Sunday show and he would say, "No. I've got two church visits on Sunday and I plan on spending the entire time there. Those to me are more important than any promotional opportunity."
That's not very Washington.

I know, every year he gets invited to the White House Correspondents dinner and all the parties surrounding it and he never goes. And I could never get him to go. He would say, I've got a senior center visit in Canarsie, or I've got Congress on Your Corner in the district. He's done it his entire career, he chooses that over the limelight.
What's his relationship like with Kevin McCarthy?

Much has been written about what they think their relationship is. But the reality is that Hakeem is about the work. In terms of how good or bad his relationship is with the person he's working with, that's immaterial; the main thing is what are we working on and can we get it done. He'll work with whoever is on the other side to get it done. Hakeem is not the type of person to say I don't like this person so I'm not going to work with them.
What about fundraising? He's starting on third base. He only needs a few seats to take back the House so a lot of pressure is on him.

He's from New York. The question of fundraising answers itself. He'll absolutely be able to raise money to take back the House in 2024.
FOUR STORIES WE'RE TALKING ABOUT
Iger Succession Tarot
A close look at the short list of Bob Iger's potential Disney successors.
MATTHEW BELLONI

After Twitter
What is the future of the digital town square, post-Elon?
BARATUNDE THURSTON

Icahn's Big Short
News and notes on some of the most controversial storylines percolating through Wall Street.
WILLIAM D. COHAN

D.C. Media Collapse
A conversation surrounding Iger's return, the collapse of Protocol, and more.
PETER HAMBY & JON KELLY

Need help? Review our FAQs page or contact us for assistance. For brand partnerships, email ads@puck.news.
Puck is published by Heat Media LLC. 227 W 17th St New York, NY 10011.