Hello, and welcome back to Tomorrow Will Be Worse!
We're back on this pre-holiday Wednesday with another Tina Nguyen banger, this one about Marjorie Taylor Greene. As much as she is both terrifying and risible—gazpacho police, anyone?—I find her to be endlessly fascinating, too. But I always thought that her migration from the far, warped edges of the Republican Party to its nerve center was mostly a function of the G.O.P.'s Overton window shifting further and further to the right. According to Tina's reporting, however, it's not just that. It's also Greene's surprising political savvy and ability to quickly learn the ropes in Congress—and master them. It's helped her climb to the top in just two short years.
Enjoy Tina's piece. It is, as always, utterly fascinating.
Julia
Can't see the full story? You're receiving the free version of Tomorrow Will Be Worse at . For full access to Puck, and to each of my colleagues, you can subscribe here.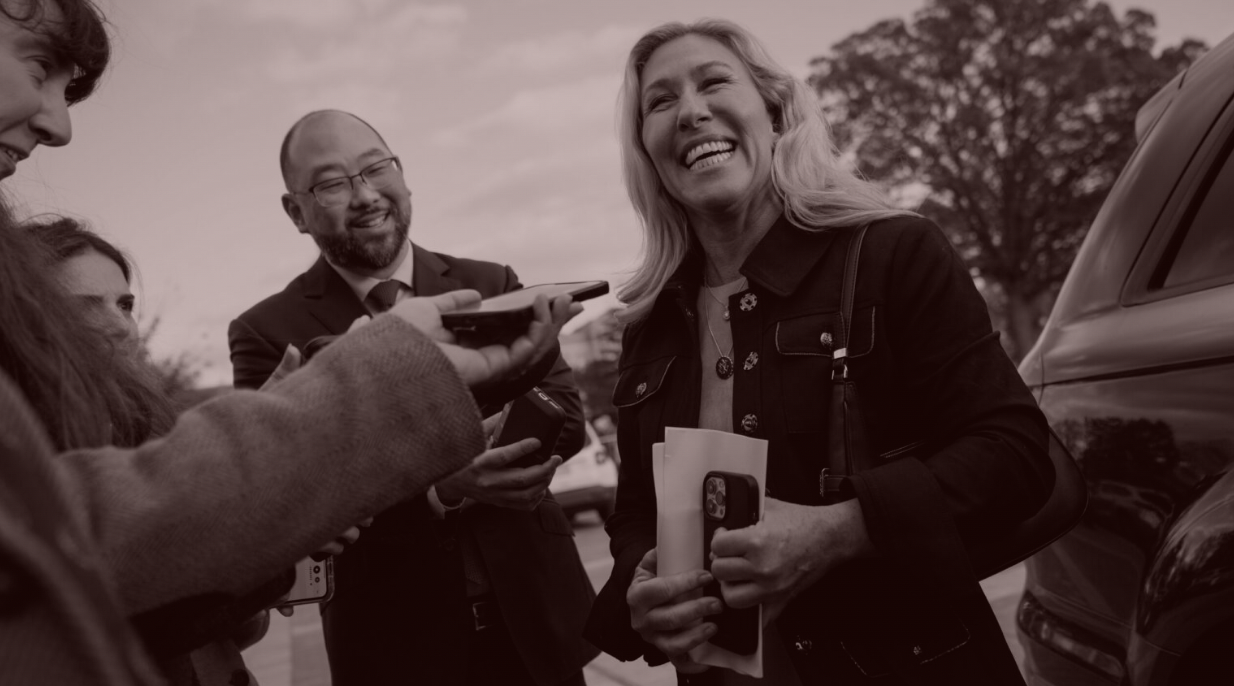 Nothing But an M.T.G. Thang
The alarming rise and mainstreaming of Marjorie Taylor Greene, the Qanon kook turned gigawatt D.C. fundraiser, evidences a multitude of uncomfortable facts for Kevin McCarthy. Namely, he needs her more than she needs him.
For moderate Republicans, perhaps the only thing more alarming than the election of
Marjorie Taylor Greene
—the formerly QAnon-spouting, 9/11-truthing, Christian Nationalist-identifying congresswoman from Georgia—is the speed with which she has been able to position herself at the center of the party. Over the past year, Greene has not only managed to ingratiate herself to formerly wary House Republicans, winning over colleagues with zealotry and charm, but has antagonized some members of the far right by openly aligning herself with
Kevin McCarthy
, the presumed future Speaker of the House, as he struggles to win over a handful of ultra-MAGA holdouts.
In a recent House Republican conference meeting, according to a source inside the room, M.T.G. stood up and gave a speech rallying members to stand behind McCarthy in his run...
FOUR STORIES WE'RE TALKING ABOUT
The Biden Switcheroo
Notes on Biden's inner circle musical chairs and McCarthy schadenfreude.
TARA PALMERI

Putin's Chef
A profile of the terrifying kingpin behind Russia's most notorious mercenary group.
JULIA IOFFE

Need help? Review our FAQs page or contact us for assistance. For brand partnerships, email ads@puck.news.
Puck is published by Heat Media LLC. 227 W 17th St New York, NY 10011.