Good morning,
Thanks for reading The Backstory, our weekly review of the best new work at Puck.
It was another incredible week: Teddy Schleifer investigated the new fronts in the '24 bundler wars; Bill Cohan dug into the Goldman Sachs brain drain; Dylan Byers scooped the news on Chris Licht's departure; Tina Nguyen took the temperature of Kevin McCarthy's antagonists; Julia Alexander extolled the surprise player in the streaming wars; and Lauren Sherman unraveled a Vogue drama.
Check out these stories, and others, via the links below. And stick around for the backstory on how it all came together.
FASHION:
Lauren Sherman on Anna Wintour's staying power.
WALL STREET:
Bill Cohan reports on Goldman's merry-go-round.
and…
Eriq Gardner has the readout on a white collar legal coup.
MEDIA:
Dylan Byers previews the post-Licht era.
SILICON VALLEY:
Teddy Schleifer unfurls who Silicon Valley's biggest billionaires are supporting in '24.
HOLLYWOOD:
Matt Belloni presages David Zaslav's next challenges.
and…
Jonathan Handel deciphers what the directors' deal means for the writers.
and…
Julia Alexander wonders whether YouTube is surreptitiously winning the streaming wars.
WASHINGTON:
Tina Nguyen gets into the shape-shifting relationship between Kevin McCarthy and his gang of 20-something frenemy colleagues.
PODCASTS:
Matt and Dylan talk about the Licht unrest on The Town.
and…
Peter Hamby and Lauren talking about Anna Wintour's everlasting tenure on The Powers That Be.
A MESSAGE FROM OUR SPONSOR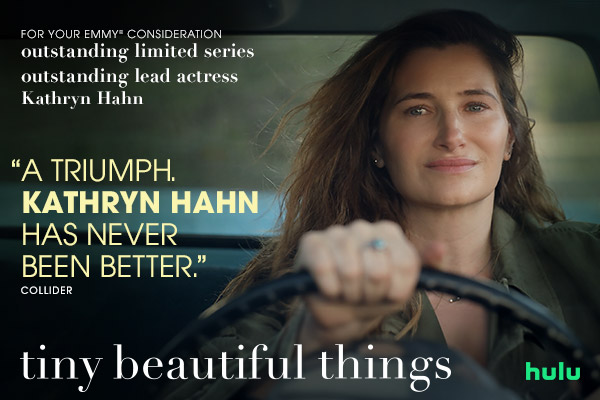 Kathryn Hahn stars in the Hulu limited series "Tiny Beautiful Things," giving a performance critics have hailed as "fantastic," "stellar" and "a revelation." Based on the bestselling book by Cheryl Strayedand adapted for television by Liz Tigelaar, Variety calls the series "A triumph." "Tiny Beautiful Things" is for your Emmy® consideration for Outstanding Limited Series and all other eligible categories.

The Story Behind the Story
On Tuesday night, as the grainy fog of the Canadian brush fires began to descend upon Manhattan, I found myself at a small dinner with friends, new and old, from media and finance, at one of the city's more historic East Side haunts. I'd been looking forward to the occasion for weeks, and even natty-ified myself up in a suit and repp tie for the occasion, a distinct rarity for me.

Inevitably, the conversation turned to the complex situation at CNN, where my partner Dylan Byers had been reporting for a year on all the ways that C.E.O. Chris Licht had proved unable to manage the complex vortex of responsibilities required of the throne: appeasing and leading high-wattage talent while navigating the headaches of a business in secular decline, all while supporting a newly merged parentco paying down some 45-odd billion dollars in debt.

Dylan had broken dozens of stories on the quagmire during the past year, from Licht's very appointment to the tales of his layoffs and budgets cuts and talent brouhahas. Only a few days earlier, The Atlantic's Tim Alberta dropped a biblically long and hauntingly damaging profile of Licht that built on Dylan's reporting and explicated just how much his work had become a fixture in the daily life at the network. Alberta's piece seemed like the kiss of death, hastening Licht's demise. Over dinner, we chatted about what might come next.

After coffee, as I walked out into the turgid night sky, I started to look at my phone, quickly scanning all the emails and Slacks and texts that I'd missed. Lo and behold, there was a note from Dylan. He'd just come across a line of reporting suggesting that Licht might be leaving the network within the next 48 hours. Walking down Park, past the Regency and the Seagrams Building, I phoned up Dylan to ask him what he was hearing.

Quickly, he enumerated his various sourcing threads and details. There's nothing more romantic than walking through Manhattan in the spring talking to a reporter in the heat of a major scoop, even at the fore of a once-in-a-generation dust cloud. Soon enough, I hopped in a cab and, ironically enough, we hopped off the phone when I was passing by CNN's headquarters in Hudson Yards. Dylan was 95 percent there. Sensing that it might be a busy morning, I packed it in immediately when I got home.

Some time around 2 a.m., I heard one of my kids make a noise and I picked up my iPhone to check the time. The ambient iPhone light displayed a series of updates. First, I noticed that I'd missed a couple texts from Dylan: "You awake?" and then "What time will you be up in the morning?" Then I noticed he'd sent me an email with the first draft of his story noting that Licht would soon be stepping down. Holy shit, I thought, he'd gotten it. For a moment, I wondered if I should sequester myself to my home office and start work on the draft. Then, I quickly did a gut check and realized that only psychopaths and first year banking associates complete meaningful work in the witching hours. I closed my eyes and began to gameplan for the day ahead.
At around 5:30 a.m., I woke up and began working through the draft. I texted Dylan, who I expected to be fast asleep, three hours behind in Los Angeles. "I'm up," I texted him. And before I could add a secondary thought, I could see those three dots pulsating. Dylan had pulled an all-nighter and was waiting to make a final confirming call or two.

Quickly, I dashed to the kitchen, ignited the coffee machine and dug into the piece. My loving family knows well enough when I've got to step aside during breakfast hours to complete a task—as I've said before, sans irony, families are the unsung heroes of the start-up journey—and they let me be as my wife, Rebecca, made the boys their pancakes and bacon and smoothies.

In order to try and pick up my part of the slack, I drove our older son to school that morning at about 7:30. Once I pulled out of the car line, I called Dylan, who sounded like Dean Martin after a gig in Las Vegas: voice an octave or two lower, still laser focused, but coming around to the satisfaction of nailing a complex and difficult story. Then we rang Puck's executive editor Ben Landy, and all three of us went through all the final changes, in real time, as Dylan's sources texted him updates and final details. By around 8:15 a.m., Dylan had it all fully confirmed. "Let's move it," he said, invoking a phrase he uses often. It was time to publish.

Within seconds, Licht's Out went ablaze, prompting a race to confirm Dylan's story from every news organization in the country. The piece, itself, is brilliant and sensitive, a retrospective of sorts on a year of un-magical thinking at one of the culture's most important institutions. If you only have time to read one piece this weekend, I suggest checking out Dylan's masterwork; you might learn, among other things, that perhaps no one could have accomplished Licht's job in a satisfactory way. And you might learn, too, that it's David Zaslav's new responsibility to do a little soul searching and find someone who can. After all, CNN doesn't have a trust problem. It has a business model problem, and that might even be a more complex challenge to solve. Figuring it out, though, might just be the story of our time. It's certainly what you can expect from us here at Puck.

Have a great weekend,
Jon

Need help? Review our FAQs
page or contact
us for assistance. For brand partnerships, email ads@puck.news.
Puck is published by Heat Media LLC. 227 W 17th St New York, NY 10011.