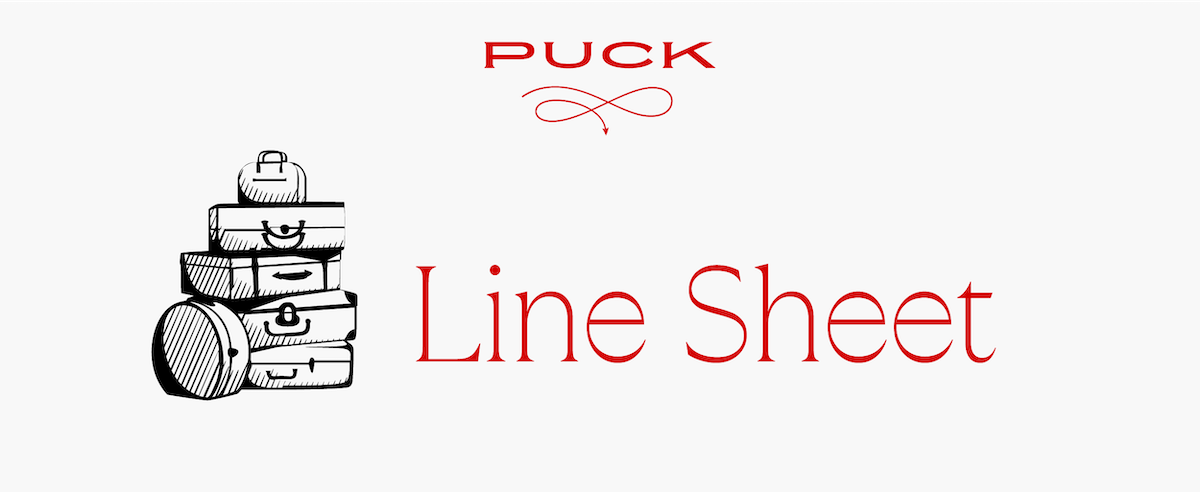 Hi, and welcome back to Line Sheet, where I can get a word in edgewise. Thanks for all the thoughtful feedback on Monday's dispatch. (I've included some of my favorite notes below.) Meanwhile, I've got deals, deals, and more deals, a little Condé poke, and best of all, an interview with the guy who practically created the business of celebrities fronting big fashion campaigns.
Mentioned in this issue: Tapestry, Laura Beham and Callum Pidgeon, Jennifer Aniston, the Vogue commissions leak, Emme Parsons, Peter Marino, Nicky and Simone Zimmermann, Todd Shemarya, Cassandra Grey, Michael Kors, Sonia Chopra, Anna Wintour, François-Henri Pinault, Kanye, Adam Rapoport, and a whole lot of Bergdorf outrage…
On that Tapestry-Capri deal: Just when I think a company is too boring to cover, they go ahead and merge with another company in an effort to make me pay attention for the first time in many years! I'm not going to say which one is the boring one, but you've surely seen that Tapestry, maker of sturdy Coach handbags, Kate Spade New York semi-formal dresses, and sensible Stuart Weitzman shoes, is buying rival Capri, which owns Michael Kors, Jimmy Choo, and Versace, in a deal valued at $8.5 billion. I'll have more on how this happened, and why it happened, next week, but the short of it is this: The affordable luxury industry in the U.S. needed to consolidate further in order to leverage shared resources. Interestingly enough, shares of Tapestry fell by about 13 percent on the news—an "exceptional amount for a situation like this," one analyst told me—but Capri's stock was up 50 percent.

As for whether this gives Tapestry the ammunition to fight back against LVMH and Kering—their tonier, higher-margin European rivals—is debatable. In recent years, Capri has been working to move Michael Kors up market, and Jimmy Choo and Versace are already on the higher end of the price spectrum, to better compete with expensive-but-irresistible LVMH and Kering brands. Consolidation will be helpful when it comes to real estate deals and sourcing, while creating unsexy but beneficial operational efficiencies. But will it make people want their products more?

From the ashes of Vetements and Yeezy: I was recently alerted to a newish line out of Zurich, Switzerland, of all places, called Prototypes. It was described to me as an affordable Gen Z iteration of rich-taste-Millennial Vetements, where at least two of the designers, Laura Beham and Callum Pidgeon, used to work. According to its website, the collection, heavy on upcycling, is stocked everywhere from the expected (LNCC in London, 8Division in Seoul) to the new (TONS in Pittsburgh), and they're already dressing the likes of Noah Cyrus and Babyxsosa. I'm told that Beham and Pidgeon have been consulting on Yeezy, and using that money to finance Prototypes. (The artist formerly known as Kanye is known for paying young talent handsomely, which explains why so few came forward when he went on his rant last fall. I can't believe it hasn't even been a year since White Lives Matter happened!) I reached out to them to talk about it all, but have yet to hear back. Anyway, the biggest problem with Vetements now, besides the absence of its heart, Demna, is that it captured a particular moment in the zeitgeist, and that moment is gone. Can Prototypes move beyond that moment?
What's up with Bon Appetit? Last I heard, executive editor Sonia Chopra was campaigning hard for the editor-in-chief gig vacated by Dawn Davis, a nice lady but not a great fit, in April. I know of a couple interesting people who were brought in to interview—women, small business owners—but those talks flamed out, although I'm hearing that it is likely to be an external hire. Anyway, whether Chopra is E.I.C. material, I do not know. What I do know is that Bon Appetit is still a powerful brand, and if they don't find a strong personality to steer it, that brand equity will diminish further.

Former editor Adam Rapoport seemed annoying and made some very bad Halloween costume decisions, but, um, he was a good editor. In the early 2010s, his Bon App—albeit with a narrow, white-washed lens—was a cultural touchstone that mingled regularly with fashion. It didn't evolve enough with the times, and he should have been fired even if the whole Alison Roman-slash-cultural reckoning hadn't happened. But that doesn't erase the fact that, since Rapoport's departure, Bon App has been outpaced by NYT Cooking—shoutout to my favorite "video journalist," Vaughn Vreeland, no relation to Diana Vreeland, I don't think!—and the Youtube channels of ex-employees (Roman, Molly Baz, Claire Saffitz, Carla Lalli Music). I'm invested in this outcome, and all potential advertisers should be, too.
About that Billion-Dollar Zimmerman Deal
By now, you may have heard that Australian fashion brand Zimmerman, best known for its pretty floral dresses, has a new owner in Advent International, the Australian private equity firm that bought a majority stake from the founders and Italian investor, Style Capital, in a deal that valued the company at $1 billion. According to the Australian business press, the offer was unsolicited, which explains why Zimmerman would sell to P.E. rather than a strategic group. (That's what some of its sorta-on-the-market competitors, like Isabel Marant, are holding out for.)

Still, I've had several people reach out to me to ask: What the hell? What makes Zimmerman so special? I've actually spent several waking hours, maybe even days, ruminating about the very same question over the years, and the best explanation is that it's correctly priced.

During my last Paris trip, I had lunch with a French C.E.O. who attended a fancy wedding the weekend before. So many of the female guests were wearing Zimmerman, she observed. Why, I wondered, at a well-to-do reception in France, of all places, would that be the label of choice? Zimmerman, after all, is not high fashion. Nicky and Simone Zimmermann, who started the brand in 1991, were first known outside of Australia for their bathing suits, then resortwear, then ready-to-wear. But as they've expanded their business in the West, they have managed to get the price-value equation exactly right.

For women with money to spend, and who maybe wear Natalie Martin or Ulla Johnson day-to-day, Zimmerman is pricier, but offers a similarly accessible look. (And by "accessible," I mean soft and unintimidating.) Consider this $1,600 bias-cut gown that's currently for sale on the site. It's slightly sheer, yes, but the floor-length skirt, long sleeves, and underneath slip make it downright modest. (The dreamy, painterly "ivory garden" print further blurs any perceived imperfections.) It feels special, but is also not $5,900, like Dior's equally delicate pink-cotton toile lace gown.

Australian brands seem to have really cornered this sweet spot of not too cheap, not too expensive fashion. Recently, a reader alerted me to Alemais, a mid-priced line of richly colored resortwear that's apparently flying. Then there's SIR, The Label, Matteau, and St. Agni. For years I've been trying to put my finger on why exactly these brands sell so well, and I do think there's something about being a world away, and developing in a smaller market first, that has benefited them. (In the U.S., Johnson and Martin, as well as Doen, all have a similar appeal.) Overall, it's about pretty clothes that feel worthy of their price. Not particularly revolutionary, but if you can manage to build a business off of selling apparel these days, it's still remarkable.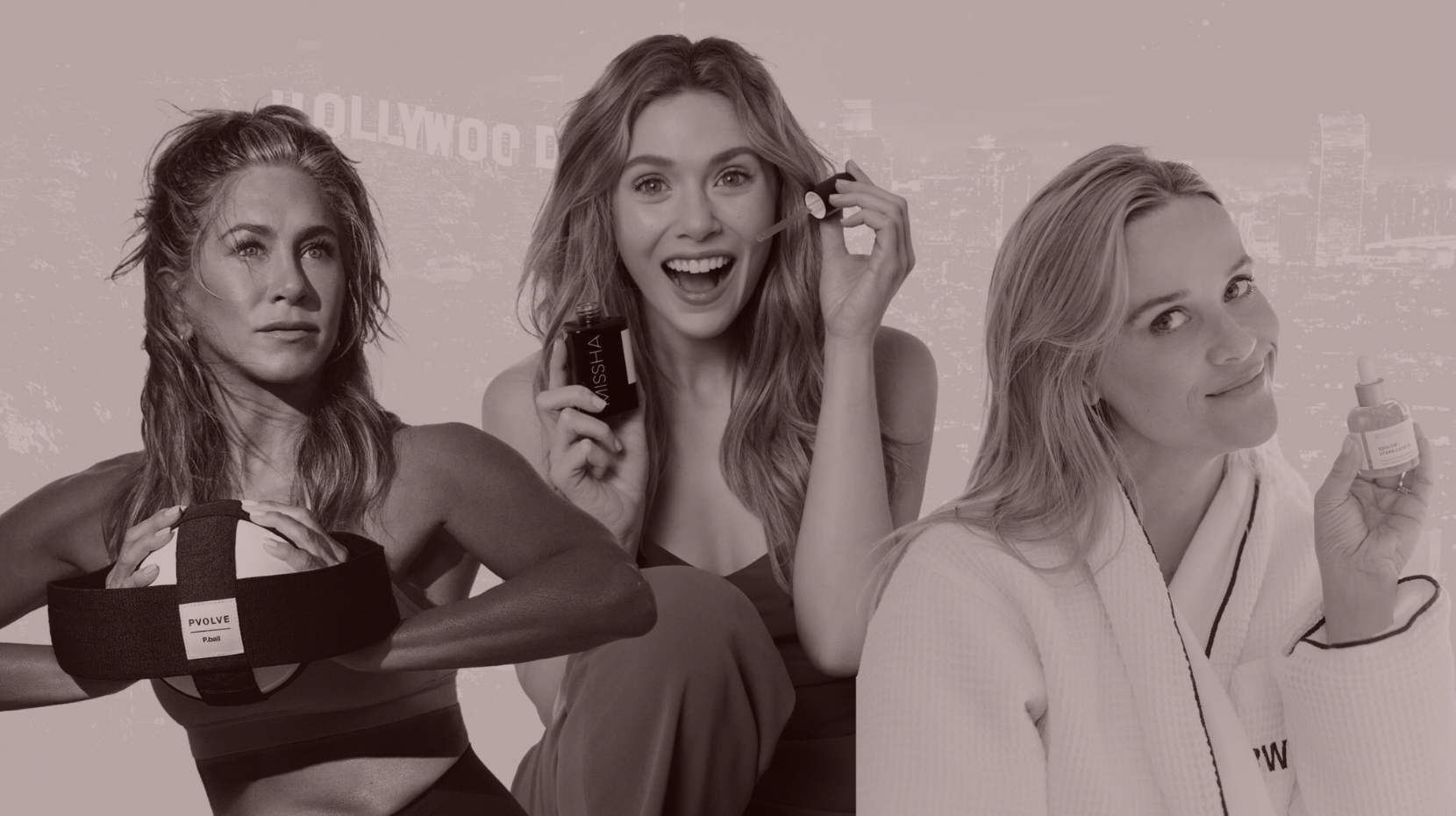 The Tao of Shemarya
Todd Shemarya essentially created what we now know as the Hollywood-fashion industrial complex—matching celebrities like Jennifer Aniston with brands, and eventually helping them take equity stakes in businesses and then even build their own companies. Herewith, a candid conversation on his view from the glamourous salt mines…
How badly does Hollywood need Paris? How badly does Paris need Hollywood? After living in Los Angeles for the past three years, and finally getting a teeny bit of clarity into a business I find to be fairly impenetrable, I'd say Big Luxury has more leverage than ever over entertainment. Sure, a television show or movie can still make you a star. But advertising campaigns make stars generationally rich—and developing one's own brand can make them fuck-you money.

But how much have things really changed? I called up Todd Shemarya—founder of a commercial talent agency, Shemarya Artists, that represents celebrities in endorsement deals, equity partnerships, licensed products, and a lot more—for an opinion. Shemarya has been doing this since the 1990s, working with some of the most famous people in the world long before they were so famous. His current client list includes, but is not limited to: Brad Pitt, Matthew McConaughey, Jennifer Aniston, Reese Witherspoon, Aaron Taylor Johnson, Cara Delevingne, Zayn Malik, Bradley Cooper, Charlie Hunnam, and Elizabeth Olsen…

Shemarya understands the dynamic between the entertainment and fashion industries better than anyone, even if he now has a good amount of competition, both from the big agencies as well as boutique firms, that have tried to catch up. He walked me through what the business looked like when he first started, and where it is now. As usual, this interview has been edited and condensed for clarity.
The Fashion-Entertainment Complex
Lauren Sherman: What exactly do you do, and how did you get into it?
Todd Shemarya: I take celebrity talent and create brands for them—often through licensing models, but through other avenues, too—and I also broker endorsements. Years ago, I was a modeling agent, and I thought, my gosh, brands would actually get a lot further if they used a celebrity versus a model because of the amount of impressions that a celebrity would garner. I left the agency, opened up my own company, and here I am 30 years later.
When you first started, had the whole phenomenon of celebrities covering fashion magazines happened yet?
Just beginning. I remember Anna Wintour and [late Harper's Bazaar editor] Liz Tilberis started using celebrities, and all of a sudden the magazines started selling so much more than they did with the models. I don't really understand why it took everyone so long to figure that out. Like, that movie sold because of celebrities, so why wouldn't a magazine or a brand sell more because of a celebrity?
When you first started representing celebrities, how hard was it to convince them to do one of these campaigns? Did you have to focus on the high end of the market in order to get them to do it?
It was easy because, back then, we were able to do it by territory. This was prior to the Internet being so big, so when we did something in Japan or in another Asian territory, it actually stayed there for the most part. The talent was on board because it helped their bank account, and it helped fund other projects. It also helped with box office in other countries, because it increased their awareness and their likeability in those territories. The studios caught on as well, and they liked it because it helped with ticket sales.
Fashion campaigns, though, always needed to be global. It couldn't be restricted because the whole purpose was to get global sales. With the global campaigns, they were a little more difficult at first because the celebrities were a little scared, they thought it could hurt them in the States.
When did that shift? Was there a campaign that changed the narrative?
I don't remember it being a specific campaign. It didn't happen overnight. Because some of the bigger celebrities were doing the endorsements and the other celebrities saw that it wasn't hurting their career, they also felt that they could tiptoe in it as well. What also started happening was that, all of a sudden, film and TV wasn't paying what it used to pay, and so they needed to have another income stream.
People don't understand that it's expensive to be famous. Once you become famous, you're forced to always have security and all these other things. It's not an option. So all of a sudden you've got these huge overhead costs. I don't think that alone is the impetus for them doing endorsements; endorsements have also helped in branding a celebrity. With a newer celebrity, we'll use endorsements to get them out there, to get them visibility. A certain image, a certain cachet.
You've been working with these luxury brands for a long time, and it seems to me that they are dedicating more and more marketing budget to things related to the entertainment industry. What is their motivation now versus 30 years ago?
I'm not sure that they know the answer to what they want, because so many things are changing quickly. I remember when they all wanted the biggest celebrity possible, and then they all wanted the biggest influencer. And then they realized that [contracting an influencer] really wasn't working for them because they weren't getting the same kind of reach. And then they all wanted certain K-Pop singers. They seemed to always go with the flow.
But all the big fashion brands seem to have at least one long-term, substantial relationship with a substantial A-lister, no matter what. So they're covering all their bases.
Do you encounter endorsement deals that require a celebrity to wear a brand on the red carpet, say, three times over the next year?
It gets tricky, because all the brands want that. When you do a fragrance campaign, for the most part, they all want exclusivity on the red carpet. Which I totally understand, because, for example, if you're going to be in a Dior campaign and you're the face of a Dior fragrance, it's not necessarily a great look from a consumer point of view to see that same celebrity walking the red carpet wearing Gucci. I get it from their point of view. From the celebrity's point of view, sometimes it feels very confining to be restricted to having to only wear those clothes. Do they like them? Yes, obviously that's why we're doing the deal. But they don't love restrictions.
I know that you started with endorsements, but you're also helping your clients create brands through licensing and equity stakes in businesses, etcetera. When did that side of the business pick up? And how big is that part of the business now?

I would say it's about 50 percent of my business. It started about 10 years ago, and it's about creating businesses rather than doing one-offs. When we did Smartwater with Jennifer Aniston, that was the first time I saw an equity-cash combo deal, when Jennifer was a part owner of the company, which then sold to Coke [for $4.1 billion in cash]. But you know what? Not every talent wants to do that. Not every talent wants to have a business. But a lot of the ones I represent want to build businesses: They have creative juices and want to create something beyond film and tv.

How do you work with the other talent representatives? I'm sure they don't all have an agent for film and TV, but I assume many of them do, and then they also have a manager in many cases. Do you engage with those people at all?

I deal with the managers. I don't necessarily deal with the agents, because some of the bigger agencies have not been thrilled that I started this 30 years ago and did it differently than them. I don't represent 200 clients. And because I choose to represent a fewer number of clients, I can do the job differently. My business is not incoming, my business is outgoing.

I assume you have more competition in this space than ever. All the big agencies have several different divisions that touch brand endorsements, brand building, and fashion in different ways. And then there are obviously these reports about CAA and Pinault, which could further complicate things. How do you continue to differentiate yourself in the market as more people come along?

Everyone knows the bigger agencies aren't capable of doing it the same way. And it's not necessarily their fault—they just represent too many people. You cannot think through solid ideas and get creative for that many people because you have to constantly deliver. It's all about numbers. Keep in mind, people say it's easy for me because I represent these high-end talents, but a lot of them were new when they came to me. So we grew together. I turn down a lot of people, and I don't take somebody on unless I'm pretty sure I'm able to deliver.

To me, there's still a disconnect between the way fashion operates and the way the entertainment industry operates. What do you think is the big difference?

The entertainment industry only realized about 15 years ago, maybe ten years ago, how much money there actually is in fashion. So they tried to get involved, as they always do when they see there's money to be made somewhere, but they weren't necessarily careful about it, and they did it sloppily. You know, We're going to start representing a bunch of designers, we're going to start representing a bunch of brands, thinking it would be an easy way to connect fashion with the talent they represent. But it doesn't work that way, because you have to make sure that there's some kind of common thread with the talent and the design house, or else it won't make sense to the consumer.

Consumers can see stuff more than ever before, and fashion brands are very smart now. There are certain celebrities that can very quickly increase brand awareness—I would say 3 percent can increase brand awareness immediately. Then there are some celebrities that can really sell product.

With the whole thing with Pinault and CAA, it's interesting watching everybody read into it. I don't think there's any brand that is going to make a deal with an agency exclusively. They have to spread out everywhere. So I don't think that anybody wants to put themselves in a position where they're going to potentially lose out.

Do you think the strike is accelerating talent's desire to build up these endorsements and brand partnerships, the way we saw an uptick during the lockdowns?

It's a lot of P.R. It's not like, all of a sudden, one of my talents casually says, My gosh, you know, I need to make $5 million or $10 million immediately because I'm not doing the movie, and I'd be able to do a deal in the next 30 to 60 days. It doesn't really work that way. I mean, look, the big agencies don't have the income right now because of the writers and the actors being on strike. Are they trying to supplement their income right now in other areas? I'm sure they are. They're getting pressure to do that. But I'm not sure that it's coming from the actors as much as coming from the agents.
On Arnault and Bergdorf Goodman: "Reading this was very stressful! After what Arnault did to the Tiffany store, he should not be allowed anywhere near Bergdorf. The man clearly doesn't like New York or New Yorkers. If you don't know the history of Barbra Streisand filming part of her live TV special there, you should not be allowed to buy Bergdorf. I will be calling my representatives about this!" –A frustrated subscriber

On Arnault's takeover of 5th Avenue: "With regard to Bergdorf: It's wise never to underestimate Monsieur Arnault's completist drive and the power of obsession, particularly where Fifth meets 57th… You mention LVMH's ownership of the properties on the N.E. corner (LV) and S.E. corner (Tiffany & Co., freshly Peter Marino'ed), but don't forget the S.W. corner, home to Bulgari's NY flagship (4,500 bronze-dipped square feet of Peter Marino via Roma), leased at an eye-watering $16M+/year 'til 2030. Just one more compass point to go…" –A luxury consultant

On La Samaritaine: "Le Bon Marché is indeed the best of them. La Samaritaine is so small and cramped, I was stunned they have access to the best architects and still chose those chunky, clunky escalators that ruin the potential lightness of the space." –A Parisian publicist

On Marshall Fields, which is now a sad Macy's: "It was absolutely pitiful the last time we stopped through. It felt like an actual abandoned mall from the (18)90s… Sad vagrants parked with their suitcases on the top floor, next to the once grand, and now extremely empty, cordoned off Oak Restaurant. There were maybe 1-2 customers per floor. Eerily empty." –A publicist

On other shopping newsletters that are good: Many people cited Laurel Pantin's Earl Earl and Liana Satenstein's Neverworns as favorites, along with denim expert Jane Herman's Jane on Jeans. These are not just about fashion, but Hillary Kerr's Hi Everyone and A Thing or Two from Claire Mazur and Erica Cerulo (very good friends of mine) are very satisfying. Are there any good ones out of Paris or London? Let me know.

In the spirit of saying the quiet things out loud: Many of you asked who I was referring to on Monday when I mentioned "my friend with a shoe line." Some of you guessed that it was Emme Parsons, and you were correct. We've been friends since 2005 when she loaned me the money to buy a Marc x Marc Jacobs bag from Loehmann's, so I'm not really in a position to write critically about her. As for the publication we were discussing, it starts with an A and ends with an L.
Amyris, a biotech firm that has spent the last few years acquiring and launching consumer beauty brands, just shut down two of them: Costa Brazil, founded by former Calvin Klein designer Francisco Costa, and Onda Beauty, a "clean" retailer founded by the actress Naomi Watts. [Business of Beauty]

Pilgrim Surf Supply, maker of the best sacoche, seems to be doing something in Paris this fall. [Instagram]

Last year, Farfetch paid $40 million for Violet Grey, a gorgeous beauty e-commerce site with a tiny store on Melrose Place, founded by Cassandra Grey, wife of the late Brad Grey, the former C.E.O. of Paramount. The point of the acquisition was to use Grey's industry connections to help sell beauty directly on Farfetch.com. Now it seems that the online luxury marketplace is shutting down its beauty division, according to this report. What does that mean for Violet Grey? A Farfetch spokesperson did not respond to a query about this. As for Grey, I hear she is launching a creative agency with Sienna Miller, not that I know what that means. [WWD]

The same activist investor that once circled Victoria's Secret is now targeting Hanes. Someone has a panty fetish! [MSN]

I feel agitated every time I watch an episode of the half-hour comedy Platonic on Apple TV+. (Unfortunately I like to see things through, and I'm more than halfway done, so there's no stopping now.) If you, too, happen to be watching, make sure to take note of the spot-on wardrobing. Yes, Seth Rogan's look—40-year-old Northeast Los Angeles single guy wearing Needles and Marni—is funny because it's true, but it's Rose Byrne's Culver City mom gear (a Clare V. Masculin Féminin sweatshirt, clogs, and perfectly painted balayage) that really did it for me. [Indiewire]

Vogue accidentally linked to a spreadsheet showing how much money a bunch of celebrity and influencers drove in affiliate commissions via a Youtube video series called Beauty Secrets. Whoops! Worth a gander to see who was driving sales and who wasn't. (The lesson: Julianne Moore still has it.) [Reddit]

Rothy's second-quarter numbers were released: Sales were down nearly 9 percent from a year earlier, but they did post a positive EBITDA of $1.3 million. [Alpargartas]

Madewell has a new president. [WWD]

Former Victoria's Secret Angels Naomi Campbell, Gisele Bündchen, and Adriana Lima are once again modeling for the brand. [Page Six]

An industry friend sent me this 1979 article from Esquire, syndicated by the Washington Post, about the rise of Sasson "designer" denim jeans. (Made by a Tunisian guy, where A.P.C. founder Jean Touitou is also from.) Anyway, the lede is sort of confusing but once you get past that, it's a great story. [WaPo]

Pellicano, the chichi hotel group 99.9 percent responsible for the #ItalianSummer phenomenon on Instagram, has raised €200 million from Aermont Capital. [BoF]

Another Kering store in a glossy outdoor mall in Southern California was robbed—this time Saint Laurent at the Americana in Glendale. Stop the insanity! [NY Post]

And finally… A personal plea to the Wirecutter to stop making fashion recommendations. It's a tough sit. Unless you manage to poach Alexis Swerdloff and Simone Kitchens from New York magazine, let's hold off.
Until Monday,
Lauren
FOUR STORIES WE'RE TALKING ABOUT
Luntz on '24
What is the legendary pollster seeing?
TINA NGUYEN

Need help? Review our FAQs
page or contact
us for assistance. For brand partnerships, email ads@puck.news.
You received this email because you signed up to receive emails from Puck, or as part of your Puck account associated with . To stop receiving this newsletter and/or manage all your email preferences, click here.
Puck is published by Heat Media LLC. 227 W 17th St New York, NY 10011.