Hello, and welcome back to Tomorrow Will Be Worse!
Between the Jan. 6 hearings and the war in Ukraine, I am reminded yet again of how fragile any sense of peace and normalcy can be, as well as how easily a single, powerful person can upend it, especially if they are surrounded by enough sniveling enablers.
In Ukraine, the war grinds on. Russia, advancing bit by bit, has taken almost all of the Luhansk region. In what seems like an eerie reprisal of what we saw at the Azovstal plant in Mariupol, a similar drama is now playing out at the Azot chemical plant in Severodonetsk. As many as 2,500 Ukrainian soldiers are trapped there, as are some 500 Ukrainian civilians—including children—who took shelter in the plant. And once again, as another Ukrainian city burns around them, Kyiv and Moscow haggle over humanitarian corridors.
Ukraine is suffering tremendous casualties. While Kyiv did not publicize any casualty figures before the 100 day mark, Ukrainian officials are now saying that their army is losing some 500 soldiers a day to death and injury. The Zelensky government is also pleading with the West for more artillery, more drones, more everything, arguing that it cannot hold off the Russians much longer without it.
According to some analysts I've spoken to, the two are related: Ukraine is playing up the direness of its situation in order to pressure Western governments, particularly Washington, to increase its military aid to Ukraine. It doesn't seem that the message is really getting through, though. The people who make these decisions in Washington are already following every development and are firmly on Ukraine's side, while the American public is distracted by inflation, school shootings, and a teetering democracy at home.
It's quite a bind for Ukraine, from a P.R. perspective. Zelensky, an entertainment professional, created a masterful—and true—narrative for the West, a clear delineation between good and evil, right and wrong. For Americans weary of foreign adventures with murky justifications and even hazier moral stakes, this drove overwhelming American support for the Ukrainian cause. But now, the story has fallen off the front page and Americans have grown distracted. (The discovery earlier this week of another mass grave at Bucha barely made an impression here.)
The problem is that Americans have forgotten about Ukraine just as Kyiv has lost the momentum in this war, just as things are going from bad to worse. And this is how it often happens with someone else's wars. For several obvious (and some unfortunate) reasons, Ukraine may have gotten far more American aid and attention than, say, Syria, but their location in Europe and their whiteness haven't saved Ukrainians from the reality of American politics: American attention spans fade quickly at the water's edge.
Ukraine still has the support of the American government—including a broad, bipartisan majority in Congress—but, as I've written before, that support may fade if the isolationist, MAGA wing regains its political power in the midterms and the 2024 elections. It also doesn't help that the left in America is already warning that Ukraine could become another "forever war," a vague but powerfully repellent term on both sides of the political spectrum.
Yet the war doesn't seem likely to end any time soon. Russian forces are already trying to press back toward Kharkiv, Ukraine's second-largest city, and the Kremlin still has designs on Kyiv and Odessa. There is, sadly, far more tragedy to come.
But for now, let's turn back to Washington.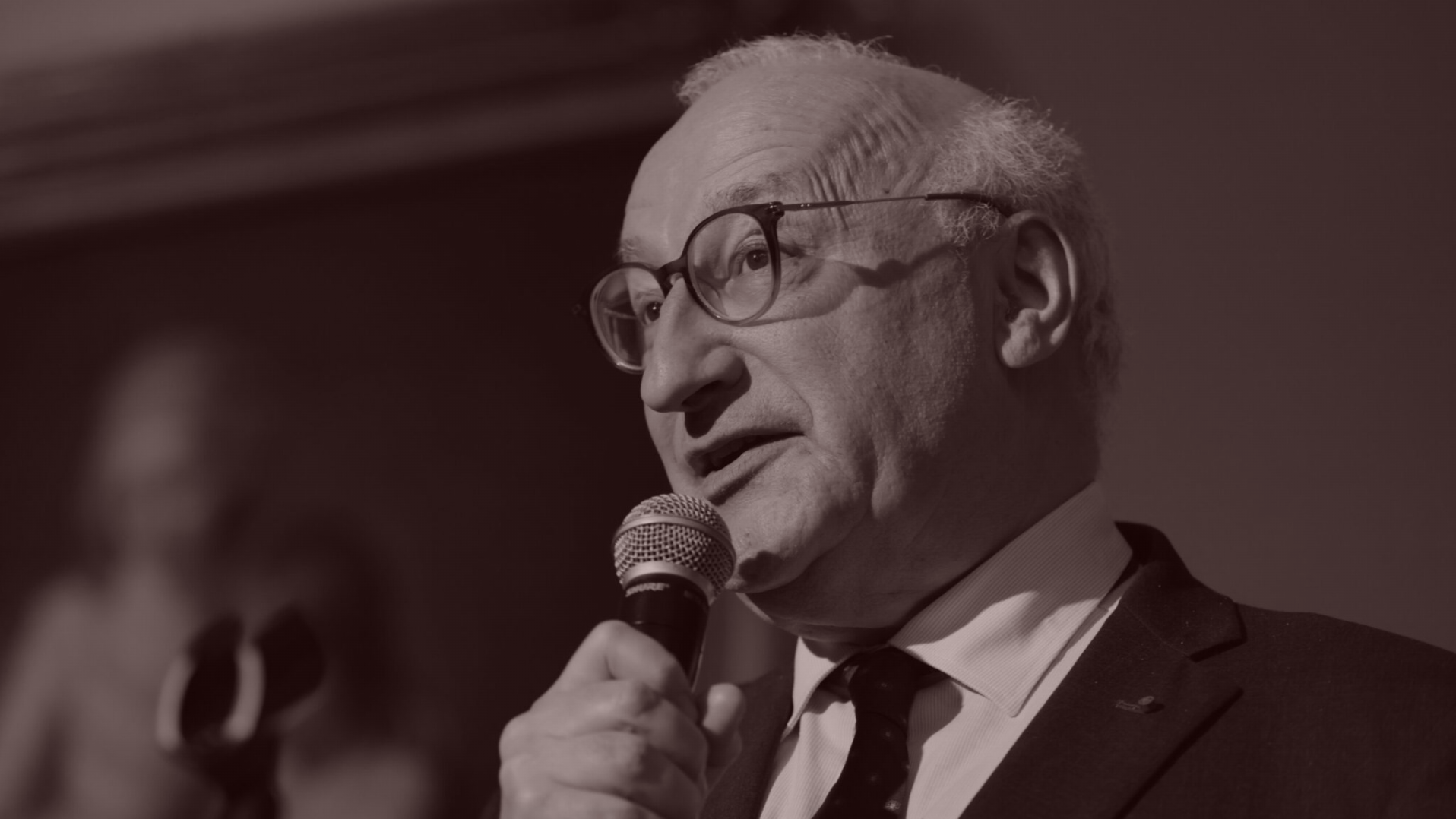 The War Comes to Kalorama
Philippe Étienne, the French ambassador to the U.S., is probably the most popular, and polished, figure in establishment Washington. And he may know more about Russia than anyone else in this town.
Philippe Étienne loves Russia. When I was first introduced to the French ambassador, at an event organized by unofficial D.C. mayor (and recent Semafor hire) Steve Clemons, Étienne began to speak to me in Russian. It was soft and wrapped in a thick, charming French accent, but it was still quite good after 20 years, the time that had passed since Étienne worked as a cultural attaché in the French embassy in Moscow.

Étienne arrived in Moscow when it was still the capital of the Soviet Union, in September 1991, just three months before he watched, along with the rest of the astonished world, the red Soviet flag come down over the Kremlin. With it fell the totalitarian regime that had terrorized and silenced its own people for generations. Overnight, Étienne became the cultural ambassador to Russia, a new country that was finally opening to the West—and to itself. "It was a very special time," he told me later, when we had lunch in one of the many painfully elegant rooms in the French ambassador's residence in Washington, D.C. "This was an incredible, incredible time."

He traveled to Nizhny Novgorod, a city once closed to foreigners, and met its young new mayor, Boris Nemtsov. A trained mathematician, Étienne met Russian scientists and researchers who had become impoverished by the transition to capitalism but were nonetheless ebullient at the chance to work with the West and to live and speak freely. He helped develop ties between the Russian space program and those in the West. He met Natalia Solzhenitsyna, wife of the exiled writer Aleksandr. He brought loads of Russian books to the country, books that had once been banned by the Kremlin and had been published abroad, including at presses set up by Russian exiles in cities like Paris. The French embassy helped distribute them to regional libraries, which Étienne saw as a restitution of sorts. Those books, he said, "belong to Russian culture, but also to the Russian soul." (Decades later, Étienne advised the French government on how to repatriate art stolen from France's former African colonies.)

He also met many Russians who knew French culture as intimately and lovingly as their own. Étienne told me about meeting one young Russian man who knew the architectural details of every Parisian Metro station despite having never set foot in France. These Russians—people, incidentally, like my mother—had been imprisoned behind the Iron Curtain, banned from traveling abroad, especially to the enemy, capitalistic West, but who spoke French fluently and had devoured the entire cannon of classic French literature. In part, this is because all things French are so deeply embedded in Russian culture—for centuries, the Russian aristocracy spoke better French than they did Russian—but there was more to it, Étienne observed. "I realized how this [French] culture had been, in Soviet times, under the dictatorship, an element of freedom for Russian people," he recalled. "To learn languages, to read books, had been a way of escape. And it was really moving to discover all of this incredible potential of cooperation—cooperation in the deep sense of the word."

That world had long vanished as we sat eating chanterelles and fish in Kalorama. The Russia that he had encountered then, the Russia he had come to love, had been replaced. The government's openness to the West had curdled into hatred, freedom had been equated with chaos, and a new dictatorship was installed—a regime eerily like the one Étienne had watched fall. And now the government in Moscow had invaded Ukraine, waging a ruthless war to conquer by force what it had peacefully let go in 1991.

In the lead-up to Russia's invasion, the West, especially those on the left, has twisted itself in knots over whether it was in fact NATO expansion that had been to blame for Russia's build-up on the border. Had we, with our never-ending post-Cold War triumphalism, actually provoked Russian aggression? That debate was also mirrored inside Russia, where, in the last few years, people who bemoaned what the country had become also wondered if the West could have prevented this by, say, implementing a kind of Marshall Plan for the post-Soviet space.

When I asked him about this, Étienne, who is a soft-spoken, gentle and erudite presence, was categorical. "It is the responsibility of one side," he said, quietly but firmly, adding that his boss, French president Emmanuel Macron, had done "everything possible" to prevent the invasion, including traveling to Moscow to meet with Vladimir Putin in person. "And anyway," Étienne added, "the destiny of such a great country like Russia is in Russian hands."
Despite his almost shy persona, Étienne has found himself at the center of a number of Washington scandals. Earlier this month, for instance, he had to make the rounds of U.S. media to explain why Macron was so worried about humiliating Russia. Before that was the time, in September 2019, when the Biden administration bumped France out of a submarine deal with Australia, and the French foreign minister, calling this "a stab in the back," recalled Étienne to Paris—a breach of French-American relations unlike anything seen since the 18th century.

In addition to the diplomatic rupture, the submarine drama caused an even more important disruption: that of D.C.'s social life. A big party had been scheduled at the French ambassador's residence to celebrate the 240th anniversary of the Battle of the Capes, on the Chesapeake Bay, in which the French navy defeated the British, paving the way for American independence. It was a strange anniversary to celebrate but the French embassy hardly needs a reason for a party. They threw a big soiree, for example, for the arrival of a 10-foot-tall reproduction of the Statue of Liberty, made from the original mold used by the French sculptor. (The model now holds a position of honor on the front lawn of the ambassador's residence, where it has been dressed up in a toga made of a Ukrainian flag.) The readiness to party, coupled with the exquisiteness of the sprawling Kalorama residence and the host's generosity with food and drink, have made the French ambassador's parties some of the most coveted in Washington. Residents of #ThisTown are constantly angling, calling in chits, working their connections so they can get on the list and assiduously document their status on Instagram.

The day after the Americans torpedoed France's submarine deal, the French embassy canceled the party. "It's not anger," one French official told CNN. "We are not happy but it's the practical way of adapting ourselves." The French, in other words, weren't mad, they were disappointed, and the best way of punishing the D.C. elite was to take away one of their favorite toys.

But after a lot of apologizing and a Biden-Macron meeting, all that retreated quickly into history, before it was completely overshadowed by Putin's invasion of Ukraine. Before long, Washingtonians were again sipping champagne and 'gramming from the French mansion, most recently at an after-party for the White House Correspondents' Dinner and a costume party to commemorate the French ambassador to the U.S. during World War II.

Sitting in a room with beige wood paneling and coral-colored drapes, the ambassador and I sipped chablis as the Washington heat pressed up against the French windows. I asked Étienne how his residence had come to occupy such a central role in D.C.'s social life, just as it had been under his predecessors in the house. "It is really important for us, of course," Étienne said. "Also, because we're so happy to have this residence, which is a big part of it. And it keeps alive a tradition."

"What's the tradition?" I asked, as the dessert, a cloud of passion-fruit sweetness, arrived.

"It's behind you," Étienne said smiling. "Look in the portrait behind you."

Behind me, in the corridor, hung an 18th-century portrait of a man in a white powdered wig and a military tunic.

"It started with young Marquis de Lafayette," Étienne said, invoking the name of the French aristocrat who helped Americans fight off the British during our war of independence.

"He also threw good parties?" I asked.

"Maybe I told you already, but I visited in northern Delaware, the Brandywine Valley, a place where George Washington and his closest advisers met to prepare for the next battle against the British Army. It was the house of a pastor of a congregation which he gave to the people of Washington. There was a young Lafayette, and in this quite modest house I visited, they celebrated Marquis de Lafayette's 20th birthday here. And then the French army came later and they threw a party at Yorktown, which was a military battle, you know."

But that wasn't the only reason. Ideally, it is the job of any embassy and its ambassador to go out into the country where they are posted, to represent their country—and government—and to build ties. Étienne arrived in Washington just a few months before Covid arrived and shut down the city. Now, as Washington, along with the rest of America has decided that the pandemic is over and returned to normalcy, Étienne wants to help usher Washingtonians back out into the world—and into contact with each other. "In more serious terms, when you have lost one million people here and many, many people in France and in Europe, it's my thinking that we should try, as much as possible, to bring people together because people want to come back together. It is important, even to throw a party has a meaning now after Covid, but also to try to give some meaning to events, to be really present in the social life in Washington and beyond, just to show life and that we want to be together."
That's all for this week, friends. Make sure to tune into our podcasts, The Town and The Powers That Be. I'll see you here next time. Until then, good night. Tomorrow will be worse.

Julia
FOUR STORIES WE'RE TALKING ABOUT
S.B.F.'s Media Dreams
The 30-year-old metal-haired crypto billionaire is becoming media-curious.
THEODORE SCHLEIFER

Elon vs. The Arbs
The arbitrageurs might be the most vulnerable players in Elon's off-the-rails Twitter takeover.
WILLIAM D. COHAN

David Boies' Gamble
Gardner joins Peter to reveal Boies' billable hours. Plus, Cohan on the bear market blues.
PETER HAMBY
You received this message because you signed up to receive emails from Puck

Was this email forwarded to you?

Sign up for Puck here

Interested in exploring our newsletter offerings?

Manage your preferences

Puck is published by Heat Media LLC

64 Bank Street

New York, NY 10014

For support, just reply to this e-mail

For brand partnerships, email ads@puck.news