Good evening,
Welcome back to The Washington Mall, my private email for Puck focused on the inside conversation driving the agenda of the agenda-setters in this town—in the White House, on Capitol Hill, on K Street, and within the mediacos that cover it all. I have an important announcement: this is the final free installment of The Washington Mall. Starting Monday, you will receive this email twice per week, on Monday and Thursday evenings, and you'll only be able to read it if you subscribe to Puck.
Please do so here. This product, along with the work of my incredible colleagues, will make you smarter and do your job better, and you'll be reading what your boss reads, too. You'll also be supporting an innovative new model which puts journalists at the center of the business equation.
In this email, I offer more of the palace intrigue consuming the White House, where Joe Biden remains cordoned off from elements of the political mood, but refuses to jettison his man, Ron Klain. I also delve into the political quagmire surrounding Liz Cheney, and unearth a few new developments in Trump's political nerve center, as his self-imposed deadline to announce his candidacy looms. And so much more, like the Republicans who are readying (or at least saying they are) to take him on.
As always, please send feedback my way by hitting reply. I hope that you're enjoying The Washington Mall, and finding that it's the sort of insider journalism that you can only read at Puck.
Best,
Tara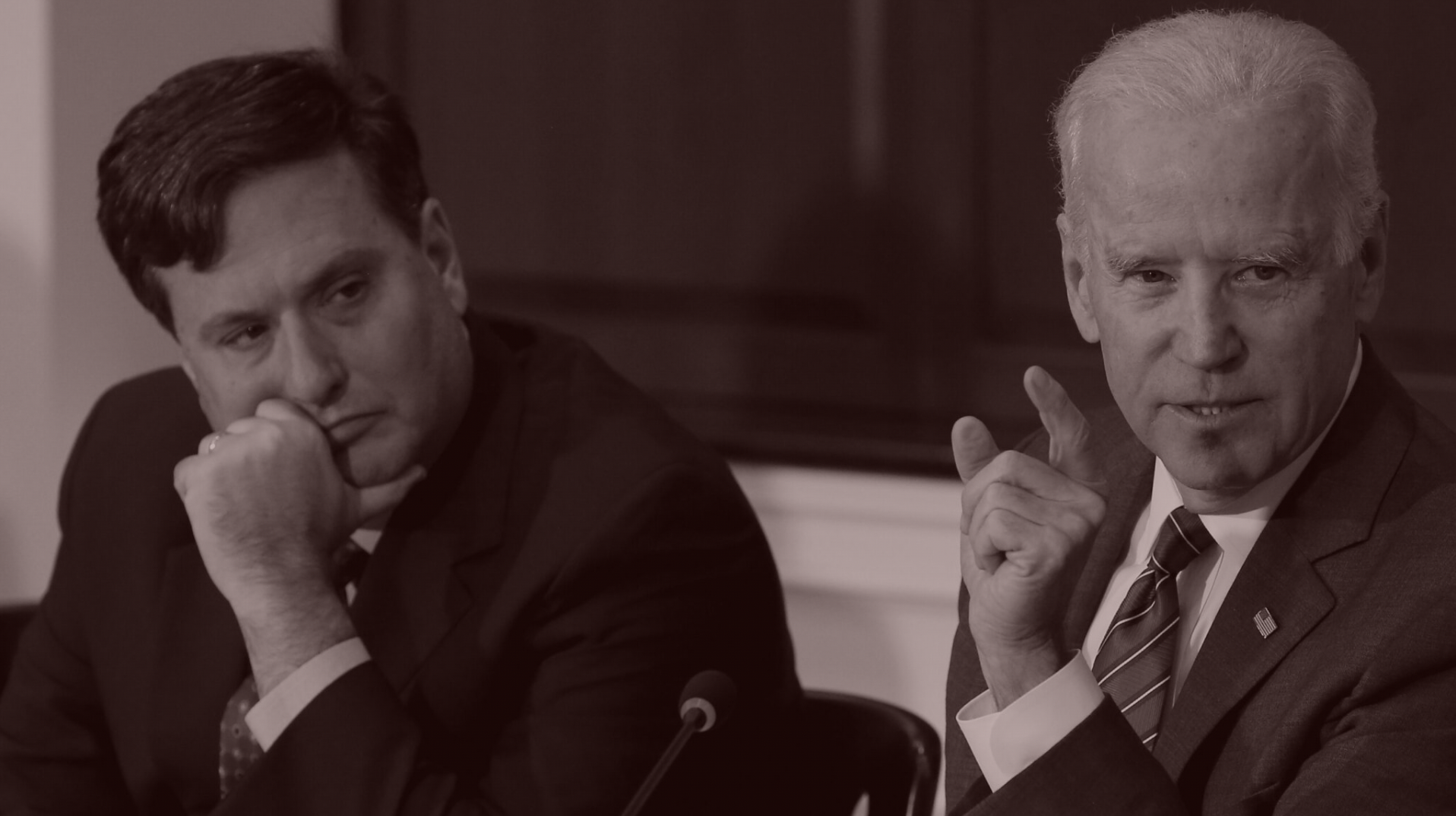 The Biden Bubble
Despite frustrations that the White House needs a shift in direction, Biden is sticking with Ron Klain, and won't be influenced by the media, the Twitter left, or anyone else. But just because Biden is loyal to Klain doesn't mean that staffers aren't above figuring out to whom they might want to hitch their wagons moving forward.
Earlier this month, Adam Schiff, the Democratic congressman and January 6 Commission supporting actor, offered some candid criticism of his big boss, Joe Biden. Schiff was attending a D.C.C.C. fundraiser in Charleston, hosted by Donna and Randy Friedman and Ned Brown, during another leg of his nation-wide tour that Punchbowl described as an attempt to raise his profile in advance of a potential Democratic caucus leadership bid, should Nancy Pelosi step down. At that fundraiser, according to an attendee paraphrasing his remarks, Schiff articulated that, as awful as Donald Trump was, Biden wouldn't be wrong to emulate his capacity for self-promotion. "I wish he would do that, maybe he's just genetically predisposed not to," one attendee told me, again paraphrasing Schiff. "And he's got a lot to brag about, but he won't do it."

Schiff doubled down on the remark, explaining that he's given a number of people at the White House this advice, including intrepid chief of staff Ron Klain. He explained that he wished that Biden would be offering proclamations about his administration's achievements every day.

The paradox of the barely 18-month-old Biden administration is simple. It has accomplished a great deal—passing a Covid relief bill, a massive infrastructure package, and possibly some form of gun control while returning the presidency to a sense of normalcy. And yet Biden's approval numbers are now at 39 percent, according to a new Reuters poll, as he faces serious challenges like inflation, sky-high gas prices, a lingering pandemic and a party bewildered that he hasn't been able to deliver on his promises with such slim congressional margins. Despite a barrage of recent, high-visibility press moments that I've chronicled in this space—his twin op-eds; cameos from BTS and Matthew McConaughey, who urged lawmakers to respond to the events in Uvalde; a prime time address; a meeting with the Federal Reserve's Jay Powell; a Kimmel appearance; and a recent attempt to encourage oil companies to lower prices—Biden still remains largely out of public view. His lack of visibility (and frankly, as Schiff put it, his inability to get credit for his administration's accomplishments) has caused much vexation in his inner circle, and created a whisper campaign, as I've also reported, about the need for a new direction, which has triggered questions about how long Klain might last.

But, according to people familiar with the situation, Biden isn't succumbing to the pressure for new management. In fact, the barrage of stories in which White House aides, party loyalists, and family members express concern over Klain's intensive management has only hardened Biden, who has said he will not let the media or the party force his hand into firing Klain. If Klain leaves, I've heard from sources familiar with Biden and Klain's thinking, it will be of his own accord and he'll have a strong hand in choosing his successor.

I've heard various people around Biden chalk up his loyalty to Klain, a sharp inside player, in all kinds of ways. Some have said that Biden's fealty can be his weakness. Others have suggested that, given his age and experience, he has an unwavering trust in his own gut and instincts. I've also heard him compared to the Walter Matthau character from Grumpy Old Men—a hardened veteran who doesn't want to be told what to do, especially by the media or the "online left." He's admonished staff for bringing up Twitter around him, I'm told. Indeed, Biden feels vindicated by his lack of concern with the tweeting class. He feels confident, according to people familiar with the dynamic in the White House, that he won in 2020 because his team followed his advice and ignored the noise. (Angela Perez, a spokesperson for the White House, actively and declaratively disputed my characterization of its internal dynamics.)
Biden's assessment may be true, but the political reality has also changed considerably since the election. Two years ago, Biden was perceived as a sensible adult who could restore order to the nation after Trump's negligence over Covid and late-night Twitter antics, among other issues. But now, he's the sitting president, and fairly or not, the subject of criticism from both the right and his own party. Nevertheless, Biden's daily regime actually shields him from much of the criticism espoused by the online chattering classes. Sure, the White House is designed to keep the principal in a state of hermitage, but Biden also has a routine that has kept him secluded from the negative energy that cable and Twitter can vomit out. He has a preference, according to people familiar with the situation, toward retiring early to watch sports, rather than binging cable news. He wakes up early to read the newspapers and exercise.

His inner circle, sensitive to his temper and the desire to preserve his energy, has been reluctant to pierce that bubble. While Trump often prioritized cable news, late-night chats with right-wing talking heads, and Twitter over the tedious business of governing, that regime at least kept him attuned to the political winds he was facing. Biden's insularity was recently showcased, according to two sources familiar with the situation, when he was confronted with the "Let's Go Brandon" taunt during that infamous NORAD Christmas Eve call. Biden didn't get the reference, which had become an internet sensation. A family member had to fill him in after the call.

Even if Biden could care less about what the press or Twitter has to say about his performance, his team of elite professional political operatives is excruciatingly sensitive to the optics. In particular, they want to avoid any perception of personnel shakeups, even if they are the natural reality of these high-stress, pressure-cooker jobs. Perhaps, in order to keep things tight, Klain's White House prefers to promote from within, as they did when Karine Jean-Pierre replaced Jen Psaki.

This approach, however, has fired up some succession drama within the White House as junior staffers try to gauge who will be the next chief of staff: Mike Donilon, Steve Ricchetti, Brian Deese, Anita Dunn or maybe even Jen O'Malley Dillon, who has said privately that she will run his re-election campaign, if that happens. Klain may have Biden's support, but as he becomes a figure of increasing scrutiny, a group of anxiety-prone type-A staffers are trying to figure out who's up and who's down, and who they should align their future with. The White House comms shop may want to tamp this down, but people talk, especially in Washington, and especially when it comes to their own careers. And just because Biden is loyal to Klain doesn't mean that they will be, too.
Hang around D.C. long enough, and you'll learn that politics makes strange bedfellows. Democrats like Jared Kushner can become Republican gatekeepers. Perceived Democratic antagonists, like Michael Cohen, George Conway or Jim Comey, can become unlikely, if temporary, TV heroes. But it's unlikely that any recent jersey exchange has provoked the sort of dizzying effect as Liz Cheney, the culture warrior daughter of Dick Cheney, who has given a rousing performance as the vice chair of the January 6 committee. Some hardened liberals are feeling all sorts of uncomfortable fuzzies about Cheney, who appears likely to lose the primary for her congressional seat in August, and wondering if they should protect her, exalt her, donate to her campaign, or come to their senses and recall that she voted against "The Protect Our Kids" gun control bill last week.

The Cheney pickle is fascinating. Since she broke ranks from her party and voted for Trump's impeachment, the former president has been hellbent on destroying her political career by, among other things, campaigning for her primary challenger Harriet Hageman, who will likely wallop her in the polls in August. (Last month, the Club for Growth's poll showed Cheney down by 30 points.) Given how Cheney has spent the better part of the last year and half decrying the worst of Trump's mistruths about the election, some on the left wonder if Cheney is a useful recipient of much-needed Democratic donor dollars and resources. I've heard from many Democratic operatives and fundraisers who, in the fever of the hearings this past week, donated to Cheney, who has already raised $9 million this cycle.

Wyoming is, unquestionably, Trump country. He won the state by some 70 points. But Wyoming has an unusual electoral law that allows voters to change parties on the day of a primary. This, of course, would allow the wealthy, nose-plugging California transplants from liberal-ish population centers, like Jackson, to throw their support to Cheney. The congresswoman, a Beltway creature who is also somewhat of a Wyoming second-homer, held a ticketed event in Jackson this Spring to talk to these same voters about Democracy. Some on her team are hopeful that Democrats and Independents will come out to save her.

Even with all of that cash, Cheney still looks like she's in trouble. FiveThirtyEight seemed to debunk her team's fantasies, reporting that the numbers don't seem to stack up. (Buying her own television station out there probably wouldn't help, because of the hardened feelings on the ground and vitriol over her vote to impeach Trump.) In truth, though, there are some serious limits to the Democrats' support, anyway. "Democrats love her but it makes us uncomfortable," said one recently departed Democratic Senate aide. "We know she doesn't support anything we agree with, but you have to love her for this moment"—a reference to her committee stewardship. Said a Democratic operative: "She's a 93 percent Donald Trump-voting Republican, she'll get replaced with a 98 percent Trump-voting republican." And any effort by Democrats, especially national Democrats, to organize for Cheney will only hurt her in Wyoming by reinforcing Trump's stance that she's a Republican In Name Only.
Democrats have temporarily fallen in love before with other candidates facing long odds, like Amy McGrath or Jaime Harrison. And they've even been bewitched across party lines, as they were with the Lincoln Project in 2020, when the common goal of defeating Trump allied them with a self-aggrandizing (and, eventually, self-immolating) enterprise co-founded by, among others, Steve Schmidt, who is aptly now advising Cheney.

With small-dollar digital donations making up such a bulk of the party's donations, the feverish but unstrategic support of unlikely candidates can have real consequences for a party that needs every dollar it can get ahead of what will be a tough midterm. Supporting Cheney, after all, would likely doom down-ticket Democrats in the state, and it would certainly be distracting. "Only Democrats would be stupid enough to consider funding a Republican," said a former D.N.C. official. "Why should Democrats care if Liz Cheney goes down? It's one vote we're not going to have and we're never going to have it. If you were to take whatever money, time, social media posts by Democrats for Liz Cheney, and use that for anything else in the Democratic ecosystem, maybe we could actually win elections."

As one top Democrat put it, succinctly summarizing the political reality for many on the left, "We all get excited, and then she votes against the gun bill and you want to think she's changed who she is. To her credit, she's still the same person."

As time passes from the Jan. 6 prime time special, it's likely a more nuanced position will take hold widely. "My take is to acknowledge her for doing the right thing, and call her out on everything that we disagree with her on, it's as simple as that," said Democratic strategist Jennifer Holdsworth, the former National Finance chair for Pete Buttigieg. "It's okay to agree with someone on democracy, you will not burst into flames." Finally, the D.N.C. officially summed this up most eloquently: "Anyone thinking this is good for us rather than talking about gas prices or inflation, they are a bunch of fucking idiots. If you're watching this, you're why we're losing this election."

As for Cheney, she'll be fine. She mostly lives in McLean, and will likely find a home at the Brookings Institute or another conservative think tank, with a lucrative speaking gig, a book deal, or a cable news contract. If she decides to stick her neck out with a primary challenge against Trump, that will only reinforce the aforementioned financial opportunities. And political opportunities, too, just in case she is playing the long game, lining up her moment for when the political tides have shifted. In the meantime, political insiders are watching closely just how far she goes to elevate the heroism of Mike Pence, who would likely be a challenger in a Republican primary.
Trump's Allies Are Getting Jittery
The January 6 committee has been successful in setting up a digestible narrative with compelling characters about what happened on that fateful day and what precipitated it. But one dimension of the drama that they haven't quite accentuated is the influence of money. Most people understand that Trump is an egomaniac, hungry to hold onto power. But was he willing to be lawless in order to make money? Committee member Zoe Lofgren pointed out that Trump's Save America PAC, created to challenge Biden's victory, raised $250 million by promoting the stolen-election lie. That wasn't elucidated until the end of the second hearing.

Trump is avaricious when it comes to monetizing his name and image, and he famously gets pissed when others get in on it, too. Just last week, Trump insiders were passing around a digital ad from a pro-Ron DeSantis super PAC "Ready for Ron" that referenced Donald Trump's name, even if it was just to call him a great president, but claimed that DeSantis would revive his "America First" movement. It was the kind of move that was likely to peeve Trump, who had sent cease-and-desists to party organs like the R.N.C., N.R.C.C., and N.R.S.C. for daring to use his name in ads.

Trumpworld was aghast, or perhaps jealous, that Kim Guilfoyle made $60,000 for her two-and-half minute introduction of Donald Trump Jr. at the January 6 rally. Patience for Guilfoyle has grown thin in the past two years on account of her diva-like behavior, her preternatural ability to conscript those around her into promoting her image, and her tight grip on Don Jr., to whom many are hitching their futures as part of the next phase of the Trump movement.

As I reported last year at Politico, my old stomping grounds, Trump has found Guilfoyle grating and was perturbed that she was working for Eric Greitens, the deeply controversial Senate candidate in Missouri, at one point asking "Why the fuck is she working for him?" And while Trump thinks Greitens is creepy—he resigned as Missouri governor in 2018 amid sexual misconduct allegations—he will likely endorse him if he continues to lead in the polls. Trump's frustration isn't simply limited to the fact that Guilfoyle is doing work for Greitens, a problematic candidate; rather, it's the impression that Guilfoyle has been making money off the Trump name.

In fairness, I'm told that Guilfoyle planned to give a speech longer than two-and-a-half minutes until the edict went out that Trump wanted the main stage at the Stop the Steal rally and that everyone else needed to keep it short. As for the ensuing Jan 6. investigation, a longtime advisor said that the hearings have angered and annoyed Trump, but that the "slow bleed" of G.O.P support in official Washington has not been fatal. If anything, it's increased Trump's paranoia about what advisers such as Jason Miller and Bill Stepien are willing to say behind his back, even if those two are unlikely ever to be truly excommunicated.

In the meantime, Mike Pompeo, Mike Pence, Nikki Haley, and Ron DeSantis have been prodding their own donor networks, telling them they're not afraid to run against Trump in a primary, according to Republican donors, despite what some have said publicly. But that's also out of necessity: no one is going to write a check for a candidate who doesn't believe they can win. Tom Cotton has joined that team, candidly telling donors in a closed-door meeting that he's not afraid of other candidates, including Trump. "It's an indicator that there are candidates that are willing to test the water," the advisor said. "It's not going to kill them to see what happens in a primary against Trump."

A former White House official, who is still close to Trump, described the evolution as a "slow burn" that is making its way through the Republican Party. "It's not that we don't like Trump," added this advisor, "it's that maybe it's time to move on from Trump."
FOUR STORIES WE'RE TALKING ABOUT
CNN's Growing Pains
Byers joins Matt to break down Licht's new CNN strategy and its potential for success.
MATTHEW BELLONI

The View from Kalorama
The French ambassador to the U.S. may know more about Russia than anyone else in D.C.
JULIA IOFFE

Summers' Parallel Reality
If Obama had picked Larry Summers to run the Fed, would we be in our current economic fix?
WILLIAM D. COHAN

Cheney's Dem Stans
Tara joins Peter to explain how Liz Cheney has turned into a quasi-liberal icon.
PETER HAMBY
You received this message because you signed up to receive emails from Puck

Was this email forwarded to you?

Sign up for Puck here

Interested in exploring our newsletter offerings?

Manage your preferences

Puck is published by Heat Media LLC

64 Bank Street

New York, NY 10014

For support, just reply to this e-mail

For brand partnerships, email ads@puck.news