Happy soggy Sunday night from What I'm Hearing H.Q. in L.A. A couple housekeeping items:
Are you caught up on The Town? This week I debated Bob Iger's most pressing challenges with Lucas Shaw, the business of Christmas movies with Lifetime's Amy Winter, and some winners of the year in streaming with Julia Alexander. Subscribe on Spotify here and on Apple here.
Puck in the news: The New Yorker profiled one of our co-founders this week (and revealed one reason why we're called Puck), Axios dissected our new push in D.C., and Adweek looked at our subscription-plus-ads business model. Or feel free to ignore this mildly gross Puck-promo.
As always, if this email was forwarded to you, join the WIH community by clicking here. And if you have any class at all, you'll gift your team and your assistant their own memberships this holiday season. We have group rates!
Discussed in this issue: Mike Hopkins, Ted Sarandos, Meredith O'Sullivan Wasson, Erik Lomis, Tom Cruise, Ari Emanuel, Bryan Fogel, Bob Iger, and Mike Ovitz's monogrammed watch.
But first…
Who Won the Week: Jen Salke
The seemingly endless re-org that is Amazon Studios produced a clear winner this week as Salke officially took the absorbed MGM studio, including its TV
and
film output, even though her boss, Prime Video and Amazon Studios SVP
Mike Hopkins
, initially wanted film to report to him.
A few more takeaways from the latest Amazon shuffle:

It's pressure time for Hopkins, who now must justify the $8.5 billion MGM deal he championed, despite those assets carrying a lot more complications than anyone at Amazon H.Q. in Seattle anticipated.
Salke should probably get around to hiring someone to make those supposed 8 to 12 MGM-branded movies for theaters a year. After Amazon courted and then passed on Paramount and Fox alum Emma Watts, Salke's gotta find someone who can make commercial movies (fewer Bones and Alls, more Creeds), fit into the weird Seattle culture, co-exist with and differentiate MGM from the existing Amazon movies team, and who won't mind reporting to a TV person. Not a long list there.
Most of the reporting structure changes were expected, including Vernon Sanders taking over MGM's TV output, except maybe United Artists distribution exec Erik Lomis reporting directly to Salke, which suggests he'll get all Amazon movies, regardless of the label.
None of this fixes the problem Amazon has in the market and in the town: What defines an Amazon Prime Video movie or show?
Does the retirement this week of Amazon's media chief Jeff Blackburn, 18 months after returning from his company sabbatical, change anything? Likely not. It's Hopkins' show now, and he's placed all his chips on Salke, who many think will ultimately have his job if she can pull this off.
More
:
Kim Masters
and I discussed the exit (finally!) of TV chief
Mark Burnett
, the reality producer,
Trump
mythologist, chaos agent, and general waste of money at MGM, including that time he got in a fight with
Tom
Arnold
at an Emmys party.
Listen here
.
"We are primarily a content company, and the mechanisms for the monetization of content are in disarray." –
Jim Dolan
, the AMC Networks chairman, in a bleak note to staff that "large scale layoffs" were coming as C.E.O.
Christina Spade
exited after just three months. A late contender for Quote of the Year.
Runner up: "I was willing to be a fundraiser for him." –Reed Hastings, the Netflix co-C.E.O., telling Andrew Ross Sorkin at the Dealbook conference that he wished Bob Iger had run for president instead of returning to Disney.
Second runner-up: "They can see the scene they missed when they come see it again." –Jim Cameron, when asked the best time for a bathroom break during the 190-minute Avatar: The Way of Water.
Third runner-up (big week for ridiculous quotes!): "Ari Emanuel, how do you like that one?" –Ye (Kanye West), in his latest pro-Hitler rant, referencing the Endeavor C.E.O.'s public criticism. He then tweeted the photo of Ari hosing down a shirtless Elon Musk before being suspended from Twitter.
Have you watched this Netflix documentary about
Robert Downey Jr.
's father?
Sr.
is fun and emotional for sure, but it's a fairly traditional tribute/vanity doc, with Jr. and wife
Susan Downey
producing, and directed by
Tiger King
executive producer
Chris Smith
. It premiered at the Telluride Film Festival in September and was acquired by Netflix as a long-shot Oscar play in a year in which the streamer's awards cupboard is unusually bare. (It has
Margaret Brown
's slave ship saga
Descendant
in the doc race and
Guillermo Del Toro
's
Pinocchio
in animated feature, but its two big all-category awards films,
Alejandro G. Inarritu
's
Bardo
and
Noah Baumbach
's
White Noise
, both flamed out at the festivals.) Maybe the Netflix campaign machine and Downey Jr.'s willingness to promote
Sr.
will overcome the traditional snootiness of the Academy's 600-person documentary branch, though I doubt it.
But that's not why I'm mentioning Sr.. What's interesting is that at Telluride, Netflix chose to buy that movie instead of Icarus: The Aftermath, the enthusiastically-reviewed follow up to the Russia sports doping documentary Icarus, one of the most important movies in the history of Netflix. Remember, back in 2018, when Icarus won the best documentary Oscar for director Bryan Fogel, it was Netflix's first win for a feature of any kind. The upstart streamer had spent millions of dollars campaigning for top awards, hoping to translate the Oscar and Emmy halo into brand equity and greater acceptance by the creative community. With Icarus, it finally broke through in a major category.
A MESSAGE FROM OUR SPONSOR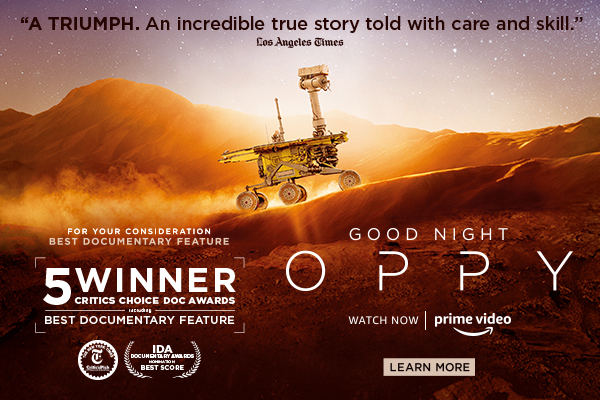 Amazon Studios presents the documentary GOOD NIGHT OPPY, telling the inspirational true story of Opportunity, a rover that was sent to Mars for a 90-day mission but ended up surviving for 15 years. The film follows Opportunity's groundbreaking journey on Mars and the remarkable bond forged between a robot and her humans millions of miles away.
Entertainment Weekly
calls it "A film with the power to inspire a generation."
GOOD NIGHT OPPY is streaming now on Prime Video.
How big a deal was that internally? Everyone in Hollywood is obsessed with awards (especially those who insist they aren't), but Netflix co-C.E.O.
Ted Sarandos
is
really
obsessed with awards. He doled out millions to buy aggressive lobbyist
Lisa Taback
's company, and he often shocks his rivals with the money he spends—buying the billboard company, launching the vanity print magazine, and taking over
the movie theaters
in voter-heavy neighborhoods like the Palisades, not to mention stunts like those ridiculous waste-of-space
Glass Onion
mailers that just went out. All to position Netflix to Hollywood as a prestige outlet, even as lowbrow minute-burners like
Purple Hearts
and
Love Is Blind
increasingly define the brand.
Plus, co-C.E.O. Reed Hastings is a devoted documentary fan; I've seen him in line for morning doc screenings at Sundance with the regular folks, no handlers or special seating. He must have loved winning for Icarus, a truly Important film that, in 2018, made a big statement about Netflix's prestige push, particularly its status as a fearless global platform for edgy non-fiction content, regardless of who it might piss off.
After all, this was a movie that Vladimir Putin and his allies hated, and that helped lead to Russia's ban from the Olympics. Netflix bought the film at Sundance in 2017 for a then-hefty $5 million, according to sources, a day after it was reported that the F.B.I. was investigating whether a cyberattack that crippled the festival that year was related to the fact that Icarus premiered the day before. And that bet paid off, not just in awards and branding but in audience. Sources say the viewership was among the healthiest for non-true-crime documentaries on the service. A big win all-around.
So… why did Netflix pass on the sequel? After all, Netflix is all about serving members more of what they have already watched, and we're in a heyday of sorts for documentary series sequels like the follow-ups to HBO Max's The Way Down and The Vow, and Netflix's Tiger King. But several sources close to the film and familiar with Netflix's thinking say that as its content strategy has matured and the financial environment has become more challenged, its appetite for this kind of radioactive non-fiction project has decreased significantly, especially when it involves sensitive growth markets (although Netflix has suspended its service in Russia due to the war in Ukraine). In short, it's just not worth it, like it might have been five years ago when Netflix was still trying to establish its content bona fides.
That's Netflix's right, of course, and it's a concern that is not unique to Netflix. Doc filmmakers complain about it all the time. I can't imagine risk-phobic Apple even entertaining the idea of Icarus: The Aftermath for AppleTV+, and the number of buyers willing to take a big political risk is dwindling. As Hastings has said when questioned about censoring content in regions like Saudi Arabia, Netflix is a for-profit entertainment company, not a "truth to power business." No shame there; he's saying out loud what most high-minded executives won't.
Still, given the dominance that the global streamers have over the documentary market these days, and the collapsing business model for docs in theaters and on linear television (R.I.P. CNN Films), it's disheartening to see Netflix back away from a movie that really should be seen by a lot of people. It's not censorship, of course, but as a frequent viewer of these kinds of films, I think there's a market that's being neglected. We're headed toward a world of Tiger Kings and Vows and the grisly crime or cult doc of the week—and, of course, the celebrity tributes like Sr. It's a bummer.
Yes, it's true that Icarus was a lightning-in-a-bottle movie, with Fogel happening upon whistleblower Grigory Rodchenkov, which led to the explosive nature of the allegations in the film. The sequel, which focuses on the fallout for Rodchenkov, and his fraught attempt to move on with his life, is compelling, say the reviews (I haven't seen it yet), but perhaps not as compelling. Also, the zeitgeist Russia story right now is Ukraine, not necessarily sports doping. Awards attention is so important for these prestige docs, and maybe Netflix thinks the Academy's doc branch won't reward a follow-up to something that already won (sequels almost never score with voters, and last year, the doc branch snubbed The Rescue, the riveting Thai cave rescue doc from Jimmy Chin and Elizabeth Chai Vasarhelyi, who won in 2019 for Free Solo).
Plus, Fogel himself is no picnic, say those who have worked with him, and he publicly lashed out at Netflix and other streamers when they all passed on The Dissident, his searing 2020 probe of the murder of Washington Post columnist Jamal Khashoggi that drew a direct connection to the Saudi government. That film ended up too hot for any streamer, most of which have financial or other market ties to the Saudis, and it was eventually released only on-demand by Tom Ortenberg's small distributor Briarcliff Entertainment. "These global media conglomerates are aiding and abetting and silencing films that take on subject matter like this despite the fact their audiences want content like this," Fogel said at the time about The Dissident.
Fogel has remained silent on the fate of his Icarus follow-up, but according to sources, its sales agency UTA has had a hard time finding a non-Netflix home because of the sensitivities, and the fact that the first film is so closely identified with Netflix, which is understandably refusing to license the original film to pair with the sequel on a rival platform. Again, that's Netflix's right, it's just a bummer. For its financiers, including the young fund manager Jordan Fudge and the Human Rights Foundation, it's a bigger bummer.
It's hard enough to get a great, button-pushing documentary made and screened today. A hot topic in the doc world is whether films outside the approved group-think and progressive politics of the entertainment community can even happen any more. Remember, Sundance just disavowed a challenging and well-reviewed film, Jihad Rehab, that it had enthusiastically screened and supported at January's festival, amid criticism from Arab and Muslim filmmakers that a white director had tackled this story. Situations like that definitely chill future docs.
Hopefully Icarus: The Aftermath will find a home. I heard Netflix might be open to some kind of licensing deal once it finds a distributor elsewhere (it declined to comment), but these days I wouldn't hold my breath.
We've reached the crisis-P.R.-people-weigh-in-on-the-strategy portion of the
Will Smith
image rehab tour, with everyone's favorite quote machine
Howard Bragman
declaring enough is enough with Smith and his publicist
Meredith O'Sullivan Wasson
's roll out: 'It's just like, 'Shut up already, we're tired of this thing.'" [
WSJ
]
Wesley Morris makes a good argument that Tom Cruise won the year, and that nobody else matters at all. [NYT]
Bob Iger's first flex might be getting Florida to reinstate Disney's right to run its private Reedy Creek Improvement District. [FT]
It's not just Netflix that may be shut out of the best picture race; Amazon and Apple could contribute to a full-on streamer snub at the Oscars. [NYT]
Mike Ovitz hawked one of his special-order Patek Philippe watches at auction for about $742,000. Yes, it's got the former CAA mogul's initials (M.S.O.) on the dial. Lucky buyer! [Christies]
Saudi-backed Variety and Deadline continue to roll around in bed with crown prince Mohammad bin Salman, sponsoring a video lounge and a "vanguard" award at his image-whitewashing event, the "Red Sea International Film Festival." Hopefully the honorees aren't dismembered with a bone saw at the afterparty. [Variety]
Iger's Looking at Chapek's Spreadsheet Games
What will the final weeks of 2022 bring in Disney-land? According to three sources at the company, new/old C.E.O. Bob Iger has asked his team to look at the internal accounting situation that spilled into the public toward the end of a Journal story last week. The Bob Chapek regime was quietly airing Disney+ shows like the Doogie Howser reboot on linear outlets first to shift production and marketing costs "away from the streaming service, making its financial performance look better." C.F.O. Chrstine McCarthy is said to have voiced concern with the practice, and now Disney is evaluating. Disney declined to comment.
I can't run more comments about whether there will/won't be a writers strike, so here's a few context-free selections from my emails, texts and DMs from the past week or so…
"Alert the Marines, we're gonna need a tactical team to remove Trevor Noah from Will Smith's ass." –An agent
"How long until Chapek emerges as C.E.O. of Knott's Berry Farm?" –An executive
"Disney bringing back Bob Iger is the same as [J.J.] Abrams bringing back Palpatine." –A researcher
"If you know I'm getting fired, can you text me before I read about it from you on Sunday." –An executive
"My agent once tried to commission my side gig doing security at premieres." –An actor
"You may know my work from several yogurt commercials in the 90s…" –A director
With
David Nevins
out and seemingly half the network staff circulating resumes around town, Showtime chose not to throw its usual holiday party… It was funny seeing
Draymond Green
, the N.B.A. star who was caught on tape punching a teammate earlier this year, at the L.A. premiere of fellow televised batterer
Will Smith
's
Emancipation
. Maybe Will is planning an appearance on Draymond's podcast?… R.I.P. Tommys, the short-lived Beverly Hills restaurant of the former Craig's maître d'
Tommy Salvatore
. That old Bouchon space seems cursed… And a final shout-out to the two people who corrected my erroneous reference to Bob Iger's "sweater vests" last Sunday. Iger wears cardigans, of course, though
this number
at Disneyland's Candlelight Procession yesterday looks like a traditional zip-up.
Have a great week,
Matt
Got a question, comment, complaint, or an experience using McKinsey as consultants at a creative company that HASN'T resulted in a total disaster? Email me at Matt@puck.news or call/text me at 310-804-3198.
FOUR STORIES WE'RE TALKING ABOUT
Pompeo's '24 Curiosity
Reporting around the Kevin McCarthy's "five saboteurs," Herschel's touch-up, and more.
TARA PALMERI

The S.B.F. Orphanage
A close reading of institutional investors's remorse over forsaken FTX bets.
WILLIAM D. COHAN

Need help? Review our FAQs page or contact us for assistance. For brand partnerships, email ads@puck.news.
Puck is published by Heat Media LLC. 227 W 17th St New York, NY 10011.