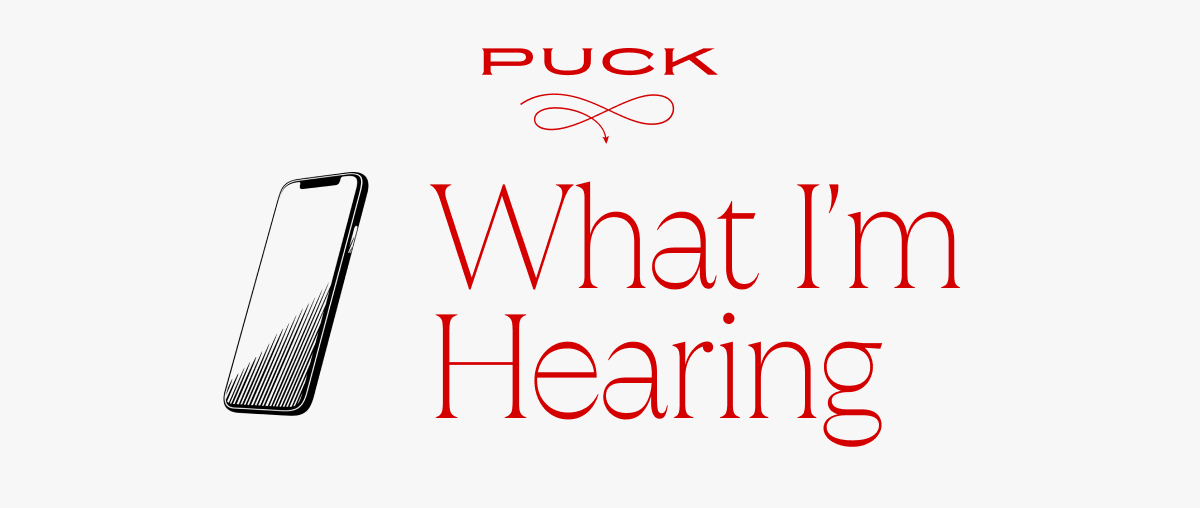 Welcome back to What I'm Hearing, I hope your bracket isn't already as busted as mine. And a welcome to Lauren Sherman, who we just announced is joining Puck to write about the fashion industry. Lauren was a top editor of Business of Fashion, and she'll send a private email once a week for starters, and eventually twice. Puck members can add her by clicking here.
🚨🚨Oscar ratings winner! Congrats to Nick Field, a writer for Decision Desk HQ, who guessed 18.7 million live-plus-same-day viewers of the telecast, very close to the actual 18.8 million. Nick has chosen the status-defining Puck hat. Thanks to everyone who played.
And as always, if you've been forwarded this email, join the WIH community by clicking here.
The Mandalorian's season 3 premiere viewership dropped about 25 percent from last season, per SambaTV, and the social media buzz is down significantly. As Bob Iger prepares to drop the axe on Disney's content spend, he's gotta wonder whether saturating Disney+ with pricey Star Wars shows like The Book of Boba Fett, Obi-Wan Kenobi, and Andor, is making every new offering seem less special. I'll write more about this soon, but the franchise-ization of all aspects of entertainment may finally be leading to that long-feared bleak future: Where are the new franchises?
Beyonce's party at the Chateau might have been the hot ticket of Oscar week, but for the billionaire mogul class, it was probably the small private dinner Barry Diller hosted at his L.A. house to celebrate his 80-year-old buddy David Geffen's wedding to boyfriend Donavan Michaels, 30. That was in lieu of Diller's traditional Oscar-weekend outdoor get-together, which probably would have been rained out anyway.
Box office over/under: I gotta take the under on the $40 million tracking for Shazam! Fury of the Gods. This one smells bad, the RT score is in the 50s, and the Warners marketing hasn't exactly answered why this movie exists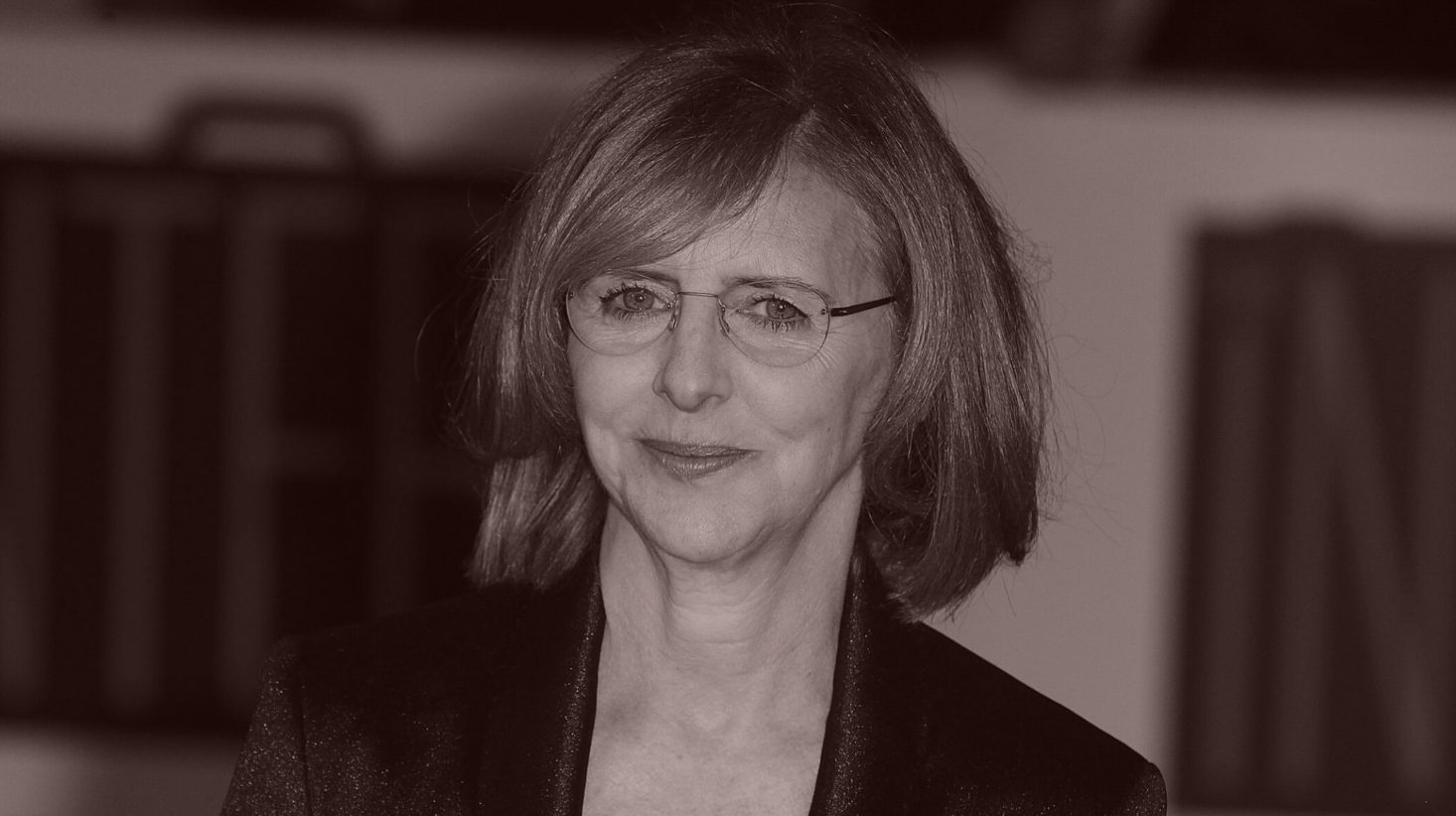 Netflix Priced Itself Out of the Nancy Meyers Business
Backend "buyouts" allow streamers to compete with studios for top projects and A-level stars. But that system has ballooned up-front fees to the point where Netflix said no to a bankable filmmaker and her $150 million Scarlett Johansson movie.
Wait, wasn't CAA's Bryan Lourd supposed to be able to bend studios to his will? That was the lesson of Scarlett Johansson's mid-pandemic standoff with Disney over Black Widow, right? Johansson, a Lourd client, was forced by C.E.O. Bob Chapek to sue for her box office bonuses, and 18 months later, ScarJo got paid, Chapek was out, and Lourd was celebrating himself as dealmaker of the year. With CAA gobbling up ICM Partners and Lourd stealing Charlize from Ari Emanuel, he sent an unsubtle message to executives who dared to say no to him: Don't.

But now that Netflix film chief Scott Stuber has passed on the rare opportunity to spend $150 million on a Nancy Meyers romantic comedy, $20 million more than Stuber was prepared to shell out, Lourd finds himself in fix-it mode on another movie money blowup involving Johansson, one that also says a lot about the state of the industry. And in this fight, Lourd, Meyers' lead agent Craig Gering, and the rest of Team CAA, don't seem to have the town on their side.

When I first broke the news on March 5 that Netflix was holding the budget line for Meyers' Paris Paramount at a still-surprising $130 million, my texts blew up with messages from producers and executives who couldn't understand why that sum wasn't sufficient. After all, the logline—two filmmaker exes are forced to work together, based in part on Meyers' relationship with former collaborator Charles Shyer—didn't scream action-adventure or C.G.I. "This was not just a huge number—it was an insane, unthinkable, unrealistic sum," my pal Stephen Galloway, dean of Chapman's film school, told the LA Times today. One producer texted me three pig emojis, suggesting that CAA, which reps Meyers and Johansson, as well as her probable co-stars Penélope Cruz and Michael Fassbender (UTA has Owen Wilson), was being piggish in demanding an $80 million trough of above-the-line talent deals, including producers and such.

Maybe, but there's a larger culprit here, and it's the buyout system that Netflix pioneered and that has led to enormous upfront fees on movies that really shouldn't cost this much—and, ironically, has now ballooned to the point where Netflix itself, amid an industrywide pullback, either can't or won't always pay those fees. The rationale for overpaying talent has been that Netflix and the other streamers don't sell movie tickets or advertising (though that has changed), and they don't want to share internal consumption data, so to compete with the studios for the best projects, they just buy out those revenue streams and pay talent as if the movie is a hit. The upside has resulted in eye-popping fees, like the tens of millions that Ryan Reynolds and Dwayne Johnson made for saying yes to dreck like Red Notice. But the downside is that when a project really hits, Netflix—not the talent—captures all of that value forever. And on the other side, the risk of making the movie in the first place is borne entirely by Netflix—the stars and directors don't lose their box office bonuses if they make a turd.

That was fine when Netflix was the toast of Wall Street and was willing to outbid studios for the opportunity to work with a star like Johansson and a filmmaker like Meyers. But post-Great Netflix Correction, with seemingly the entire entertainment industry except Apple in retrenchment mode, a $150 million rom-com, especially one set in Hollywood and without automatic global appeal, looks a lot dicier. Hence the standoff: Netflix escalated the up-front price of being in the A-list project business to the point where Netflix now has to think twice about being in the A-list project business. The Frankenstein has in some ways come back to harm its master.
The CAA-Warners Conversations
If Paris Paramount was made at a traditional studio—say, Warner Bros.—it would likely cost $30 million to $40 million less, according to studio sources, because the talent compensation would be paid as a mix of upfront fees and either box office bonuses, or cash-break contingent compensation, or both. Indeed, I'm told that when Warner Bros. Discovery C.E.O. David Zaslav—who counts Meyers among his favorite directors and a personal friend, which should surprise nobody—saw that the project had fallen apart at Netflix, he and Warners film chiefs Mike De Luca and Pam Abdy almost immediately expressed interest in taking it over… but, at a lower upfront price—a price made possible because of the traditional contingent compensation that factors into studio economics.

Producer Jason Blum talked about this issue on my podcast last year, and he did a whole op-ed about it in the Times. Buyouts make "the business of movie and TV show producing very expensive," he wrote. And they don't exactly incentivize talent to do their best work. I always think back to the days when I delivered BJs Pizza in high school. I sprinted to my car and rolled every stop sign to hopefully earn bigger tips. If I was delivering for Grubhub today, where the tip is often determined before the delivery, I would take my sweet-ass time. Same with movies, Blum argued. "When creators set out to make TV shows and movies for you, give them a deal that pays them handsomely for success," he wrote. "And share the internal performance numbers that define that success. You will be able to pay less upfront, and you will find an increase in the quality of the work."

Less upfront. In these challenged times, what if placing a bit of the risk on the talent while compensating them more in success is the answer for the streamers? That would require more data transparency, of course, but it would also lower content costs, at least in the short term.

CAA is now said to be asking Warner Bros. to spend more than $100 million for Paris Paramount, plus the participations, and talks are ongoing. (Warners and CAA declined to comment.) That's still a lot, and we can argue about whether Warners, or any traditional theatrical studio, should spend nine figures on a star-driven Nancy Meyers movie in 2023, when the entire rom-com genre is challenged in theaters, to say nothing of the great-kitchen-sophisticated-rom-com subgenre. (Those Montecito home furnishings and the perfectly chilled chardonnay probably cost more than they should.) But Meyers' films have always cost a lot, and she's a fairly reliable hitmaker. Check out her past five films as a director:

The Intern (2015): $194 million
It's Complicated (2009): $219 million
The Holiday (2006): $205 million
Something's Gotta Give (2003): $265 million
What Women Want (2000): $374 million

Maybe the world has changed since 2015, but when you greenlight a theatrical movie, you gauge it based not on how it'll do in theaters, per se, but in the entire first revenue cycle, which includes theaters, premium video on demand and the Pay 1 television or streaming deal. Netflix doesn't have that luxury, nor did Warners under previous WarnerMedia C.E.O. Jason Kilar, who removed the lucrative PVOD window from the equation, moved movies quickly from theaters to HBO Max, and, as we saw in 2021, debuted movies on both simultaneously or only on streaming.

Netflix does know that rom-coms, especially high-end rom-coms with mature stars that appeal to older viewers weaned in the heyday of the '90s and 2000s, have been flourishing on streaming lately. J.Lo is getting that Palisades property thanks in part to her paydays on Shotgun Wedding and Marry Me. You People, Your Place or Mine—both star-driven hits for Netflix. And both were less expensive than Paris Paramount.

Where this move ends up will say a lot about the state of the business. Bryan Lourd isn't being piggish, he's testing the market—a market that is changing pretty rapidly. Two years ago, Stuber probably would have said yes to $150 million. Now, he doesn't. Maybe Warners will figure out a deal that works. Apple seems to be spending whatever it needs to spend to put out press releases with big star names on them. And if not, Meyers and her very pricey actors will figure out something else to do with their summer.
See you Sunday,
Matt

Got a question, comment, complaint, or unpublished manifesto? Email me at Matt@puck.news or call/text me at 310-804-3198.
FOUR STORIES WE'RE TALKING ABOUT
SVB Post-Mortem
A close look at an abbreviated financial crisis.
WILLIAM D. COHAN

Zaz in CNN
Scenes from the WBD C.E.O.'s visit to CNN H.Q.
DYLAN BYERS

Hulu Hunger Games
Poking holes in the narrative surrounding Iger's Hulu conundrum.
JULIA ALEXANDER

Need help? Review our FAQs
page or contact
us for assistance. For brand partnerships, email ads@puck.news.
Puck is published by Heat Media LLC. 227 W 17th St New York, NY 10011.