Welcome back to What I'm Hearing, hope you had a great long weekend in Malibu, or Montauk, or Venice, or Telluride, or the Creative Arts Emmys, or even at Burning Man. I was in none of those places, but I did have a nice back-and-forth with my Puck colleague Bill Cohan about the fall narratives in entertainment and finance. Hopefully, it will acclimate you to September…
Discussed in this issue: Brian Roberts, Olivia Wilde, John Harwood, Ted Sarandos, Stephanie McMahon, Dan Loeb, Joel Silver, David Zaslav, Jen Salke, Nicole Kidman, Leo DiCaprio, 12-minute standing ovations, and the most amusing moment of the summer.
But first…
Who Won the Week: Tom Cruise
Top Gun: Maverick has ascended to OT VIII, crossing $700 million domestic ($1.4 billion worldwide) and, amazingly, topping the Memorial Day and Labor Day box office. Sure, competition was pathetic, and Saturday's $3 theater promotion juiced repeat viewers. But TGM is also available for digital purchase at home.
Some related numbers…
Summer yays and yikes: All those rosy end-of-summer trade stories are masking a harsh reality: Movie theaters won't be "back" until the number of major wide releases increases. Period. The domestic stats from May 1 through Sept. 1, per CNBC, tell the whole story:
Total gross in Summer 2019, per Comscore: $4.3 billion
Total gross in Summer 2022: $3.4 billion (down 21.6 percent)
But…
July 2019: $1.29 billion
July 2022: $1.14 billion (down only 13 percent)
It's all because…
Wide releases in Summer 2019: 42
Wide releases in Summer 2022: 22 (down 48 percent)
Which led to…
August 2019: $746 million
August 2022: $475 million (down 43 percent, with only six wide releases)
A couple desk-clearing items on Netflix…
More on the Tendo situation: My Thursday look at Netflix VP of original film Tendo Nagenda—and the squeeze on the company's business and culture that caused his exit—led to a few conversations with longtime movie executives. A couple of them thought I was essentially throwing a pity party for an executive who bailed on a great Disney gig to chase insane money at a high-flying company that any rational observer knew could sustain neither its growth nor its freewheeling autonomy. Others said I was over-rationalizing a simple truth: The Netflix movies, for the most part, aren't very good, and after the Great Netflix Correction, film chief Scott Stuber needed to make a blood sacrifice before that sacrifice became his own.
I think all of this can be true. Certainly, during that 2016 to 2020 period when Nagenda was lured, Netflix co-C.E.O. Ted Sarandos was shoveling ridiculous cash and stock at well-respected film and TV executives—all part of Reed Hastings's "talent density" mantra. So much so that Netflix was sued by Fox for poaching. And many of those hires were given more freedom and responsibility ("F&R," in Netflix lingo) than their experience level perhaps justified. When the Correction hit earlier this year, it made sense that those who didn't necessarily deliver on the outsized promise would be nudged out the door in a reorg. On Thursday, I'll have a bigger picture look at what Netflix is trying to accomplish with this latest pivot.
How to get booted from a film fest party: Speaking of Netflix, the story of the fall film festivals so far has to be the evisceration of Alejandro G. Inarritu's nearly three hour, semi-autobiographical meditation Bardo (or False Chronicle of a Handful of Truths). Great directors misfire; it happens. But Inarritu won back-to-back directing Oscars for Birdman and The Revenant, and he's getting destroyed not just by real critics but by the sycophantic "awards" press, which typically trades effusive "analysis" for access to talent and parties (they also pump out that embarrassing coverage of B.S. "12 minute standing ovations" at fests). It's so hostile that Variety senior awards editor Clayton Davis, who dubbed Bardo a "rambling opus of cinematic over-indulgence," was asked to leave the Netflix party at Telluride. (Netflix declined to comment, and Davis didn't respond.) Bardo may be dunzo, but Inarritu is already backlashing to the backlash, telling the L.A. Times that "there's a kind of racist undercurrent" to the criticism. Fantastic stuff. Yay for awards season.
"…The Internet feeds itself. I don't feel the need to contribute."

–Olivia Wilde, at today's Venice press conference for her Don't Worry Darling, dodging questions about the on-set tensions with Florence Pugh. This one's pretty rich, given that Wilde's own comments about Harry Styles, Jason Sudeikis, and especially Shia LaBeouf, contributed a lot to the frenzy.

Related: The Times' Kyle Buchanan has a good rundown of today's hilariously choreographed presser, including the festival staff shutting down a question about LaBeouf.

Runner up: "Fuck your hostage video." –Chris Rock, joking in a London stand-up show about Will Smith's bizarre "apology" clip.

Second runner up: "Tolkien is turning in his grave." –Elon Musk, tweeting his review of Lord of the Rings: The Rings of Power, adding, "Almost every male character so far is a coward, a jerk or both. Only Galadriel is brave, smart and nice."

And now for my chat with Bill…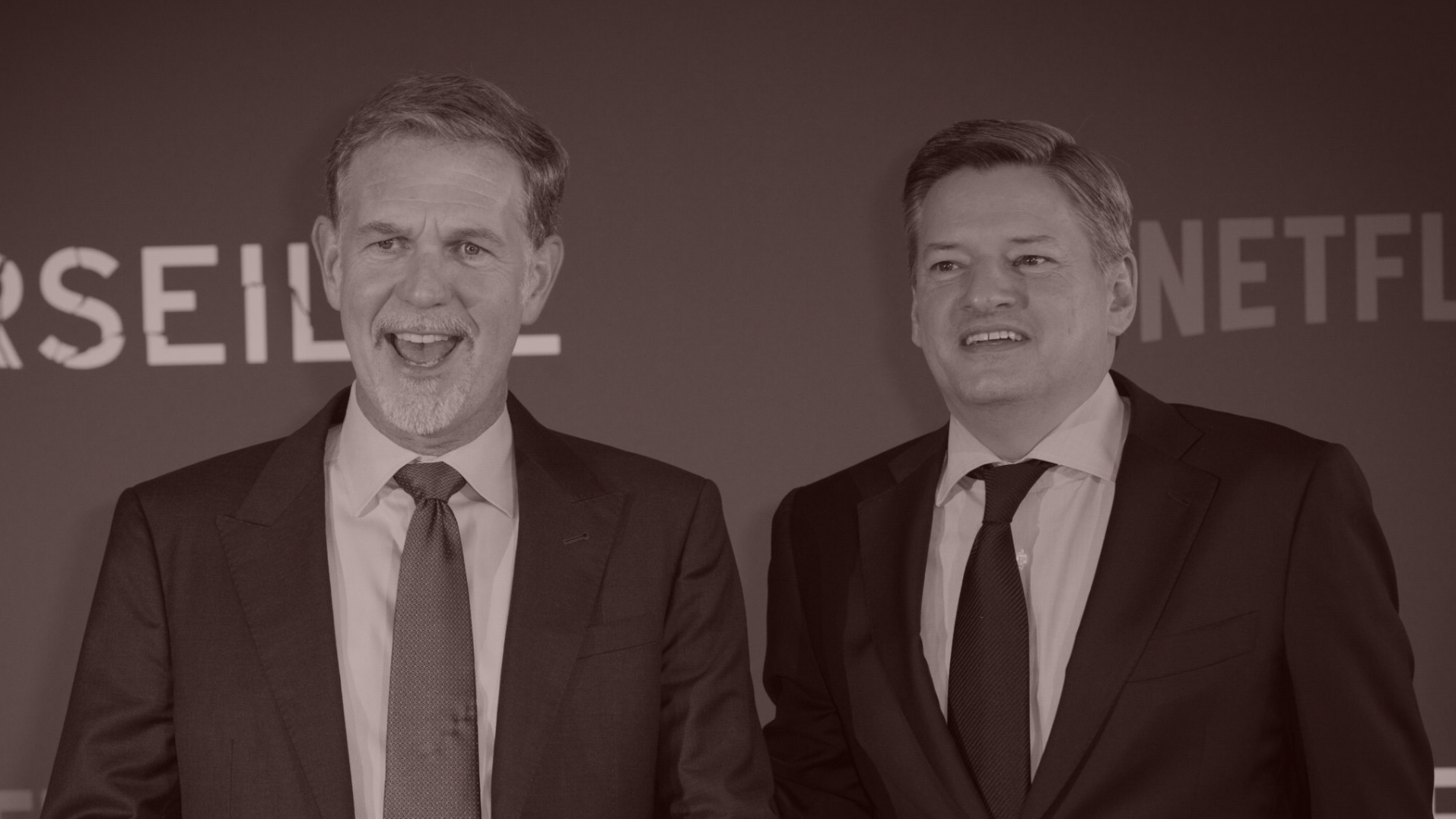 Netflix's U-Turn & the Next CNN Purge
The conversation inside Hollywood and Wall Street about Reed and Ted's ad-tier about-face, Zaslav's narrative heel-turn, Chapek's ESPN dilemma, and the long arm of John Malone.
Matt Belloni: Happy Labor Day, Bill, I'm betting Nantucket is slightly less scorching hot than L.A. Anyway, the debate in entertainment this fall—well, besides whether Black Panther 2 will outgross Avatar 2—will be whether Netflix and Disney+ can successfully launch an ad-supported model. Both will likely offer the ad tier with a price point in the $8 range, much less than the no-ads service. So both Disney's Bob Chapek and Netflix's Reed Hastings and Ted Sarandos are hoping that the loss of that subscription revenue can be made up with juiced subscriber numbers and all that ad cash. What's the current thinking on Wall Street about whether that feat is possible?

William D. Cohan: Wall Street sees the ad-supported layer as a revenue opportunity for both companies, for sure. How much remains to be seen, though the reported $65 per 1,000 views that Netflix is asking for ads is indeed aggressive. The question is whether saving around $7 a month is worth getting bombarded with ads for plaque psoriasis and Skyrizi. Streaming is one of the few places where you can avoid mind-numbing ads. You can't even do that in the movie theater anymore, to the extent that anyone goes to movie theaters anymore.

Belloni: I hear you on the annoyance, but I totally disagree. Consumers are going to love the ad tier. Not for the ads, but for the lower price point. Wells Fargo analyst Steven Cahall estimated in June that 30 percent of Netflix customers will choose the ads by 2025, and that Netflix's overall subscriber count will jump to 272 million (and growing) from 220 million (and shrinking) today. He also thinks revenue per subscriber will increase 3 percent to $14.20 worldwide. That's exactly the scale and revenue growth investors are demanding.

Cohan: I don't want to sound like a privileged elitist here, but to avoid ads for a year for roughly $85 sounds like the bargain of the century. And I think Cahall is smoking something if he thinks Netflix's subscribers are going to increase by 52 million, or 24 percent, just because they can save a few bucks. Now if the trade-off were between free, as in rabbit ears on linear TV, and $15 a month, that might result in a boost in subscribers. But I don't think the ad tier is the Holy Grail these companies think it will be. My take is that introducing ads will cost Disney and Netflix more in the long run in terms of prestige and consumer annoyance. It's not too late to change your minds, Bob and Reed!

Belloni: Disney's share price is down about 10 percent since Dan Loeb began his latest campaign for changes last month. I don't see Chapek selling ESPN, though you've written he might listen to Loeb and either trim costs, or buy back Hulu from Comcast sooner rather than later. How long will this Loeb drama play out?

Cohan: There's no reason for Disney not to get control of Hulu as soon as it can, so I think that will probably happen on the accelerated timetable that Loeb would like. So get that done, Bob. As for ESPN, I don't think Dan is wedded to the spin-off idea. I think he's wedded to ways to reduce Disney's $37 billion of net debt, and one idea he has is spinning off ESPN, loading it up with some of that $37 billion, and floating it away. Dan seems quite fixated on paying down the debt, which normally I'd be all for doing. But $37 billion isn't too much debt for a company like Disney, where the EBITDA fortunes are on the rebound after the pandemic closures. On the other hand, Dan is a billionaire and I am not, so he probably knows more about paying down debt than I do.

Belloni: The slow-moving layoffs and cost-cutting shrinkage at Warner Bros. Discovery will also likely dominate the headlines for the next few months. People often ask me how I think the new C.E.O. David Zaslav is doing, and I feel like that depends on who you talk to. To Hollywood people, his moves, like scrapping the Batgirl film and ending scripted programs on the Turner networks, have turned him into a corporate villain of sorts. But to the New York finance crowd, he's doing exactly what he promised investors—and what needs to be done to save this company from its $50-something billion in debt. Where do you stand?

Cohan: I love the guy, so I am trying hard to be objective here. He's got around $52 billion of debt and at best $12 billion of EBITDA coming in 2023. That number was projected at $14 billion before the recent re-forecast, so that's not good for David or for Wall Street. The stock is down 48 percent in the past six months, so that's also not good. On the other hand, he's certainly showing Wall Street that there are few, if any, sacred cows, and he's willing to do whatever it takes to get the house in order financially while not diminishing terribly the quality of the product. I hated to see my friend Andrew Morse get zotzed along with CNN+, but that decision was hardly a surprise. It was a surprise to see another friend, Brian Stelter, get defenestrated. Still not sure I understand that.

Belloni: Me neither. Regardless of what John Malone thought of it, Brian's show was small-potatoes for CNN, and I'm betting if its leader Chris Licht had told him to quit it with the Fox News diatribes, Brian would have re-positioned himself. The White House correspondent John Harwood announced his exit on Friday, hours after he called Donald Trump a "dishonest demagogue," so the CNN purge is only beginning.

Cohan: It's certainly not business as usual at the old WarnerMedia, and that's probably for the best. TimeWarner has been a bloated whale for decades now, so if Zaz can finally whip it into shape, then hallelujah. I still worry about the debt. Unlike Disney, for WBD, $53 billion is a big number, especially so if that $12 billion in 2023 EBITDA slips again. I'm afraid it's increasingly looking like AT&T's John Stankey might have gotten the better of Zaz by sticking him with all that debt.

Belloni: Speaking of debt, Cineworld, the second largest movie theater company, has been teetering on the brink of bankruptcy, which would be a fitting symbol of an extremely challenged theater industry. A smart investor texted me that these theater companies are "uninvestable" right now. How will this slow-moving car crash play out?

Cohan: Through more and more bankruptcies, alas. (With the apparent exception of AMC, which benefits from being a meme stock and can pull off financing moves that others can only dream about.) Back in the day, I helped Norman Lear buy his movie theater business, known as Act III Communications. It was a great business, huge margins—50 percent on the films; 80 percent on the popcorn—and Lear made a lot of money buying and selling the theaters. But as we both know, the pandemic changed that dynamic dramatically and the days of total domestic box-office revenue of $10 billion or $11 billion are a thing of the past.

Belloni: Did you see Top Gun: Maverick in the theater?

Cohan: I didn't, but I can't wait to stream it on my picture-perfect TV screen. Your friend is right. The movie theater industry is uninvestable right now. (This is not investment advice.) I wouldn't go near it with a ten-foot pole, and that's taking into account that it's always interesting to think about investing in an industry when no one else is. This is one where people aren't investing for good reason.

Belloni: Comcast C.E.O. Brian Roberts has been pretty quiet this summer. That usually means something's cooking. Besides $1 billion in cost cuts at his TV networks, which Bloomberg says are coming, what would you guess it is?

Cohan: My money is still on the combination of NBCUniversal with WBD. It just makes too much sense for the two moguls, Roberts and Zaz, not to be thinking through it. In fact, it's borderline irresponsible if they don't kick the tires on this deal. Aside from that, I'm not sure what else Comcast can do. Paramount Global is probably out because of the NBC-CBS overlap. I suppose some sort of gaming deal could be in the offing, perhaps in the realm of Electronic Arts, market value of $35 billion, or TakeTwo Interactive, market value of $20 billion. But I'm not sure I see Comcast getting into this kind of content. His better bet, it seems to me, is Comcast owning 51 percent of the combined NBCU/WBD, with Zaz running it. That feels like a winner, and will allow WBD to spread out its debt over more EBITDA and confuse the stock analysts for another couple of years while everything gets figured out.

Belloni: But they can't actually do that deal for a few years, right? The reverse Morris Trust rules that came with the WBD spinoff have set a ticking clock, of sorts, on consummating another transaction.

Cohan: April 2024, but given how long it takes these kinds of deals to close, there's no time like the present to begin. They don't need to wait until Allen & Co.'s conference next year in Sun Valley to chit chat about this.

Belloni: Speaking of NBC's owner, your big book on the rise and fall of General Electric, Power Failure, is coming out this fall (Nov. 15). Congrats. Tell me something I don't know about GE's tumultuous ownership of NBC Universal.

Cohan: That GE decided to sell NBCU to Comcast in 2009 as a desperate measure to raise cash to try to keep GE Capital, and by extension GE itself, out of bankruptcy. It was that bad. The decision came pretty much on the same day that GE's stock hit a low of $6.66 in March 2009, and Keith Sherin, GE's C.F.O., went on CNBC to try to calm investors down about how bad things were at GE. Brian Roberts had been after Jeff Immelt for years to sell NBCU to Comcast, ever since Comcast lost out to GE on buying Universal's assets from Vivendi. Brian kept after Immelt—playing golf, having dinners—and ended up being able to buy NBCU without having to endure an auction and, for a price, around $30 billion, that turned out to be quite the steal.

Belloni: Zaslav was there at NBCU as a cable TV executive when the Comcast acquisition happened, right? Very ironic that he could ultimately run those assets if combined with WBD.

Cohan: Zaz was at GE/NBC for the birth of both CNBC and MSNBC, so it would be a very fitting denouement for NBCU to end in his purview, if not total control. And by the way, since Zaz had to go to Malone to get the OK for CNBC initially, it would also be ironic that Malone, in his 80s, would once again be a behind-the-scenes power at NBCU, as apparently he is already at CNN, according to our colleague Dylan Byers. Brian's got to do something here and so does Zaz. A match made in heaven.
BONUS: Finally, for those who've been fortunate enough to not pay attention to the news this summer, a little Labor Day lightning round recap:
Most interesting media deal:
Belloni: Disney letting a Paramount group pay $3 billion to take over streaming rights to cricket in India, even though it means Disney+ will lose a big chunk of low-paying subscribers there. It says a lot about C.E.O. Bob Chapek's focus on the bottom line.
Cohan: We all know that Elon Musk's $44 billion deal for Twitter is the most interesting of the year, or more specifically, Elon's desire to get out of the Twitter deal is the most interesting of the year. So how will it end, you ask? Elon will lose in court, be ordered to close the transaction, and then negotiate his exit with the Twitter board. My prediction is that he'll have to pay Twitter around $5 billion, sell his 9 percent stake, and agree never to buy stock in the company again.
Most troubling news:
Belloni: The failure of the California legislature to pass an on-set gun safety law in the aftermath of the Rust shooting. Blame the studio lobbyists.
Cohan: That Donald Trump is somehow still the frontrunner for the 2024 Republican Party presidential nomination.
Most encouraging news:
Belloni: Top Gun got all the headlines, but Baz Luhrmann's Elvis grossing almost $300 million worldwide is arguably a bigger story. It shows there's still a theatrical audience for some non-franchise movies for adults.
Cohan: That Trump might be inching toward a criminal indictment
Most interesting executive move:
Belloni: Vince McMahon stepping down from WWE, which he's run since 1982, amid an investigation into payoffs for women. McMahon is WWE, so it'll be fascinating to see what his daughter, Stephanie McMahon, her husband, Paul Levensque (aka "Triple H"), and president Nick Khan, do with the company.
Cohan: I'm still stunned that the smart dudes at a16z decided to cough up $350 million—its biggest check ever—to that total loser Adam Neumann. This just blows my mind. How could Marc Andreessen, Mr. IQ off the charts, be so stupid?
Most amusing moment:
Belloni: Gotta be Ari hosing down Elon.
Cohan: Hard to disagree with that!
Kate Erbland's review sums up today's Don't Worry Darling reactions so you don't have to read them all: Florence Pugh good, craftwork nice, rest of it bad. [IndieWire]

Hollywood's undying and mostly unwarranted love affair with the Russo brothers continues to wreak havoc. This time the victim is Amazon Studios' Jennifer Salke, who has now spent $200 million (and counting!) on a seven episode spy show plagued by creative issues and unearned hubris. But Avengers: Endgame! [THR]

Reading this interesting Dana White profile will remind you why Wall Street considers Endeavor to be a mixed martial arts company with some other stuff. [Financial Times]

Buried in the massive news that AMC's Nicole Kidman commercial is getting a sequel: the first ad's iconic line, "Somehow, heartbreak feels good in a place like this," was written by Oscar nominee Billy Ray, who is for some reason not embarrassed about this. [VF]

If a deepfake can win America's Got Talent, what does that mean for the future of ventriloquists and teen dance troops? [WaPo]

Years after literally everyone said this should happen, Paramount+ and Showtime are finally in one app for $13 a month (or $8 with ads). [CNET]

Producer Joel Silver wants $49 million for his ugly pink box in Brentwood—and that's a 35 percent discount on his previous ask. [LA Times]

Headline of the week: "If Kazuo Ishiguro's Never Let Me Go Was About Leonardo DiCaprio's Girlfriends" [McSweeney's]
Last Sunday's report on the Don't Worry Darling publicity firestorm drew some interesting comments on Olivia Wilde, Florence Pugh, and sexism…

"So many of us have worked hard to provide opportunities for women to direct studio films and serve as role models for others. This one dates her male star and leaves her female lead feeling unprotected on set?" –a female producer

"You're right that this is mostly a P.R. problem, but it's a big P.R. problem, so Warners should have stepped in and shut [Wilde] down. Studios often will offload all responsibility onto the personal publicist, but this is an example of where the interests of Olivia and the studio may not be aligned. She clearly wants to generate screaming headlines for herself and to make her former star [Shia LaBeouf] and boyfriend [Jason Sudeikis] look bad, but that doesn't help the movie, and it's Warners' movie." –a publicist

"Thank you for calling out the sexism angle, though I'm afraid by devoting so much attention here, you're contributing to those who say women directors 'can't be entrusted' with studio movies." –another producer

"Olivia is not doing herself any favors, but if this were some inexperienced male director you wouldn't even be talking about it." –an executive
Why didn't Amazon win the week for the 25 million same-day viewers of The Rings of Power? My data-obsessed colleague Julia Alexander will have a deeper look at those numbers, and how they compare to HBO's House of the Dragon, in Tuesday's What I'm Hearing+ (sign up here).

Have a great (short!) week,
Matt

Got a question, comment, complaint, or attending this week's Code conference in L.A. and want to meet up? Email me at Matt@puck.news or call/text me at 310-804-3198.
FOUR STORIES WE'RE TALKING ABOUT
Netflix's Catch-22
Has the company's yearslong quest to build a library of original content resulted in a pyrrhic victory?
JULIA ALEXANDER

CNN Anxieties
Dylan and Peter discuss to whether Don Lemon is safe from the feared John Malone shoulder tap.
PETER HAMBY & DYLAN BYERS
You received this message because you signed up to receive emails from Puck

Was this email forwarded to you?

Sign up for Puck here

Interested in exploring our newsletter offerings?

Manage your preferences

Puck is published by Heat Media LLC

227 W 17th St

New York, NY 10011

For support, just reply to this e-mail

For brand partnerships, email ads@puck.news