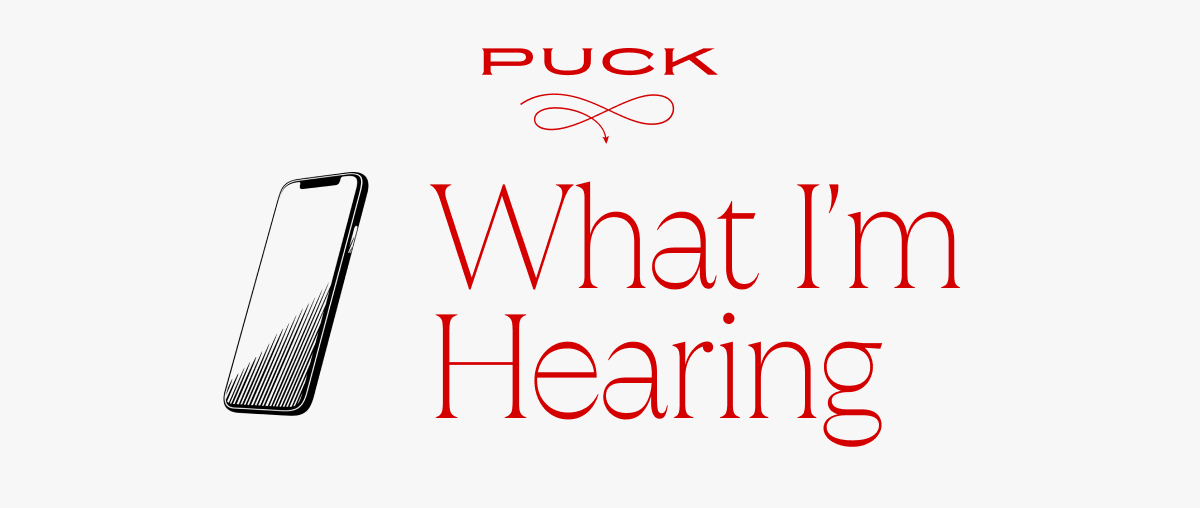 Welcome back to What I'm Hearing, I'm home in L.A. after a few days of Las Vegas casino air as recycled as the movies being promoted at CinemaCon.
Before diving in, a plug for my colleagues Dylan Byers (media) and Lauren Sherman (fashion), who hosted successful Puck private dinners last night in D.C. and New York. I'll do another one in L.A. soon, they're becoming a staple of our new brand. And a reminder: If you've been forwarded this email, become a Puck member here and get access to all our authors.
Today, with so much happening, here's a highly-topical, shorter-and-sweeter, all-Thursday Thoughts edition of WIH, free of WGA strike speculation…
The Shell (waiting) game: At this point, most of us have heard the rumors regarding fired NBC Universal C.E.O. Jeff Shell's supposed womanizing while at NBCU and, before that, at Fox. I love good gossip as much as anyone, but these allegations are really only relevant if the women, like CNBC's Hadley Gamble, worked for the company—which seems to be the case in at least one years-ago alleged scenario going around town—or if Comcast knew about prior incidents at Fox and nevertheless hired and promoted Shell anyway. We'll see.
Disney vs. DeSantis, grab your popcorn: No, I won't be charging Bob Iger a consultant fee after he took my advice in last Thursday's WIH and sued Florida governor Ron DeSantis for retaliation, a pretty clear First Amendment violation. It's worth reading lead litigator Daniel Petrocelli's whole complaint (click here) for a good example of how to craft a lawsuit for public consumption. The suit goes well beyond the legal arguments to portray Disney as a...
Can't see the full story? You're receiving the free version of What I'm Hearing at . For full access to Puck, and to each of my colleagues, you can subscribe here.
FOUR STORIES WE'RE TALKING ABOUT
WBDNBCU?
With Shell out, a WBD-NBCU mega merger is more tantalizing than ever.
WILLIAM D. COHAN

The RealReal Wars
P.E. vultures are circling the troubled consignment juggernaut.
LAUREN SHERMAN

The Milley Doctrine
Chronicling of an intercontinental voyage with General Mark Milley.
JULIA IOFFE

Need help? Review our FAQs
page or contact
us for assistance. For brand partnerships, email ads@puck.news.
Puck is published by Heat Media LLC. 227 W 17th St New York, NY 10011.