Welcome back to a terrifying Halloween edition of What I'm Hearing, and apologies for skipping Thursday's issue: I was down with a (non-Covid!) cold. As always, if this email was forwarded to you, become a proud member of the WIH community by clicking here.
Discussed in this issue: James Gunn, Will Smith, Cate Blanchett, Chris Licht, Bob Beitcher, James Cameron, David Zaslav, Steven Spielberg, Kathy Kennedy and some Star Wars conspiracy theories…
But first…
Who Won the (Spooky) Week: Sean Bailey
The Disney film chief's Hocus Pocus 2 scored the largest movie debut of all time on streaming, with 2.7 billion minutes viewed in its first week, per Nielsen. Should HP2 have gone to theaters first? Probably, but still a big win. Related: I saw Marvel's Black Panther: Wakanda Forever this week and, no surprise, it's going to be massive on Nov. 11. Plus, Fox's Avatar: The Way of Water is coming Dec. 16, so Disney could finish 2022 with three major movie flexes this quarter.

Runner Up: Damien Leone—The writer-director of the $250,000-budgeted Terrifier 2, a film the Times says is "so gory, it makes other hit horror movies… look like Ticket to Paradise," hit $7.6 million before Halloween.

Second runner up: Every media company whose advertising business will likely benefit from the sliming of Twitter under new owner Elon Musk.

Now let's talk about a different kind of media machination…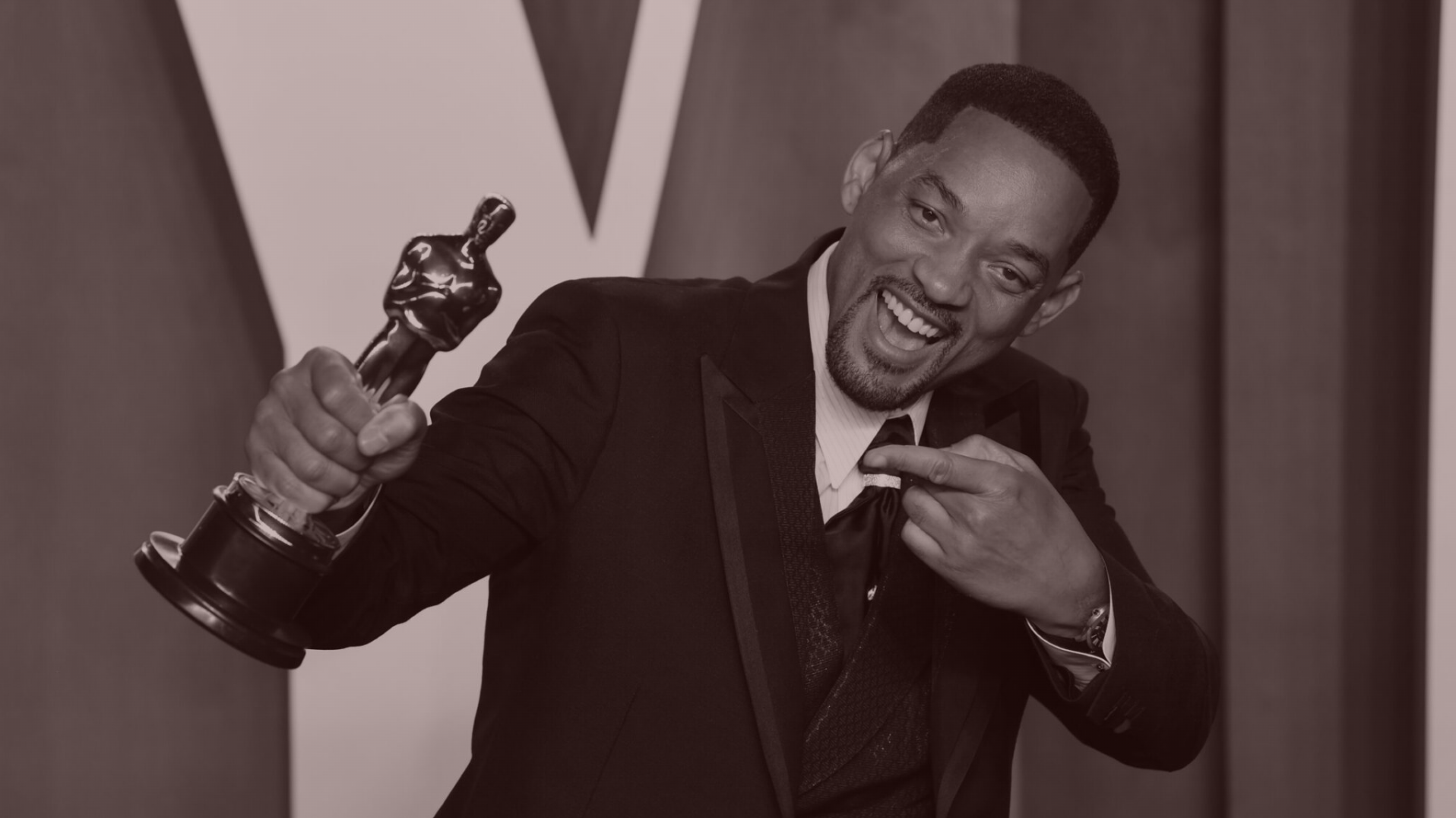 The Will Smith Image Rehab Tour, Sponsored By Apple
If anyone wonders whether there are consequences in Hollywood for bad behavior, just juxtapose Smith's seamless redemption tour for Emancipation with what people were saying about him after the Slap at the Oscars.
Mark your calendar! I'm told that Apple has set Nov. 30 for the big Westwood premiere of Will Smith's Emancipation. That's the night when the star, who hit an Oscars presenter in March and subsequently received a 10 year ban from the awards show, is expected to instead hit the red carpet—his carefully choreographed image rehab officially complete. Eight months from industry pariah to pretty much normal. Not bad!

A London premiere is scheduled to follow for Smith, then Emancipation will go to theaters for a week, then AppleTV+, and an awards campaign depending on reviews, which I'm betting will be strong. Given the current trajectory and everyone's short memory, would you be surprised if the guy who thoroughly embarrassed Academy members—the Slap, refusing to leave, that unrepentant speech, and all the aftershow partying—ends up scoring a nomination in February from those same members? Who says Hollywood is full of hypocrites?

If you've missed the recent media moments cooked up by Apple and Smith's publicist, Meredith O'Sullivan Wasson, they're heavy on key third-party advocacy—Hollywood P.R.-speak for unofficial endorsements from respected people or organizations—and zero interactions with actual media. After Smith's awkward "hostage video" in July—Chris Rock's words, not mine—Smith and director Antoine Fuqua debuted Emancipation on Oct. 1 in D.C. with the N.A.A.C.P. and the Congressional Black Caucus. Given the subject matter—Smith plays a slave who escapes and ends up fighting for the Union in the Civil War, and his performance is said to be intense and transformative—this venue made sense.

But, normally, such an event would also serve as a powerful media moment—a chance for key journalists to see the film and hear the filmmakers explain the themes, setting the tone for a wider press and awards campaign. (Think 12 Years a Slave, which Searchlight premiered at the media-packed Telluride and Toronto film festivals.) Here, journalists were not invited, nor even notified in advance that the event was happening, allowing the messaging to seep out via the N.A.A.C.P.'s Instagram and other friendly influencers. The mainstream media then just covered that. Mission accomplished.

Next, Team Smith enlisted celebrity friends like Tyler Perry, Kenya Barris, and Dave Chappelle for a screening of Emancipation—again, a normal thing that happens all the time, especially for prestige movies. But Smith was able to leverage this gathering into an influential group photo on his personal Instagram. The implied message: These people are cool with me now, so you should be too. Then, on Wednesday, the L.A. Lakers tweeted a "huge thank you" to Smith, who apparently spoke to owner Jeanie Buss and the struggling team about strength and gratitude, "all themes in his forthcoming masterpiece film, Emancipation," the Lakers added. Another big third-party endorsement, seeded on social media, with nary a mention of the Slap.

You get the strategy, and look for it to continue in November, with tastemaker events with H.B.C.U.s and other famous friends. (Press screenings are also starting soon.) Again, part of this is normal. Apple's CODA campaign included tons of screenings for deaf organizations, for instance. It's movie publicity 101, and first and foremost, Apple wants Emancipation to reach the audience that might be most interested in seeing it—and that will hopefully advocate for others to see it. What's unique here is that the campaign is also allowing Smith to cloak himself in his important movie to shift the conversation away from his recent behavior and the fact that many people in Hollywood were appalled by what he did and are refusing to work with him. And he's doing so by going around the traditional media on his own personal redemption tour, all of it sponsored by Apple.

We'll see what happens, but so far there's been no 60 Minutes mea culpa sit-down, no Oprah interrogation, no big interview at all, as many predicted. At this point, there's probably not even a need for that. In the modern media cycle, if you're a big enough star, it's possible to manage the message through your own channels and carefully-selected advocates. And people forget. (Apple and Smith's team declined to comment. Disclosure: My wife, a talent manager, has a client in Emancipation.)

I know many have moved on from the Slap, or they want everyone else associated with this apparently very good movie to see it come out soon rather than after more time has passed, or they're ready to enjoy it without thinking about Smith's personal faults. All valid points. But if anyone wonders if there are consequences in Hollywood for bad behavior—and for bad behavior in the industry's most public forum, the Oscars—take a look at that red carpet on Nov. 30, and if Will Smith is indeed out there smiling for the cameras, think back to what people were saying about him on March 27. That's your answer.
Quote of the (Creepy) Week
"Oh, I don't know, maybe that it looks good? Come on!" –James Cameron, responding to the Times asking why he makes his Avatar actors film underwater when Aquaman and the new Little Mermaid did not. Note: I'm really looking forward to two solid months of lovably asshole-ish Cameron quotes.

Runner Up: "I am sure Kanye can still get a fashion deal with My Pillow." –Dan Rather, tweeting about the endorsement prospects of the artist now known as Ye.

Second runner up: "Without some dramatic infusion of funds, we will not be able to take care of our own much longer." –Bob Beitcher, the Motion Picture and Television Fund C.E.O., in an alarmist letter to industry leaders warning about "urgent" budget shortfalls.
A little more on this M.P.T.F. situation…
Beitcher freaked a bunch of people out this week with his suggestion that the 101-year old motion picture home could cease to exist without raising $10 million to $12 million fast. Why are we just hearing about this now? one donor emailed me. It's a good point. Just last month, Beitcher was crowing not about the group's impending doom but about the record $3 million raised at the Evening Before the Emmys party. Everyone knew the M.P.T.F. struggled during Covid, but it also got millions in P.P.P. loans from the government. In his 12 years running the non-profit, Beitcher has never sounded the alarm like this (and his critics have never loved his personal salary that has neared $800,000 a year).
But I talked to Bob this week and looked at the M.P.T.F.'s financial disclosures (they're online here and here), and it's pretty clear how the pandemic has decimated the organization. Way higher costs, way lower donations (thanks to canceled or limited events), and industry giving hasn't really bounced back yet. The M.P.T.F. has never enjoyed the deep endowment of many charities, and it has hit rough spots before, like the 2009 closure of the pricey acute care facility. It's sad.
One of Jeffrey Katzenberg's biggest successes as the group's chief fundraiser (he parted ways last year) was convincing his peers to add big M.P.T.F. donations to their estate planning. Problem is, thanks to modern medicine and fitness regimes, 80-ish moguls like Geffen and Diller look like they're in their late 50s. Hopefully Beitcher can figure out how to fund the M.P.T.F. until they die and their donations finally kick in.
Now on to my take on the biggest news of the week…
Five Awkward Questions for the New DC Studios
Did Warner Bros. Discovery C.E.O. David Zaslav pull off an executive coup? Or were our expectations for DC just so low, especially after his first pick, producer Dan Lin, didn't work out? I can't decide, but the industry and the fans seem to like James Gunn and Peter Safran running DC Studios. In Gunn, Zaz gets a filmmaker (Guardians of the Galaxy) with comic book bona fides, and he takes Gunn off the table for Marvel gigs (though WBD consultant Alan Horn must have chuckled at hiring the guy he once fired from Guardians 2 for bad tweets). And Safran, a producer who presents as the buttoned-down adult in the room, will likely be held accountable for the business, anyway. Still… the move raises a few questions:

1. What will the DC brand, and sensibility, become?

Zaslav is pretty transparent about his intentions here. "When you compare DC to Marvel, Marvel is 7, 8, 9 times bigger, but we have Batman, Superman, Wonder Woman," he said on an investor podcast this week.

But if Zaz really wants Marvel—meaning a superhero universe connected across all media and tied together with one coherent sensibility—that is not the current iteration of DC. Warners has always maintained that the strength of the DC brand is that it can house hard-R psychological thrillers (Joker) and kid-friendly escapism (Shazam!) under one roof. So figuring out what New DC stands for—and if it still stands for many different styles—will be Job One on the film side.

It's even harder because DC is not starting from scratch here; it's got the burden of all that's come before—including the fact that DC's biggest heroes were created around World War II and are inherently less accessible than Marvel's more fun and emotional characters. Remember, DC only recently escaped Zack Snyder's dreary sensibility, which turned the movies into a morose parade of humorless quasi-gods. And it's especially tricky because Gunn's own movies are wacky and often violent (I went to the premiere of The Suicide Squad and had to avert my eyes toward my complimentary popcorn). I'm sure Zaz would prefer DC films to be mainstream, fun but not too edgy, and rated PG-13.

On the TV side, the big challenge is coherence. Before, there was nothing that DC head Walter Hamada could do to prevent WBTV's Channing Dungey and HBO's Casey Bloys from making, say, a Watchmen show, even if it took the characters in a direction that didn't fit what Hamada had planned for film. Now it's all under one brand manager in Gunn and Safran, who have to figure out how to best share the I.P. to create maximum value across different and at times competing platforms. Not easy.

2. Will filmmakers take notes from a peer?

Already, I'm told Todd Phillips has made it clear that his Joker sequel, which starts shooting Nov. 28, will stay under Warners Proper, not DC. And I can't imagine Batman franchise writer-director Matt Reeves would be thrilled about a story or character veto from his former peer. But this seems like a small issue—and Gunn could actually serve as a mentor figure for less experienced filmmakers. Plus, I'm told that DC is keeping film executives Galen Vaisman and Chantal Nong for continuity.

3. How will Warners execs play in the DC sandbox?

The WBD announcement was careful to note in the first paragraph that Gunn and Safran will "work closely" with Warners film leaders Mike De Luca and Pam Abdy, despite reporting to Zaslav, and a gushing quote from the duo was helpfully provided to the media. The other WBD division heads that the DC guys will "work collaboratively with" were relegated to the second graph, and with no quotes. That's partly because DC shares resources and a P&L with Warners' film group, and Hamada previously reported to De Luca.

But it's also no secret that De Luca and Abdy enjoyed their DC oversight, and De Luca has been positioning himself lately as a comic book expert, so it'll be interesting when the first difference of opinion on a DC film project comes up. (That's true, to a certain extent, with all the division heads, but the non-film projects don't cost $200 million to make and market.) Still, bringing in Safran—who's already in the WB family on the Aquaman, Blue Beetle, and Shazam! movies—was apparently De Luca's idea, so he's incentivized to make this work.

4. What will the "big investment" in DC look like?

On that podcast, Zaslav explained his view that WBD spends too much on content that doesn't matter to audiences and not enough on content that does matter. "There's areas like DC," he said, "where we think there could be big investment and big return, and it's not happening." That begs the question: What is DC not doing that Zaz thinks it should be doing? (Besides making more money.) DC already produces about two big-budget movies a year, plus animation, plus all the HBO Max and CW shows based on DC properties, plus games. So how much more DC does Zaz want?

5. Will any of this actually matter?

At least on the movie side, projects from new executives take two to three years to hit theaters. Gunn and Safran could have a new boss by then, or at least a new company name on their paychecks. Zaslav told Warners staffers at a recent town hall that the company is "absolutely not for sale." But few on Wall Street believe that sentiment, and the financial reality is that if the company's stock price doesn't improve soon—it closed Friday under $13, about half the price when the company debuted in April—Zaz won't have much of a choice but to sell or merge the whole thing. Under the rules of the Reverse Morris Trust, WBD can't sell itself for two years, but the remaining time since that hour glass turned over is in line with how long it would take to consummate a combination of a company its size. Zaz has been complaining loudly that WBD is undervalued, and given the power of the brands and the content, he's likely correct. But as he also said on the podcast this week, "the market is always right. Eventually."

Bonus: I debated the DC shakeup with Kim Masters on The Business (here) and with Borys Kit on my pod, The Town (here).
Among all the bad news in media earnings this week, the most distressing detail: Comcast has lost more than 10 percent of its cable subscribers in a year. Yikes. [WSJ]

Disney C.E.O. Bob Chapek says he wants to tailor Disney+ content to subscribers like me based on what I do at Disneyland. So I guess I'll be watching a lot of churro-related shows. [WSJ]

My Puck partner Dylan Byers dives into Chris Licht's coming CNN layoffs and his pivot away from originals. My take: A streamer that's serious about documentaries should hire Amy Entelis, whose taste running CNN's docs and unscripted series has been great, and whose opportunity has now been seriously clipped. [Puck]

Awards contenders Tár, Till, Triangle of Sadness and Call Jane all struggled when adding a bunch of theaters this weekend. New Normal for adult dramas or don't expand wide on Halloween weekend? [ERC]

Lotta talk this week about Brooks Barnes's look at the #MeToo pendulum swinging back toward the pre-2017 days. [NY Times]

Brillstein has hired Moelis and Entertainment 360 is working with Raine as the few remaining independent talent management companies try to get themselves paid. [Bloomberg]

Universal Music Group C.E.O. Lucian Grainge remains unwilling to pull Ye's hits from streaming, despite growing pressure. [FT]

Paramount's streaming head Tom Ryan was on my podcast this week and said don't expect original shows on PlutoTV anytime soon. [The Town]

Next, producer David Friendly, a WIH contributor, is back to say the thing we all want to say during awards season but usually don't…
A producer's plea to auteurs (and streamers and "value"-craving audiences) to reconsider run times as both the year-end Oscar contenders and blockbusters try everyone's patience, even as attention spans are shortening.
By David T. Friendly
Dear Auteurs (you know who you are),
I'm writing this because I care deeply about you—we all do—and I only want the very best for your future. Growing up in New York, I spent hours watching your movies, and it was the stories you told so elegantly that inspired me to become a producer. But lately, you have gone down a path that I fear could be dangerous to both you and the audience we both cherish. In short, your movies are too damned long.
Case in point: On a recent Thursday, my wife and I were headed out the door for a screening of Todd Field's new film, Tár, at the Academy Museum. The movie has great word of mouth, 96 percent on Rotten Tomatoes, and Cate Blanchett. Before leaving, almost as an afterthought, we checked the running time: 2:40. Nope. Not on a weeknight.
Listen, this time creep is not something I'm imagining. In 2010, the ten movies nominated for the best picture Oscar ran on average 1:52. By 2019, movies like Ford v. Ferrari (2:32) and Inception (2:28) had pushed that average to 2:20. And it's not just the prestige movies. In 2021, the top ten performers at the box office averaged a butt-numbing 2:11.
This year's crop of Oscar hopefuls seems intent on trying the patience of voters like me. Besides Tár, there's Baz Luhrmann's Elvis (2:39), Steven Spielberg's The Fablemans (2:31), Cannes winner Triangle of Sadness (2:20), the indie hit Everything Everywhere All At Once (2:19), and Damien Chazelle's Babylon (reportedly 3:08!!). Add in the likely blockbusters Black Panther: Wakanda Forever (2:41) and Avatar: The Way of Water (over 3 hours), and I'll be spending a lot of time with the year-end movies. After Bardo premiered at Telluride at 2:54, Alejandro G. Iñárritu wisely agreed to trim 22 minutes. I have not seen the film yet, but already I applaud his effort.
Why is this happening? Filmmakers, you know that audience attention spans are shortening, and TikTok is dominating the culture by feeding a constant stream of fast-food shorts. So the idea of making movies that run more than two hours feels like an unforced error. I know, I know: You don't want anyone telling you how to make your art, especially a producer like me. And you've earned that right. But the three-hour movie is not doing you any favors. It's likely turning customers away, and I feel compelled to take a stand if no one else will…
The (Frightening) Feedback
My look last Sunday at the fear around the Star Wars film franchise brought out friends and foes of Lucasfilm and its leader, Kathleen Kennedy. Some examples:
"I worked on Solo and let me tell you, Kathy took a great movie and turned it into a bad movie." –A crew member
"Finally, Star Wars has a show [Andor] that is worthy of the brand. Why would you choose now to shit on Kathy? The movies needed a break, Bob [Iger] is the one that ran the movies into the ground, she was given ridiculous deadlines." –A Lucasfilm employee
"I've had this theory for a while that Kennedy doesn't actually know how to work with creatives to make movies. She spent her career working with the greatest director in history. So she never had to develop her own sense of what a good creative idea sounds like in the concept stage. She trusted Steven [Spielberg] and it always worked out. Now she has the big chair and doesn't trust herself." –A producer
"Do you know what [the Disney Studios chairman] Alan Bergman view is here? Wouldn't he be highly incentivized to make sure Lucasfilm is delivering Star Wars movies? This is a baffling situation to say the least. Does this Star Wars situation also show that [C.E.O. Bob] Chapek is more hands-off (or careful) when it comes to the creative side of the business? I would think most new entertainment C.E.O.s would've made a change at Lucasfilm already." –A non-industry reader
"Dave Filoni is a Star Wars god and is just sitting there for Chapek to elevate into Lucasfilm. What's taking so long?" –A screenwriter
It's no surprise that Wakanda Forever and Avatar: The Way of Water are huge on the new Quorum film tracking chart, but nothing else is really popping, meaning the studios have work to do before the holidays…
Have a great week,
Matt

Got a question, comment, complaint, or a pic of your bearded Bob Chapek costume? Email me at Matt@puck.news or call/text me at 310-804-3198.
FOUR STORIES WE'RE TALKING ABOUT
Licht's Gut Punch
CNN staffers are in a panic over forthcoming layoffs and waiting for the next shoe to drop.
DYLAN BYERS

Elon's Clues
Notes on debt calculations for Elon's bankers, Apple's earnings, and the CS First Boston prayer.
WILLIAM D. COHAN

The Moscow-Tehran Axis
Journalist Jason Rezian on the hijab revolution, Bidenworld, and the Tehran-Kremlin alliance.
JULIA IOFFE

Need help? Review our FAQs page or contact us for assistance. For brand partnerships, email ads@puck.news.
Puck is published by Heat Media LLC. 227 W 17th St New York, NY 10011.