Greetings from Caesars Palace in Las Vegas, where I've been sucking up studio CinemaCon presentations and second-hand cigarette smoke all week…
Before we begin, a quick reminder that you can read ALL the Puck authors if you are a member. My partner William Cohan's analyses of Elon Musk and Twitter have been must-reads this week, and Tara Palmeri is launching her politics newsletter shortly. And if you're not a member, sign up here.
Thursday Thoughts (CinemaCon Edition)…
Seen, heard, and pondered this week at Caesars during the annual convention for movie theater owners…
Let's lay off Lasso: I was once an entertainment litigator, and trust me, serving celebrities with legal documents is incredibly difficult. Famous people are rarely alone in public, and you typically can't just knock on their front door, so process servers know they need to get creative. Yes, it was a bit unusual to see reps for Jason Sudeikis serving Olivia Wilde child custody papers on stage at CinemaCon during her presentation of Don't Worry Darling. No, it's not a great look for Sudeikis, and it was bizarre to witness; from my vantage point, Wilde appeared to think it was an unsolicited script before peeking in the manilla envelope, then quickly moving on like a pro. But this is how process servers work.
I'm told Sudeikis' lead family lawyer is Bill Breslow, who has represented Robert DeNiro, Mia Farrow against Woody Allen, and Ivana against Donald Trump. He's a veteran, and I'm betting there was an urgent need to serve her. On stage, in front of 4,000 people, introducing the movie that co-stars her new boyfriend Harry Styles, certainly wasn't ideal, but it was probably just the most likely place to get her.
Tom's PR bonanza: Turns out Top Gun: Maverick is in fact excellent, and Paramount was right to withhold it from the streaming vultures. Tom Cruise didn't appear in person this morning, but he's about to be everywhere, starting with a three-day premiere and junket extravaganza with multiple flyovers next week in San Diego (never mind that the actual Top Gun flight school relocated to Nevada in the '90s).
I'm told Paramount has budgeted three hours for Cruise to do the red carpet on an aircraft carrier Wednesday, and, as usual, his publicist Amanda Lundberg has meticulously ferreted out media that might ask about Shelly Miscavige or Danny Masterson. It's almost exclusively TV, and outlets were informed they must use professional-grade cameras, no iPhone footage allowed. That's unusual, but Tom is Tom, and Tom's gotta look great.
Netflix and chill in a theater: Spencer Klein seems to have joined Wayne Newton and Carrot Top as the most improbably popular people in Las Vegas. The Netflix film distribution executive is the lead conduit to the theater owners, who are drooling all over Cinemacon at the prospect of Netflix releasing more movies in theaters with a robust window of exclusivity. (They also are lobbying Amazon to release the first couple episodes of the Lord of the Rings series in theaters, but I doubt that will happen.)
I'm told Klein is making it clear in meetings that he and Netflix film head Scott Stuber are pushing Netflix co-C.E.O.s Reed Hastings and Ted Sarandos hard to lose their religion on streaming debuts or day-and-date, and this time he really means it. After the Great Netflix Correction, Wall Street is looking for added revenue and actual franchise-building, and Hastings has caved on ads, so the thinking is that Netflix will soon carve out meaningful theatrical exclusivity for several big-budget titles. Or so the theaters hope, at least. After all, they've had this football yanked from them before.
Warner Bros. might have pulled off repositioning Baz Luhrmann's Elvis as a visual and modern musical spectacle, rather than the dated biopic its first trailer suggested. The new footage looked great.
Does a single person in Las Vegas or the world believe that Halloween Ends will be Jamie Lee Curtis's "final" turn as Laurie Strode? Or that Dominion is the "conclusion" of the Jurassic movies? I know everyone wants to Endgame-ize their blockbusters, but it's become laughable.
MGM drops the Mike: Neither the Amazon nor the MGM contingents here were exactly gobsmacked by the news that MGM film chiefs Mike De Luca and Pam Abdy stepped down Wednesday, rather than make the move to the new company. De Luca has been seeding his exit for awhile, whispering in the ear of Warner Bros. Discovery C.E.O. David Zaslav about the Warner Bros. film job, and making snarky comments about Amazon's corporate practices and peculiar internal slanguage.
Amazon's Mike Hopkins, who has begun a forensic look at the MGM financials after the $8.5 billion acquisition closed, isn't exactly thrilled by the film group's spending and performance. As I've written several times, there is a cultural difference between the freewheeling studios that De Luca and Abdy have thrived in, and a buttoned-down tech platform. Also, De Luca didn't want to report to Amazon Studios chief Jennifer Salke. Now, in addition to pushing for the Warners job (or maybe DC?), De Luca and Abdy (they're a package deal, I'm told) are looking for a rich production deal at a studio—maybe at Universal, where De Luca was based before MGM—or they could line up outside money. Hopkins, I'm told, wants MGM to release at least one theatrical movie a month. Now he just needs to find someone to do that, and figure out who that person will report to.
Sony is really testing the allure of a star producer and her production company by putting, front and center, "from Reese Witherspoon and Hello Sunshine" on the no-stars adaptation of Where the Crawdads Sing.
Sneakers with a suit doesn't work for everyone, people.
The cost of doing show business: Ever wonder what studios pay to put together a splashy presentation at an event like Comic Con, D23, or here at CinemaCon? I did, so I asked someone I trust. He said the actual presentations are largely paid for by tech sponsors, so it's about how much talent you bring, because that means private planes, entourages, and suites if they stay the night. If you have to stop production on a participant's movie, that's a huge added cost, and if talent comes from Europe, it's even more. You could spend just $500,000 and pull it off if your talent is limited and your footage is finished. But usually it's not finished, and if you have to rush it just for this, you might spend up to $3 million to $5 million.
Don Simpson has a producing credit on Top Gun: Maverick. He died in 1996.
Love him as an actor, but Timothee Chalamet is horribly miscast in Wonka. Time to hit the panic button.
And finally: It's fitting this whole thing takes place at Caesars Palace; there's a fall of Rome feel to the parties and proceedings. Sure, the timing of the Great Netflix Correction has given an added boost to spirits. But amid all the cheerleading and propaganda videos about the almighty "big screen," not a single on-stage speaker has mentioned the fact that movie theaters are in a really perilous place. Even as audiences return, box office is expected to be down about 30 percent this year. Many small theater owners got government assistance during Covid, and that is expiring soon. Come fall, there could be a mass extinction event. Seventy or 80 percent of normal would be OK for movie studios, but calamitous for theater chains. Just once I'd love to hear someone say the U.S. is almost certainly overscreened, and what is the long term solution?
OK, now on to another unfolding drama…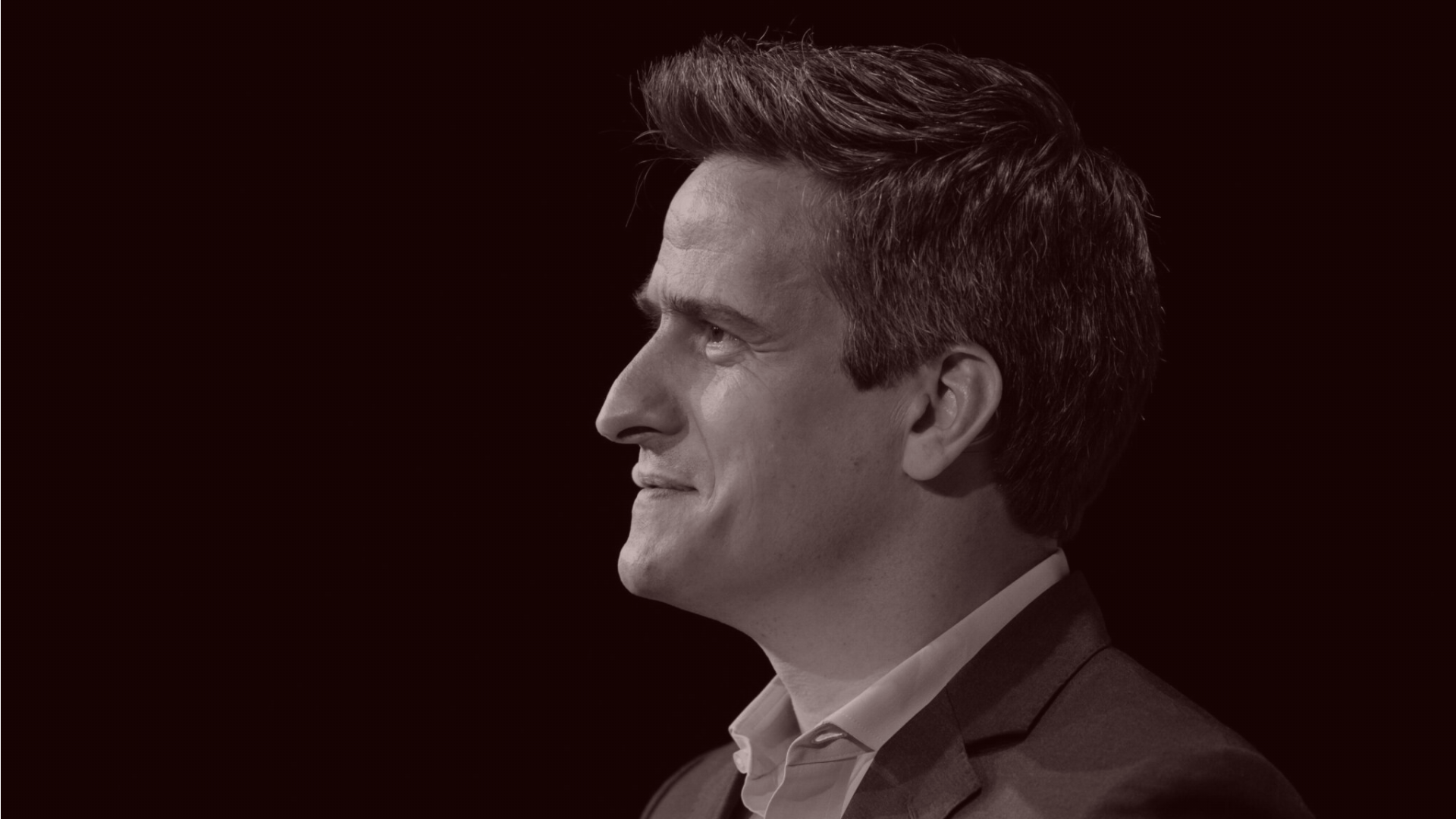 Zaslav's Hatchet Man Makes His Move
Redundancies alone won't solve Zaz's $3 billion fiscal problem. Thus arises a more complicated and anxiety-inducing question: Who gets the chop? C.F.O. Gunnar Wiedenfels is starting to drop hints.
Is Gunnar coming for you? How about you? I couldn't help but envision bullseyes as I watched Warner Bros. go to extravagant lengths to show off its extravagant superhero films to the movie theater people on Tuesday here in Las Vegas. It was the same day, coincidentally, that Warner Bros. Discovery, the new parent company, revealed its quarterly earnings in New York, during which its leader, David Zaslav, preached extreme fiscal discipline and promised not to win the content spending war. Conflicting messages, to be sure.

Or are they? This is where we are: Since the Great Netflix Correction of last week, everyone in Hollywood wants the creative community to feel secure that the freewheeling film and TV spending will continue, while at the same time telling Wall Street that it won't. Can we have both? We're gonna see very soon.

For instance, since Zaslav took over, the debate at Warner Bros. Discovery has been over where his promised $3 billion in cuts will materialize. He says it won't impact content spend, and that there's low-hanging fruit, like the thousands of backend jobs duplicated when Volkswagen buys Porsche—or, in this case, when a leading unscripted television conglomerate merges with a premium film and scripted TV company. And, of course, there's CNN+, an easy $400 million fix. But what else? Redundancies alone won't solve the fiscal problem. Thus, a more complicated and anxiety-inducing question: where will Zaslav choose to spend and where will he not?

To that end, Gunnar Wiedenfels, Zaz's C.F.O. and lead hatchet man, is starting to drop hints. On Tuesday, the 44-year old German (it's pronounced "Goo-nahr") took aim at previous management under AT&T, and WarnerMedia C.E.O. Jason Kilar, saying they made "chunky investments" that are "lacking a solid financial foundation." Shots fired, and Kilar was pretty upset, as he has been at the suggestion that Discovery was somehow unaware about how expensive CNN+ would be.

Gunnar didn't clarify what he meant, and he declined to talk to me for this column, but I heard from several sources at the company this week, and the picture is becoming clearer. Publicists will deny it, but yes, scripted originals are all but D.O.A. at TBS, TNT and the other Turner networks. With new development "paused," it's only a matter of time before the rest of the slate is wiped clean there.

Further, I'm told the film group's move to make a slate of straight-to-HBO Max movies is now on the chopping block. That was a big, expensive mission for Kilar, who believed that to become a true Netflix competitor, Warners had to prioritize the streamer for all content, including most movies. Until two weeks ago, everyone sort of assumed that if Netflix was doing it, whatever it is must be good. Now? Not so much. "The apparent singular goal of the prior WarnerMedia leadership to drive HBO Max subscribers at all costs is being challenged by new ownership," the analyst Michael Nathanson told me yesterday. Instead, the Zaslav team is "focused on driving free cash flow and return on investment."

And for movies, the R.O.I. is probably greater with making fewer movies and targeting them for theatrical distribution. That's especially true if, as I wrote last week, the new 45 day theatrical window doesn't hurt consumption or subscribers on Max, and might even help boost them. For instance, I'm told early viewership of The Batman has been about the same as Dune, which was a day-and-date title. Batman is obviously bigger I.P., but that film also grossed $760 million (and counting) in theaters, while Dune topped out at $400 million without that exclusive theatrical window. Zaslav sees free cash flow being gobbled up by a sandworm (not to mention one very pissed-off filmmaker in Denis Villeneuve), and Zaz is said to be highly focused on finding the right production and windowing strategy for films. So major cuts there don't seem imminent.

What does seem vulnerable is all the kids content that Kilar pushed onto HBO Max in recent years. DC and other brands were leveraged into a pretty robust offering, at least according to my 6-year-old's iPad history. But again, what's the R.O.I. on that stuff? Is HBO Max actually competing with Disney or Netflix there? And at what cost? That's being debated internally right now, and I think we will see either less kids content or a more coherent approach to it.
To that end, Gunnar has been in L.A. over the past couple weeks, meeting with various executives and asking, like the Bobs in Office Space, what it is they dooooo, exactly. A source in one such meeting described Wiedenfels as "relentless" in probing the reasons behind various expenses and decision-making. This source felt like he was interviewing for his own job and trying to justify himself. Another source said there's a black-or-white nature to Gunnar's questions. Basically, do we need it? "For him, it's not about the bottom line, it's about winning," David Leavy, the company's chief corporate operating officer, told me today. "It's about what helps us on screen and what doesn't."

That blunt approach has helped Gunnar thrive within Discovery since he joined from ProSieben in 2017. He executed the Scripps acquisition and is said to have found $1 billion in savings when the company only expected $350 million. Zaslav fell in love, but unscripted producers absolutely hate him. For a year now, I've heard story after story of reality series whose productions were squeezed by Discovery. Big stars, too. Or at least big for Discovery. The M.O. is that Zaslav plays the magnanimous supporter, then either Gunnar, or networks chief Kathleen Finch, or dealmaker Bruce Campbell, drops the hammer. A few episodes cut here, a location trip eliminated there. Gunnar was behind that incredibly unpopular shift a few years ago to make producers take out loans to fund their own shows. That kind of crap. And in more than a few talent standoffs, Discover simply says "best offer" and waits for a pass or a begrudging acceptance.

This part isn't news, of course. Zaslav knew that was his reputation, hence the months-long "listening tour" to generate goodwill and show he knows that Hollywood is different from the smelly trenches of reality TV. And nobody cared about Gunnar when he was being cheap with no-name "stars." Now, he's getting his own reputation.

That's because the Discovery people, while saying all the right things publicly, are also experiencing sticker shock at the costs and spending involved in the Warner Bros. and HBO businesses. Remember, they've never dealt with major talent or unions before. It would be easy to see why a $1 million premiere party or a $10 million awards campaign might not deliver a tangible R.O.I., until you try to keep Jesse Armstrong or The Rock or Kate Winslet from doing their next project at Apple.

So while Zaz and Gunnar both insist they aren't looking to reduce the content spend, which stands at $23 billion this year, more than the $20 billion Netflix says it will spend (though Netflix doesn't have sports or news), they absolutely do need to cut somewhere. That's a fiscal reality. As my Puck colleague William Cohan has analyzed, Zaz has watched his stock price crater since this deal was announced. He's got $55 billion of debt, and has promised to deliver the $14 billion of EBITDA. Scary stuff.

But with Netflix laying people off and questioning its entire business model (more on that Sunday), it would seem like Warner Bros. Discovery is in a better place today than it was even a couple weeks ago. Indeed, more than a few people I've met with this week at Cinemacon have marveled at the recent reversal of thinking: that movie theaters, linear TV networks and their recurring revenue streams, are suddenly cool, along with a growing streaming service. In many ways, Zaslav and Gunnar are on a roll. Until the cuts and layoffs begin.

Correction: I spelled H.F.P.A. member Silvia Bizio's name wrong on Sunday. Apologies.

See you Sunday,
Matt

Got a question, comment, complaint, or a great Tom Cruise story? Email me at Matt@puck.news or call/text me at 310-804-3198.
FOUR STORIES WE'RE TALKING ABOUT
Does "Premium" Matter?
The fall of CNN+ demonstrates, among other things, that the definition of "quality" media has changed irrevocably.
BRIAN MORRISSEY

Biden's Ukraine Pivot
Julia Ioffe joins Peter to discuss the latest turns in Russia's war with Ukraine, and how the White House has decidedly changed its stance.
PETER HAMBY

Tesla Stockpocalypse
Securing Twitter with Tesla stock leaves Musk vulnerable to a punishing margin call. Will Tesla shareholders pay for his Twitter folly?
WILLIAM D. COHAN

Trump's Twitter Handcufs
Why won't Trump return to Twitter? Because he's got a ton of money on the line with Truth Social's pending merger.
TINA NGUYEN
You received this message because you signed up to receive emails from Puck

Was this email forwarded to you?

Sign up for Puck here

Interested in exploring our newsletter offerings?

Manage your preferences

Puck is published by Heat Media LLC

64 Bank Street

New York, NY 10014

For support, just reply to this e-mail

For brand partnerships, email ads@puck.news