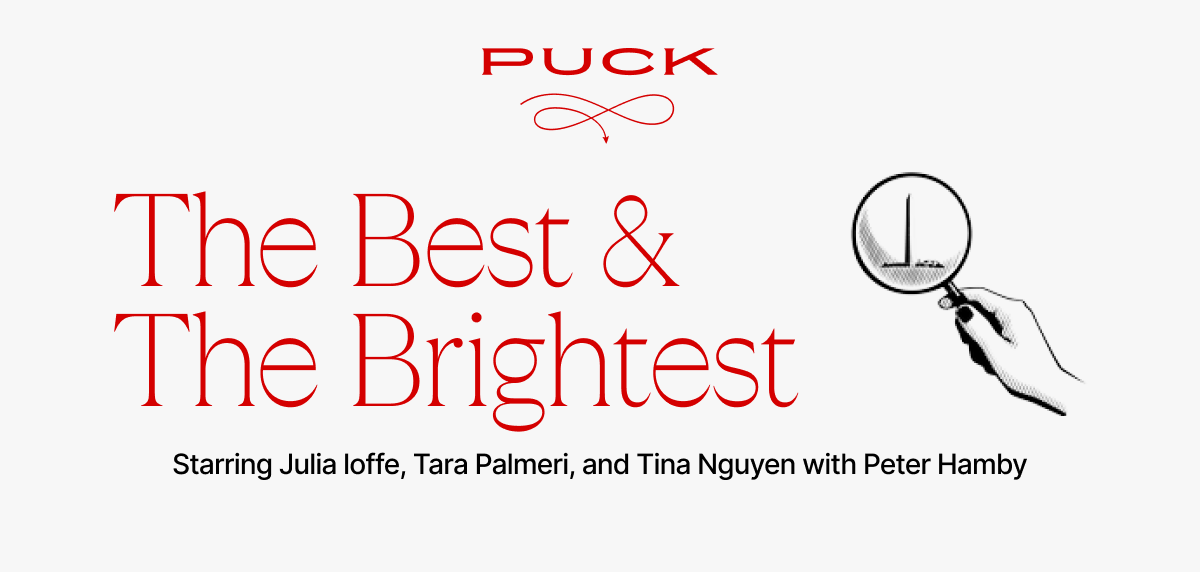 Hello, and welcome back to The Best & The Brightest, your daily politics drop from the ladies of Puck: Tara Palmeri, Tina Nguyen, and myself. (Also, be sure to check out the occasional cameo from Peter Hamby, who broke some news yesterday.) And please, take our reader survey if you haven't yet.
Last but certainly not least, do not miss the inimitable Baratunde Thurston's moving essay on the murder of Tyre Nichols. Wow.
Also, apparently some guy is giving a speech tonight? I'll be watching but I do find these big speeches so hard to pay attention to. My mind literally slips off the words as they're being uttered, even as I'm trying mightily to hook into them. I don't have an attention deficit, but I do feel that these kinds of speeches, written by professional speechwriters and delivered by professional politicians—and then commented on by professional commentators—are designed to be that way: specifically vague and full of smoke signals and gauzily non-binding. It is the Coach bag of speeches: aspirational and kitschy and immediately last season. And so, you will not find me...
Can't see the full story? You're receiving the free version of The Best & The Brightest at . For full access to Puck, and to each of my colleagues, you can subscribe here
Balloon Mind State
The D.C. foreign policy set responds to the ultimate meme-worthy, news cycle-driven international mini crisis of our times.
About that balloon. On Saturday afternoon, an American F-22 jet shot a Sidewinder missile at a Chinese spy balloon to the patriotic cheers of the people on the ground in Myrtle Beach, South Carolina. It had enjoyed quite a trip, this balloon, first entering U.S. airspace on January 28 over some Alaskan islands, then flying into Canada, then down into the continental United States, which it traversed, unbothered, for five days. It would have likely been a quiet trip, too, if not for an amateur photographer in Billings, Montana, who spotted it flying overhead on Wednesday, February 1, which was also the day the balloon flew over one of America's nuclear missile silos...
FOUR STORIES WE'RE TALKING ABOUT
The Kamala Question
News and notes on what keeps Biden's team up at night.
TARA PALMERI & PETER HAMBY

Late Night Endgame
A candid conversation with Grammys executive producer Ben Winston.
MATTHEW BELLONI

Shari's Secret Letter
What do two lawsuits and a "careless" private email reveal about Paramount's M&A ambitions?
ERIQ GARDNER

Need help? Review our FAQs
page or contact
us for assistance. For brand partnerships, email ads@puck.news.
Puck is published by Heat Media LLC. 227 W 17th St New York, NY 10011.