Welcome back to The Best & The Brightest, our new daily political compendium of what's really happening inside Washington. Tonight, a behind-the-scenes look at how G.O.P. operatives are gaming out the optimal entry points for Republican candidates eyeing the 2024 field.
(Also, please take this quick reader survey if you have a moment. Thanks!)
But first…
Kyrsten in Paris, Part Deux: Just because Kyrsten Sinema was roundly criticized for her decadent fundraising trip to Paris during the Build Back Better negotiations, in late 2021, that didn't mean she was going to let the progressive naysayers get in the way of several other fancy voyages last summer and fall. According to new financial disclosures, Sinema enjoyed another getaway at the five-star Le Roch Hotel and the Hotel Lancaster, in France, with meals at the Michelin-starred restaurant Les Remparts—all during the heated election in Arizona where Mark Kelly and Katie Hobbs were fighting for their political survival. In fairness to Sinema, she wouldn't be the first member of Congress to turn a fundraising opportunity into a European vacation. (See: Sean Patrick Maloney and Adam Schiff, who held a D.C.C.C. event on a balcony in Paris last fall.) But Sinema's travel expenditures did not break even: Between July and October 2022, Sinema's campaign spent $14,000 in European adventures to Paris, London, Èze and Barcelona that yielded $12,900 in fundraising, a deficit that surely could have been avoided with some better planning.

That was until outgoing Florida Rep. Stephanie Murphy reimbursed Sinema's campaign $7,000 for the late October trip from her campaign war chest. This trip was, of course, right after Hurricane Ian. It looked like a last-hurrah girls trip to Paris, London, and the South of France in which Sinema, Murphy, and outgoing Rep. Kathleen Rice were all photographed shopping for vintage jewelry in Paris on Instagram. (The clique of moderate lawmakers have matching diamond-studded thorn-shaped necklaces to celebrate how they were the thorns in the side of Democratic leadership.) According to Murphy's filing, they ate at upscale Michelin restaurant Scott's, in London. Murphy did not report any fundraising from the trip, likely because she's done with Congress, and perhaps was just burning through the rest of her war chest. Sinema and Murphy's camps did not respond to a request for comment.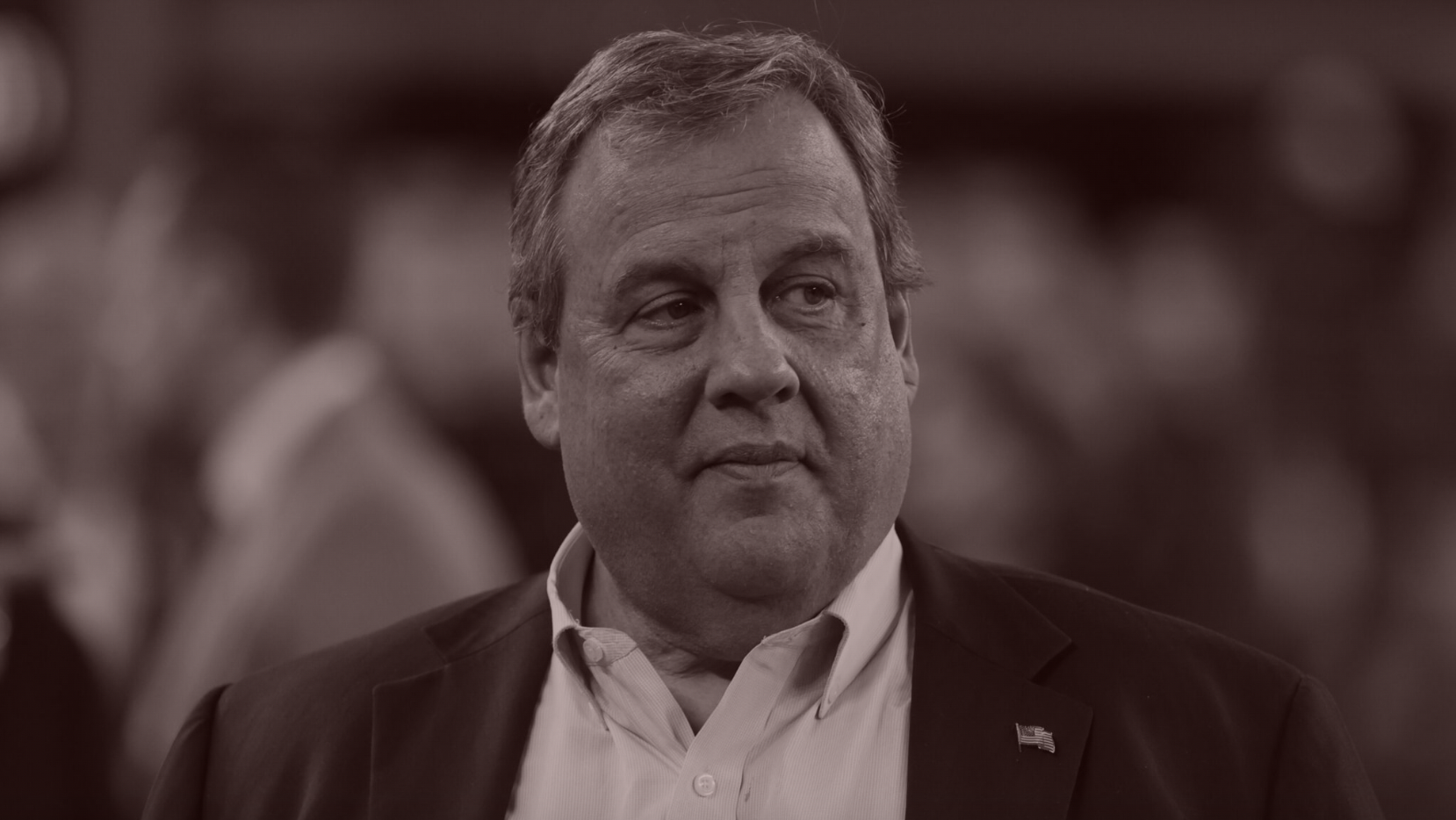 The Chris Christie '24 Chaos Theory
A number of ambitious and peripheral Republicans are increasingly betting on the likelihood of Trump-DeSantis mutually assured destruction. Will a Florida wipeout open a lane for… Chris Christie?
In politics, of course, timing is everything—and that axiom, which is particularly pertinent to presidential politics, is already playing out before our eyes. Donald Trump, a former president with a large small-donor base, has already been an official candidate for months in an attempt to re-establish himself as the party's leader and beat everyone else to the fundraising circuit. Nikki Haley announced her low altitude campaign this week, presumably in an attempt to front-run the likes of Mike Pence and Mike Pompeo, her competition to raise gobs of money, and fast, to sustain their operations. Expect their announcements in the early spring.

The second wave of candidates, likely in May and June, will be governors such as Ron DeSantis, who need to finish out their legislative sessions. Tim Scott may have jumped into the race by then, too, since he has little standing in his way. As my Puck partner Teddy Schleifer has reported, Scott has long been the preferred '24 darling of Larry Ellison. Meanwhile, Trump will welcome the company. He's already goading DeSantis to enter the fray, or at least act like a candidate, with his persistent Truth-bombing, perhaps cognizant that DeSantis's continued resistance to engage could betray weakness.

Once candidates make up their minds, it's hard to get them to hold back. They just want to get in the race. But unlike the other candidates, who get to pick when they can enter the race, DeSantis, as the perceived frontrunner, is already in it, and pushing his announcement past June will draw more questions about whether he's really up for the task rather than exude the confidence that he needs.
A MESSAGE FROM OUR SPONSOR
Stewardship makes a forest a working forest.

Working forests start with seedlings, each one carefully grown by teams of forestry workers. These workers also plant millions of seedlings across the country annually, nurturing them as the years go by and they reach new heights.

It's all part of the years-long cycle that makes a forest a working forest. Because after decades of forestry workers' expert stewardship and care, we harvest and start the cycle of planning and planting once again. This time, with new seedlings – full of potential and growing towards tomorrow.

In a working forest, we don't just plan for tomorrow – we plant it. Learn more.

Everything comes down to timing, because everything really comes down to money. In prior cycles, such as in 2008 and 2012, most of the top candidates were in the game by February the year before the election, and by March at the latest. The biggest impetus to announce a candidacy in the first or second wave is because it maximizes fundraising optionality. The downside, however, is that it hastens the scorecard and means that you have to fund a longer campaign. Haley's campaign is only a few days old, but she is going to need to answer in a week who she's hired in Iowa and how much she's raised by the first report on April 15.

Once upon a time, declaring late, in the third wave, was considered a mistake, or the vanity of the uber-wealthy. Trump's golden elevator descent, in June 2015, was considered late at the time. Mike Bloomberg was humbled after he entered the Democratic primary, in late November 2019, thinking that he could blow past Iowa and New Hampshire and focus on delegates in California and on Super Tuesday contests.

This cycle, however, that philosophy may be reversing itself. Conventional wisdom suggests that Trump and DeSantis may bludgeon each other significantly enough to open a new lane that won't be filled by any of the milquetoast Haley-Pompeo-Pence also-rans, who are barely able to make a noise amid the clatter. And all of this might clear the way for a late entrant dark horse. I'm told from people close to Chris Christie and Rick Scott that they could see late openings for themselves, for different reasons. Glenn Youngkin, with his deep pockets and ability to self-fund, is also being advised to make a later entry. Those advising Youngkin could see him entering the race around the first debate, which could be late July or early August, per smoke signals from the R.N.C., or he could skip the first debate altogether and jump in for the second. "You have to wait 30 or 40 days after DeSantis announces to see how the two square off and then you'll know whether you have a lane or not," said a Youngkin advisor.

Regardless, the emerging logic for some candidates is to wait out the early chaos before locking in an entry point. "It's a unique situation. We've got a former president trying to run again, with a bunch of legal challenges, with a record of being combative with people who challenge him; where that goes no one knows," said R.N.C. committeeman Bill Palatucci, a longtime supporter and friend of Christie. "It's plausible that it turns into a slugfest. Someone, whether it's Chris Christie or someone else, could get in after that all occurred."

As a strategist not associated with either camp put it: "There's a scenario where Trump and DeSantis kill each other and someone else emerges. But there's no vacuum right now, it could only happen if the undecideds got annoyed, and [Trump and DeSantis'] numbers tanked."

One of Christie's advisors, Mike DuHaime, dismissed the idea that their strategy is based on Trump and DeSantis. "As one of his advisors, we're not sitting around the room deciding which month he should get in depending on Trump and DeSantis. He knows better than anybody what he needs to do and when he feels comfortable." But he also conceded that a wait-and-see approach could benefit candidates in a position to exercise some strategic patience. "There's no compelling reason to get in early," DuHaime said. "You can let things play out."
There's a widespread agreement that, given all the uncertainty, this is going to be a late cycle. The question is how late is late? People close to Rick Scott say that he too could jump into the race in August even after what will likely be the first R.N.C. debate. He has the money to self-fund, and already has an extensive donor network from his time as chairman of the N.R.S.C. He could also fund a ballot ground game. Sure, Scott would have to play serious catch-up in building infrastructure on the ground in Iowa, New Hampshire and South Carolina, but that's what the money's for.

And maybe for Scott, it's just a chance to finish off his rival DeSantis. Surely he doesn't dream of staying in the Senate forever under McConnell's thumb. "I think that everyone, not just Rick Scott, should be ready for it, just in case," said an advisor to Scott. "I don't think late is June 2023. I think late is next year."

For his part, Christie has said publicly that he would make his decision about whether to run for president in the next three months, but also that he's under no rush to enter the race early. He's currently being advised to declare late, if he declares at all, I'm told. There are some around him who think that he could skip Iowa altogether, given that he is unlikely to win the state. Maybe, but that strategy is also reminiscent of Rudy Giuliani's failed plan in 2008 to run for New Hampshire and Michigan and then win Florida. Alas, he never made it that far, losing momentum along the way.

There's a feeling that, given his rolodex and sports talk radio-style personality, Christie could get plenty of earned media and benefit from the Trump-DeSantis murder-suicide pact. Then Christie could throw in the final punch, in the late summer or early fall, and enjoy the same boost that Rick Perry received when he entered the race around the time of the Iowa straw poll, in August 2011. He surged to the front of the pact, albeit briefly.

"He has a very lucrative TV deal," said a source close to Christie, suggesting another reason he is incentivized to be patient. "He's going to see how Trump treats all of the early entrants before him. He probably thinks he can fight Trump the best, because they have a similar personality. He's going to let Trump destroy the field and then he would step in as the fresh person, not as dented by all of the hits, who could take Trump toe-to-toe on personality." ​​
​
Another person familiar with the thinking in Christie camp said there's a feeling that he could get in after Iowa, but before New Hampshire and South Carolina, and still be in a good position to win if the race remains divisive after the first three states. "Everyone is prepared for it," said the source. "South Carolina, Florida, maybe you go to Super Tuesday, like Cruz did, limping along. Maybe you're headed for a contested convention like Reagan."
The Implosion Calculation
There is a feeling that anything can happen with Trump in the race, considering how he bloodied all of the candidates in 2016. There's a fear that if you jump in too early, you end up having no lane, but there's still hope that there may be an opening to win over voters who like Trump and DeSantis but don't love what they're seeing. But the window of time to win those voters is very small. It has to be a swift, triumphant entry before all of the warts are revealed, or DeSantis or Trump turn on the new entrant.

The most significant tactical challenge surrounding late entry is getting on the ballot for the primaries in order to actually win delegates. Some states, like Florida, merely require buying your way onto the ballot. Others require petitions, and others still require petitions in certain legislative districts, which requires money and/or ground game, and then the arduous verification process. "The bulk of ballot access deadlines for the major party nominations are between November of 2023 and January of 2024," election lawyer Jason Torchinsky told me. "Getting in too close to the deadlines risks not being able to meet the varying requirements. Getting in after deadlines means you likely won't be eligible for enough delegates to win a majority of convention delegates needed for nomination on a first ballot."

But there's a general feeling that it's much easier just to buy your way onto the ballot than in the past. Perhaps this is why all present and former presidential strategists suggested that early fall '23 is the effective drop-dead deadline for a candidate to enter the fray. Anything later than that, some say, is a fantasy land. "They're all making this way-late calculation: let's see if Trump implodes or gets indicted," said a Republican strategist in New Hampshire. "It's too short of a runway."
FOUR STORIES WE'RE TALKING ABOUT
Song of Solomon
Player haters are out for Goldman after a painful quarter.
WILLIAM D. COHAN

ESPN's Catch-22
Notes on ESPN's future, WaPo rumors, and CNN insider plot points.
DYLAN BYERS

Need help? Review our FAQs
page or contact
us for assistance. For brand partnerships, email ads@puck.news.
Puck is published by Heat Media LLC. 227 W 17th St New York, NY 10011.