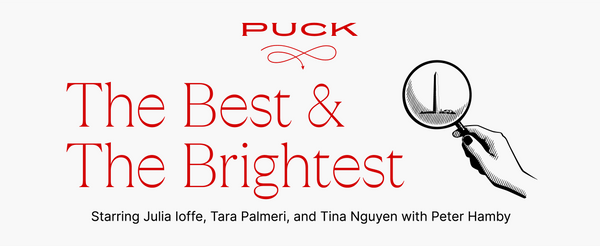 Good evening,
You're reading The Best & The Brightest, our new weekly composite of what's really going on in this town—inside the White House, the Pentagon, on K Street, and under the Dome. On behalf of my partners Julia Ioffe, Tina Nguyen, and Peter Hamby, thanks as always for your support and feedback. Keep it coming.
Tonight, I have a plethora of news about the melee on Capitol Hill: McCarthy's surprises, Vern Buchanan's feelings, motion to vacate roulette, Ted Cruz's game of chance, Rick Scott's breakfast club, Janet Yellin's successor, and much, much more.
But first…
Robert Hur's Fear Factor: Just when it looked like the House Republicans were on the ropes, relentlessly wounded by their own made-for-TV infighting and backstabbing and the George Santos of it all, a new political lifeline emerged today in the form of the discovery of a set of classified files languishing in Joe Biden's Delaware garage, beside his Corvette...
Can't see the full story? You're receiving the free version of The Best & The Brightest at . For full access to Puck, and to each of my colleagues, you can subscribe here
Motion to Vacate Roulette
News and notes on the chaos under the Dome: hurt feelings in Congress, Ted Cruz's '24 calculation, the Santos sitch, a key DeSantis ally, and more.
It turns out that the imperiled Long Island fabulist George Santos might not be the only conference member that Kevin McCarthy risks losing this term. The new House Speaker, who must navigate a razor-thin majority in which he can currently only lose four votes to pass partisan legislation, has another unforeseen problem on his horizon. Multiple members have told me that they are worried that Vern Buchanan, the 71-year-old from Florida, is loose in the saddle and contemplating retirement after losing his chairmanship of the powerful Ways and Means committee this week. Buchanan told McCarthy he was furious that he was passed over for a much younger member, Rep. Jason Smith, who has become a bit of a speaker's pet...
FOUR STORIES WE'RE TALKING ABOUT
Hail, Cesar!
The real story that was buried in the big Oppenheim/NBC News shakeup: Cesar Conde is consolidating power.
DYLAN BYERS

McCarthy Chaos Agents
With the Speaker on a MAGA leash, insiders worry a shutdown is "guaranteed."
JULIA IOFFE

Amazon's NFL Fallacy
Deciphering the streaming data behind a potentially momentous un-bundling.
JULIA ALEXANDER

Need help? Review our FAQs page or contact us for assistance. For brand partnerships, email ads@puck.news.
Puck is published by Heat Media LLC. 227 W 17th St New York, NY 10011.