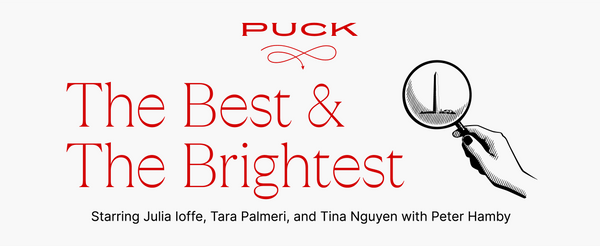 Good evening,
You're reading The Best & The Brightest, our new weekly composite of what's really going on in this town—inside the White House, the Pentagon, on K Street, and under the Dome. On behalf of my partners Julia Ioffe, Tina Nguyen, and Peter Hamby, thanks as always for your support and feedback. Keep it coming.
Tonight, I have a plethora of news about the melee on Capitol Hill: McCarthy's surprises, Vern Buchanan's feelings, motion to vacate roulette, Ted Cruz's game of chance, Rick Scott's breakfast club, Janet Yellin's successor, and much, much more.
But first…
Robert Hur's Fear Factor: Just when it looked like the House Republicans were on the ropes, relentlessly wounded by their own made-for-TV infighting and backstabbing and the George Santos of it all, a new political lifeline emerged today in the form of the discovery of a set of classified files languishing in Joe Biden's Delaware garage, beside his Corvette, from his tenure as vice president. This might not have been a new Benghazi, or even on par with Trump's refusal to hand back his classified files, but the boxes include documents on Ukraine, Iran, and the U.K. And since Biden chastised Trump for a similar sin, this is enough to create a political shitstorm. (Unlike Trump, Biden is cooperating with the National Archives and the Justice Department.)
This afternoon, as everyone reading this well knows, Attorney General Merrick Garland appointed Robert K. Hur, who was appointed by Trump as a U.S. attorney and formerly worked under F.B.I. director Chris Wray at King & Spalding and at the D.O.J., as special counsel. Biden attempted to assuage the rapidly metastasizing imbroglio, but seemed to only make it worse. "By the way, my Corvette is in a locked garage. It's not like it's sitting out in the street," he told Fox's Peter Doocy in the briefing room.
Hur, I was reliably told by a former colleague of his, "should scare the shit out of people. He's as tough as they come, and as fair as the day is long. That's not the guy you want on the other side of the table." This person continued: "I have seen him in depositions where, by the end of the deposition, people do not even believe their own story."
This is Washington, of course, so everyone is trying to know the unknowable. Will this impact Garland's other special counsel investigation into Trump's retention of national security documents? Will this affect Biden's decision to run in '24? His team may have expected an offensive around Hunter, however, but not an unforced error of Joe's own. As one Democrat put it to me, "It has completely changed the story on Kevin McCarthy and George Santos, makes Trump look good, and now gives the G.O.P. all the reason they need to investigate Biden and the family. Somehow the Bidens always knife themselves."
Living la Speaker Emerita…: Last night, I spotted Nancy Pelosi walking upstairs into Capitol Hill wine bar Sonoma in a white suit and stilettos with her security detail, only to be met with a loud applause. The night before, she attended a Voto Latino for freshman, but she arrived at 5:23 p.m., seven minutes before the event started. As she walked into the largely empty Presidential suite at Union Station, staffers were playing the White Lotus theme song, but quickly cut the track, deemed a little too spooky.
Pelosi stayed for about 20 minutes, doing the step-and-repeat with Maria Teresa Kumar, the organization's C.E.O., before heading out to a DCCC event, with plans to make a third stop at an Emily's List event. It was truly one of those eyeroll "Oh you just missed Nancy Pelosi and/or Chuck Schumer" moments. It seems that this might be part of her final act, party hopping as a way to identify groups that she can direct people to support before she moves on.
As for the rest of the crowd, it was a strong showing: Jaime Harrison, Tom Perez, Pete Aguilar, Julian and Joaquin Castro, Maxwell Frost (who is giving A.O.C. a run for her money in press), Yadira Caraveo, Debbie Dingell, Veronica Escobar, Chuy Garcia, Sylvia Garcia, Robert Garcia, Steven Horsford, Delia Ramirez, Darren Soto, Gabe Vasquez and Maya Wiley.
Now back to the food fight on the Mall…
Motion to Vacate Roulette
News and notes on the chaos under the Dome: hurt feelings in Congress, Ted Cruz's '24 calculation, the Santos sitch, a key DeSantis ally, and more.
It turns out that the imperiled Long Island fabulist George Santos might not be the only conference member that Kevin McCarthy risks losing this term. The new House Speaker, who must navigate a razor-thin majority in which he can currently only lose four votes to pass partisan legislation, has another unforeseen problem on his horizon. Multiple members have told me that they are worried that Vern Buchanan, the 71-year-old from Florida, is loose in the saddle and contemplating retirement after losing his chairmanship of the powerful Ways and Means committee this week. Buchanan told McCarthy he was furious that he was passed over for a much younger member, Rep. Jason Smith, who has become a bit of a speaker's pet.

The McCarthy-Buchanan standoff is fascinating and multi-layered. On the one hand, Buchanan doesn't need to kiss McCarthy's ring. He's one of the wealthiest members of congress, with a car dealership fortune worth more than $100 million. He can do whatever he wants, including reciprocating McCarthy's political surprise with one of his own, which has some speculating that Buchanan could step down within months. Even under the best circumstances, in which Ron DeSantis immediately called a special election, McCarthy would be out a crucial vote for a couple months, maybe more. (Buchanan's political advisor Max Goodman told me, "Vern has no plans to retire and looks forward to continuing his work on behalf of his district and the American people.")

Buchanan's vote matters, but so does his ego. No one wants to alienate a deep-pocketed reliable fundraiser, who could be valuable outside of Congress. Furthermore, Buchanan isn't a rash person, and he's also incentivized to cooperate with the party. After all, his son, James Buchanan, a Florida state legislator, has been primed for his seat.

Meanwhile, the pressure on Santos to resign has only intensified. This week, members of the Long Island G.O.P., in addition to four Republican congressmen from New York, called for his ouster. His office has become a veritable stakeout zone for the news networks.

Those hoping that an F.E.C. violation might spur a resignation shouldn't hold their breath, either. Those complaints often take years to investigate, unless they rise beyond a certain monetary threshold and the D.O.J. takes over. McCarthy almost certainly won't force his departure since the party would likely lose the seat in a special election in the Biden +8 district. And Santos, given his ostensible ability to shape-shift his reality, may be able to emotionally withstand these calls for his resignation.
In the meantime, the latest parlor game on Capitol Hill has turned to hypothesizing the event that will eventually trigger the one-vote motion to vacate that McCarthy agreed to in order to become speaker. Will it be Trump-related? Gaetz-induced? Debt ceiling related? It's anyone's guess.

Until then, attendance is critical for Republicans, with every vote needed to pass legislation. But Democrats need to show up too. Absences give McCarthy more wiggle room, lowering the threshold to reach a majority. Perhaps that's why members on both sides of the aisle are lamenting the end of proxy voting—a Covid era perk that allowed Marjorie Taylor Greene to vacation in Costa Rica while the omnibus was being voted on.

One freshman Democrat recalled to me with disgust the number of members who are voting while Covid-positive (ostensibly just Democrats since Republicans test less frequently) just to keep the roll call as tight as possible so that the margins will be impossible for McCarthy. This member described the hallway outside of the House floor as a veritable hospital waiting area, filled with masked members coughing.
Ted Cruz Sitting Out '24?
On the Senate side, I'm hearing there's one 2024 hopeful who will take a pass this cycle to focus on securing his Senate seat: Ted Cruz. Despite his second place showing in the 2016 presidential primary, the word from Cruz-world is that he's more fixated on winning re-election, particularly after Beto O'Rourke's strong challenge in 2018 for his Senate seat. Of course, if a lane was truly open in 2024, he would jump in. So we'll see. (His office pointed me to a statement he made in November, "I'm running for reelection in the Senate, I'm focused on the battles in the United States Senate.")

But I'm told that Cruz, who is the top Republican on the Senate Commerce Committee, is not leaving things up to chance in Texas, and his team is preparing for everyone on the Democratic side, from Mark Cuban to Matthew McConaughey to Julian Castro to, who knows, a Fourth Coming of Beto. Aides at the National Republican Senatorial Committee have already read Mcconaughey's bestselling book, Greenlights, for some of the more controversial and cringey anecdotes that will be immediately clipped for ads, I'm told. Alright, alright, alright…
Lucas Kunce's Abrams Playbook
In Missouri, Democrat and Marine veteran Lucas Kunce is gearing up to take on Josh Hawley in what looks like a campaign modeled after Tim Ryan's populist Senate campaign in Ohio, albeit with John Fetterman's winning digital team. Politico reports that Kunce has hired The Middle Seat Consulting, which created a powerful digital campaign that vilified Dr. Oz as a carpetbagger, for a candidate who couldn't campaign traditionally on account of health reasons. Kunce, who launched his campaign with two appearances on MSNBC—with Joy Reid and on Morning Joe—is surely running a cable news candidacy playbook to raise millions from out-of-state ActBlue small-dollar donors who lust after a candidate who can destroy liberal boogeyman Hawley.

If he keeps up the national TV appearances and wins the primary, which he lost last cycle against Trudy Busch Valentine for Roy Blunt's open seat, the young, photogenic veteran Kunce will surely become a bright shiny object in the Democratic party a la Stacy Abrams in Georgia and Beto in Texas. He'll raise a ton of money for a seat that's nearly impossible for Democrats to win, raising hopes on a national level and then risking privately infuriating cynical insiders when it doesn't work out.
Anyone trying to curry favor with G.O.P. '24 frontish-runner Ron DeSantis would be smart to get to know Rep. Laurel Lee, the Republican freshman from Florida's 15th district who previously served as DeSantis's Secretary of State. While DeSantis's inner circle is extremely small (some would argue it's just him and his wife Casey), Lee is seen as an inroad to DeSantis, who is rarely in Washington these days. Yes, DeSantis was previously a member of Congress, but he doesn't have many relationships on the Hill, where he was known for his prickly demeanor, not for making friends.

And the wariness cuts both ways. D.C. Republicans were slow to warm up to DeSantis, even after he entered the Florida gubernatorial race in 2018, holding back their enthusiasm until after DeSantis eked out a win. Gaetz, who served on DeSantis's gubernatorial transition team, has always been an ally, but for those still furious about Gaetz's antics last week, Lee might be the better bridge.
Rick Scott's Breakfast Club
With the Senate still out of session, some are wondering if Rick Scott's breakfast club may actually cause heartburn for Mitch McConnell. I'm told from a Scott aide that the group of six senators, all of whom voted for Scott over McConnell for minority leader, plan to meet every week for breakfast when the Senate is in session. As for Scott, he's not letting up after losing to McConnell in the leadership race, and he's clearly trying to play the outside-the-dome media game by running a "No Regrets" national ad campaign on Fox News—featuring himself, naturally. (I reported after the midterms that Scott hoped to launch this seven-figure campaign before he challenged McConnell for leadership, but didn't have the time.) Instead, he's continuing the campaign to win over the Ben Shapiros of the world with a message accusing McConnell of "caving in" to Democrats, while building his name I.D. for a potential 2024 run.

And Scott's breakfast club is courting new members. The first meeting was attended by Scott plus Senators Mike Lee, Lindsey Graham, Ron Johnson, Ted Cruz and Mike Braun. But that number could possibly double with the addition of other McConnell skeptics, such as Cynthia Lummis, Josh Hawley, Eric Schmitt, Tommy Tuberville, J.D. Vance and Rand Paul. Sure it's just breakfast, but maybe this loosely formed, decentralized group could elevate through their cause with their relationships with the right-wing media. "There's more pleasure than pain going up against McConnell, it just helps your brand," as an aide to a McConnell "no" vote explained.
For Republican members of Congress and the staffers that write their tweets, it used to be all about crafting a message that would get that precious retweet from Trump. But since Truth just isn't Twitter, Republican communications aides are looking to another conservative influencer to engage with—Elon Musk. A model of success was North Carolina Congressman Dan Bishop's tweets on the omnibus spending bill that got him a "Very informative thread" and a "worth reading" from Musk, followed by an appearance on Tucker Carlson's show. The new double-whammy endorsement.
And, Finally, a Word About Yellin's Successor Sweepstakes…
Back in December, I wrote about an intense debate that the Biden administration was having about whether to replace Secretary of Treasury Janet Yellen with one of Biden's favorite cabinet members, Commerce Secretary Gina Raimondo, which would open up that slot for Terry McAuliffe to fulfill his dream of becoming Commerce Secretary. Well, the dysfunction of McCarthy's new Congress has all but dashed that from happening. Bloomberg is reporting that Biden asked Yellen to stay.

This comes amid fears of a fast-approaching debt ceiling showdown this summer, the potential for a financial flare-up, economic downturn, and possible difficulty confirming another Treasury secretary. The administration wanted to project stability by keeping Yellen, even if she is prone to political flubs. That doesn't mean that Raimondo, who has been an exceptionally high-profile Commerce Secretary, won't ascend to Treasury before the end of the term, I'm told. Two years is a long time. In the meantime, she's brought on Adrienne Elrod, a top communications aide and former Biden and Clinton campaign alum, to help elevate her work on CHIPs.
FOUR STORIES WE'RE TALKING ABOUT
Hail, Cesar!
The real story that was buried in the big Oppenheim/NBC News shakeup: Cesar Conde is consolidating power.
DYLAN BYERS

McCarthy Chaos Agents
With the Speaker on a MAGA leash, insiders worry a shutdown is "guaranteed."
JULIA IOFFE

Amazon's NFL Fallacy
Deciphering the streaming data behind a potentially momentous un-bundling.
JULIA ALEXANDER

Need help? Review our FAQs page or contact us for assistance. For brand partnerships, email ads@puck.news.
Puck is published by Heat Media LLC. 227 W 17th St New York, NY 10011.