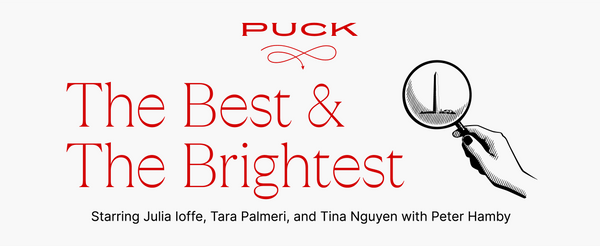 Hello, and welcome back to The Best & The Brightest, Puck's new daily newsletter from the Swamp.
Today, my indomitable colleague Tina Nguyen takes us on a tour of the wreckage of last week's Speaker's vote. Who's still standing? Who's mortally wounded? Who came out with superpowers? How did Marjorie Taylor Greene get away with playing both sides? And what the hell was in that deal anyway?
I keep hearing from my sources that Tina's work has become a must-read for them, and I couldn't agree more. If you want to understand the right wing and what's coming 'round the bend, you need to read Tina. The woman sees around corners.
Julia
As details emerged from Kevin McCarthy's private handshake deal with the so-called Taliban 20—the hardline conservatives who initially refused to support his bid for House Speaker—there were, inevitably, some Republicans who were outraged by what he had presumably traded away without their knowledge. Rep. Dan Crenshaw, who had referred to the anti-Kevins as "terrorists" during negotiations last week, abstained from voting on the House Rules package. Rep. Nancy Mace blasted the deal for being "crafted in private," before changing her tune after receiving her own private briefing. Others went a step further: "I'm a no," tweeted Rep. Tony Gonzales, casting his vote with the Democrats—a vote that was received on the right, even among people who had opposed McCarthy, as a deeper betrayal.

The problem wasn't the text of the rules package itself, which is transformative but anodyne among Republicans, but rather the content of McCarthy's secret promises to the MAGA caucus. Sure, there was the high-profile "motion to vacate" concession and the requirement that bills introduced to the floor contain a single legislative subject. There were promises to open MAGA-stoking investigations, such as a counter probe into the January 6th Committee, and an overall, Church Committee-style examination into the "weaponization" of the federal government against conservatives.

Of course, a handshake deal is only as reliable as the people attached to it. Will far-right members like Eli Crane and Anna Paulina Luna actually get committee assignments? (Rep. Byron Donalds, who was among the alternative Speaker candidates, was placed on the powerful Steering Committee, and will help determine who gets placed where.) What exactly will the Church-style committee look like, and who will chair it? Will leadership commit real time and energy to the Never Kevins' various pet projects, or will they be treated as more shiny objects for the MAGA crew?

So far, at least, the twenty-odd McCarthy obstructionists have dialed down their rabble-rousing. "Everyone's incentivized to be on good behavior right now, at least on the Twenty's side, because it's important that the deal happens in good faith, especially because comparatively little was written down," a strategist close to the group told me. "If the Twenty feel like there is a bad faith effort going on, I think you'll see tension start to bubble up again."

Grievance, after all, is the fuel that powers MAGA politics, and that's unlikely to change just because McCarthy bent the knee. I'm told that several conservative groups are lining up potential primary challengers to Gonzales, whose district has a relatively strong Democratic presence. Crenshaw, a longtime antagonist to the movement, was denied the chair of the House Judiciary Committee, a seat he seemed destined to receive. (Mace, I'm told, is relatively safe for now.)

Though McCarthy's allies recently promised the Club for Growth that they would stay out of any open primary races between Republicans, it's not clear whether they'd do the same to defend their own incumbents against new challengers. "Assuming the Freedom Caucus is duking it out against an incumbent, I have a feeling that it [McCarthy] will stay out of the race," the strategist predicted. "I also don't think that people are gonna go balls-to-the-wall to defend an incumbent like a Dan Crenshaw or Tony Gonzalez."
One dangling question from the speakership fiasco is the fate of Marjorie Taylor Greene, the MAGA superstar who ditched her regular compatriots to support McCarthy. Greene, as I've previously reported, may be a true believer, but she's also politically shrewder and more ambitious than is generally recognized. Not surprisingly, she drew fire from her right flank for supporting McCarthy, with enraged Jan. 6 organizer Ali Alexander threatening to expose her dirty laundry in retaliation. (Whatever Alexander was referring to remains a mystery, for now.)

Nevertheless, Greene appears to be in good standing with her peers. Despite strong-arming the Taliban 20 into compliance—famously shoving a phone call from "DT" into the face of Rep. Matt Rosendale during the chaotic final rounds of voting—her relationships across the G.OP. seem to remain friendly. Matt Gaetz, the public face of the Never Kevin opposition, likes her on a personal level, I'm told, and that friendship wasn't affected by Kevaggedon.

Perhaps that's because, as a MAGA strategist noted to me, there was a strategic benefit to having Greene playing the inside game, whispering in McCarthy's ear. "If we had the entire MAGA caucus that was trying to rip Kevin's head off, I don't think that we would have got these concessions," this person said. "I think that we would have been stuck with a speaker like Steve Scalise, who would not have advanced our agenda, and who would not make concessions or make deals."

Of course, Greene's rapport with leadership was also a boon to McCarthy, providing him with credibility and connections in her world, too. "It's very clear that Marjorie had a hand in the priority list that McCarthy released before the speaker fighting began," the strategist continued, referring to the first round of concessions McCarthy made before the speaker battle kicked off in earnest. "Much like Trump, she has her own center of gravity that gives her the leeway to take heterodox stances like this and still maintain broad credibility," the strategist close to the 20 told me. At least until she crosses a MAGA red line—say, re-upping aid for Ukraine, or loosening restrictions on the border—and gets labeled a squish. "If her voting record completely changes this term, I think that's a slightly different story."

Greene's transformation from conspiracy-addled internet personality to Washington insider is nowhere near complete, though it certainly put leadership at ease when she recently dismissed her past interest in QAnon as a period in which she'd "easily gotten sucked into some things I had seen on the internet." More important is the fact that Greene is a prolific fundraiser, a deft media operator who successfully played both sides of the speakership battle, and still has the ear of Trump—a savvy example of intra-faction triangulation at an inflection point for the party.
Not surprisingly, the fallout from Kevaggedon has weighed heavily on the relationship between Greene and Lauren Boebert, one of the final Never Kevin holdouts whose last-minute "present" vote in the fourteenth round pointlessly delayed McCarthy's victory. (Gleeful observers could not get enough of Boebert allegedly swearing at Greene in a tense moment caught on C-SPAN.) On some level, Boebert's decision to hold Congress hostage may appear puzzling: Back in Colorado, she barely defeated her Democratic opponent by a scant 550 votes. For most politicians, that outcome would suggest that Boebert ought to moderate her politics if she intends to have a congressional career beyond 2024.

My sources in MAGA world, however, are positive that Boebert won't moderate anything, both for pragmatic reasons—her financial strength derives from small-dollar donors, not PACs—and because it's simply not in her character. "I get the sense that Lauren Boebert's incentives are to continue to be the person that she is, because it's not like there's going to be a giant cavalcade of PAC checks rolling in to fund her re-elect anytime soon," said the strategist. "And so she needs to continue to maintain a very robust small dollar operation. Otherwise, she has no way to fund a campaign which will no doubt be slightly more expensive next go around, because it's going to be a target for the Dems to take back the majority."

Might Boebert have won the grudging respect of McCarthy throughout this process? "I don't think Kevin is a vindictive guy," my source observed. "I think he's a politician who likes the game of politics, and he respects others who are good politicians and Lauren put up a good fight." Whether that translates into real legislative power seems doubtful, but at the very least, it suggests McCarthy will leave Boebert to her own devices as she prepares once again to defend her seat—or, perhaps, to prepare a cushy exit into MAGA media.
FOUR STORIES WE'RE TALKING ABOUT
The Hakeem Dream
He inherited Pelosi's rolodex, now can he shake the money tree?
TARA PALMERI

McCarthy Chaos Agents
With the Speaker on a MAGA leash, insiders worry a shutdown is "guaranteed."
JULIA IOFFE

Amazon's NFL Fallacy
Deciphering the streaming data behind a potentially momentous un-bundling.
JULIA ALEXANDER

Need help? Review our FAQs page or contact us for assistance. For brand partnerships, email ads@puck.news.
Puck is published by Heat Media LLC. 227 W 17th St New York, NY 10011.