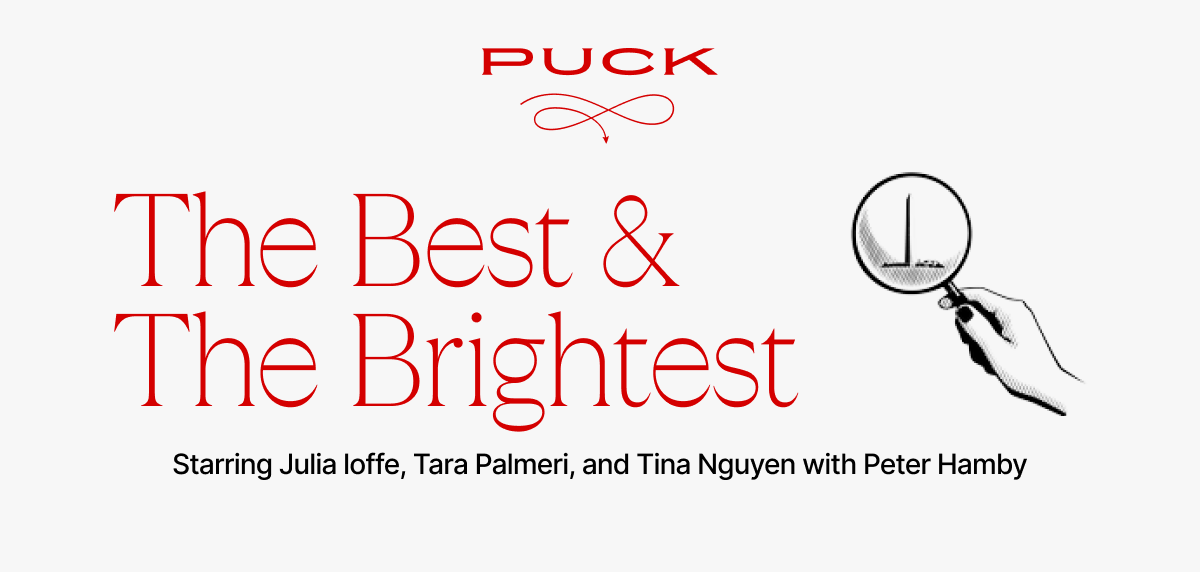 Welcome back to The Best & The Brightest, our new daily compendium of political news and notes from across Washington, the White House, K Street, the halls of Congress, and more.
If you haven't yet, please take a moment to fill out our reader survey!
Mentioned in tonight's email: Ruben Gallego, Karla Jurvetson, Ken Langone, Kyrsten Sinema, Kari Lake, Joe Manchin, Wendy Schmidt, Joni Binder and Robert Shwarts, Marcie and Mark Tuttle and many, many more.
But first…
The DeSantis Proxy Boxing Match: The shadow presidential race is commencing as a sort of proxy melee in which the various Tier 2 candidates are jousting in order to position themselves within striking distance of the frontrunner, Donald Trump. This, of course, is exactly what Trump wants: a crowded field in which his opponents annihilate one another and possibly clobber Ron DeSantis, his only real challenger, in the process. This political choreography reveals how much these Republican presidential hopefuls, who've vowed not to fear Trump, are actually terrified to take him head-on. Just this week, Mike Pence criticized DeSantis for going after Disney. Chris Sununu targeted DeSantis for taking on Big Business as part of his culture wars and questioned his record on Covid. Nikki Haley accused DeSantis of not going far enough on his "Don't Say Gay" bill. Even Kristi Noem took a veiled swipe at DeSantis for his lockdown record.

Meanwhile, Mike Pompeo and Haley have been squabbling for weeks. Pompeo writes in his memoir that Haley colluded with Ivanka Trump and Jared Kushner to dethrone Pence and become vice president, herself. (She accused him of trying to sell books.) These candidates may be thinking that they need to clear the field in order to consolidate support from the Never Trumper factions and then kill the king, but they're almost certainly doing him a favor, instead. Peter Hamby and I dive into this very phenomenon on Puck's The Powers That Be podcast (listen here).
The political gossip in Rhode Island: David Cicilline's recent retirement announcement caused a minor shockwave in Rhode Island. It's a tiny state with a lot of ambition, and a safe Democratic seat that people tend to hold onto for decades. Cicilline, a popular gay representative, is cashing out for a nonprofit job that pays $650,000 per year at the Rhode Island Foundation (and presumably other, even more remunerative opportunities on top of it). So far, there are about two-dozen candidates already jockeying for Cicilline's seat, including Helena Foulkes, the niece of President Biden's good friend Chris Dodd. Then there's White House Deputy director of intergovernmental affairs Gabe Amo, a former Gina Raimondo staffer, who is being encouraged to run. The Pawtucket native was featured glowingly in the local news last month. Gabe started his career as a junior staffer in the Obama administration, along with fellow aide-turned-politician Rep. Sara Jacobs.
What Will Dave do? In Pennsylvania, Dave McCormick is being courted aggressively to run against Bob Casey, who's been in the Senate since 2007. I'm told that McCormick has two promising offers in the private sector that he's also considering, but the N.R.S.C.'s Steve Daines has been rolling out the red carpet for McCormick, giving him a prime speaking slot at their latest retreat in Florida. There's the question of whether Trump would once again try to nuke McCormick in a primary, as was the case when he endorsed Dr. Oz, but there's a hope that he won't be operating as aggressively in the primaries next cycle. The idea of Trump giving up his kingmaker status may be a pipedream, however; he's already endorsed Jim Banks for Senate in Indiana.
Chuck Schumer has likely been up all night with desert-hued nightmares of the 2024 Arizona Senate race—in particular, how the current murder-suicide pact between Ruben Gallego and Kyrsten Sinema could deliver the seat to the election-results denying Kari Lake, essentially a more telegenic Marjorie Taylor Greene. As that showdown looms in the distant-but-not-too-distant future, Gallego has peeled off much of Sinema's Silicon Valley donor base, the same crew of influential female philanthropists who paved the way for her 2018 election in the name of girl power and turning purple Arizona blue. Critically, Gallego has won over rising mega-donor Karla Jurvetson, who famously gave Elizabeth Warren's super PAC a $15 million check when her 2020 campaign was low on cash.

Perhaps Sinema doesn't need the powerful clique that supported her when she was just another House member vying for the Senate. After all, her ability to preserve the carried interest loophole in the Inflation Reduction Act has made her an enduring darling of the $5 trillion private equity industry. She's also become a heroine for Big Pharma by stalling drug pricing negotiations. Plus, her coffers are already stacked with $8 million on hand. But given her Democrat-to-independent conversion, it's generally assumed that Sinema will have a hard time raising hard money from individual donors and will have to rely heavily on the support of outside independent expenditures, like super PACs, which are charged more for ads and are more cumbersome to utilize.

Winning over Jurvetson was a coup for Gallego—not just because of her deep pockets, but also on account of her status among the Silicon Valley set as an alpha fundraiser who wealthy women in the Bay Area looked to for guidance. (My Puck partner Teddy Schleifer has a great story about Jurvetson's growing influence in a story titled The Los Altos Shrink Taking Over Washington.) His story details Jurvetson and Sinema's falling out over the lawmaker's refusal to change the filibuster to pass the "For the People" voting rights act. There was also an uncomfortable zoom call with Sinema, in May 2021, when many of her powerful female backers felt that she wasn't hearing their concerns.

Hell hath no fury like a cohort of mega donors scorned. Luckily for Gallego, Sinema's enemies are now throwing him his highest earning fundraisers. Jurvetson's name appeared on the invite for a Gallego fundraiser at the home of Beth Axelrod and Erwin Hosono in Palo Alto, last Tuesday, co-hosted by Zak Malamed and the Next 50. The event was also hosted by former Sinema supporter Amy Rao, who advises Wendy Schmidt politically, and Fran Codispoti, a longtime female fundraiser in the area that has long backed female candidates. Other prominent co-hosts included Julie Lythcott-Haims and Jennifer DiBrienza.
This crew of pro-female candidate fundraisers is also receiving an influx of calls from Nancy Pelosi, who has been hounding donors to support Adam Schiff for his Senate run. The intensity of Pelosi's support has some wondering how much of this is about making good on her promise to Schiff, whom she vowed to support for the Senate seat in exchange for his decision to abort a run for party leader and cede the role to Hakeem Jeffries, and how much is about proving her kingmaker status.

Pelosi's full-court press seems to be working in terms of quickly corralling the California Democratic establishment around Schiff. Joni Binder and Robert Shwarts, Charles Adams, Jeff Bleich, Olivia Ware, Marcie and Mark Tuttle and Rebecca Schumacher are all hosting a fundraiser for him in San Francisco on March 11.

It's not lost on many that Pelosi, a trailblazing feminist, is trying to corral the establishment around a white man. It will help Pelosi if Dianne Feinstein also puts her support behind Schiff. And it's looking like she will. I'm told that Feinstein's closest advisors roll their eyes at the sound of Katie Porter's name after she dared to announce her candidacy for the Senate without consulting DiFi first.
Manchin's Bidenesque Musings
Joe Biden may be the most ponderous, can-kicking, operates-on-his-own-timeline third-acter in Washington, but Joe Manchin isn't far behind. And while it's generally well known that Biden, despite the lack of a formal announcement, is running for re-election, Manchin's intentions are more opaque.

Manchin has yet to decide whether he will run for re-election in West Virginia, where he may battle centi-millionaire governor Jim Justice, a Trump-like veteran of Democrat-to-Republican conversion therapy, who has a 64 percent approval rating. Justice also hired former Trump aides Justin Clark and Bill Stepien, so there will likely be synergy between the camps. This matchup would be personal, too. Manchin, a former governor of West Virginia, believes he cleared the way for Justice to become governor, only for Justice to defenestrate Manchin's wife from her political appointment as the state's Secretary of Education in 2018.

Like Biden, Manchin believes he's the best person to beat this Trump-y character, and he's probably right. But he also knows there's a good chance he could lose: a poll for Mitch McConnell's Senate Leadership Fund shows Manchin trailing Justice by 10 points in a head-to-head. If Trump wins the G.O.P. nomination, he'll likely bolster Justice, too. Trump won West Virginia by 39 points in 2020 and he'll almost certainly confer support down the ballot. "He doesn't want to go out a loser," said a source close to Manchin. "He's paying very close attention to what Justice does."

So while Montana's Jon Tester and Ohio's Sherrod Brown have already announced that they're ready to slug it out to defend their swing states, which voted overwhelmingly for Trump in 2020, Manchin is sitting on the fence. A senior Senate source said that Manchin has changed his mind multiple times about whether or not he will run. "He's more wishy-washy than a car wash," the source said. "For all of the problems he's caused, he's a political anomaly and a real asset to Democrats."

But the limelight-loving, Ferrari-driving, houseboat-living senator has challenges to account for. After months of vexing progressives as a spoiler for the Build Back Better bill, he now needs to explain to his constituents why he ended up passing one of the largest climate bills in history. After all, Manchin's schtick has always been that he's the contrarian holding back the looney liberals from the inside. It's harder to run in West Virginia defending the bill he passed rather than the ones he stopped.

Manchin's Q4 fundraising numbers were also subpar. He raked in just $300,000 between his leadership PAC and campaign committee. Those close to him note that he wasn't up for re-election this year, was deferring to the financial needs of more vulnerable members, and was genuinely resting. Others point to the fact that his war chest was well-stocked during the Build Back Better negotiations, thanks in part to Republican support, leaving him with $11 million cash on hand in a pretty cheap West Virginia media market. But, again, the guy is going up against a centi-millionaire.

I've heard that Manchin is starting to get more aggressive with fundraising. He's shaking the tree with top donors like billionaire Ken Langone, who you wouldn't turn to unless you were serious about re-election. He's even testing out slogans to announce his campaign. His political posture has shifted, too. He's once again picking fights with the Biden administration, siding with Ted Cruz on the gas stove issue (despite the fact that the Inflation Reduction Act gives subsidies for electric and convection stoves) and voting with the G.O.P. to overturn Biden's E.S.G. 401(k) investing rule.

Naturally, Manchin appears inclined to end his career on his own terms. He once pondered a veritable job swap with Justice, in which Manchin would return to the governor's mansion, but he ruled that out this week. He even teased the idea of running for president. (No Labels keeps polling him for their unity ticket.) Manchin may love the attention, but if he backs out, there really is no Democratic bench in West Virginia for Schumer to recruit from. That gives Manchin time. I'm hearing that he may wait until the fall or even late 2023 to make his announcement. This at least gives him breathing room to see how Trump fares during the first debates before making a decision. The West Virginia primary is expected to be held in June 2024. Alas, another potential headache for Schumer.
FOUR STORIES WE'RE TALKING ABOUT
Licht's Lemonade
On the ripple effects of Lemon's inane on-air comments.
DYLAN BYERS

D.C. in Munich
Listening in on the after-hours conversations at the Munich Security Conference.
JULIA IOFFE

Need help? Review our FAQs
page or contact
us for assistance. For brand partnerships, email ads@puck.news.
Puck is published by Heat Media LLC. 227 W 17th St New York, NY 10011.