Welcome back to The Best & The Brightest, I'm Tara Palmeri. Mike Johnson has been in higher office for three weeks, and the biggest game in D.C. is trying to prove who has the closest relationship to the new, low-key speaker. But does anyone know him at all?
But first… Abby Livingston with the latest post-shutdown crisis chatter on Capitol Hill…
The Madness of George Santos & More Hill Dish
Look here, Old Sport: The House Ethics Committee released a delicious 56-page report detailing George Santos's (alleged) misdeeds, and it has everything. Imaginary Maseratis! Campaign cash for Botox! But mainly, lots of unaccounted-for money flowing in and out of his campaign. Within the culture of the House, Santos engaged in some truly wild antics, and the committee produced an angry, scathing document to commemorate the bad behavior. The topline is that Santos has lots of accounting problems and casually blew off filing financial disclosures (and the ones he did file were "replete with so many errors and omissions that they cannot be reasonably relied upon").

Among the juiciest alleged tidbits: His own campaign team conducted an opposition research scan of Santos a year before his 2022 election that led staffers to encourage him to drop out of the race; his "own campaign staff viewed him as a 'fabulist,' whose penchant for telling lies was so concerning that he was encouraged to seek treatment"; Santos conspired to falsely report loans in order to deceive the N.R.C.C. "regarding the strength of his campaign"; the campaign paid for a trip to Atlantic City that included zero documented political activities during which, during which Santos "enjoyed visiting casinos to play roulette." Meanwhile, expense spreadsheets cataloged disbursements toward Botox, Hermès, OnlyFans and Sephora. Moreover, he presented himself as having an old-moneyed background and claimed to own a Maserati.

Santos's announcement that he won't seek reelection was the least newsy part of his day. He was already on track to face formidable challengers in both the G.O.P. primary and the general election, and his fundraising dried up ages ago. He's under indictment, and, now that the Ethics Committee has weighed in, almost certain to face another attempt by his colleagues to oust him from Congress after the Thanksgiving holiday.

D.N.C. P.T.S.D.: Pro-Palestinian protesters surrounded the D.N.C. building Wednesday night, while House members and staffers hosted recruits in town for a candidate training week. There were varying accounts (and video) from protesters, members, and the Capitol Police over just how far the protesters went in expressing their support for a ceasefire. But Dave Weigel, who was on the scene, pushed back on some of the official accounts and clarified that protesters blocked exits to the building but did not try to break in. (A former chief of staff described the scene as "bonkers" to me.)

Even so, the tactic bewildered Democratic operatives for two reasons: The D.N.C. is a beleaguered, weakened institution compared to days of yore, and the party's campaign arm has little to do with foreign policy. But there is also an undercurrent of post-traumatic stress flowing through the Capitol Hill community since January 6, 2021. So some found it puzzling to attempt to sway House member opinion by blocking exits and surrounding a building filled with party leaders, members of Congress and candidates, many of whom are still plainly traumatized from the Capitol siege three years ago.
More retirement blues: Michigan Democrat Dan Kildee is the latest House member to announce his retirement, telling local outlets that a cancer diagnosis earlier this year framed his mindset. This is not good for House Democrats. Kildee, who represents Flint, was redrawn into a tough district last cycle, and he will be tough to replace as a candidate. The Kildee name is dynastic—his predecessor in Congress was his uncle, Dale Kildee, a longtime congressman. And now the Kildee seat is just one more competitive open seat Democrats must defend next year.
Desperately Seeking Johnson
As Mike Johnson ascends from nobody to Speaker, the entire flat-footed lobbying industry is desperately searching their rolodexes for ins, connections, second cousins once removed—or any way to influence the new guy with the gavel.
These days, one of the biggest fibs on K Street is that each firm has at least one lobbyist on staff who has a relationship with Mike Johnson. And, this being K Street, not just a relationship but a relationship—as in, they can fire off a text or make a phone call and get a rapid response à la the halcyon days of the Kevin McCarthy gravy train. It's the promise of connectivity, after all, that powers the multibillion-dollar influence industry.

Alas, Johnson really isn't that kind of guy: Perhaps an aversion to lobbyists is part of his self-avowed purity, but it's also a byproduct of his interest in social conservatism. I'm told by his colleagues on the Judiciary committee that Johnson was never a good texter, even when he was a backbencher. "The whole joke is that the guy doesn't know anybody," said one prominent G.O.P. lobbyist. Noted another: "Yes, K Street likes to lie, but he came out of fucking nowhere, and now they're like, 'Yeah, I know someone who used to work for him.'"

The absence of anyone with a clear inside track to Johnson illuminates one of the vulnerabilities in Washington's relationship-based business model. I called around to nearly a dozen lobbying firms, and heard nearly a dozen different lines—everything from We have a former member who was a freshman with Johnson! to One of our former members is also from Louisiana! There was even a We have the wife of a Johnson staffer! For years, you couldn't walk into a room in Washington without bumping into a person (or 10) who had a relationship with Boehner, Cantor, Ryan or McCarthy. Now, people are still Googling the guy. "I don't think it's possible to have Mike Johnson people," another lobbyist explained. "He's six years in. There would be no reason to hire a Johnson staffer before that. He's a backbencher, conservative nobody; it added no value at your firm."
A MESSAGE FROM OUR SPONSOR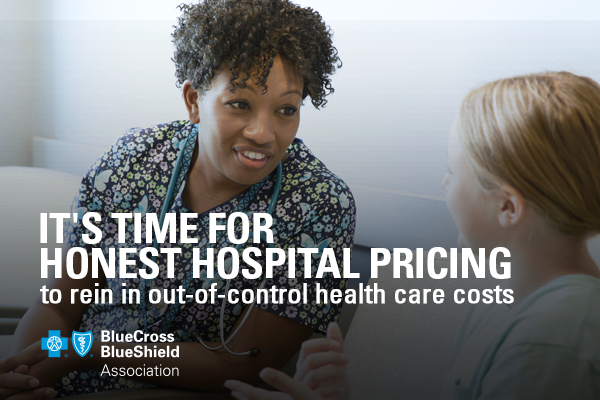 Blue Cross and Blue Shield companies are committed to affordable, high-quality health care. That's why we're working on solutions that rein in costs – like making hospital pricing more fair and reasonable.

Lower prices mean lower costs for consumers and taxpayers and could save more than $500 billion over 10 years.

Join us in working together with Congress to pass commonsense solutions for more affordable health care.
I've been told the most legitimate direct connection to Johnson flows through Susan Hirschmann at Williams & Jensen. The firm's former partner Dan Ziegler was previously executive director of the conservative Republican Study Committee, which Johnson chaired. After Johnson was elected speaker, Ziegler left the firm to return to the Hill as his policy director.

Otherwise, the relationships are more tenuous. Former Louisiana senator David Vitter, who now works for Mercury, the public affairs firm, talked up his 20-year connection with the new speaker, dating back to when Johnson was a young conservative lawyer. Vitter couldn't recall if he had cut checks for Johnson during his six years in office—and he doesn't show up on Johnson's F.E.C. reports—but he did note that many of his former staffers have moved over to the speaker's office, including Johnson's current chief of staff Hayden Haynes and deputy chief of staff Chip Layton. "Because of the unusual circumstances under which Mike became speaker, he doesn't have deep connections to K Street, and he doesn't have as extensive a fundraising network as most new speakers would, so people are scurrying to fill that vacuum," he said, candidly. "Mike and his team are happy to get the help, and they are recognizing who they've known for 20 years and who they are getting to know now."

For most lobbyists and their corporate clients, however, it's crickets, and everyone in town is exhausting their Rolodexes in search of an in. "You show me the big Johnson donor, who is it? I'm dying to meet that person," said Sam Geduldig, a former Boehner staffer whose firm was closely tied to McCarthy and prior leadership. (He noted that his team includes Tim Pataki, who worked in the legislative affairs office in the Trump White House and whose purview included Johnson, along with dozens of other members.)

Some firms are wondering if it's even worth it to spend $300,000 to $400,000—plus a percentage bonus based on clients retained—on a former Johnson staffer, since it's unclear if he'll be toppled like McCarthy in a few months or if the Republicans will hold on to the House. "The only reason you wouldn't throw a ton of money at a [Johnson person] is because no one thinks he will be speaker next year," explained another lobbyist.

On some level, the Steve Scalise-ites have benefitted from the void. Even though Scalise was passed over for speaker, he survived as House majority leader with a weak leader in front of him, who likely needs his help and just so happens to be from the same Louisiana delegation. After all, if you can't get access to Johnson and his band of unknowns, you can always go to the next in line. Among the potential beneficiaries are Scalise's former director of floor operations Matt Bravo and former policy director Marty Reiser, now partners at S-3 Group (informally known as "Scalise-3"). Cornerstone, one of the town's biggest lobbying shops, which has a sizable Louisiana contingent and former Scalise floor aide Chris Hodgson on staff, is also in a prime position. "In the absence of Mike Johnson in the room, you're filling with bank shots," said one Senate aide. "You're saying Scalise and Mike Johnson are going to be tied at the hip."

Of course, the lobbyist with the most to prove during the transition—perhaps an even bigger hurdle due to a perceived Scalise beef—is the lobbyist most closely tied to McCarthy: Jeff Miller. After all, Miller has some serious roots with McCarthy, dating back to the '90s when they both worked for their local Bakersfield congressman. The two are friends—not Washington friends, but real friends—and are known to go bike riding together. During the McCarthy ascent, Miller became the most prodigious lobbyist in town. Now, like everyone else, he's adjusting to the brave new world.
No one benefited from the McCarthy speakership more than Miller, when it seemed that almost every blue-chip company had him on retainer. Behemoths like Apple, Blackstone, InBev, and SpaceX have dozens of lobbyists on retainer and in-house on both sides of the aisle. But Miller was uniquely situated. He launched his firm, Miller Strategies, in 2017, by leveraging relationships from his days building out Rick Perry's political operation in Texas. But his true act of political opportunism was switching candidates, from Perry to Trump, after the former bailed out of the 2016 campaign. Given his longtime relationship with McCarthy, too, Miller was brilliantly positioned as a Mr. Inside-Mr. Outside.

After Trump was elected, Miller quickly earned his bones on K Street through his deep relationships with Trump newcomers, who were eager to give him access. He held frequent fundraisers at his $3 million City Center townhouse. Incredibly, he raised over $130 million combined for Trump's super PAC and 2020 presidential campaign, according to a source with knowledge. And it has paid off: Miller and his firm raked in $30 million in lobbying fees during the Trump years.
Miller was also one of McCarthy's most aggressive fundraisers, keeping the Congressional Leadership Fund cash-flush. He whipped for McCarthy during the 15 rounds of speakership votes, using his corporate connections to apply pressure on members, and it wasn't lost on anyone that he was literally sitting in the speaker's office while he did so. Miller's close association with McCarthy made him even more in demand. Indeed, he's made nearly $10 million in 2023 alone.

Now, many are spinning his McCarthy patronage as baggage. Especially because McCarthy worked so hard to try to halt Scalise and, in turn, Johnson. "The reality is that Jeff created his operation around McCarthy, and he didn't exist before Trump and McCarthy," said an in-house lobbyist at a blue-chip firm. "He was viewed as the Kevin guy; it's tough to rebrand yourself as the Mike Johnson guy when you have little to do with him."

Nevertheless, the day after Johnson was named speaker, Miller pretty much announced through Politico that he wasn't going anywhere and was ready to step in and graciously fundraise for Johnson, too. Multiple sources told me that Johnson's team was unaware that he was putting that statement out. A week later, Miller announced that he was setting the bar at $1 million to host a fundraiser for Johnson, by hosting the first one with Altria chief lobbyist Todd Walker. Other sponsors include staffers associated with current and former leadership, all trying to make inroads to Johnson with money. "He wanted to be the one to announce the first fundraiser," said the Senate staffer. "Who was going to say no? Who was going to deny it? There was no downside to him doing it."

These days, Miller's standing is fluid. "If you fucked Steve Scalise, then you're dead on the Hill," said a lobbyist close to Scalise, overstating his power. "The Jeff Miller monopoly is over." Others say he may have just temporarily lost his mojo, and perhaps some firms are wondering if he's worth his price at the moment since it's unlikely he'll be kicking his feet up in the speaker's office like he used to. "I think it's healthy that things are more open now. It's a big change," said Vitter. ("[Jeff's] made an incredible effort to help the team and knows how to raise huge funds," said a Johnson aide. "He's definitely within the fold." Miller declined to comment on the record.)

Geduldig, a Miller ally, said that as long as Miller continues to be one of the top fundraisers for the party, he will continue to be a top lobbyist. He also added that the success of both of their firms, and their associations with McCarthy, were not built overnight—and that inevitably, K Street will build those same bonds with the new speaker, too. "Guess what? We're all going to get close to the Johnson office," Geduldig said. "We know the people who do the jobs inside the speaker's office. We all know the people with the staff jobs."
FOUR STORIES WE'RE TALKING ABOUT
Zaz Lit 101
News and notes from around the media industry.
DYLAN BYERS

Mike Drop
Is the new speaker stumbling into a MAGA mutiny?
TINA NGUYEN

Need help? Review our FAQs
page or contact
us for assistance. For brand partnerships, email ads@puck.news.
You received this email because you signed up to receive emails from Puck, or as part of your Puck account associated with . To stop receiving this newsletter and/or manage all your email preferences, click here.
Puck is published by Heat Media LLC. 227 W 17th St New York, NY 10011.