Welcome back to The Best & The Brightest, I'm Peter Hamby, back from a weekend in New Orleans and Baton Rouge, full of boudin balls and renewed hope that Jayden Daniels actually wins the Heisman. In tonight's edition, I have a warning for Democrats concerned about a Joe Manchin/No Labels presidential bid. They seem to be looking past a big threat to Joe Biden that's still out there, and his name is Robert F. Kennedy Jr.
But first, a nod from Abby Livingston to the madness on Capitol Hill…
Pre-Shutdown Chatter & McCarthy Questions
It's hard to find anyone who thinks the government won't shut down at the end of this week. Then again, predicting what will happen in Congress day-to-day has been a fool's errand over the last few months. Even members have given up on scheduling regular events—canceling innumerable local and international engagements since the House chaos began in early October.

Untested Speaker Mike Johnson has been batting around a series of increasingly offbeat and byzantine ideas to keep the government open—a laddered CR, anyone?—that are difficult to decipher for anyone not primed on the appropriations process. Indeed, even appropriators seem befuddled as to how this thing will play out over the next few days. In the meantime, a snapshot of the inside conversations playing out across the Capitol…
The first retirement domino?: Texas Republican Michael Burgess will retire from Congress, per multiple outlets on Monday. Burgess is exactly the kind of retirement that has been prognosticated here: A senior member of the Energy and Commerce Committee, he wielded enormous power over the years (especially on health care). He came up short in his bid to be the Republican leader of the committee, but there was no sign he might not have a decent shot if he ran again. The House simply isn't a place for pragmatists of his ilk anymore. But the bigger takeaway here is that Texas has one of the earliest filing deadlines—the do-or-die time for re-election decisions. It's hard to imagine more retirements aren't coming.
Will McCarthy stay on?: Speaking of retirements, Kevin McCarthy told CNN's Manu Raju over the weekend that he, too, is considering retirement. Decision time for the ousted speaker is nigh, as California candidate filing closes on Dec. 8 (which some McCarthy haters have gleefully flagged for me). Anyway, it used to be pro forma for a member to retire—if not outright resign—after stepping down from the speakership. Nancy Pelosi bucked that trend in 2010, when Democrats lost the House and practically all of Washington assumed she was headed to the Vatican as a diplomat. She did it again last year, when she stepped down as party leader but stayed on as a sort of speaker emerita, and again this year when she announced she'd run for yet another term. It sure seems like she's having more fun with the emeritus title than her successor, though.
The Spanberger complexifier: On Monday, as expected, Virginia Rep. Abigail Spanberger announced her retirement from Congress in order to prepare for a 2025 gubernatorial run. She joins a group of Class of 2018 members who are running statewide in the next two years (also including Colin Allred, Andy Kim, Katie Porter, and Elissa Slotkin). These candidates replenished a Democratic farm team that had been sorely in need of fresh talent since the 2010 midterm losses and are expected to run formidable campaigns.

That said, the Spanberger exit—along with that of Porter in Orange County and Slotkin in Central Michigan—will force Democrats to defend these vacancies as they try to recapture the House next year. The D.C.C.C. and its friends will have to spend money in expensive TV markets (D.C., Los Angeles, and Detroit) to boost the nominees who hope to succeed these members. David Wasserman at The Cook Political Report promptly shifted Spanberger's 7th District from "Likely Democratic" to "Lean Democratic" in reaction to the news.

It's not usually a problem when quality candidates shift focus to another political arena, but the Democratic campaign to take back the House is shaping up to be a cross-country knife fight where every seat counts. If there's any solace for Democrats, it's that Slotkin appears to be a strong statewide candidate that could help stabilize Michigan's chaotic political climate both down-ballot and up-ballot, as Biden grapples with dwindling support among the state's large Arab population over his handling of the Israel-Hamas war.

Home for the holidays?: As the government barrels toward a shutdown on Friday, it's an open question whether members will be able to leave Washington for Thanksgiving next week. Alas, it is a very real possibility that members could spend the day stuck in D.C., according to a senior House staffer. It shouldn't have to be stated (except it does), but it's quite the choice for members to pass through airport security as T.S.A. agents work through the holiday and a shutdown.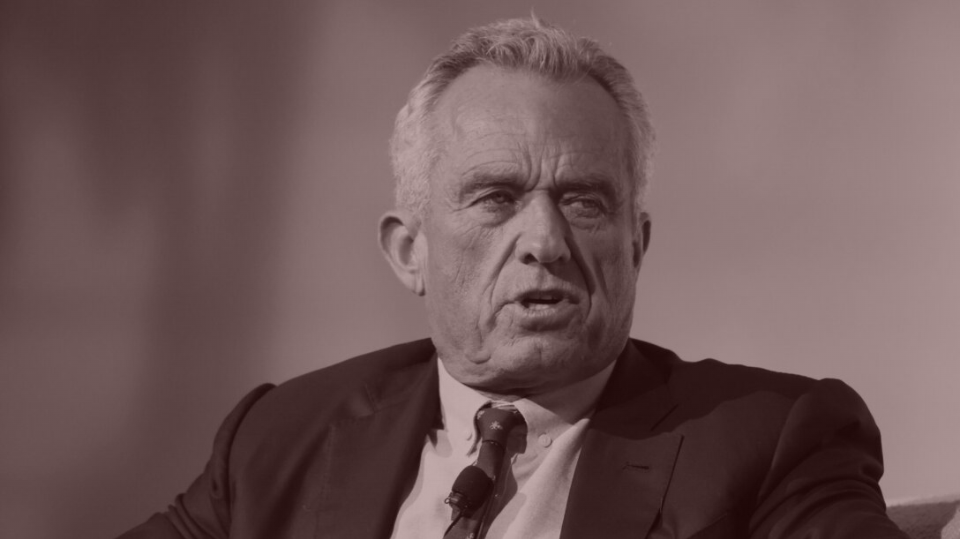 Biden's Kennedy Curse
The media fixation on Romney-Manchin is out of proportion to the real threat that almost nobody is talking about: Kennedy could very well be on the debate stage alongside Biden next fall, a nightmare scenario that could allow Trump to waltz into the White House.
Mitt Romney, through his Senate office, said Monday that he "is not considering running for president on any ticket" in 2024. This should not be a surprise to anyone who has closely followed Romney's career. He has already run for president twice, losing both of those campaigns. He recently retired from the Senate, acknowledging his old age (76) and calling for a "new generation" of leaders to step forward. Also, politics these days is an increasingly degrading and undignified avocation, especially for the sort of Republican, like Romney, who views the job as a genuine public service.

But Romney's statement was a blow to a small group of centrist plotters—mainly donors and a few out-of-touch pundits—who harbor fantasies of a moderate presidential ticket in 2024 that can restore sanity to our polarized political system, and get us back to a time of pre-Trump comity in Washington. Romney would have been one part of that hypothetical centrist dream team, along with retiring West Virginia senator Joe Manchin, or former Maryland governor Larry Hogan, or former Utah governor Jon Huntsman. (If it wasn't obvious here, diversity is an afterthought in these ranks.)

Romney's chief of staff, Liz Johnson, issued the statement late last week after the semi-mysterious creation of a "Draft Romney Manchin Committee" with the Federal Election Commission. I say "semi-mysterious" because an operative with plenty of national connections was peddling news of the committee to political reporters last week, who wrote it up just as Romney was telling them to buzz off. According to The Washington Post, the committee was formed by a group of activists who'd hoped to join an effort by the centrist group No Labels to get Romney and Manchin on the ballot in enough states to make them competitive in the Electoral College come next year. Manchin, for his part, is at least entertaining the idea, as he made clear in the video announcing his retirement from the Senate last week.

For now, No Labels isn't officially connected to whoever created the draft committee, but they could use the help. Not only is No Labels loathed by the Democratic establishment, which sees them as a potential spoiler for Joe Biden in 2024, but the outfit is also up against a logistical wall. So far, they've only secured presidential ballot access as "No Labels" in 12 states, and only one of them, Arizona, could be considered a pure presidential battleground. Other states require named candidates to get on the ballot, so luring Romney and Manchin into the race would solve a big problem. But there's a pesky little issue with this whole enterprise: It's a problem almost no one is asking them to solve.
A MESSAGE FROM OUR SPONSOR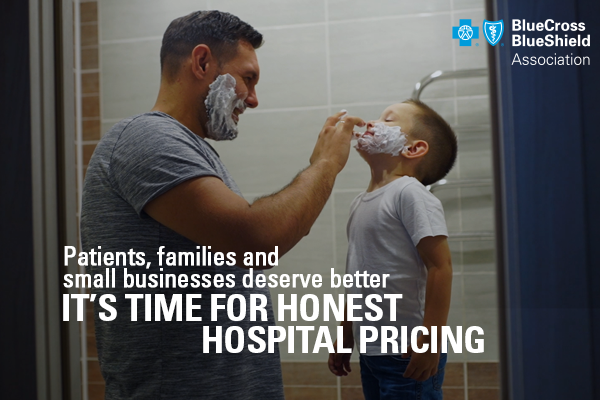 Honest hospital pricing can rein in out-of-control health care costs. That's why Blue Cross and Blue Shield companies are working with Congress on commonsense solutions to save patients and taxpayers more than $500 billion.

Patients deserve better. Families deserve lower costs. Small businesses deserve relief. It's time for fair and reasonable hospital pricing and affordable, quality care. For the Health of America.
Polls show there is little interest among the electorate for a centrist dream team in 2024. The recent attention being showered on No Labels and the centrist threat of Manchin feels like a misplaced fixation of official Washington, where plenty of political and media professionals yearn for ye olden days of bipartisan fellowship. Out there in the real world, holier-than-thou stridency is the new normal, whataboutism reigns, and partisanship is proudly wielded as identity. Centrism, as a virtue, is losing its place in politics. As relevant proof, see Starbucks billionaire Howard Schultz, whose attempt to run as a virtuous independent back in 2020 was met with nothing but resistance until he eventually backed down. The voters who care about civility in politics? They're already voting Democrat—and they knew Schultz would only hurt their party in the end.

Sure, voters are upset with the likely choice atop the 2024 ballot between Trump and Biden. I wrote about the concept of the "double-hater" back in July, before the term went mainstream in recent weeks as concerns about Biden's re-election chances began to swell. Thanks to frustration with Biden and Trump, voters are expressing support in polls for other hypothetical options. "No Labels candidate," for instance, recently garnered 5 percent support in a national poll from NBC News. But a year before the election, terms like "unnamed Democrat" or "No Labels candidate" are meaningless uses of polling until actual names and agendas are attached. (I'd also be willing to bet my house that those same 5 percent of Americans don't know what "No Labels" actually is.) Hundreds of millions of dollars will be spent before next fall on the presidential race, and by then, a defined choice will be on the ballot.

This isn't to downplay the notion that a Manchin run would hurt Biden. That's something Biden is well aware of, which is why the president heaped praise on Manchin last week following his retirement announcement. Biden needs to keep him in the tent. Manchin—or Hogan, or whomever—would most obviously yank votes from the suburban mom and dad types who care about moderation and normalcy, the voters that helped Biden build his coalition in 2020 and defeat Trump in key states like Wisconsin and Georgia.

As for Manchin, I can't say for sure, but I have a feeling he ultimately won't pull the trigger. Despite the hate that he gets from the left for bucking his party, Manchin is good at politics, and he can read a poll. The idea that a third-party candidacy could net 270 electoral votes is a reach, any way you slice it. Manchin might embark on a vanity-based "listening tour" in the coming months to keep his name in the press. But he is also still a Democrat who supports abortion rights, voted for the largest green energy investment in American history, and supported the impeachment of Trump and the investigation into the January 6 insurrection. I have a hard time believing that he would cap his legacy by helping Trump win back the White House.
Washington might be fixated on Manchin and No Labels, but I've found it curious that he's been getting more attention lately than the more realistic threats to Biden's candidacy coming from his left flank—Robert F. Kennedy Jr., Cornel West and Jill Stein. All three of them are swimming in a pool of leftist populism, anti-establishment thinking, antiwar dogma and a dash of conspiracy theory. Each of them has the potential to siphon support from disaffected young people, progressives, and younger Black voters—core Democratic voting blocs that have soured on Biden since 2020.

Among those three, though, Kennedy is the candidate that Democrats should be most concerned about. I find it strange that the alarms aren't louder. Democratic anxieties about Kennedy's campaign seem to have faded since he dropped out of the Democratic primary and launched an independent bid for the White House. Maybe it's the vaccine conspiracies or his ideological Venn diagram overlap with Joe Rogan listeners, but recent polls have shown that Republicans now like Kennedy more than Democrats do. Kennedy has also started to pull support from both Biden and Trump. But Democrats shouldn't suddenly rest easy. If anything, the fears about Kennedy should be growing.

Here's a prospect almost no one is talking about: Kennedy could very well be on the debate stage alongside Biden and Trump next fall. And if you think that dynamic would damage Trump more than Biden, well, I have some Ivermectin to sell you. According to criteria from the Commission on Presidential Debates, the nonpartisan group that runs the general election debate process, to be eligible for the debates a candidate must "have a level of support of at least 15 percent of the national electorate, as determined by five national public opinion polling organizations, using the average of those organizations' most recently publicly reported results at the time of the determination." The debate commission could very well change the debate criteria before next year—they've done it in the past. Or they might say Kennedy has no realistic path to 270 and come up with a way to exclude him from the stage. But on the polling qualifier, it's easy to see Kennedy making the cut, given his family name ID and the kind of money he's been raising.

Kennedy has already polled over 15 percent in quality national polls. Just this month, a Quinnipiac poll found Kennedy taking 22 percent in a three-way race against Biden and Trump. In the high-quality battleground state polls released last week by The New York Times and Siena College, Kennedy was polling above 20 percent with registered voters in six of the closest battleground states—Arizona, Georgia, Michigan, Nevada, Pennsylvania and Wisconsin.

What should frighten Democrats even more than the topline poll numbers is that Kennedy is badly cutting into Biden's support with Black and Hispanic voters. Maybe it's his famous last name, or maybe it's the fact that people of color have expressed more skepticism about vaccines than white people, but Kennedy is performing remarkably well right now with those groups. In Nevada, according to the New York Times poll, Kennedy is at 29 percent among Hispanic voters, basically at parity with Trump (31 percent) and Biden (34 percent). As a result, the poll found Trump winning Nevada by 7 points—with just 38 percent of the vote. The country hasn't seen a multicandidate race this competitive since the spring of 1992, when Ross Perot was leading both George H.W. Bush and Bill Clinton.

Michigan—a state Biden won by less than 200,000 votes in 2020—is another alarming example. Black voters are a core element of the Democratic coalition there, as they are everywhere. But with Kennedy in the Michigan race, the New York Times poll found, he wins 27 percent of the Black registered voters. In 2020, according to exit polls, Biden won 92 percent of Black voters in Michigan. With Kennedy on the Michigan ballot in 2024, Biden only gets 51 percent of Black voters—a stunning drop in support that would make it impossible for Biden to win the state and the White House.

So yes, Joe Manchin is in the news. But the real, existing threat from Kennedy is right there, out in the open, staring at Democrats in the face. He's not going anywhere—working to get on ballots right now, saying yes to every interview, raising money from mischief-makers, and reaching low propensity voters that Democrats need in the non-traditional digital spaces where they get their news and information. He's tapping directly into the surging public mistrust of institutions and the traditional political process. As a third-party candidate, he'll certainly pry some voters away from Trump. But looking at the data, Kennedy is still hurting Biden, and his candidacy could have fateful consequences for democracy in America.
FOUR STORIES WE'RE TALKING ABOUT
SAG's New Deal
A close look at what the actors achieved.
JONATHAN HANDEL

Need help? Review our FAQs
page or contact
us for assistance. For brand partnerships, email ads@puck.news.
You received this email because you signed up to receive emails from Puck, or as part of your Puck account associated with . To stop receiving this newsletter and/or manage all your email preferences, click here.
Puck is published by Heat Media LLC. 227 W 17th St New York, NY 10011.