Happy Monday everyone and welcome to The Best & The Brightest. I'm Peter Hamby coming to you from the Westside of Los Angeles, where R.F.K., Jr. bumper stickers continue to surface on the Teslas pulling into Erewhon. Today, I have a little scoop about Chris Christie and what it means for his kamikaze presidential campaign. And it's time we had an honest conversation about Threads, which isn't exactly living up to the hype as it struggles to maintain momentum against Elon Musk's newly-rebranded Twitter.
But first…
The Capitol Hill Cafeteria Report
An utterly indispensable, high-minded, and, yes, occasionally dishy readout of what our lawmakers are really legislating behind closed doors.

By Abby Livingston

Boebert is the New Michele Bachmann…
: Back in a long-ago era, all of ten years ago, the now-retired congresswoman Michele Bachmann was a political curiosity. She was so polarizing, in fact, that she became a powerful fundraiser both for herself and also...
Can't see the full story?

You're receiving the free version of The Best & The Brightest at . For full access to Puck, and to each of my colleagues, you can
subscribe here.
A MESSAGE FROM OUR SPONSOR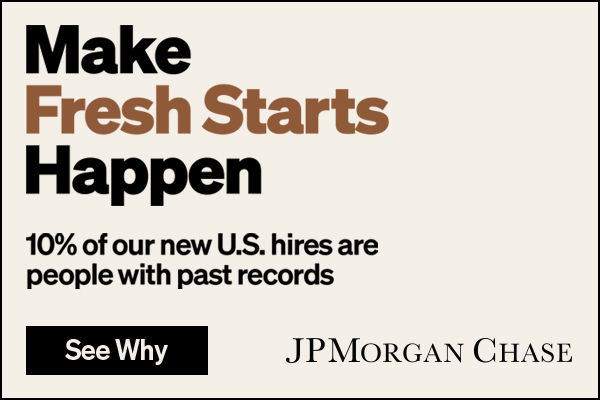 Second chance hiring could add $87B to the economy
JPMorgan Chase taps into new qualified talent, hiring 4,600 people with records within industry guidelines in 2022.
Opening up economic opportunities to this talent pipeline helps strengthen communities and boosts the workforce. See how

Here's a little 2024 media story guaranteed to make Republican eyes roll: I'm told that G.O.P. spoiler candidate Chris Christie will be appearing on Pod Save America this week, taping an interview for Thursday's podcast with Crooked Media co-founder Jon Lovett. Yes, you read that correctly. The first presidential candidate of the 2024 cycle to appear on...
FOUR STORIES WE'RE TALKING ABOUT
Solomon's Crunch
The Goldman C.E.O. is facing a pivotal quarter.
WILLIAM D. COHAN

Need help? Review our FAQs
page or contact
us for assistance. For brand partnerships, email ads@puck.news.
You received this email because you signed up to receive emails from Puck, or as part of your Puck account associated with . To stop receiving this newsletter and/or manage all your email preferences, click here.
Puck is published by Heat Media LLC. 227 W 17th St New York, NY 10011.