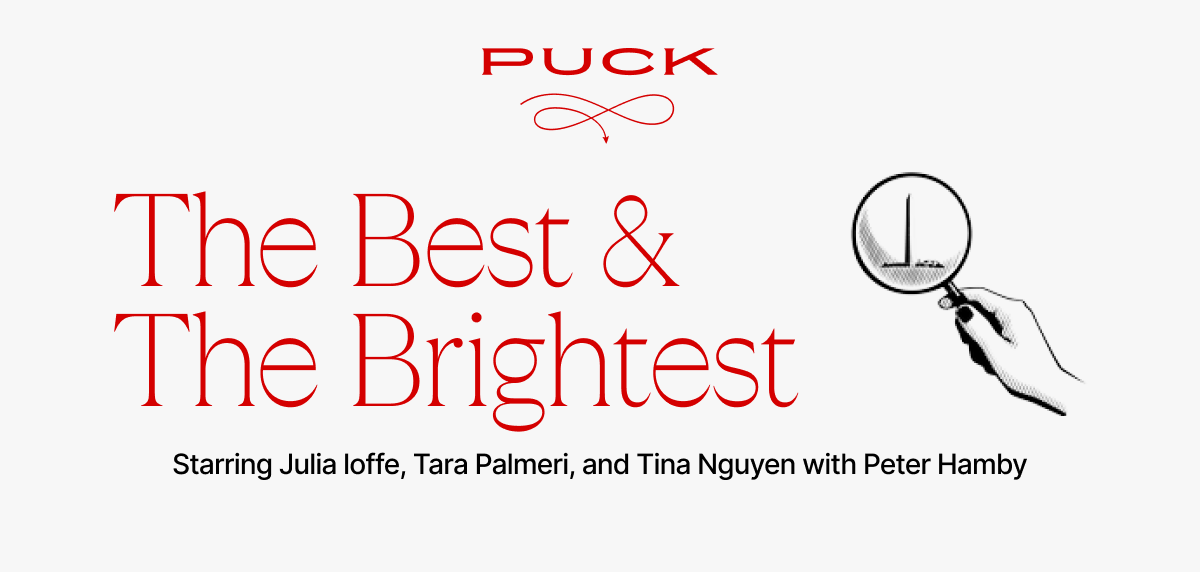 Welcome back to The Best & The Brightest, your news source for what everyone in Washington is really talking about. Thanks for joining me, Julia, Tina, and Peter again for another dishy edition on the whispers and murmurs in D.C. that are keeping Joe Biden, Kevin McCarthy, Chuck Schumer and Hakeem Jeffries up at night. In today's edition, news and notes on the Sununu '24 question, Hakeem's debt ceiling math, and more.
But first…
Hill Harper vs. Slotkin: As I wrote earlier this week, there's a potential Senate battle royale brewing in Michigan. Rep. Elissa Slotkin announced her candidacy on Monday with the behind-the-scenes support of outgoing Senator Debbie Stabenow, who has been trying to coalesce support around her potential successor while persuading some competitors to clear the field and instead focus on the 2026 gubernatorial race. Whether it works for Slotkin, a fundraising powerhouse, is an open question. One person who hasn't gotten the memo, I'm hearing, is Hill Harper, the multihyphenate who starred on CSI: NY and Good Doctor, graduated from Brown (with Latin honors) and Harvard Law, and used to shoot hoops with Barack Obama. A senior advisor to Hill said that he plans to make his official announcement in April.

Harper may be a political neophyte from Iowa, but he could nonetheless complicate things for Slotkin. Race and representation will factor greatly in this race. Former congresswoman Brenda Lawrence has been outspoken about pining for a Black candidate. (She herself might even run.) Harper, a Black man with nearly half a million social followers on Twitter and Instagram, will offer a powerful contrast with Slotkin, a white woman who was endorsed by Liz Cheney. Slotkin is under immediate pressure to show support from Black leaders in the next month and I'm hearing that she's working hard to win them over through her listening tour.

Harper is starting without a campaign war chest, but I've heard that he's been dangling appealing retainers to some of D.C.'s top firms to help build his team. Still, one thing I've been told repeatedly is not to underestimate Slotkin. "She will claw anyone's face off," a former aide told me. "Challenging her would be suicidal."

Obama 2.0?: This week is the Democratic retreat in Baltimore, an "issues conference" that is regarded by many as a big waste of time but at least an excuse to escape D.C. (As Punchbowl noted, 11 members skipped a speech by Joe Biden to hear Joni Mitchell.) For those who stuck around, however, the highlight was hearing Maryland governor Wes Moore introduce Biden. As I've reported, the 44-year-old newcomer is already being anointed a potential Obama 2.0 by elder statesmen like Steny Hoyer. And, indeed, the guy is a perfect-on-paper candidate—handsome, Black, military background, Rhodes scholarship, Oprah connections and more. Before running for governor, Moore was the C.E.O. of Robin Hood, Wall Street's favorite philanthropy, whose annual Javits Center fundraiser is the highlight of the social season and raises something like the G.D.P. of Liechtenstein. Moore was apparently "amazing" at the Baltimore retreat, and even talked about how Hoyer, who introduced him, sent him an American flag when he was deployed to Afghanistan.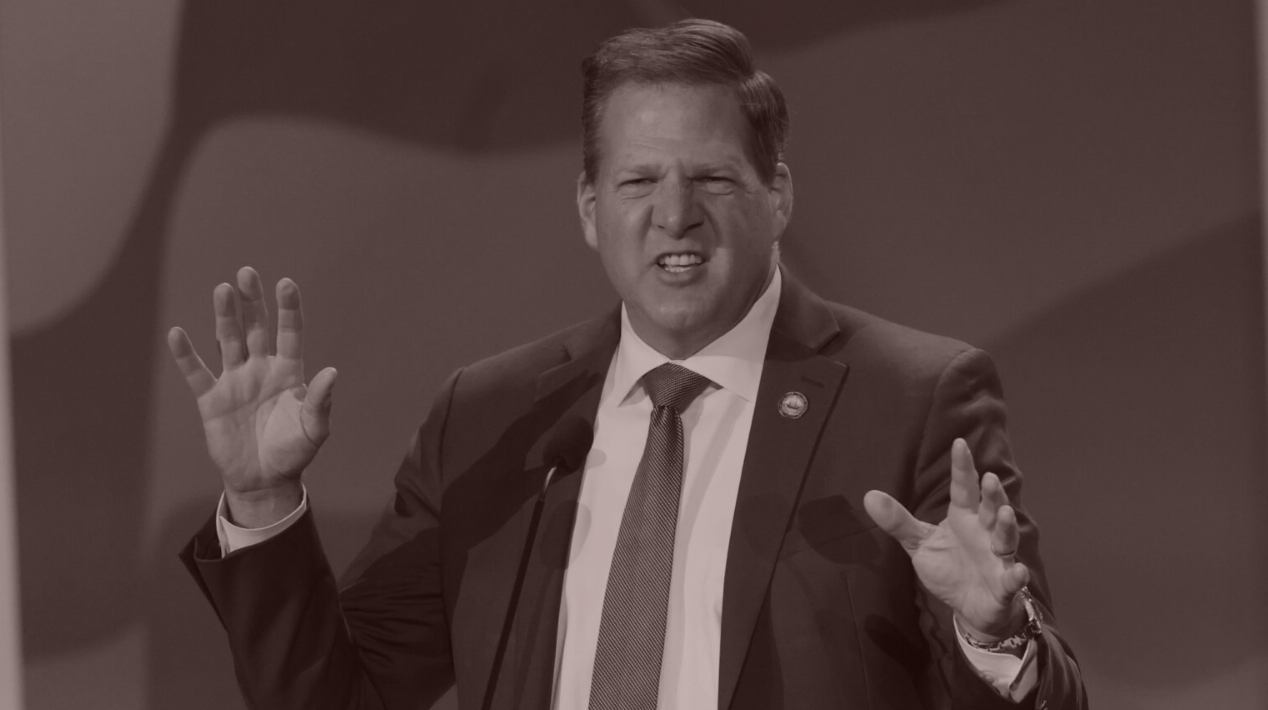 The Sununu Tease, Hakeem's Burden, & Fettermania
News and notes on the talk around town: Is Chris Sununu a serious 2024 contender, or just a master brand builder and hype man? Can Hakeem Jeffries keep his most senior colleagues in office through the summer? And is there any truth to the right's Gisele Fetterman bogeymania?
As you may have heard, we've finally entered the shadow Republican presidential primary—a never-ending reality show with some returning characters, a cohort of new figures, plot twists galore, and plenty of gamesmanship and strategy. These early innings will likely be dominated by a few familiar storylines: longshot candidates (Nikki Haley, Mike Pence, Tim Scott and Mike Pompeo) either have entered, or will soon, in order to raise money and build momentum as another rung of aspirants (Chris Christie, Glenn Youngkin, and Rick Scott) will wait things out as long as possible, hoping that a lane magically materializes. Meanwhile, Trump will lob bombs at his chief competitor, Ron DeSantis, hoping to lure him in pronto for a bitter, protracted, ugly public feud—his very specialty.

And then there are the potential candidates who may just be content being potential candidates. One name that has recently crossed my radar is Chris Sununu, the popular New Hampshire governor (and scion of another popular governor of New Hampshire) who has been publicly flirting with a bid. But among D.C. insiders, there's a feeling that the chatter might really just be an elaborate hype-building exercise—a tease. Sununu previously led on Mitch McConnell and the N.R.S.C. for over a year with the false hope that he would run for Senate, only to announce instead that he was running for another term as governor. That little maneuver didn't make him many friends in D.C., especially after the Republican nominee, Don Bolduc, fell to Democratic incumbent Maggie Hassan.

Biding time and excessive Hamletizising is all a part of politics. Christie did it in 2012. Trump spent all of 2011 pretending to run for president, despite not taking it seriously for another four years. It's not a bad way to get your name out there and lay down some dirt for a future campaign. But Sununu seems to be taking it one step further, offering a series of comments seemingly intended to confound Republican leaders. This week, he told SiriusXM's Steve Scully that he'll make up his mind by this summer. He recently told Semafor that he'd decide "going into the fall." At the same time, Sununu also told Axios that he has concerns about too many candidates getting into the race, and that anyone who doesn't have a path to victory by October or November should drop out.

In the meantime, he'll be spreading the good word about his work in New Hampshire, and "getting a lot of national attention," as he told Scully. Last week he was the subject of a profile in The New York Times, and the week before that he was on CBS's Face the Nation. "He's serious about it, and he's taking all of the right steps that one would if he makes the jump," said a person who has spoken to him recently. "It would most likely be this summer. As for the Senate race, "It wasn't a tease. He was serious about running for Senate but his conversations with U.S. senators turned him off from the idea," the person said.

While he's not a strong fundraiser, himself, Sununu has hired fundraisers. He recently attended Karl Rove's Texas Voter Engagement summit and is going to the Club for Growth event this weekend that will also be attended by Tim Scott and DeSantis. Perhaps most importantly, he has a story to tell about himself: how he straddled New Hampshire's never-Trumpers, always-Trumpers, and even roped in a fair number of Democrats and independents to clinch a fourth term as governor. He may also be the most vocal candidate to say that Trump can't win in 2024, while bashing DeSantis, which makes him a great cable news booking.

Of course, there really is no risk for Sununu. Unlike Youngkin, who is term-limited as governor of Virginia, Sununu has the luxury of just running again in New Hampshire, as many times as he'd like, while building his national profile with his 501(c)4. Either way, if Sununu can pull off the Youngkin dance of triangulating pro-Trump and never-Trump voters, he might just emerge as a generational kingmaker in New Hampshire like his father, John H. Sununu. As governor, the elder Sununu helped George H.W. Bush win the Granite State after he limped out of Iowa, earning him the role of chief of staff for his troubles.
The debt ceiling nightmare facing Washington has been referred to as a summertime crisis, with a showdown in June or July. But we may be getting a preview of what's to come as soon as next week, when Biden introduces his proposed budget on March 9. Passing a budget out of committee will be the first real test for the G.O.P. conference, indicating where red lines are being drawn by hardliners Ralph Norman, Chip Roy and Bob Good.

If the G.O.P. takes time to respond to Biden's budget and really struggles to attain enough votes to get it out of committee, that could put sufficient pressure on the moderate Republicans in the House to start thinking about off-ramps like the discharge petition, that would have to be activated as soon as March for it to work. The discharge petition, which would force the bill onto the floor without McCarthy's approval, has only been used once in the past decade, and takes months to effectuate. I don't think that the budget negotiations will trigger any sort of motion to vacate itchy trigger fingers against McCarthy, who has his own horse trading nightmare to deal with, but it's a preview of what's to come.

In the meantime, the Democrats have their own hill to climb—namely, convincing older, and bored, members not to retire before the end of their terms despite being in the doldrums of a minority congress. Some fear that David Cicilline may have broken the dam for loose-in-the-saddles members when he announced his retirement last week, just one month into the session, to take a job at a Rhode Island non-profit that will pay him some $650,000 annually to give away money across the state and conveniently position him to mount a return to public life when the 73-year-old Senator Jack Reed retires. Many were not surprised to see Cicilline "retire," anyway, after he lost a leadership fight to Katherine Clark last cycle and was subsequently boxed out by Jim Clyburn.

Anyway, Hakeem Jeffries has the unenviable task of convincing his colleagues to delay exits into the private sector or retirement in order to keep the pressure on McCarthy, who has only a four-seat majority in the House. It doesn't help, of course, that 11 of the 13 members over 80 years old are Democrats, including the increasingly immobile Grace Napolitano (86), Maxine Waters (84), the soon to be newly-wedded Steny Hoyer (83), and Bill Pascrell (86).

Most of these are safe Democratic seats, so it's often just a temporary vacancy, but retirements have to be timed carefully around votes. In some states, the governor decides the date of the special election, and can drag it out—like when DeSantis scheduled the election to fill Alcee Hastings' seat nine months after he died. Sure, McCarthy has his own problems, like Greg Steube recovering from a fall from his ladder, and a frustrated 74-year-old Vern Buchanan, who after losing the Ways & Means chairmanship is still contemplating an exit. (I hear Buchanan will make a decision about his future this summer or fall.) But Democrats can't afford any more losses, even if McCarthy is struggling to control his conference.

One Democrat who might retire regardless is 81-year-old Nancy Pelosi, whom nobody expects to stick out her entire term as a backbencher in a small off-Capitol office. (Those who know her well say she's waiting for Paul Pelosi to recuperate from his harrowing attack.) Her new spokesperson, Aaron Bennett, told me: "Speaker Emerita Pelosi plans to serve her entire term in Congress and to represent the people of San Francisco. Any suggestion otherwise is baseless."

The holidays, especially the summer, often create a strong pull towards retirement for those who are less in love with the gig. Even if Jeffries can get them back to vote and hang on until after the fall, this would allow him to keep the pressure on McCarthy through the debt ceiling debate this summer, and through the budget debate in the fall, which will most likely result in a continuing resolution. But with proxy voting ostensibly dead, there are a number of young and older members who will be tired of the commute. As one Hill insider put it to me, "You make $180,000 for a job where everyone hates you and you don't get to see your wife. It's the worst job in town."
John Fetterman is a brave survivor of a stroke who showed an extra layer of fortitude by announcing a leave of absence to endure treatment for depression. But, this being Washington, there's already talk about whether he might decide not to return and, ergo, who would take his seat.

Pennsylvania governor Josh Shapiro said there are no contingency plans, and he is waiting on Fetterman to return. But during the campaign, when Fetterman was unwell, it was presumed within Democratic political circles in the state that his wife Gisele would be the only substitute for him as a candidate. The two were a unit and she picked up a lot of the slack during his recovery. "Whoever is saying this doesn't know what they're talking about and is clearly talking out of their ass," said Fetterman's communications director Joe Calvello.

Her natural political abilities have also been noted within the Democratic party. She made a splash after he was elected with her $12 dress and a New Republic interview titled, Mrs. Fetterman Goes to Washington. In the story, she even had her own aide. She has said publicly that she has no interest in running for Senate, telling Vogue "I will never run for anything. I hate politics." But Gisele Fetterman may recognize the difficulty of the challenge as a formerly undocumented immigrant whose views are to the left of her husband. She's also a Tucker Carlson target as the mere appearance of her viability has made her a victim of attacks on the right.
FOUR STORIES WE'RE TALKING ABOUT
DeSantis's Unholy Coalition
Ron is racking up the support of Taliban 20ers, Florida-adjacent rich guys, and other anti-Trumpers.
TINA NGUYEN

Need help? Review our FAQs
page or contact
us for assistance. For brand partnerships, email ads@puck.news.
Puck is published by Heat Media LLC. 227 W 17th St New York, NY 10011.