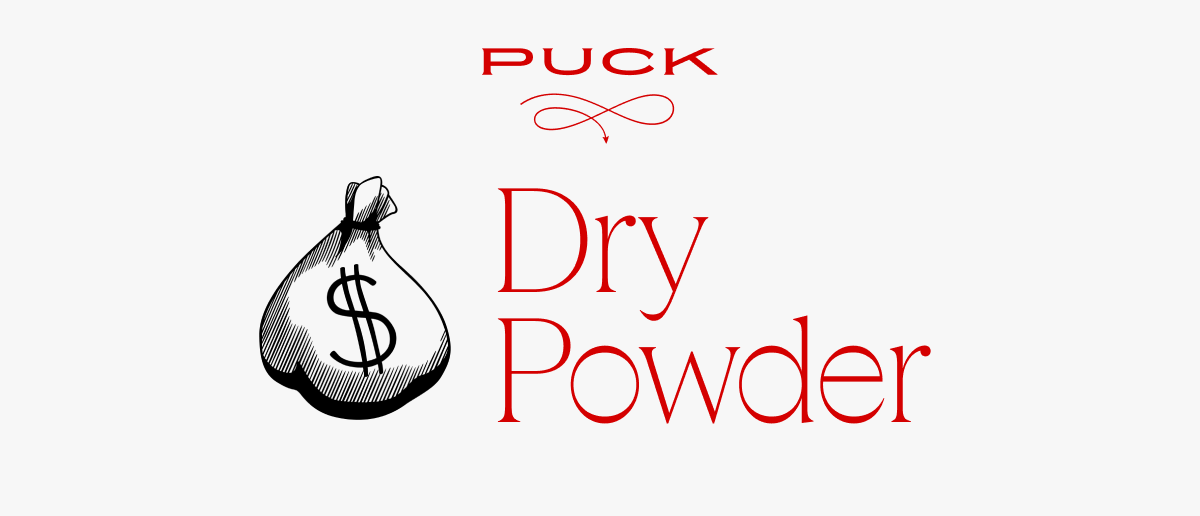 Happy Sunday, and welcome back to Dry Powder.
With five activist investors hanging out in the capital structure of Marc Benioff's Salesforce, what might be going through the mind of the embattled C.E.O.? Today, a look at the company's pressure points and some unsolicited advice for Marc; my thoughts on Unscripted, the recent book about Shari Redstone and the Paramount Global C-suite battle royale; and finally, my conversation with Matt Belloni in the wake of Disney's earnings call.
At the end of January, Dan Loeb and I had a "drink" together—sparkling water for both of us and some crudités—at the recently opened Aman New York, at the corner of 57th and Fifth. There is some sort of private Aman Club in there for members, as well as an ultra ultra-luxe hotel. Since Dan is a member, we agreed to meet there.

We spoke about a bunch of things, including about his friend Marc Benioff and Salesforce. He made no mention of buying a stake in Salesforce and becoming the fifth activist to buy into the stock—nor should he have mentioned it—but it was clear to me he knows and likes Marc and has been serving as some sort of informal adviser to the embattled C.E.O.

So what is a founder/C.E.O. to do when there are five activist investors—Starboard Value, Elliot Management, Value Act, Inclusive Capital and now Loeb's Third Point—hanging out in your capital structure? Benioff is uber successful, of course, with a net worth of around $7 billion these days. So, on the one hand, dealing with five activist investors isn't going to change his lifestyle one iota. But, on the other hand, he's got to care since Salesforce is his baby. Should he take a page from the Disney playbook, where now two C.E.O.s in less than a year have seen off threats from two serious activist investors, including both Nelson Peltz and the ubiquitous Loeb?

In Disney's case, the company was able to ward off the threats without giving up a board seat—although it gave Loeb a board choice, Carolyn Everson—but did agree to cut $5 billion in costs, 7,000 employees and to reinstate the dividend by year end. So, not quite ignoring. In fact, I'm told that as Bob Iger was going through his restructuring proposal on Wednesday, Peltz and Trian were happily noting that he was giving them pretty much everything they asked for and checking off boxes along the way—enough anyway to get the hedge fund to fold its tent.

Benioff, who has had his own succession headaches, has already announced layoffs—in fact 10 percent of the Salesforce workforce—so that move is out. He's already put one of the activist investors—Mason Morfit from ValueAct—on his board, so that move is out too, unless, say, his friend Dan Loeb goes on the board, which is a possibility. (I have no idea, and Dan did not bring this up during our visit.) I suppose Marc could consider divesting some of the 72 acquisitions that Salesforce has made since 2006, but presumably some of them have been accretive to Salesforce's various SaaS offerings.

Maybe the wolves would like Marc to spin off Slack, which Salesforce acquired for $28 billion in 2021. I love Slack; Puck is big into Slack and it's a great way to share ideas and communicate quickly to a like-minded group, such as colleagues in an office who may not be together in the same place, but does it really need to be part of Salesforce? I'm not convinced. But, on the other hand, is now the optimal time for a tech spinoff to stand on its own? It wouldn't do much for Benioff to spin off Slack only to have it trade for, say, $10 billion. That would be an embarrassment.

So what's Benioff to do? Obviously, he can save himself a lot of heartache if the Salesforce stock keeps heading back up. The company, which is still worth around $165 billion, has seen its stock oscillate, just like so many others: Salesfoce stock is down 19 percent in the last 12 months but up 24 percent so far this year. If that's Salesforce's trajectory for the rest of 2023, Marc might be able to keep the wolves at bay. In the meantime, I'd offer one simple suggestion. Maybe he should have a drink with Dan Loeb and take his wise counsel, find out what this group of investors wants and think about ways to give it to them.
I have read and reviewed (in yesterday's Air Mail) Unscripted, the new book by New York Times reporters James Stewart and Rachel Abrams about the battle royale that raged for years in the C-suites of what is now known as Paramount Global, the company that emerged from the 2019 combination of CBS and Viacom. (My Puck partner, Matt Belloni, also reviewed the book for the Washington Post.) As I wrote in the review, I loved the book, especially for its gossip and revelations. And I like to think I am a good judge of the substance of the Shari Redstone–Les Moonves-ViacomCBS saga since I have written about it extensively, starting in June 2015, with my pieces about Sumner Redstone and his two live-in girlfriends, Manuela Herzer and Sydney Holland.

My only beef with Unscripted is that this is Shari Redstone's version of events and it's clear in the reporting and writing that she was a major source. (The authors have only said that Shari "responded to questions either directly or through a spokesperson, and participated in fact-checking"; in other words, a wide-open highway of participation.) How else, for instance, can one gather Shari's fragile and wounded state of mind from her Fifth Avenue pied-à-terre on the morning that Moonves decided to hit the mattresses—suing the Redstones in Delaware Chancery Court? "She wandered through her apartment in a daze," Abrams and Stewart report, without citing how they knew that.

To which I say, good for them for getting Shari to participate in the reporting of their book. In my many years of reporting and writing on this topic, she only agreed to meet with me once, in an off-the-record conversation in the breakfast room at the Pierre Hotel, where Shari has an apartment. I think she just wanted to size me up, since I was the one chiefly responsible for her being able to get rid of Herzer and Holland and to try to supposedly get back in the good graces of her father.

Unscripted is not quite Shari Redstone hagiography, but it's close. "Today Shari Redstone ranks among the most powerful executives in Hollywood," Stewart and Abrams write in their Times adaptation from the book. "As nonexecutive chair she oversees Paramount Global, the company that emerged from the combination of CBS and Viacom, home to such hits as last summer's 'Top Gun: Maverick' and the current streaming series 'Yellowstone.'" And that, to me, is where the problem lies in this extraordinary corporate saga.

In my reporting, Shari was not the hero of the story that Stewart and Abrams make her out to be. She was rather a very clever and opportunistic antagonist, who saw her openings and seized them, knowing that her increasingly comatose father and a mortally wounded Les Moonves would not be able to do anything to stop her. First of all, Sumner made no secret of the fact that he didn't want Shari to succeed him. No matter, she did it anyway. He also made very clear that he didn't want Viacom and CBS recombined. Heck, he was the one who separated them. No matter, Shari decided she wanted them recombined, and she did it, even though Moonves, the CBS C.E.O., was dead set against the recombination. When he made himself vulnerable because of his atrocious #MeToo behavior, she pounced and got her hand-picked boards at both CBS and Viacom to go along and force the merger. And she made it all legal and nice, too. Sumner, gravely reduced in his later years to immobility, signed off on bequeathing her control of the family's nearly 80 percent voting control of Viacom and CBS (and 10 percent economic ownership). If you look at the signed papers, as I have, you will see something quite extraordinary: a Sumner Redstone "signature" that is nothing more than a veritable line of ink that falls off the page in a grandiose sweeping arc downward. It's an extraordinary metaphor.

None of this, by the way, is included in Unscripted. Also excluded, perhaps because it calls into question the Stewart-Abrams thesis, is the fact that the formerly $10 billion Redstone family fortune is now a much-diminished fortune of around $1.4 billion, although I've seen estimates that put Shari's net worth closer to $500 million. Nor is there mention in the book of what has become of Paramount Global. It's now a bit player on the media scene—despite owning CBS and Paramount—with a market value these days of around $14 billion, a mere fraction of its major competitors, Disney, Comcast and Warner Bros. Discovery. The Paramount stock price is down 40 percent in the last year and down nearly 50 percent from when the merger closed in December 2019. I'm sure that part of the reason Shari wanted to re-combine CBS and Viacom was to make it easier to sell Paramount Global in one fell swoop to one buyer. But nowadays that looks increasingly unlikely to happen. It's unclear who would want a declining CBS linear broadcast network as well as its cable and digital channels.

The ultimate irony of the Redstone saga is that for Shari to get her money out of the company now, after all this trouble, she may have to break it up again or to sell it off in pieces. Don't get me wrong, I have great admiration for Stewart and Abrams, with whom I'm friendly, but I feel like the price they paid for bountiful access to Shari in the writing of their excellent book was to fail to come to grips with just how much havoc Shari wrought in getting her way. That's just something we'll have to agree to disagree about without being disagreeable.
Disney's 'Everything on the Table' Era
Lastly, I chatted with Matt Belloni earlier this week, in the wake of Disney's earnings call, to break down all of the news. Herewith, our conversation about Bob Iger's Hulu commentary, the Peltz detente, the ESPN question, and more.
Matt: I've rarely been accused of drinking the Disney Kool-Aid (or is it Dole Whip?), but the much-anticipated earnings reveal yesterday seemed to hit all the right notes that new/old C.E.O. Bob Iger needed to hit.
Bill: Sometimes it's better to be lucky than good. It's probably safe to say that much of what Iger reported for the fourth quarter of 2022 was already in the bag by the time of his November return. But I do give him credit for conceiving a reorganization that puts the creatives back in the driver's seat.
Matt: All of it. The analysts who demanded major cost cuts got 7,000 layoffs and $5.5 billion in planned reductions, including $3 billion in content shrinkage. The streaming loss narrowed to just $1 billion, with Iger recommitting to profitability there by 2024. The creatives got an endorsement, with Iger uniting film, TV, and streaming in one Entertainment unit and declaring Disney will "return creativity to the center of the company." And by December, investor Nelson Peltz will get his cherished dividend, the first since the pandemic. The stock is down a little more than 1 percent today, but up 24 percent for the year. BofA analyst Jessica Reif Ehrlich said it was "decisive action," which is what Iger needed to convey, and Peltz wisely backed off his dumb crusade for a board seat.
Bill: I would just remind your Hollywood readers, Matt, that Peltz has a way of getting what he wants even if he loses a proxy fight—as he did when he went after DuPont—or if he never even engages in a proxy fight, as occurred at GE.
Matt: Well, he kinda did here! Trian's Disney stock is up 10.5 percent since Jan. 12, when Peltz went public with the fight, and you could argue that Disney leaned into the cost-cutting and dividend thanks to the pressure, though I think cuts were already happening. Peltz should be happy, maybe treat his buddy/instigator Ike Perlmutter to a Peppermint Frosty at the Wendy's in Palm Beach.
Bill: I would urge our friend Iger not to get too complacent with a quiescent Peltz. The crocodile is still there, just below the surface, "watching," as he said today. Remember, at DuPont and GE, Peltz and Trian were catalysts for existential changes. At DuPont, I can see Peltz's fingerprints all over the replacement of longtime C.E.O. Ellen Kullman with Ed Breen, a Peltz favorite and DuPont board member who happened to be available after Kullman unexpectedly "resigned." And Trian ran the same playbook at GE, but without resorting to a proxy fight. It bought some $2.5 billion of GE stock, and then proceeded to "bare its teeth" in the replacement of Jeff Immelt with John Flannery as C.E.O., in June 2017. Then, after 15 months, Trian led the coup that replaced Flannery with Larry Culp, a Peltz favorite who also happened to be hanging out on the GE board.
Matt: You take Peltz a lot more seriously than I do. The link between Nelson and his pal Ike has been the most interesting to me, because insiders at Disney know how vengeful Ike is, and Iger went public today about Ike being marginalized at Marvel after he tried to fire Kevin Feige, perhaps the most important Disney creative executive since Walt. Ike "was not happy about it," Iger told CNBC. "And I think that unhappiness exists today. And you know, what the link is between that and Nelson, his relationship. I think that's something that you can speculate about. I won't." That's Iger pushing the dagger into Ike. On CNBC. Fantastic television.
Bill: Matt, I'm a little light on my Ike Perlmutter resume. Why do he and Iger hate each other so much?
Matt: There's a whole backstory that doesn't really get reported. Perlmutter sold Marvel to Disney in 2009, and in that deal, Iger let Ike run the unit. They had a good relationship, and Ike was kinda in awe of Iger, but Ike was also really difficult, screaming at many Disney executives, and calling Iger at all hours with random suggestions. First-ballot Hall of Fame asshole stuff. And then Ike sided with Alan Fine, who was running Marvel's creative committee in New York, when Fine didn't want to make Black Panther and Captain Marvel and diversify the Marvel slate, as Iger wanted. Ultimately they announced those movies, but then Ike didn't want to budget them. It was a real problem, and Feige was becoming miserable under Ike's thumb. Finally, Kevin went to Alan Horn and Alan Bergman at the studio, and then Iger got involved, and he smartly sided with Feige and put Marvel film under the studio, not Perlmutter. So Ike was pissed. Then in 2019, Iger took Marvel TV out from under Perlmutter, and he was even more pissed. Cut to last year, when his buddy Peltz emerges.
Bill: Nothing like a peeved billionaire who can't get his way. No wonder Ike was angry and no wonder he teamed up with Nelson, a billionaire who does know how to get his way.
Matt: The big headline for me is Iger's willingness to sell Hulu, saying "everything's on the table." It's not a huge surprise; I reported on Sunday that Disney was working with Goldman Sachs to figure out whether it made more sense to offload the asset than to spend $9 billion or so to buy out Comcast's 33 percent in 2024 or sooner. But Iger also is cooling on the adult, non-branded programming that has powered Hulu. "I'm concerned about undifferentiated general entertainment, particularly in the competitive landscape that we're operating in," he told CNBC. Rich Greenfield, the analyst, thinks Iger will try to sell Hulu because it's "not differentiated enough from Netflix, Amazon, HBO Max and Apple TV+," he told me today. This is all coming as Disney+ didn't lose a ton of subscribers despite a big 40 percent price increase in the U.S. for the ad-free tier. If you exclude losses from Hotstar in India, Disney+ actually added subs this quarter. So maybe Iger thinks he can suck all the content from Hulu to Disney+, raise the price again, and sell the Hulu pipes to Comcast or whomever. What do you suppose Iger is thinking in streaming?
Bill: Look, Matt, there's a limit, which we are fast approaching, to how much money people are willing to spend on streaming services. If Iger thinks he can raise prices further on Disney+, God bless him. Prices are going up for Netflix, Hulu, Paramount+, the whole lot of them. My bet is that the consumer is going to say Basta! and will pick and choose. It's likely that Disney+ and Netflix will survive the shake-out, with perhaps a twist of Hulu, depending on whether it ends up at Disney, Comcast, or they jointly decide to put Hulu out to bid, although I have no idea who is out there hoping to get deeper into the streaming wars. I'm sure Amazon has enough with Prime and MGM. Paramount and Hulu? N.F.W. I suspect Disney will end up keeping Hulu and fold it into the Disney bundle, forcing adults without children or adults with grown children to make some hard decisions.
Matt: Yeah, this could just be Iger trying to drum up bidders, or it may be he wants Comcast to think he's willing to walk away from a deal. Iger didn't offer a lot of intel on further M&A plans, except saying ESPN isn't for sale, which nobody seems to believe. Siloing ESPN in its own unit certainly makes it easier to sell or spin off. And the economics of sports on cable TV are getting brutal. Disney's networks group operating profit dropped 16 percent, and Iger warned that the pricier NFL deal will cut into profits even more. "We're simply going to have to get more selective" on sports, he said, which I took as negotiating with the NBA. Warner Bros. Discovery C.E.O. David Zaslav has been doing the same, saying "we don't have to have the NBA."
Bill: Who knows what kind of head fakes Iger is engaging in with ESPN and Hulu. But I still really like the idea of swapping Disney's 80 percent stake in ESPN for Comcast's 30 percent stake in Hulu. The valuations can be adjusted with cash, with the help of my friends from the investment banking community, and the transaction would be tax-free to all parties. And then Comcast's NBCU will be set up perfectly for a merger with WBD anytime after April 2024. I should put a bow on these two deals right now, collect my fees, and then head off to Allen & Co.'s Sun Valley conference for my champagne toast. These deals are going to happen; it's just a matter of when.
Matt: You're very confident! One investor suggested to me that Iger backing away from general entertainment is an implicit admission that Disney's $71 billion acquisition of the Fox assets was a mistake. I don't agree there. Everyone is pulling back on content spend right now, so Disney naturally is focusing on its core offering, and I do think if Disney hopes to compete with Netflix globally, the general interest stuff must remain some part of that. If I'm Ted Sarandos and Greg Peters at Netflix, I'm praying Iger decides to keep his content offering at the kiddie table. What's your take on the revisionist wisdom of the Fox deal?
Bill: I agree with Peltz that Iger ended up overpaying for Fox. $71 billion is a damn steep price, and leave it to the crafty Comcast C.E.O. Brian Roberts to bid Bob up to get Rupert's baby. Roberts is one smart deal guy. I had a front-row seat on his $72 billion acquisition of AT&T Broadband back in 2001, and have studied extensively his clever deal for NBCU, buying something for around $30 billion without an auction that soon became worth close to $100 billion. (It's worth less these days, but still way more than the $30 billion or so Comcast paid for it.)
His only major blunder was the Sky deal, but he more than made up for that mistake by forcing Iger to leverage to buy Fox. Now Disney has that $50 billion mountain of debt to scale. Iger said today that "leverage is not a huge concern," but clearly it's not great when Disney has lost $10 billion and counting on streaming and is only now coming out of the pandemic shutdowns. As I've written before, the Disney $50 billion of debt is not the same as the WBD $50 billion of debt; Disney is in a far better financial position than WBD at the moment. Still, Iger will have a lot more flexibility to do what he and his activist investors want if they whittle down that debt.
The ESPN/Hulu swap might be one way to offload some of it. The key now for Iger is the stock price. And his return has been a tonic for suffering shareholders. Peltz's Trian is in Disney at around $90 a share. So with the stock now at $114 a share, he can afford to be a smiling crocodile. Dan Loeb is in Disney at around $120 a share. He's not happy yet. But he's probably willing to let the Iger sequel play out longer before rearing his head again.
Matt: Dana Walden and Alan Bergman are now running the new Entertainment division, which naturally gives them a boost in the succession race. Or does it? Iger has a long history of kneecapping his heir apparents. Also I'm already hearing John Landgraf at FX is poised for a larger role running more of Disney's "adult" TV content.
Bill: I would agree that a Disney insider has the best chance of succeeding Iger. The last time Disney went with an outsider as a senior executive—the ridiculous choice of Michael Ovitz—it was a total disaster, although it did contribute to Iger being selected to succeed Michael Eisner. The clock is ticking on Iger's succession process. He screwed up the first time by picking Bob Chapek and he and board chair Mark Parker now have until November 2024 to find a second successor.
I am sure Bob feels like he is drinking from the fire hose—quelling the activist investor uprising, dealing with changes on the board, restoring morale damaged by Chapek, resurrecting the stock price, and now the Florida legislature has passed a bill allowing Gov. Ron DeSantis to take over the special Disney district in Florida—but getting succession right is most important. And he'd better get it right this time. If he and Parker were smart, they would enlist Peltz's help. After 80 years, Peltz carries a massive C.E.O. Rolodex, and, as I described above, Nelson tends to get the C.E.O. he wants one way or another.
Matt: David Zaslav and his C.F.O. Gunnar Wiedenfels must be looking at this Disney situation and smiling. They were destroyed in the media last year (including by me!) for the layoffs, slashing budgets, scrapping Batgirl, licensing to rivals, and re-focusing on profitability over streaming subscribers. Now Iger is doing the same thing at Disney, and Shari Redstone will likely announce some version of this plan next week on the Paramount earnings call.
Bill: Yes, I am sure Zaz is happy the spotlight is off of him so far in 2023. And that's largely because the WBD stock has been up a whopping 50 percent this year. Why that is, I haven't a clue. But I'm happy for Zaz. The stock probably was oversold last year. On the other hand, there are the problems at CNN that our partner Dylan Byers has been writing about, and of course, Matt, I worry about our little friend, WBD's $48 billion or so of net debt. The combination of that much debt and a moving EBITDA target is enough to make a bondholder credit rating agency nervous. The good news for Zaz is that the merger with NBCU is just around the corner.
FOUR STORIES WE'RE TALKING ABOUT
Sinema Vérité
Notes on the consesual delusion in D.C. around Kyrsten Sinema.
TARA PALMERI

CNN Money Games
How, exactly, will Licht's CNN boost profits by $150 million this year?
DYLAN BYERS

Need help? Review our FAQs
page or contact
us for assistance. For brand partnerships, email ads@puck.news.
Puck is published by Heat Media LLC. 227 W 17th St New York, NY 10011.