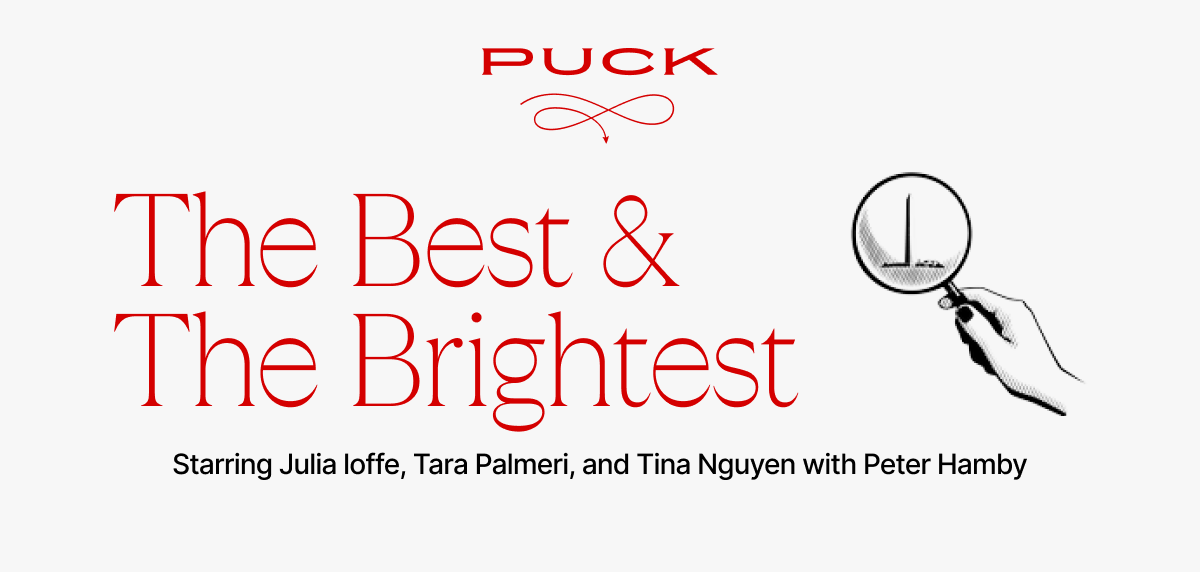 Welcome back to The Best & The Brightest, Puck's new weekly composite of what's really going on in this town—inside the White House, the Pentagon, on K Street, the Hill, and more. Tonight, news and notes on the Zients succession, the love triangle complicating Biden's classified docs response, and the White House aide tasked with running the crisis playbook.

But first…
Santos Trolling: Unsurprisingly, the George Santos constituent hotline has been burning up with angry callers looking to bend someone's ear about their fabulist, scheming representative. After the news of Santos's drag-queen history broke, one senior staffer in his office—Vish Burra, a Matt Gaetz alum—posted a story on Instagram in which he and a female staffer appear to basically mock the whole situation, at once poking fun at angry constituents, their new boss, and the whole media shitshow. In one moment, they laugh as a caller unleashes a profanity-laced tirade about Santos on speakerphone. Burra, with a grin evident on his face, responds, "Sir, that's homophobic." A slightly less toxic word vomit ensues, after which Burra again responds, "Sir, that's homophobic."Clearly the duo are relishing the limelight. In another Instagram story over the weekend, Burra posted a montage of Santos set against a white power symbol and the words, "Let him Cook." Glad to see they're enjoying their taxpayer-funded jobs. (Burra declined to comment.)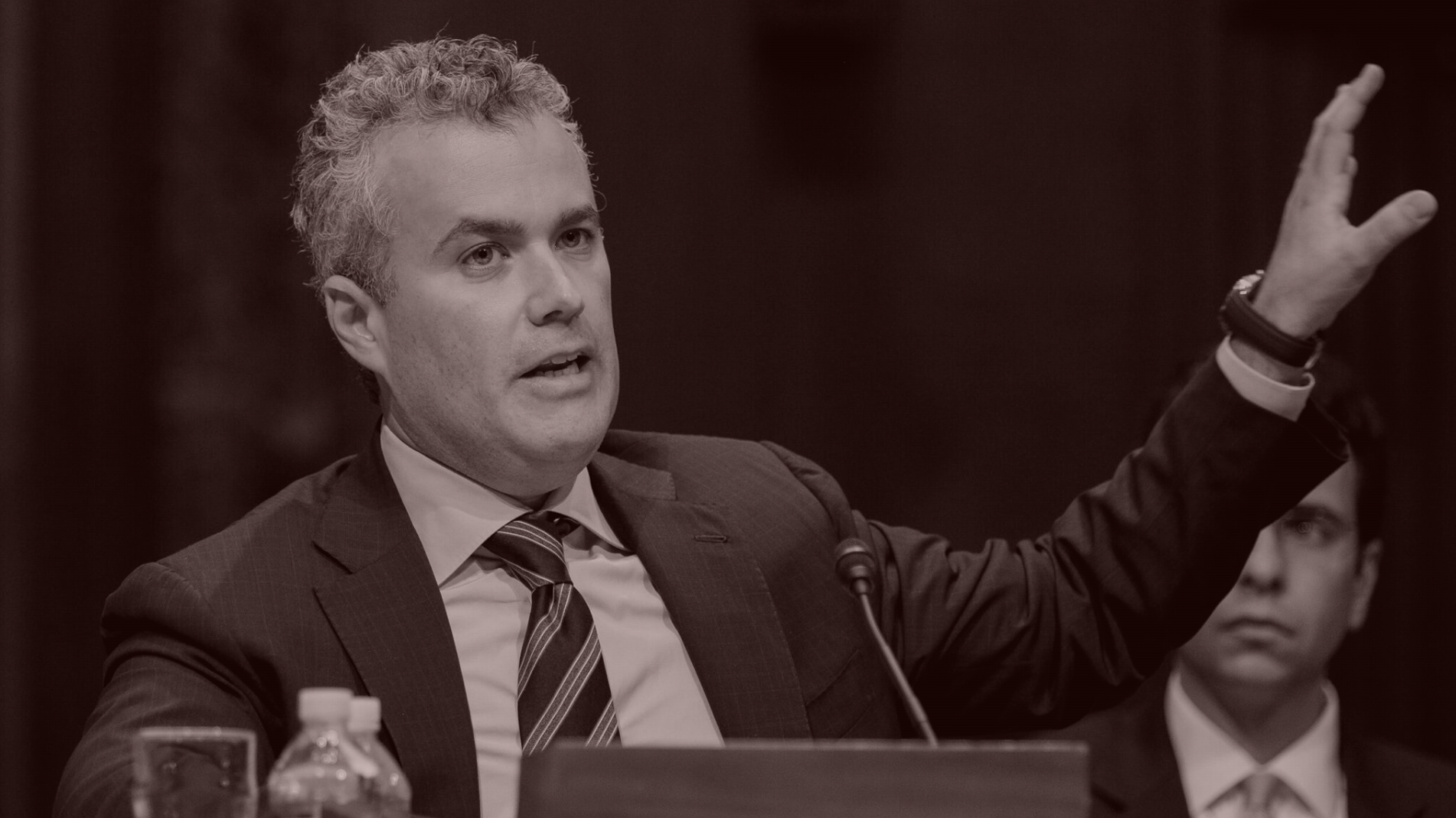 The House of Biden
News and notes on the latest innerworkings and shifts in Bidenworld: Zients tea leaf reading, the complexities of the Dunn-Bauer dynamic, and the resurgence of a campaign foe.
For months, Joe Biden's chief of staff Ron Klain has been telegraphing that he was planning to leave the White House—he was exhausted, wanted to spend more time with his family, etcetera, and he'd also managed to reclaim the narrative after a legislative flowering and the auspicious midterms. Of course, Biden famously abhors change and prefers insularity, so this had become one of the longest drawn-out personnel selection processes in recent political history, a hallmark of the president's reputation for indecision.

But the appointment of Jeff Zients, a centimillionaire-ish former private equity executive and management consultant turned Obama-era public servant and Biden's Covid czar, demonstrates that Biden has found his change through continuity. After all, Biden didn't select an outside-the-Beltway type like Marty Walsh. He went with a Klain-esque process person: an operator, a master of organizational management. "Biden thinks Zients runs a good process, that's one of the things he always thought about Ron," said a former Biden official. "And Ron wanted to pick someone like Ron." It's helpful that Zients understands how the government works in dysfunction, as was the case during the shutdowns of the Obama years.

The cool-headed Zients isn't known as a Biden person, per se, but the two formed a bond during the waning days of the Obama administration. Back then, as the director of the National Economic Council, Zients offered Biden personal advice about transitioning from the vice presidency to private life, a former official said. Zients's counsel will be invaluable amid a shrinking economy and a Republican-controlled House that is looking to make Biden's life a hellscape. And unlike Klain, a prodigious tweeter and inside player with a healthy interest in his own reputation management, Zients is less likely to have a public persona. Despite his business background, he's known for being a savvy political operator, who is willing to sit down for one-on-one dinners to make deals happen.

This decision, however, does not address one of the Biden administration's main weaknesses—the persnickety challenge of network maintenance. Zients has also had his foibles as Covid czar. He took some flack after Biden declared Covid essentially defeated, in July 2021, only to reverse himself after the virus resurfaced in the form of two nasty variants. His role as a former board director at Facebook, now Meta, could receive scrutiny in a legislative landscape in which Section 230 has become a piñata for many Republicans. And with a net worth of $89 million, according to the Wall Street Journal, he'll be one one the wealthiest civil servants in the building, outpacing Susan Rice (whose worth has been estimated at $37.9 million) and Anita Dunn (as much as $48 million). Fortune has estimated that Zients's net worth might be as high as $149 million.

Dunn has long been on the shortlist to be chief of staff. And as I reported in December, Biden had made it known that she was his top pick, but she demurred, saying she did not want the job. "She and Ron and POTUS had several conversations about it," a source close to her told me. "She was very clear. She really didn't want the job. She wanted Jeff."

It may have been an unfeasible option for Dunn, who would have had to submit to myriad recusals due to her prior work as a partner at SKDK, the preeminent influence shop. It also frees her and senior staff to travel more and work on the campaign. I'm told from a White House source to expect her to be elevated into a David Plouffe-like role, a chief political strategist who manages the campaign from the inside.
Meanwhile, Biden's ongoing classified document snafu has been a bumbling political mess—a non-scandal scandal that has been exacerbated by the White House's stonewalling and, perhaps, exacerbated by its own thorny organizational challenges. The White House comms shop, after all, seems only to be releasing information on a need-to-know basis, and with little transparency, often looking a step behind. To wit: it took 68 days for the White House to admit publicly that Biden, like Trump, had mishandled classified documents. This disclosure was followed by an assurance from press Secretary Karine Jean-Pierre that there were no more documents—only to have two new batches turn up days later, and then another tranche disclosed over the weekend.

Several former Biden aides suggested that the heart of the issue is, quite literally, the marriage between Bob Bauer, Biden's chief counsel on the documents case and all other Hunter and Ashley Biden matters, and Dunn, Biden's communications impresario. It's clear that the legal advice is driving the comms, perhaps to the point where comms has to play catch up along with everyone else. "He's calling the shots," said the former aide. "And they're not giving the comms shop enough cover to say more." The New York Times reported that Dunn told the communication shop to keep the news to a trickle, and to instead try to draw a contrast with the Trump case by highlighting how they're working with authorities.

Anyone in crisis communications knows that lawyers are extremely cautious and always counsel against introducing new language, adding a natural friction between the two camps. But some see the Biden White House's handling as overly litigated, especially since it's unlikely that Biden would be prosecuted while in office, and because the apparent lack of coordination has turned the case into an enduring media obsession, even one that has overshadowed Kevin McCarthy's challenges.

Some in Biden's orbit also wonder if top aides are being overzealous in their caution because they had a role in helping Biden plan his transition to private life in 2016 and have their fingerprints on the sloppy document sorting. After all, are we even sure that there aren't more classified documents at the University of Delaware, where Biden's Senate papers are housed, after new documents from that time of his career were revealed at his home this weekend?

Sure, being overly cautious and compliant with the D.O.J. draws a contrast with Trump, who could be charged with obstruction. But as one former aide put it, "Who do you want to listen to? Lawyer or P.R.? [Bauer's] hurting his presidency." This imbroglio of husband and wife working together is not uncommon in the administration: Klain, Steve Ricchetti, Mike Donilon, Blinken, Jake Sullivan and prominent alumnae Jen Psaki have all had family members sprinkled throughout the administration. Even Beau Biden's former roommate, Michael Hochman, is the White House deputy staff secretary.
Meanwhile, Kamala Harris's former campaign spokesperson Ian Sams could see his star rise very quickly if he does the unimaginable: contain the fury of the press and public over the the Biden administration's lack of transparency in docu-gate. It's a high-stakes gamble for Sams, who is front-and-center representing Biden's White House legal team. The communications operation appears to be in the dark and unable to make assurances on anything.

In terms of building allies internally, Sams has some ground to cover. After all, his colleagues will remember that Sams was Harris's chief spokesperson when she called Biden a racist on the debate stage. He reportedly played Biden in the debate prep with Harris in which she practiced that attack on him, and then went on to defend her comments after the first debate. Others have cut him more slack, understanding that he was just doing his job. Afterall, Biden chose Harris as his running mate.

"Ian Sams was on the wall for a couple of weeks," a former Biden campaign official said. Sure, Sams might survive this one, but one can't help but wonder if he was designated this role to take out the trash, or to absorb the heat, whereas Kate Bedingfield, one of the most public faces of the White House communications team outside of the press secretary, has kept her distance.
FOUR STORIES WE'RE TALKING ABOUT
FTX's Pseudo-Revival
Notes on FTX's bankruptcy drama, Goldman's layoffs, and James Gorman's succession plan.
WILLIAM D. COHAN

WWJ(eff)D?
Behind the scenes of Bezos's visit to the Washington Post offices.
DYLAN BYERS

The Netflix Shake-Up
Reed is stepping down, Peters is stepping up, and Sarandos is standing still.
MATTHEW BELLONI

Need help? Review our FAQs
page or contact
us for assistance. For brand partnerships, email ads@puck.news.
Puck is published by Heat Media LLC. 227 W 17th St New York, NY 10011.