Have you seen that new Apple TV+ ad with Timothée Chalamet? The young star is bummed that he's not part of its A-list programming, reminding everyone that Ted Lasso, projects from Selena Gomez, Jennifer Lawrence, Martin Scorsese and Leonardo DiCaprio, Jason Momoa, and last year's best picture winner, CODA, can or will soon be found on Apple TV+. Yes, Timmy keeps telling us, on Apple.
It's a classic branding ad—you can almost hear Apple's services guru Eddy Cue screaming like he's courtside at a Warriors game: We're Apple, dammit! Check out who we're working with! Big f-ing stars, OK?! Not like those regular streaming services. And there's data behind the specific messaging. As the second part of Puck's streaming brand study reveals, consumers have a really tough time remembering where particular shows and movies are available, even if they have watched those shows and movies. It's called "recall," meaning how well people connect specific content to a specific platform, and it's a big problem for these services as they try to distinguish themselves in a crowded market.
Apple TV+, for instance, has some of the lowest brand affinity scores and recall rates among the streamers, despite being super-premium and connected to one of the most recognizable and admired brands on Earth, with the largest market cap. According to our survey, only 20 percent of respondents know Ted Lasso is on Apple TV+. That's compared to, say, 50 percent who know that 1923 is on Paramount+, a very strong recall rate for a small-ish service. Keep in mind, Ted Lasso is the biggest hit show on Apple TV+, according to Nielsen, yet its recall rate is still low. That's why Apple paid Chalamet more than it has ever paid a celebrity endorser (including athletes), according to a well-placed source: To help consumers make that specific connection.         
---
The Recall Rankings
Overall, aside from Netflix and Disney+ programs, people in the Puck survey, which we conducted with research firm The Quorum and independent pollsters, generally exhibited low recall. We picked two hits from each platform, based on Nielsen ratings. Respondents were asked to identify the streamers where they could find each show from a list of eight services. In addition, respondents could say they "weren't sure" or "weren't familiar with the program."
Netflix's Stranger Things and Squid Game enjoy the highest recall rates (68 percent and 64 percent, respectively), which makes sense given Netflix is the largest service, those shows are massive, and Netflix marketed them heavily. And Disney, of course, benefits from its well-known I.P. like Star Wars and Marvel, so recall on The Mandalorian and WandaVision is particularly high.
But recall on the HBO Max programs The White Lotus and The Flight Attendant is low, according to our data, which surprised me a bit, given how much White Lotus was marketed and covered in the media. And on Amazon Prime Video, even Lord of the Rings: The Rings of Power, its pricey I.P. play, has mediocre recall, with twice as many people believing the show is on a different streamer. Hulu is better, with more respondents able to identify The Handmaid's Tale and Only Murders in the Building as being Hulu shows than the two Amazon originals. Still, recall is much lower than the Netflix programs.
Interestingly, the scores only rose a few points when we isolated for just subscribers to each service. For example, recall for Apple TV+'s Severance is 16 percent among all respondents, but it only rises to 24 percent among Apple TV+ subs. That's right, only a quarter of people who subscribe to Apple TV+ know that Severance is sitting right there for them. That could mean there are lots of passive subscriptions. So in that way, Chalamet is talking to existing Apple TV+ subscribers in that ad, as well as people who might like to subscribe.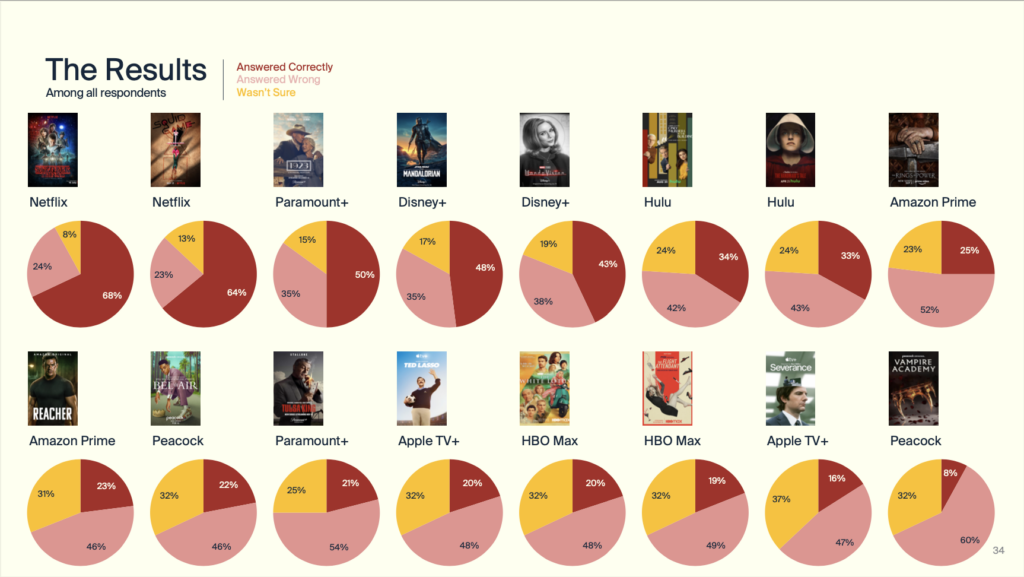 Keep in mind, we only asked about two shows per service. Some platforms might enjoy greater recall rates for more of their shows, which is important when creating brand affinity among subscribers. Still, for a show that's not a huge hit, the recall problem is obviously even worse. We looked at Girls5Eva, the Tina Fey-produced comedy that launched on Peacock and was picked up by Netflix for its upcoming third season. The same slice of people (12 percent) correctly identified Peacock as the home as they did Netflix, with three quarters of respondents saying they either don't know Girls5Eva or where to find it. Not great.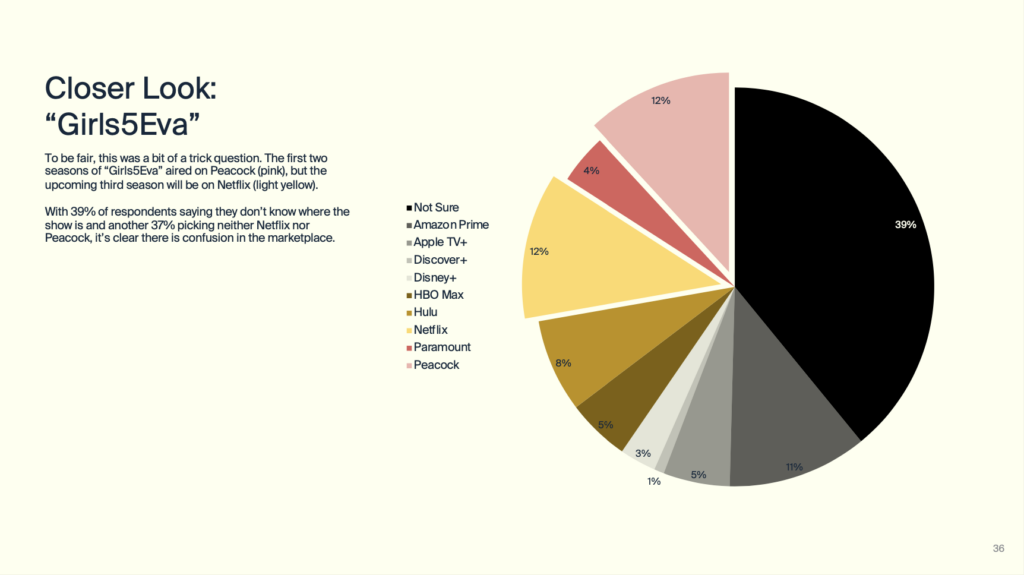 The numbers show that the challenge of succeeding in streaming isn't just creating great shows and movies. It's also, just like in the linear TV age, about effectively branding a service, making a lasting connection between shows and their platforms, and communicating that value proposition. "We often refer to subscribers as the most definitive success metric for a streamer, but it's important to note that attachment and recall—knowing where to find content—are the building blocks for subscriber growth and controlling churn," David Herrin, the author of the study, told me today. "Educating people on where to find content is the first step in getting people to sign up." And if that means paying Timothée Chalamet whatever his shill fee is, so be it.