Happy Friday, I'm Dylan Byers.
Welcome back to In The Room, my biweekly private email on the inner workings of the media industry. Tonight, we turn our attention to the logic and illogic behind Tom Brady's $375-million megadeal with Fox—and what Lachlan Murdoch might be seeing that his critics aren't.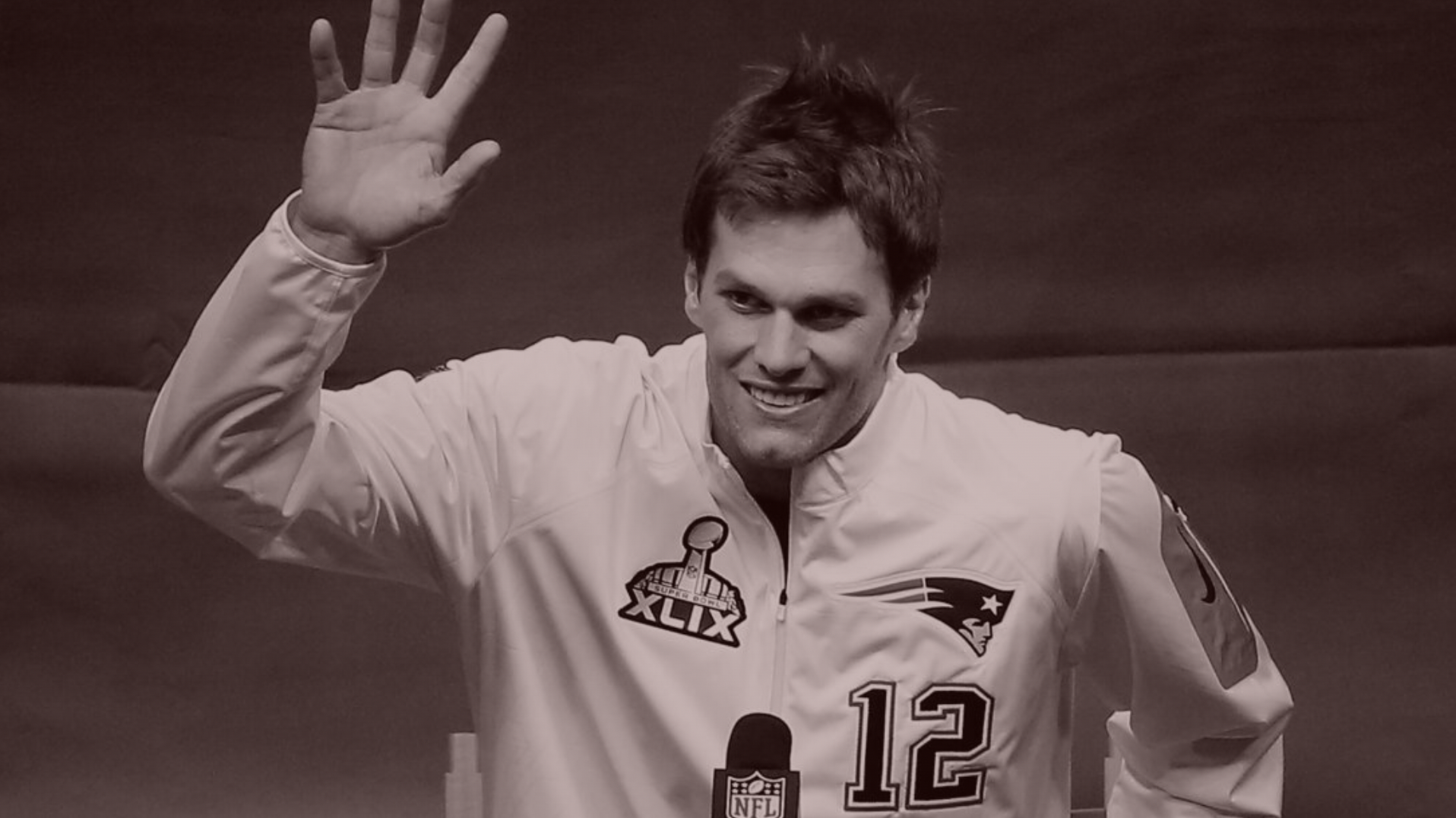 The Tom Brady Conundrum
Is Tom Brady worth nearly $400 million as a broadcaster? The critics say no. But, they also concede, what is Fox without the N.F.L.—and, ergo, without him?
Lachlan Murdoch kicked off Fox's quarterly earnings call this week with a surprise, ace-in-the-hole talent announcement, the kind of news that a media executive relishes having the opportunity to make public: Tom Brady, the seven-time Super Bowl winner and the greatest quarterback in the history of the N.F.L., would be joining Fox Sports as its lead analyst "immediately following his playing career, whenever that may be." Brady, of course, retired and then un-retired this winter, but most presume this will be his final season. In August, he will turn 45, which he has long suggested was the age he wanted to play until.

The news understandably upended the worlds of sport and media, culminating with a report in the New York Post, that other Murdoch organ, that the deal was a 10-year agreement to the tune of $375 million in overall compensation. It's a figure that, as has now been widely noted, eclipses the $322 million that Brady has made over the course of his 20-plus year N.F.L. career.

And it was at this point that many people in the media industry who have experience and insight into how the business works, and understand how value is created in television (and how it isn't), did a double-take, shook their heads and started texting one another. "Irresponsible and foolish," one Hollywood power agent told me. "Big mistake," wrote a sports media executive. And, as one television executive put it: "$$$$$$$$$."

The conventional wisdom among the critics is that there's scant evidence, besides his preternatural football I.Q., that Brady will be a good analyst—and that, like Tiger Woods, a fellow GOAT, Brady may be mirthless on TV. Peyton Manning and Tony Romo, the two most significant recent former quarterbacks in the booth, both have relatable and effusive personalities. Romo is the older frat brother who you want on your flag football team; his infectious enthusiasm for the sport, down to jubilantly anticipating play calls, has made him an overnight revelation, who now earns around $20 million a year at CBS. Manning, for his part, has a quietly omniscient country club swagger, and polite drawl, and surprisingly acerbic sense of humor. Even Troy Aikman, whose departure from Fox to ESPN opened the door for Brady, has a strutting comfortability and battle-tested TV charm.

Brady, on the other hand, is wired differently. For one thing, he's charmingly boring—well-behaved, intelligent, image-conscious, never a hair out of place. Also, his hypercompetitive drive, honed from years of tutelage under Lloyd Carr and Bill Belichick, has made him sort of like a football savant version of an MIT neuroscience Ph.D candidate. He's a family-football kind of guy, albeit one who happens to be married to Gisele, and imbibes a ton of avocado smoothies to keep his pro career operating at a high level well into his mid-40s.

Some wonder if this hypercompetitive, ultra-disciplined perfectionist can turn himself into a gregarious network broadcaster. Some even note that he showed signs of promise during a guest appearance on ESPN's Manningcast. But most of the industry people that I spoke to conveyed a suspicion: if Brady really had a capacity for captivating and charismatic commentary, we would have seen it by now. "Handsomeness and Super Bowl rings are only part of the equation in the booth. There's also the commentary and insight and personality and humor and attitude and edge," one veteran television executive told me. "It's called color commentary for a reason. It's supposed to be colorful. Alas, that's the one thing Brady isn't."

The executive continued: "The fact [is] that he's a boring stiff on T.V. No amount of competitiveness or media training or practice (or stretching or diet) can really solve that."
Nevertheless, most critics I spoke to say that Brady's booth skills are somewhat irrelevant because—and this is really the salient point—no one, despite Romo's success, watches N.F.L. games just because of the commentators. Games and matchups determine the ratings. As former ESPN president John Skipper once put it, there is not "a scintilla of evidence that the people in the booth changed the ratings even by a smidgen. The race to hire people is mostly about internal pride." (Pride surely played some role in Murdoch's thinking; the deal, which had been in the works for several months, was quickly finalized on the day of the earnings call so that Murdoch could share the news with investors, a source familiar with the matter told me.) Now, it's worth noting that some of these same people also argued, contrary to their current logic, that it was a huge loss for Fox Sports when Aikman and Joe Buck decamped to ESPN—pick a lane!—but their current assessment is borne out by common sense: people watch football for the football.

The critics' logic, however wise, may not fully take into account the broader context of the deal, nor the extent to which excitement and enthusiasm can move the needle for advertisers and the league. A star in the broadcast booth can move ad sales, even if he doesn't move ratings, and he can also help the network secure better games on Sundays, sports media executives at rival networks told me.

Fox hasn't shared any specifics about the full extent of Brady's responsibilities, but it's likely to extend beyond the NFL and could include college games, studio work, marketing and Fox's push into sports betting. Murdoch hinted there may be an added component when he said that, in addition to calling games alongside Kevin Burkhart, Brady "will also serve as an ambassador for us, particularly with the client and promotional initiatives."

This ambassadorship will likely extend to several aspects of the Fox business. First, Brady will be a draw for advertising and sponsorship partners, who will relish the opportunity to schmooze with the famed quarterback, or at least be adjacent to him. Roger Goodell and the N.F.L. ownership committee will surely be grateful to Murdoch for subsidizing Brady's continued presence in the N.F.L., and may keep that in mind when considering scheduling, and the league's long-term relationship with its media partners. Fox, too, has moved aggressively into gambling with its sports betting app, Fox Bet, and it's fair to assume that Brady will have a role in encouraging the rapidly growing community of bettors to download the app. So on and so forth. In other words, the color commentary only represents one part of Brady's job.

Meanwhile, that $375 million in compensation, staggering as it looks on paper, is a manageable expense for Fox. The entire deal is effectively covered by the $350-$400 million that Fox will save this year by giving up its rights to Thursday Night Football, which has historically been the backwater of the weekly schedule, often featuring underperforming teams and always on short rest, and up against prime-time. As Murdoch has said in the past, the Thursday Night deal was "expensive, and Sunday afternoon football is the home of football for America and for Fox."

Whether it succeeds or fails, the Brady deal is ultimately indicative of Fox's unique ambitions in the media game. Years after Rupert Murdoch sold off the most valuable assets of 21st Century Fox to Disney, the slimmed-down Fox public entity has become an outlier in a world of megascale and diversification. The rapid growth of the Tubi streaming service notwithstanding, the company has essentially staked its future on the lucrative-but-rapidly-changing business of live television—specifically sports and news—even as its competitors race headlong into the world of on-demand streaming while managing the slow decline of their linear assets.

To be sure, Lachlan and his father were somewhat forced into that position by virtue of not being able to offload the sports and news assets to Disney; nevertheless, they've decided to play the hand they were dealt, and to do so aggressively, as is their customary nature. From Fox's position in the market, every investment in the sports product is arguably a sound one—because, aside from the highly profitable but extremely controversial business that is Fox News, what other content does Fox have?

"The [N.F.L.] rights are so expensive that there is really no rhyme or reason or math to any of this anymore," one television executive said. "You can't really afford the N.F.L. rights and Tom Brady. You also can't really afford not to have them. Without the N.F.L., Fox is left with empty shelves except for wrestling, the Masked Singer and 911."

Tom Brady's new deal is a "Hail Mary," the executive continued. "If it works, everyone will celebrate. If it doesn't, who cares?"
FOUR STORIES WE'RE TALKING ABOUT
Chapek's Hail Mary
Under Bob Chapek, Disney's subscriber growth is holding up while Wall Street's favorite metric—actual revenue—lags behind.
MATTHEW BELLONI

Netflix vs. Disney
Matt Belloni joins Peter to make sense of the latest battles in the streaming wars, and project who might eventually come out on top.
PETER HAMBY

Little Putin
Putin's rough-and-tumble childhood in the dvors of Leningrad shaped his thinking and actions. Can this portrait help us predict his next move?
JULIA IOFFE

Ellison's Ascendance
In his twilight years, the private-island-dwelling former Democrat has become a force in G.O.P. political fundraising.
THEODORE SCHLEIFER
You received this message because you signed up to receive emails from Puck

Was this email forwarded to you?

Sign up for Puck here

Interested in exploring our newsletter offerings?

Manage your preferences

Puck is published by Heat Media LLC

64 Bank Street

New York, NY 10014

For support, just reply to this e-mail

For brand partnerships, email ads@puck.news