Happy Sunday, and welcome back to Dry Powder.
It's hard to imagine Lina Khan's F.T.C. ignoring Kroger's acquisition of its rival Albertsons, for $24.6 billion, at a time when Americans are rightfully anxious about food costs and rising inflation—so why attempt the merger at all? In this evening's issue, I look at the off-camera action behind the deal, before turning to Morgan Stanley's hot potato risk management strategy and Ben Bernanke's legacy in light of his winning the Nobel Prize in economics.
Where to begin with Kroger's acquisition of its rival, Albertsons, for $24.6 billion? It's pretty clear that the proposed merger of the nation's two largest supermarket chains will be a major test for Biden's Justice Department and its antitrust division. It's also clear that the executives and boards of directors for both Kroger and Albertsons know that there is serious antitrust risk in this deal. They are already trying to position the combination as a bulwark against both Walmart and Amazon as they both continue their encroachment into selling groceries—itself a compelling argument. They have also admitted the combined company will have to divest a bunch of stores where the two companies have overlapping properties, particularly in California and other Western states.

On the one hand, being upfront about the likely Justice Department challenge is good politics. But, on the other hand, do they really think they can get this deal through a Justice Department that is making no secret of its willingness to challenge horizontal mergers? After all, the D.O.J. has already gone to court to block the combination of Penguin Random House (my book publisher) and Simon & Schuster, in order to prevent the Big Five book publishers from becoming a Big Four (we await the judge's ruling). So how in the world can the two largest supermarket chains in the United States merge to become even bigger and not prompt a similar antitrust challenge?

Simply put, they can't. Or at least I would be very surprised if Lina Khan's F.T.C. or the Justice Department ignored this deal, given the potential impact on food pricing when Americans are already worried about inflation. Kroger and Albertsons argue that the merger will strengthen their bargaining power and ability to reduce prices, but Washington is already against them: Bernie Sanders has called the deal an "absolute disaster" and Mike Lee, the senior Republican on the Senate antitrust committee, said he would do everything in his power to "protect consumers from anticompetitive mergers that could further exacerbate the financial strain we already feel in the grocery store checkout aisle." Elizabeth Warren also has the deal in her sights.

Why attempt the merger, then? That's a good question. Honestly, I don't know other than the perennial never up, never in theory of M&A deals. If you don't test the limits of the system, you'll never know for sure whether you could get the deal through or not, especially if obvious divestitures are put on the table early.

What's clearly going on here is that Cerberus, the big hedge fund that has been an investor in Albertsons since 2006, wants out and had hired both Goldman Sachs and Credit Suisse, back in March, to see who would be interested in buying the company. Obviously, Kroger was the best buyer, maybe the only buyer. To its credit, Cerberus has hung in there with Albertsons for a long time, much longer than hedge funds do most anything. Cerberus financed Albertsons' acquisitions of some 900 stores over the years from other grocery retailers and was the lead financier of Albertsons' $9.4 billion acquisition of Safeway. The hedge fund was hoping for a merger with Rite Aid, the pharmacy chain, but that fell through and it subsequently guided Albertsons through its June 2020 I.P.O. And now it's on to the proposed merger with Kroger, which really will be Kroger's acquisition of Albertsons for a big price. It may not get approved by regulators but I guess if you are Cerberus you have nothing to lose by trying to pull it off. No risk, no reward.
ADVERTISEMENT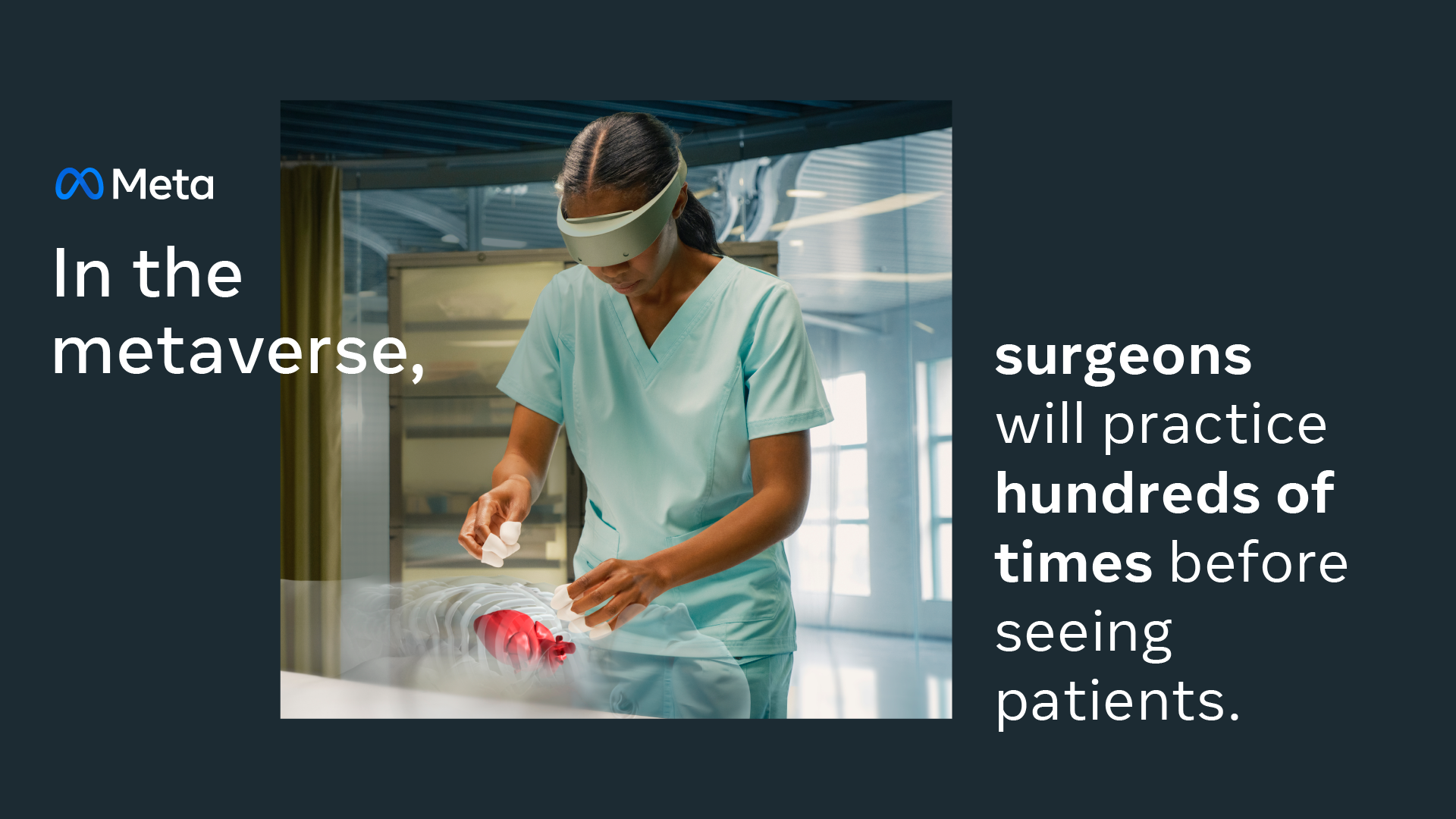 Future surgeons will get hands-on practice in the metaverse.
Surgeons will engage in countless hours of additional low-risk practice in the metaverse.
The impact: patients undergoing complex care will know their doctors are as prepared as possible.
The metaverse may be virtual, but the impact will be real.
Morgan Stanley Passes Its Dynamite Stick
Bank profits are down across the board as earnings season gets underway, with Morgan Stanley taking a hit to its investment banking business, JPMorgan taking losses on its loans, Wells Fargo whiffing expectations, Citi withdrawing from Russia, and so on and so forth. But there's certainly no surprise in any of this. After years of riding the investment-banking gravy train, particularly during the first two years of the pandemic, a downturn in the financial markets was inevitable, especially when Jay Powell reversed the Fed's 13-year policy of low-interest rates and started raising rates.

We are, of course, long overdue for a recession, which usually occurs every seven years. Jamie Dimon, the C.E.O. of JPMorgan Chase, said on CNBC this past week that we are six to nine months away from a recession in the U.S. and that Europe is already in a recession. We probably are already in one, too. The financial markets are certainly moribund. Both the stock markets and debt markets are in tailspin mode, credit is increasingly difficult to get and borrowing costs are much more expensive than they were even six months ago.

The I.P.O. market is pretty much closed, except for the very best companies, such as Porsche, whose listing this month was the biggest in Germany since 1996. The high-yield market is basically closed until the Fed curtails its interest-rate increases. The leveraged loan market is deeply troubled, as witnessed by the likes of the Citrix, Twitter, Nielsen and Tenneco deals. The M&A market is very quiet, with the exception of the aforementioned Kroger/Albertsons deal, which might get blocked anyway. It'll be ugly on Wall Street for a while now, and certainly until the financial markets find a way to stabilize at some point (but not soon).

What I wonder about is where and how the banks are hiding their losses on these soured deals. Take, for instance, Morgan Stanley and its position as the lead underwriter on the Twitter senior secured debt financing, which I wrote about recently. Morgan Stanley's loss on the Twitter underwriting will be somewhere in the hundreds of millions of dollars, assuming Elon Musk's acquisition of Twitter closes, which is still a big if, even though he will have little choice but to buy the company, as he promised to do legally on April 25, when he signed the merger agreement. Unless, that is, Morgan Stanley somehow hedged its committed position on the Twitter underwriting, even before the deal closes, by laying off the risk on someone else.

The question came up on the Morgan Stanley earnings call this week. Christian Bolu, an analyst at Autonomous Research, asked Morgan Stanley executives about its leveraged lending and bridge-loan book. "Can you speak to your balance sheet risk appetite?" he asked, citing Morgan Stanley's underwriting role in the Citrix and Twitter deals. "How big is your bridge book or leverage loan book?" he asked, "…And then second, are you increasing your risk appetite here to capture opportunities? And then how are you thinking about managing that risk?"

In response, Sharon Yeshaya, Morgan Stanley's chief financial officer, essentially confirmed that Morgan Stanley had hedged its risk on these deals. "Broadly speaking," she replied, "I'd say we've been extremely prudent in terms of risk management." She continued, "We've been looking at different risk-based metrics really over time and bringing them down over the course of the year. So that's for the entire institution, just knowing that we've entered into what feels like a more volatile period. And as you think about those different relationships and events, net of hedges, over the course of this quarter, they actually were quite modest marks, given the environment."

Considering that Morgan Stanley's provision for credit losses in the third-quarter was a paltry $35 million, it seems that Yeshaya was telling the market that Morgan Stanley was smart enough to see trouble brewing bigtime in the credit markets and then laid off the risk it faced by underwriting these leveraged loans on to someone else. Someone somewhere owns that risk now, if in fact Morgan Stanley sold it to someone else. We just have to wait now and watch to see whether whoever bought that risk from Morgan Stanley blows up and what they say when it happens. As I've written before, risk doesn't just disappear because clever Wall Street risk managers move it off their balance sheets by making it someone else's problem. It's still somewhere, waiting to gurgle up as a big problem.
ADVERTISEMENT

There's no question that Ben Bernanke, who just won the Nobel Prize in economics, deserves recognition for the innovative way the Federal Reserve handled the 2008 financial crisis. A different Fed chairman would have handled the situation differently. Now, whether he deserved a Nobel-level recognition is debatable.

There's no question that Bernanke's Zero Interest Rate Policy, or ZIRP, in combination with the resurrection of what became known as Quantitative Easing—the Fed's strategy of buying of all kinds of debt securities when seemingly no one else would buy them, driving up the price of long-term debt and lowering their yields—stanched the bleeding in the financial markets. To his credit, Bernanke had studied carefully how the Fed mishandled the Great Depression by choking off the supply of capital, exacerbating the downturn and the resulting misery, and was determined not to repeat the folly in 2008. His PhD thesis at MIT was titled Long-Term Commitments, Dynamic Optimization, and the Business Cycle, and was written under the auspices of then MIT professor Stanley Fischer, a former Vice-Chair of the Fed (from 2014 to 2017, after Bernanke's tenure).

Under Bernanke's leadership—and throughout the tenure of his two successors, Janet Yellen and Jay Powell—the Fed flooded the debt markets with liquidity, buying up unwanted debt securities, driving their prices higher and higher and their yields lower and lower. It wasn't the first time: F.D.R. briefly tried something like Quantitative Easing in the early 1930s, and Milton Friedman suggested it to the Japanese in and around 2000. But nobody had ever done anything of this scale.

Not only did the Fed bail out Wall Street by buying up its inventory of debt securities, but it also implemented policies to lower long-term interest rates to their lowest levels in recorded history. QE expanded the Fed's balance sheet to $9 trillion in assets, from $900 billion in assets before October 2008. That's a lot of buying. Under Bernanke, during the crisis, the Fed more than fulfilled its mandate to be the "lender of last resort." There's no question, ZIRP and QE got the U.S. economy out of its severe tailspin sooner than otherwise would have happened. Bernanke deserved praise for that. And his policies made sufficient sense to other central bankers around the world that soon enough they mimicked what the Federal Reserve was doing. Money began to flow freely, and cheaply, practically everywhere.

There's also no question, unfortunately, that the Fed kept the low-interest rate party raging for too long. Consumers are paying the price in the goods and services they purchase every day; investors stupid enough to buy high-yield bonds yielding under 4 percent a year ago are paying the price as the value of those bonds decreases rapidly; the banks that agreed to underwrite the debt of companies such as Citrix, Twitter, Nielsen and Tenneco are paying the price because they now have to discount said debt to compete with the yields elsewhere in the market; money is quickly getting more expensive and harder to obtain; mortgage rates are increasing rapidly. In other words, by keeping the party going far beyond what was necessary—especially since it is the Fed's job to take the punchbowl away, not to pour more tequila into it at midnight—it inflated asset bubbles throughout the financial markets, encouraging people to misprice risk all over the place. The pain for investors and lenders will be acute and long-lasting. It didn't have to happen this way, as I have been writing for years.

Back in 2015, when Bernanke's memoir, A Courage to Act, hit the market, he and I had a conversation about, among other things, his legacy as Fed Chairman. He said that my criticism that QE has continued too long and resulted in the mispricing of risk and any number of asset bubbles was "a red herring."

Why a "red herring" I wondered? "It's a red herring for two reasons," he replied. "One is that there's a lot of inequality in the United States. That's true, but that's not really the Fed. It's been going on for a long time. It's been increasing since the '70s. It's due to globalization, technical change, a whole bunch of long-term trends. The Fed's effects on inequality are modest and temporary, and the fact that they created jobs means that the absolute benefits for the working class are very substantial."

The second reason Bernanke gave me wasn't a red herring per se, but a scapegoat: "If you think that there's something wrong with low interest rates, then who you should be complaining to is not the Fed," he told me. "Go complain to Congress, because the fiscal policy turned very contractionary, which meant the Fed had to bear the entire burden of creating recovery. If fiscal policy had been more balanced, then we could've had the same recovery with higher interest rates. But because fiscal policy was contractionary, and then Congress said, essentially, 'The Fed will take care of it,' then the Fed could use the only tool it had."

While Bernanke's right that Congress abdicated its legislative role during the last six years of the Obama administration—thank you Mitch McConnell—and the Fed had a disproportionate role in trying to help the economy recover from the financial crisis, I still believe the Fed kept interest rates too low for too long. Bernanke doesn't.

He continued, "I guess a question I throw back to you is, okay, let's say that it did help some wealthy people. It also helped the economy recover. You have to agree with that. So what should the Fed have done? Not kept interest rates low, so increase rates early on? I don't understand what the alternative would be."

He was defensive, as you can see. My quarrel is not with the original policy, which has proved to be Nobel worthy, but that Bernanke and his successors adhered to the policy too assiduously and for too long. We're all now facing the real-time consequences of those policy decisions.
FOUR STORIES WE'RE TALKING ABOUT
The NYT Paradox
On the Times' compressed payscale and Tapper's primetime performance.
DYLAN BYERS

L.A.'s Racism Scandal
A look at the manifold implications of L.A.'s City Council scandal.
BARATUNDE THURSTON
You received this message because you signed up to receive emails from Puck

Was this email forwarded to you?

Sign up for Puck here

Interested in exploring our newsletter offerings?

Manage your preferences

Puck is published by Heat Media LLC

227 W 17th St

New York, NY 10011

For support, just reply to this e-mail

For brand partnerships, email ads@puck.news