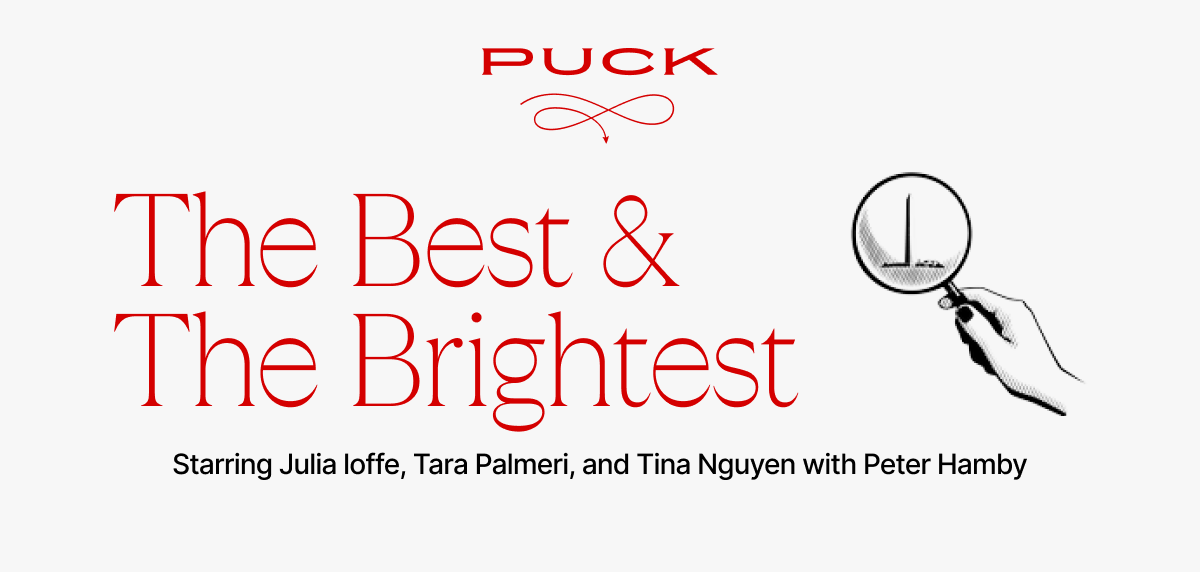 Welcome back to The Best & The Brightest. I'm Peter Hamby, taking a break from Googling pumpkin pie recipes ahead of Thursday. Send me tips if you have any! In tonight's edition, I game out the bull and bear cases for Nikki Haley and her chances of emerging as Donald Trump's singular rival for the Republican presidential nomination. Major donors are starting to line up behind Haley, but will G.O.P. voters?
But first, the latest Capitol Hill dish from Abby Livingston…
Hakeem's Head-Scratcher & Retirement Ripple Effects
The Idle Needle: A fresh NBC poll indicates that Kevin McCarthy's defenestration and the subsequent three weeks of House Republican succession chaos had no statistical impact on the preferences of registered voters over which party controls Congress. The poll showed 47 percent favoring the G.O.P. and 45 percent for Democrats, the same sort of within-the-margin-of-error feedback that voters gave in the same poll in September. That's got to irk Hakeem Jeffries, who is hoping to become House Speaker next year. However, most political operatives I spoke with anticipated these numbers would remain static, in light of voters' seeming ambivalence to previous congressional stalemates. (Similar polling stability followed the 2013 government shutdown, and the comparatively orderly 2015 succession after John Boehner announced his resignation.)

But perception aside, how did the madness in October affect the G.O.P.'s ability to fundraise? Tonight marks the F.E.C.'s monthly deadline for the House campaign committees, and the Democrats have already released their figures, citing $8.1 million raised by the D.C.C.C. The N.R.C.C. filed its report just ahead of press time, showing the committee brought in just over $5 million in October. It's quite the divide, but of course, much of the Republican fundraising apparatus spent last month in total paralysis, and the new reports will show the extent to which that impacted the party's bottom line. Even so, it looks like donors and members are uniting behind Mike Johnson, who may be pulling in lots of low-hanging fruit donations once his political operation is more firmly in place.

Retirement Dominos: On Monday, Tony Cárdenas became the 30th House member to announce he will not run for re-election next term, per the official House casualty list. The San Fernando Valley congressman is the fifth Californian and the 20th House Democrat to say he's stepping aside—twice the number of Republicans at this point. (To be fair, more than half of the Democrats are vacating their House seats to run for other offices.) I've said it before, but expect more retirements to drop after the Thanksgiving holidays.

These retirements are already causing ripples across the country. To wit: When Michigan's Dan Kildee announced his departure from Congress last week, candidates from both parties announced bids for Michigan's 8th District. One yet-to-be-publicly-floated Michigan Democrat is also mulling a run: Kildee's top staffer, Mitchell Rivard, who told me in a statement that he's "been surprised and humbled by many people encouraging" him to run. "For 12 years, I've loved working for Congressman Kildee and will be forever grateful for his confidence in me to serve the district as his chief of staff," Rivard said. "Running for public office is a huge decision, and something I've not given serious thought to previously. I'm going to spend Thanksgiving with my family thinking about the best way to give back to the community that has given me so much." Rivard, a district native, came up through the ranks within Kildee's Capitol Hill office before becoming his chief of staff, and is currently the co-chair of the House Chiefs of Staff Association.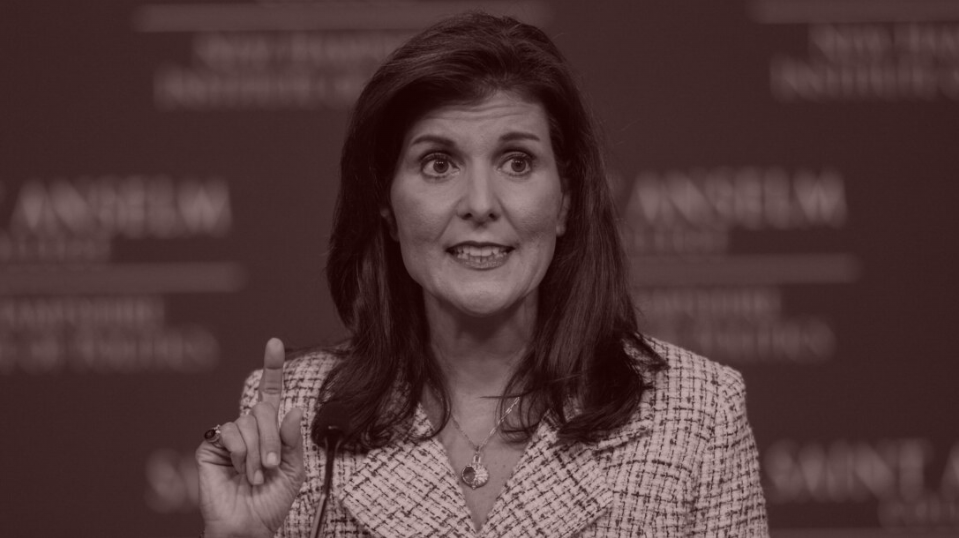 Haley Mary
Nikki Haley might be peaking at exactly the right time, and her campaign is now making the case that she is the last best hope to stop Trump—or at least to outlive DeSantis. Her recent campaign stops in South Carolina hint at a suburban strategy, but snatching the nomination may take a miracle.
A new CNN poll of New Hampshire Republicans dropped last week, and it was the first one to come along in a very, very long time that made me stop and wonder: Could Donald Trump actually lose this thing?

The poll showed Nikki Haley—the buzzy G.O.P. candidate du jour in media and donor circles—climbing into a sturdy second place in New Hampshire following her punchy debate performances and the ongoing Ron DeSantis purgatory. The former South Carolina governor—also Trump's onetime ambassador to the United Nations—is now at 20 percent in the Granite State. I was watching CNN last week when they released the poll, as my old pal David Chalian excitedly broke down the crosstabs on air. "Nikki Haley is up eight percentage points since September," he said. "That is the real movement in this poll."

Eight points in two months, baby! It's a modest and possibly futile shift, the kind of polling bump that's received way too much attention all year from those of us in the media desperately looking for any signs of life from Trump's junior varsity Republican opponents. Haley's rise in New Hampshire proves that she's got some momentum, sure, but it still puts Haley a full 22 points behind Trump, who is sitting pretty at 42 percent in New Hampshire. And that's only a subplot to Trump's 30-point lead in Iowa and his 44-point national lead. For the Republican Party, Trump is a de facto incumbent president.

So yes, it takes some real mental gymnastics to envision Haley as Trump's final rival for the nomination. But the New Hampshire poll stood out because that 22-point delta is actually the closest any challenger has been to Trump in a primary state since DeSantis stalled out in Iowa over the summer. Haley might be peaking at exactly the right time, and her campaign is now making the case that she is the last best hope to stop Trump—and the best-positioned candidate should Trump's legal headaches swamp his campaign.

If you squint hard enough, you can see it: First, come January, DeSantis fumbles the bag in Iowa and doesn't come anywhere close to Trump, finishing a distant second or a lowly third. Out of money and having no real footprint in any other early state, DeSantis drops out. Haley, with a top three ticket out of Iowa, moves on to New Hampshire, where she's been making gains and where independents can also play in the G.O.P. primary.

New Hampshire voters, of course, take pride in bucking their Bible-banging forebears in Iowa. If Trump wins Iowa, maybe less-MAGA New Hampshire blesses Haley with an upset victory, giving her precious convention delegates. If—if, if, if—Chris Christie and Vivek Ramaswamy somehow decide to nobly quit the race, then Haley could post up in her home state of South Carolina and possibly consolidate non-Trump Republicans. With a close finish there, maybe the momentum of the race changes before Super Tuesday. Easy, right?
There are a lot of potholes on this road to the nomination. But for now, Haley's argument is paying dividends—especially with big donors she'll need if she wants to go the distance. Several former donors to Mike Pence and Tim Scott, who've both dropped out of the race, have moved to Haley. So have a few DeSantis donors, disappointed at his fading chances but still hoping for a more electable alternative to Trump next year. After all, a string of recent polls show Haley thumping Joe Biden in a hypothetical head-to-head matchup next year, outrunning both Trump and DeSantis. For major donors yearning for the days of Bush and Romney, electability isn't just a thing. It's everything.

Donors, of course, have been hilariously wrong about the primary all cycle, one reason I decided to tomahawk dunk on both the Tim Scott fantasy and Glenn Youngkin mind virus earlier this year. If a major Republican donor likes a certain candidate, that's as good a sign as any that Republican voters do not. But it's become clear in recent weeks that for the rich guy set, Haley is the consensus final bet.

Investor Keith Rabois and former Illinois governor Bruce Rauner both flipped recently from DeSantis to Haley. Former Trump adviser Gary Cohn hosted a fundraiser for Haley last week. Mitt Romney's former finance chair Spencer Zwick has signed on to help Haley raise money, too. And Axios scooped that Haley has been having "private conversations about the economy" with JPMorgan Chase C.E.O. Jamie Dimon. Many of these establishment names are sure to put Haley crossways with conspiratorial elements of the MAGA base—Steve Bannon is already calling her new financial supporters a Wall Street cabal of globalist ESG lovers—but whatever cash infusion arrives will be well-timed.

Haley has run a frugal campaign, having made an early bet that her work ethic and media skills would get her this far, something I wrote about when she joined the race back in February. "We're flying commercial and staying at Hilton Garden Inns," Haley's spokeswoman, Olivia Perez-Cubas, told me, a dig at DeSantis and his cash-burning private jet habit. "It's built to last."

Haley, though, is going to need a lot more money to remain competitive and cement herself as Trump's main rival. A lot more. Haley raised about $15 million in the third fundraising quarter—a decent-ish number—but not much compared to the $45 million Trump raised over the same period. She just plowed much of that cash into a $10 million ad buy in Iowa and New Hampshire in December, nicely timed for holiday TV-watching and football-viewing. But if Haley's campaign is going to last for months into early 2024 and late into the primary calendar—in the best-case scenario—her newly charmed donors have to open up their networks and their checkbooks once or twice more.
Of course, all the money in the world can't wish away all the obstacles on Haley's path to the nomination. Knowing he must keep Haley at bay in Iowa, DeSantis has taken to thrashing her in recent weeks from the right—accusing her of being soft on China, of being too cozy with corporations, and blasting her recent suggestion that people shouldn't be allowed to remain anonymous online. Haley—now in the conversation—is happily fighting back.

The Trump campaign understandably loves it, of course. "Nikki has realized the only person she has a chance of catching in Iowa is DeSantis," Chris LaCivita, Trump's senior adviser, told me. "They both realize that, and that's why they are beating the shit out of each other." (LaCivita has lately taken to calling the battle for second place in Iowa "the fight for first place loser.")

There's also the question of where Republican voters move if the field shrinks. If DeSantis drops out at some point, his voters don't necessarily gravitate to Haley. Polls in Iowa show that many DeSantis voters name Trump as their second choice. This is why the Trump campaign has kept their boot on DeSantis's neck, even as he's struggled for relevance. They still see him as the only Republican who can theoretically consolidate both MAGA-style voters and mainline Republicans.

Haley, who rose to fame in pre-Trump times, is cut from a more traditional G.O.P. cloth. She's a foreign policy hawk and Chamber of Commerce ally who wants her party to be more accommodating on abortion, all in service of winning elections and reducing the top marginal tax rate. Unless Haley can somehow bend the G.O.P. electorate to her will, that kind of establishment-friendly thinking doesn't jibe with the populist impulses that currently govern the Trumpified Republican Party. In other words: She could never cobble together enough non-Trump voters to beat Trump in a primary because there simply aren't enough of those voters in the party anymore.

Haley's campaign disputes this, pointing to polling from DeSantis's own super PAC that shows plenty of his voters would gravitate to Haley if DeSantis leaves the race. But it's not just DeSantis she has to worry about. Christie is making a play for New Hampshire, and he's been jabbing at Haley for being too supportive of Trump. (She raised her hand in the debates to say she would still back Trump for president even if he's a convicted felon.) And as for Ramaswamy, well, it's hard to see him doing Haley any favors given the blood feud between the two. He's a say-anything clout-chaser with no shot at the nomination, but he's also a Trump stalking horse with a future in MAGA politics. As long as Haley is in the race, Ramaswamy will be there, too, calling her a corrupt neocon.

South Carolina, Haley's home state, stands out on the calendar as her possible Last Stand against the Trump juggernaut. Haley is essentially ceding Nevada—which votes on the calendar after New Hampshire—by filing to run in that state's primary instead of its caucuses. The Nevada G.O.P., MAGA in full, decided that they will only award delegates for the caucuses. Haley isn't playing that game, so for a three-week slog following New Hampshire, her next logical move would be to plant a flag in South Carolina and hope that her native state comes through, giving her enough juice—40 percent of the vote? More?—to move past the first four primary states and keep running against Trump.

Haley's campaign stops in South Carolina in recent months have hinted at a strategy against Trump: Focus on the suburbs, like those along the North Carolina border outside Charlotte and the Lowcountry along the coast, where come-heres and retirees from other states are a shade more moderate than the red-meat evangelicals upstate, around Greenville, where Trump is king. But her game plan is still a reach. Just like Iowa and New Hampshire, polls show Trump cruising in the South Carolina primary.

Maybe those tides will shift if Haley starts to put points on the board after voting begins in January. Maybe she actually can pull off the historic upset no one—except her—saw coming. Maybe she knows her old boss better than anyone, and can figure a way to get under his skin. But South Carolina could also prove to be an ugly reckoning for the Haley hype cycle we are currently living through—with the same voters who once adored her showing up to extinguish her political career for good.
FOUR STORIES WE'RE TALKING ABOUT

Need help? Review our FAQs
page or contact
us for assistance. For brand partnerships, email ads@puck.news.
You received this email because you signed up to receive emails from Puck, or as part of your Puck account associated with . To stop receiving this newsletter and/or manage all your email preferences, click here.
Puck is published by Heat Media LLC. 227 W 17th St New York, NY 10011.