Sure, now everyone knows that David Zaslav is one of the most powerful media executives on the planet and the architect of one the most riveting mergers in years—Discovery Communications's still-pending $43 billion acquisition of WarnerMedia from AT&T—that will transform the media landscape and create a serious rival to Disney and Netflix. But, once upon a time, years before he became C.E.O. of Discovery in 2007 (and one of the world's highest-paid corporate executives), the Young Zaz was a pioneer in the cable business, and one of the handful of people who recognized early on that television broadcasting—now known as "linear TV"—was dying, and that the future lay not only in cable television but also in creating content for cable television.
In many ways, the seeds of Zaslav's immensely successful ascent were planted in 1989, when he arrived at NBC, then owned by GE. The Zaz wasn't one of the Ivy League blue bloods who dominated the joint. Born in Brooklyn in 1960, Zaslav was raised mostly in Rockland County, New York. After graduating from SUNY-Binghamton and the Boston University School of Law, in 1985, he headed to the law firm LeBoeuf Lamb. Four years later, he moved to NBC and GE, working for Bob Wright, then the head of NBC after stints running GE Capital and Cox Cable, in Atlanta, and for Tom Rogers, another cable pioneer at NBC whom Wright had hired away from Washington, where he had been a longtime legislative aide to Tim Wirth, a Colorado congressman who was the chair of the Telecommunications Subcommittee. This immensely successful partnership—Wright, Rogers and Zaslav—created CNBC and MSNBC, the juggernauts that we now take for granted, among other cable channels. And for Zazlav, at least, it's a largely untold story that says as much about the history of cable as it does portend the future.
---
It all started after the stock-market bubble popped in October 1987 and a general malaise had settled on Wall Street, following years of euphoria. (Sound familiar?) In January 1989, NBC paid $140 million for a half stake in Chuck Dolan's Rainbow Properties, which owned cable channels Bravo, American Movie Classics, and several sports-related cable channels. NBC also bought stakes in CourtTV and the History Channel. At that time, no other broadcaster aside from NBC had stakes in cable channels. Jack Welch, the strong-willed chairman and C.E.O. of GE, was convinced that the future of television broadcasting lay in cable. "I don't care if we lose money," Welch told Zaslav at the time. "We have to learn about this business. This is the future." Welch was all about embracing the future. NBC was one of his petri dishes. (Zaslav shared these recollections with me in January 2019 as part of the reporting for my forthcoming book about GE.)
Part of the vision for NBC getting into the cable business was to launch new channels from scratch. Wright and Welch wanted to build a news channel. But Welch figured out early on that to be successful, or to have the chance to be successful, the new cable channel had to have the blessing of John Malone, the powerful head of TCI, the huge cable operator based in Denver. In his memoir, Wright described Malone as "a Vito Corleone-like figure," who would "give as long as he could get something he wanted of lasting value in return." The news channel that NBC had in mind needed to be carried on Malone's cable network or it was doomed from the start.
Wright and Zaslav flew to Denver to see Malone. Zaslav was the little guy carrying the suitcases. They made a presentation to Malone about wanting to create the news channel. After they finished, Malone looked at the two GE executives. "I already have a news network, it's CNN," he told them, "and I have another one called Headline News. I don't need another news network." (Ironically, upon completion of the WarnerMedia-Discovery merger, Zaslav will be in charge of CNN, which is owned by WarnerMedia.)
Without missing a beat, Malone suggested that NBC start a business-news channel instead. He said there was one existing business news channel—FNN, for Financial News Network—and its content was pathetic, mostly just infomercials. "It's bullshit," Malone told them, according to one of the participants in the meeting. If NBC started a competitor to FNN, he said, TCI would "launch you." Wright and Zaslav went to a conference room to call Welch and tell him what Malone had said. "We've got to take whatever real estate we can," Welch told them. "Let's do it." Wright observed that, to Malone, NBC was "just another chess opponent" but "he had all the moves." That's how CNBC got started. Malone took an equity stake in the fledgling network.
In April 1989, NBC joined together with Dolan's Cablevision, in a 50-50 joint venture, to rebrand one of Rainbow's struggling cable channels as the Consumer News and Business Channel, or CNBC. "I loved the idea from the start," Welch recalled in his memoir. When the CNBC set was being built in Fort Lee, New Jersey, Welch would call up and ask to see the design. "They still talk about it," one former NBC executive told me. Welch would get up in the morning, study the ratings and then call up someone at CNBC and yell, "Why the fuck is CBS doing this?" and "Why the fuck are we doing that?" Welch loved CNBC and he loved cable television. Once, CNBC anchors Sue Herera and Joe Kernen were bantering on air about how nice it would be if Welch were to split the GE stock and raise its dividend. It was the end of the day and they figured Welch was not watching. An important C.E.O. would have better things to do, right? "It's late," Kernen said. "He's probably having a nice dinner, doing one of those corporate events." When Herera got off the air, she noticed a fax waiting for her: "Good try—I'm always watching—love, Jack."
---
The only other competitor for business news on cable television back then remained FNN, which had received a significant investment from Merrill Lynch, the investment bank, and broadcast, for a while, on the ground floor of Merrill's Manhattan headquarters. Like CNBC, FNN was losing money. "We would give winners and losers on the stock market, and then we'd cut to a reporter in a grocery store who would talk about how to pick a good melon," Zaslav told Fortune in May 1999. Two years in, CNBC had already lost $60 million. "Business news was not taking off," Welch recalled.
Chuck Dolan was getting antsy about CNBC's losses. But Welch remained as jazzed as ever about CNBC and NBC's push into cable programming. "We were losing a lot of money because there weren't that many cable subscribers in those days," Zaslav told me. "Every cable network in America was losing money except maybe for MTV because they got that content for free. Ted [Turner] was upside down. We were upside down. All the cable networks were upside down. The broadcasters were like attack dogs to us on the cable side because there was a limited amount of money from GE and we were losing money. They set us up in New Jersey. We needed to be lean and mean. We couldn't be union, otherwise it would've busted the whole cost structure."
Early in 1991, FNN filed for bankruptcy. Wright and Rogers negotiated a deal to buy the rival network, competing with a bid from Dow Jones, then owned by the Bancroft family, but Welch rejected it. "His argument was that it was too risky," Wright recalled, "and that GE, as a rule, did not buy broken assets." In May 1991, though, Rogers and Zaslav went back to see Welch at GE's headquarters in Fairfield, Connecticut, and Wright joined by phone to try to change Welch's mind. At the time, FNN had access to 32 million homes, while CNBC had 20 million subscribers. "Come on, Jack!" Rogers exhorted. "This is a rare opportunity that will make all the difference. If we didn't think so, we would not have camped out in your office the past two days!"
"What happens if we buy this thing?" Welch said, according to Zaslav. "Now we merge and everything you put in that deck is right. Instead of 20 million subscribers now we put them together, we have 33 million subscribers. We're able to get more money from the cable guys because there's only one business news network, and everything that you guys put in here is right. What happens if the day after we buy this thing, Malone announces that he's going to convert Headline News into a business news network? And that's in every home in America and it's in every hotel room in America? What the fuck do we do then? We bought nothing. So, get out of here and come back with the answer to two questions. Take all your numbers and all your internal rate shit. Is Chuck right or are we right? Is this a business and can we own it? Can we own it? Once we get this goddamn thing is it going to be ours to win? Or are we going to wake up and look stupid?" Welch told them he would reverse his decision if they could assure him that Malone wouldn't "screw us."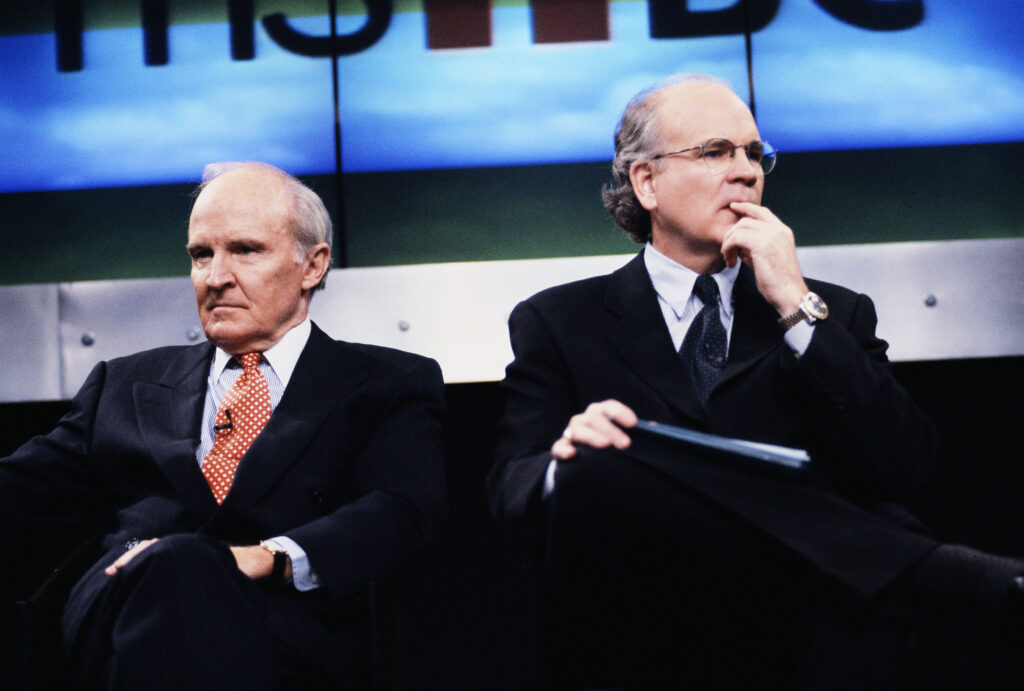 ---
Zaslav realized Welch was right and that Malone could turn the tables on them if he wanted. So he flew back out to Denver to talk to Malone. Malone told him he had no desire to turn Headline News into a business channel to compete with CNBC. "Ted has no intention of doing that," Malone said. "He likes the news business." Zaslav needed some written assurances from Malone. They structured an agreement that if Malone or Turner started competing with CNBC, the must-carry payments from the cable companies to the cable channels would increase dramatically. Deal in hand, Wright and Zaslav went back to see Welch. "We can't promise anything," they told their boss, "but we think this is a business and here's why."
They went through their logic again. "This could be a real cash business because our costs don't go up," they explained. "And in the meantime, we can't stop someone from competing with us. But we have some economic protection where if there is conversion or another competitor, the distributors would have to pay us a lot more money."
Welch was convinced. "Only Welch would have seen those two issues," Zaslav told me, elaborating upon the legendary C.E.O.'s management style. "Jack was an extraordinary leader in a sense that you both feared him and desperately, desperately wanted his attention and love. And he gave you his attention and love. But it was really purely a meritocracy with him. I never saw a leader like that. Usually, if you don't make your numbers or if you don't have your stuff down, you could be gone quickly. And people disappeared. You went into a meeting and you didn't have your stuff together, you were gone. On the other hand, if he called you in on a Wednesday and said he was talking to the analysts the next day, give me some good stuff, or he wrote you a note about what you did or how good you were, that somehow you yearned for it." Zaslav and his peers believed they were working for the greatest C.E.O. in the world. "It was exhilarating," he recalled. Zaslav and Welch developed a deep and abiding friendship for the rest of Welch's life. When Welch passed away, in March 2020, Zaslav was a pall-bearer at his funeral at St. Patrick's Cathedral.
With Dolan out, GE would have to battle for FNN on its own. Welch initially thought he could get the bankrupt cable channel for $50 million. But that was before he found himself in a bidding war with a partnership between Dow Jones and Westinghouse Electric, a onetime GE rival. Their opening bid was $60 million. The bidding quickly got to $150 million and riveted Wall Street, even though it was a small deal. Wright and Rogers urged Welch to pony up another $5 million to win. Welch and his top executives "agonized" about bidding $154.3 million, Wright recalled, because it was three times what Welch thought he would have to pay and $60 million more than he had authorized. "We weren't breaking champagne bottles open that night," Wright said.
Welch fancied himself a disciplined investor and the FNN process showed that he could get carried away. "Fortunately," Wright continued, "we badly wanted a financial news network, and the extra $5 million closed the deal."
---
Those first years at CNBC, after the FNN acquisition, were difficult ones. "Forging CNBC was a brutal effort," Wright would concede years later. According to Welch, however, the man who "got CNBC going," from a content perspective, was Roger Ailes, the controversial Republican political consultant to both Ronald Reagan and George H. W. Bush and the executive producer of Rush Limbaugh's television show. Wright hired Ailes to be the C.E.O. of CNBC in August 1993. His three-year contract paid him a salary of $550,000 a year, with increases, and a chance to make a bonus of $1.7 million annually, if CNBC hit certain ratings targets. The deal was consummated at Welch's home in Nantucket. "I was an instant fan," Welch said of Ailes. "Roger was an edgy and excitable guy, full of opinions." Eventually, Ailes made CNBC a ratings and profits juggernaut.
While Ailes was focused on building CNBC, Zaslav's responsibilities at NBC kept expanding. In his portfolio was Bravo, SCI-FI network, Telemundo and USA Network, among others. When, in May 2004, GE completed its deal to buy 80 percent of the Universal entertainment assets from Vivendi, Zaslav picked up even more responsibility, including for A&E, The History Channel, the Sundance Channel and TiVo, among others. He also played an important role in creating MSNBC and had a legendary battle with Ailes, including a feud related to an allegation that Ailes had used an anti-Semitic slur against Zaslav—all of which is recounted in gory detail in Gabe Sherman's book about Ailes and Fox News, Loudest Voice in the Room—where Zaslav prevailed.
But in the end, it was Malone, the kingmaker, who once again changed Zaslav's career trajectory. In and around 2006, Malone called Zaslav. He wanted him to run Discovery, a public company largely owned by Malone and by the Newhouse family, which also owned Condé Nast, the big magazine publisher. But Zaslav had recently signed a three-year contract with NBC, to continue to run a large chunk of the business. The contract contained a key-man provision. He couldn't leave NBC unless other senior NBC executives had departed for whatever reason. Zaslav got his contractual opening when Randy Falco, another key senior NBC executive, left to run AOL.
Three months had passed since Malone's outreach, and so Zaslav called to ask if he still needed a C.E.O. to run Discovery. Malone said yes. When Zaslav told Jeff Immelt, Welch's successor, that he was leaving for Discovery, Immelt begged him to stay. "I had a great run here," Zaslav told him. "You guys have been great to me. But I have a chance to go run my own company."
But Immelt was adamant about trying to get Zaslav to stay at NBC. "You're not leaving," he told Zaslav. "Write down the job you want and how much you want to get paid. Just put it on this piece of paper and you and I will structure a new deal for you today. You know, eventually you should run this whole company." Zaslav appreciated the offer. But he was equally determined. "Look," he told Immelt, "I just have a real unique opportunity to run a public company and it's not a reflection at all on you or on GE. I've been here for 18 years. It's been a great run. I've gotten a chance to do great stuff. But I got a chance to work with Malone and the Newhouse family and run a public company." That was it. Zaslav left GE to run Discovery in January 2007. The rest, as they say in Hollywood, is history.
---
So where does the cable pioneer go from here? At 61 years old, it sure seems like Zaslav is having the time of his life, and that he is just getting started. He's been busy commuting between New York and Los Angeles, taking the pulse of the WarnerMedia crowd. He told a Goldman Sachs investor conference that he has been spending "about two weeks a month" in Tinsel Town, taking meetings, touring the studio lots, and learning about Warner's "substantial" history. And the entertainment industry has embraced him in return. In early August, Endeavor's Ari Emanuel threw him a star-studded "welcome party" at his estate in Beverly Hills, building expectations that Zaslav, unlike the AT&T overlords in Dallas, will be a more hands-on, talent-friendly presence in Hollywood.
Of course, Zaslav will have to wait for Discovery's acquisition of WarnerMedia to close, which is still on track for mid-2022, before he makes additional moves on the media chessboard. But, ever since his earliest days at GE, Zaslav has been ambitious. Zaslav sees the combined Warner Bros. Discovery as a substantial competitor to Disney and Netflix. Some have speculated that he has ViacomCBS in his sights, which would bring more cable channels and one of the three television networks into his orbit, for better or for worse And Shari Redstone, the controlling shareholder of ViacomCBS, would presumably love to sell. But all that will have to wait. "There will be a lot of consolidation," Zaslav told the Goldman crowd. "And some of that may be opportunities for us, but right now, I really like where we are."