These days, Jho Low is a notorious fugitive, wanted by the U.S. for allegedly masterminding the theft of billions from Malaysia's sovereign wealth fund and then attempting to covertly influence American politics. Back in 2012, however, he was right next to Barack Obama at the White House for a holiday party. And there's a (blurry) photo, too!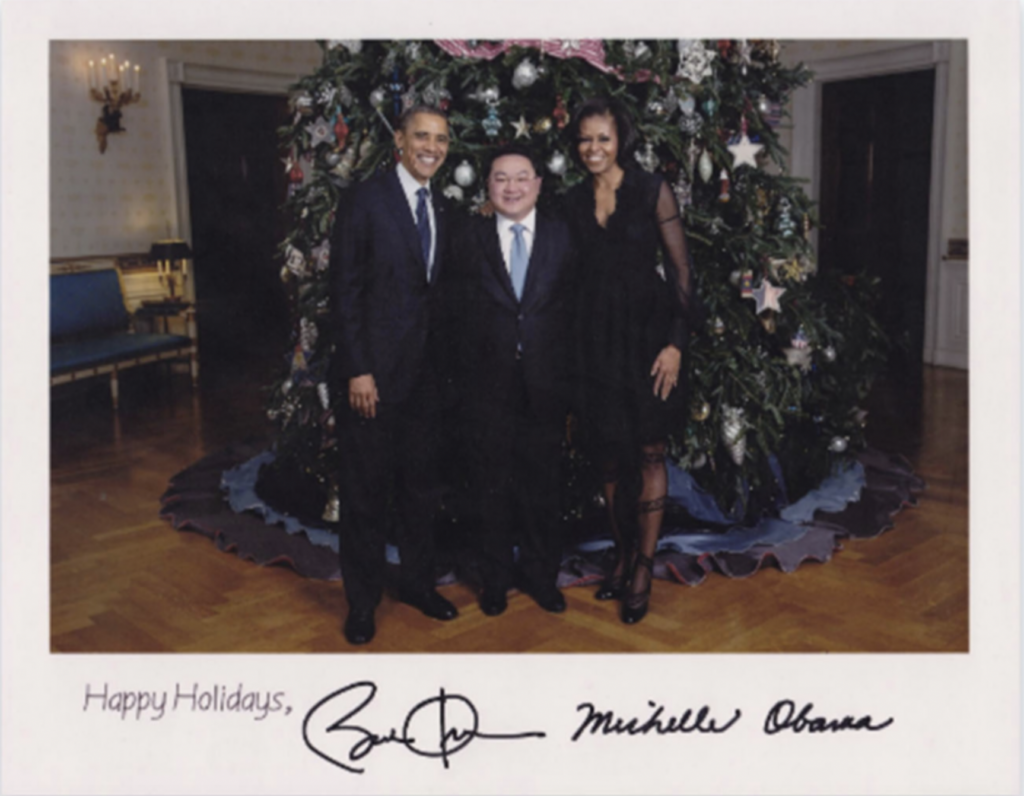 The pic was lodged into the public record for the first time on Friday by Pras Michel, the ex-Fugees rapper who is going to trial next month for allegedly helping Low funnel money to Obama's 2012 re-election campaign through straw donors, and for later attempting to influence Donald Trump to extradite a Chinese dissident. The hip-hop star wants to call both Obama and Trump to the witness stand, and the U.S. government, naturally, is attempting to prevent that from happening.
So who got Low into the White House to pose with a sitting president, and why? That's the question Michel wants Obama to address at trial. According to the defendant's latest brief, a key Obama fundraiser named Frank White "covertly snuck Jho Low into the holiday party" and later convinced Obama to meet in the Oval Office with Leonardo DiCaprio, Martin Scorsese, and Riza Aziz, the stepson of Malaysian Prime Minister Najib Razak, to present a copy of the movie The Wolf of Wall Street, which was funded by money that Low allegedly embezzled. The brief includes a photo of that meeting, too, adding that Obama's "testimony would be wide ranging, but with a focus on Frank White because, generally, the government has missed the mark in indicting Mr. Michel instead of Frank White."
Federal prosecutors counter that Obama has no special information to provide and cite the prejudicial impact of having a former president testify. Michel attorney David Kenner responds that White manipulated Michel's relationship with Low, and later lied to investigators, and that Obama has "first-hand knowledge and unique insight" about these matters. He appears to want to raise a stink about Washington's shady game of campaign finance in general, which could be of interest to newer criminal defendants like Sam Bankman-Fried. On Friday, Michel also filed a supplemental witness list that includes Bill Clinton, Chris Christie, Rudy Giuliani, and others.
Read the full brief here, which also argues for Trump's testimony. According to Kenner, this wouldn't be the first time a president was ordered to testify at someone's criminal trial. He cites Gerald Ford in the case of an attempted assassination back in 1975. Will the judge actually allow Michel to call Obama as a witness? It's still probably a long shot, but we'll find out soon.