Good evening, and happy Friday.
Welcome back to In The Room, my biweekly private email on the inner workings of American media. Tonight, in the wake of the Biden-M.B.S. fist bump seen 'round the world, we turn our attention to the White House's fraught relationship with Jeff Bezos, Fred Ryan and The Washington Post.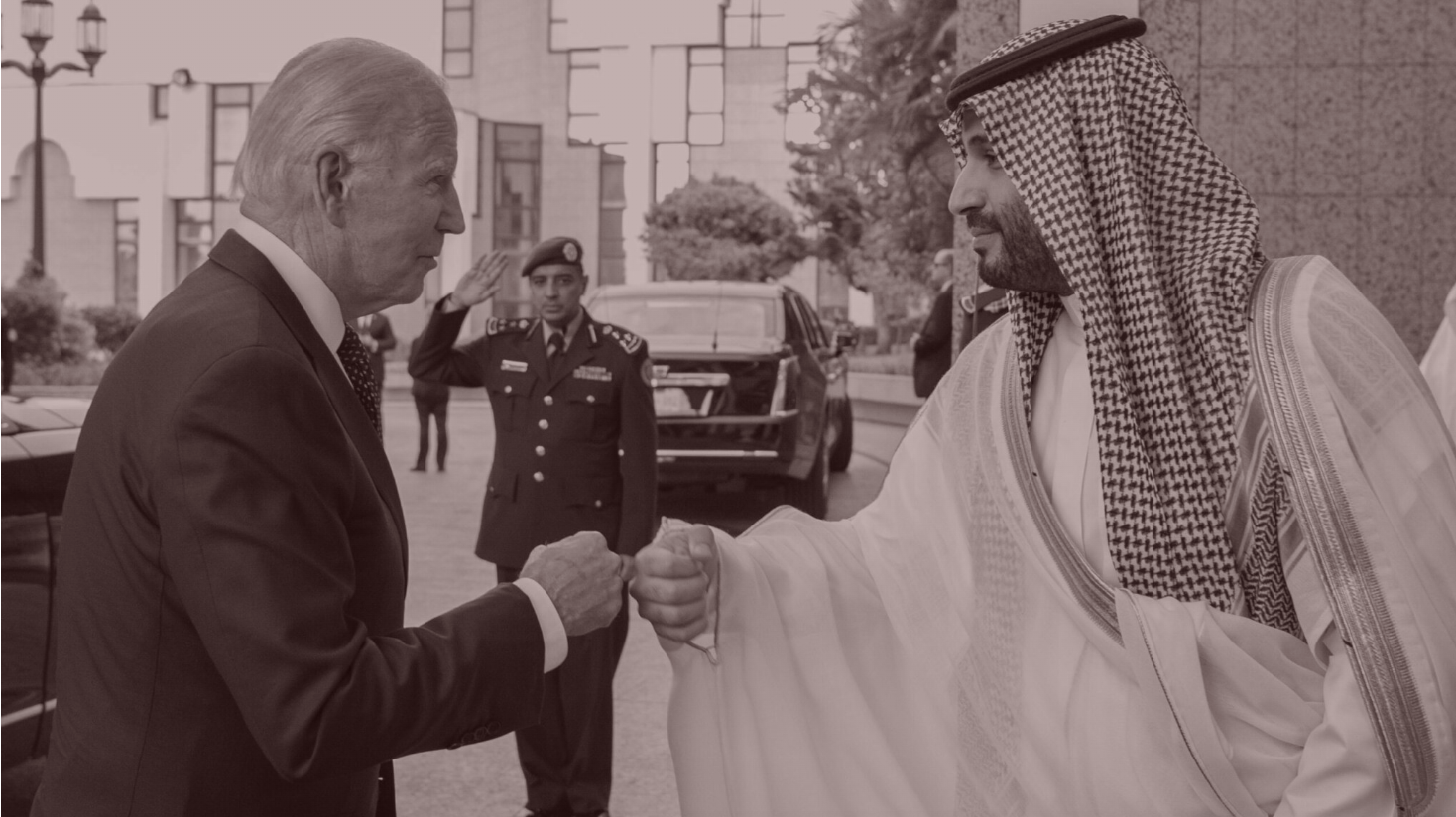 Biden's WaPo Headache
The president, whose polling has hit a Trump-like nadir, has his fair share of nemeses: the far left, Joe Manchin, Trump and DeSantis, and now perhaps the hometown paper, The Washington Post.
It has presumably been one of the longest years of Joe Biden's life. After a historic presidential victory, a democracy-enshrining rebuttal of January 6th, the professional management of Covid, and some historic legislation, the president has been beset by one political headache after another—Afghanistan, Joe Manchin, Omicron, a slowing economy, inflation, historically high gas prices, and the faint murmurs, louder by the day, that his age disqualifies him from re-election. As my Puck partner Tara Palmeri has noted, the return to the White House of Anita Dunn, the Obama-era messaging guru and SKDK principal, has recently made Biden seem more active and visible, but that's hardly boosted a 33 percent approval rating.

During the election cycle, Biden projected the image of a wise older statesman who had seen a thing or two in his day, and knew how to lead with valor. Sure, he'd always been well-known for the occasionally regrettable line, like frontrunning the Obama administration on gay marriage, but that's also part of what made Biden so likable. Even in his late 70s, polished after decades in the Senate, he shot from the hip, albeit with an inordinate amount of dignity and honesty. Some White House aides may have been privately furious when Biden announced in a March speech that Putin "cannot remain in power," but many within his base heard the echoes of the guy they voted for. It may have reminded them, perhaps, of when then-candidate Biden once said he vowed to make Saudi Arabia a "pariah" on the world stage.

Saudi Crown Prince Mohammed bin Salman, after all, has achieved a unique level of scorn in our culture for his role in the murder of Washington Post contributing columnist Jamal Khashoggi. (U.S. intelligence concluded last year that the Crown Prince was responsible for the murder.) During the Trump years, the feckless administration papered over the association. But those were Trumps, many assumed. (In fact, Jared Kushner recently raised $2 billion from a Saudi Arabian sovereign wealth fund for his new investment vehicle.) Biden surely wouldn't bow to the level.

Of course, global politics are endlessly complex and require realpolitik. And indeed there has been a thawing of relations with Saudi in recent years, even in the cultural and public imagination. After sitting out a year, many of global finance's elite returned to the Riyadh Ritz-Carlton for the annual Saudi investment conference. LIV, Saudi's new rival to the PGA Tour, is gobbling up players. Even some Democrats gritted their teeth, as oil prices surged, when Biden announced that he would head to Jeddah to meet M.B.S. to discuss the global oil supply chain.

But Biden's willingness to meet with M.B.S. in Jeddah on the Crown Prince's terms—and to provide him with a much-coveted fist-bumping photo-op that is effectively meant to signal to countries and companies alike that Saudi is open for business, and no longer controversial—has left a particularly sour taste in the mouths of executives and editors at The Washington Post who have advocated for a tougher stance against M.B.S. since Khashoggi's murder. "The fist bump between President Biden and Mohammed bin Salman was worse than a handshake—it was shameful," Fred Ryan, the publisher and C.E.O. of The Washington Post Company, told me by phone on Friday. "It projected a level of intimacy and comfort that delivers to M.B.S. the unwarranted redemption he has been desperately seeking." (The Post would later send this out as an official statement.) Journalists inside the newsroom were similarly shocked and upset by the photo, which internally was likened to "two bros" meeting up for beer. The optics were "hard to stomach," one newsroom leader told me. Another called it "pathetic."

The White House declined to comment on Ryan's statement. In a press conference, Biden said he raised the issue of Khashoggi's death with the Crown Prince "at the top of the meeting," and was "straight-forward and direct" when discussing it. "He basically said that he was not personally responsible for it," Biden said of M.B.S. "I indicated I thought he was." Ryan seemed to have anticipated this play in a strongly worded editorial he wrote earlier this week, criticizing the president's acquiescence to the Crown Prince: "Biden's team has already said that the president will 'raise the issue of human rights' with his Saudi counterparts," Ryan wrote. "With that box checked, conversations are sure to turn swiftly to the real agenda items for the meeting—like oil flow—with nothing real to show for it."

The Saudi photo-op is obviously unlikely to influence the Post's coverage of the administration—"we'll be professional as always, personal feelings aren't a factor," one editor said—but it nevertheless feeds into larger tensions between the White House and the Post's executive leadership that have been brewing for some time. Ryan has been criticizing Biden's Saudi posture for more than a year, warning this week that his decision to kowtow to M.B.S. would "erode our moral authority and breed anti-American resentment." Jeff Bezos, the Post's owner, has twice criticized Biden on Twitter in recent months over his approach to inflation, accusing the president of either misdirecting the public or misunderstanding "basic market dynamics."

It would be foolish to read into this some signal of an official turn against Biden by the Post, or to suggest that the president has lost the hometown paper. It's hardly surprising that Bezos, one of the world's most successful businessmen, would be critical of Biden's rhetoric on inflation, and that Ryan, a former chief of staff to Ronald Reagan, who has taken up the mantle of justice for Khashoggi, would be critical of the president's volte face on Saudi. Moreover, Bezos sparred with President Trump, famously, both on and off Twitter, and Ryan was a fierce critic of Trump's Saudi posture as well.

The criticism is nevertheless notable. One doesn't see A.G. Sulzberger or Meredith Kopit Levien turning to Twitter or the pages of The New York Times to rail against the president or his administration, for instance. Meanwhile, all of this is happening as the Post, like the Times and CNN, is trying to re-establish a reputation for nonpartisan, broad-tent journalism after six years standing athwart the Trump administration and thus wittingly or unwittingly aligning itself with the left. Ryan's decision to hire David Shipley, the centrist Bloomberg Opinion editor who briefly served on Mike Bloomberg's ill-fated 2020 presidential campaign, to serve as head of the Post editorial page, is one such sign of this ambition.

On some level, the M.B.S. imbroglio articulates one of the true cultural challenges currently engulfing media—threading the needle of practicing disciplined centrism without being brainlessly and anachronistically emotionally neutered. The Post, of course, just moved past a rough patch in which two of its notable reporters engaged in a rubberneck-inducing Twitter feud. Now, the boss and the owner are showing their feelings. There's no easy way to get through these moments. Nobody knows that better, of course, than Joe Biden.
FOUR STORIES WE'RE TALKING ABOUT
Trump's Donor-Anxiety Complex
Puck's D.C. experts dissect Trump's defensive '24 posturing and other Jan. 6 adjacencies.
JULIA IOFFE & TARA PALMERI
You received this message because you signed up to receive emails from Puck

Was this email forwarded to you?

Sign up for Puck here

Interested in exploring our newsletter offerings?

Manage your preferences

Puck is published by Heat Media LLC

64 Bank Street

New York, NY 10014

For support, just reply to this e-mail

For brand partnerships, email ads@puck.news